Every year, Deloitte's corporate consultants conduct a worldwide consumer survey of mobile communication. The 2015 edition of the Global Mobile Consumer Survey took place in 31 countries and included 49,500 consumers. In Great Britain, the survey included 4,000 consumers between the ages of 18 and 75. Not only are the results interesting from a customer point of view, but they give a strong indication that the use of smartphones and employee apps within the corporate sphere is growing.
Here are the most important results:
1. A change is underway: smartphones and laptops go head-to-head.
In Great Britain, smartphones will soon top laptops as the most-used mobile device. More than 76% of consumers now own a smartphone. For people aged 18–24, the number is 90%.
What impact will it have on in-house use of employee apps?
The widespread use of smartphones makes this medium a viable option for employee communication. Relying on in-house publications, published only periodically, will no longer be sufficient for informing younger employees.
Attention should be paid to the extent that this medium becomes mandatory: Not all employees own a smartphone or are willing to use it for receiving work-related information.
Mobile employee communication should therefore remain voluntary (although it will be gladly received by most employees). It can certainly be supplemented with terminals or accessed from desktop computers. But the aim should be to fully replace cost- and resource-intensive media like the printed in-house publication.
2. Mobile use depends on location (and data rate).
More and more content offerings utilize mobile media. Online news and short video clips lead this development. But location affects the volume of of mobile device use. On the road, the consumption of data-intensive content is halved.
Users deliberately choose limited mobile phone data plans, and save the consumption of data intensive content for when they have WiFi connections.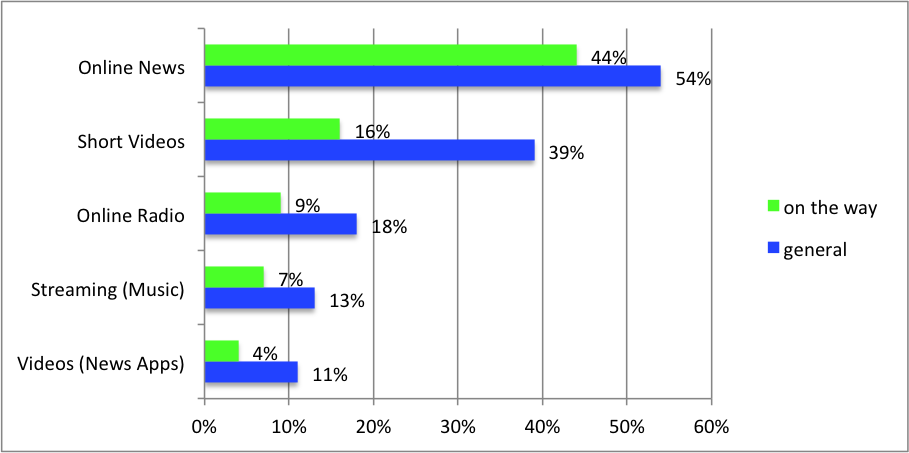 In recent years, the significance of WiFi has grown continuously. The majority of smartphone and tablet users mostly connect via WiFi. This is especially true for new and less financially strong consumer groups.
In other words, WiFi has become a basic need for mobile users (which we've obviously exaggerated in the graph below 😀 ).
What does it mean for in-house use?
Whether or not employees use their own data plans and devices or company-provided plans, a mobile employee channel shouldn't become overly data consuming. Treating often limited information capacities efficiently is a better approach.
That doesn't mean that video won't be an option, but rather that efforts should be made to enable the viewing of data intensive content, such as the provision of hotspots. Consumers have already adapted their private data use to the limits of their private plans, and they will easily become accustomed to this distinction.
3. Consumers are used to "their" apps. New ones won't have it so easy.
Have you downloaded an app this month? Yes? You're not alone. Most mobile users have personally installed their app selection, and subsequently use them intensively.
What impact does it have on in-house use?
There is no definite answer. We view the question as part of an exiting discussion about single-purpose apps vs. multi-purpose apps. Should an app combine many functions or would it make more sense to allocate one main function to one single app?
For companies, this poses the question of how many apps they want to present to their employees. The modern smartphone user will probably think twice before installing a new company app on his or her device.
Moreover, there are other compelling reasons for using multi-purpose apps within companies. For instance, user management and the personalization of individual content must be centrally controllable and easily manageable. Having one app instead of many makes this more easily accomplished.
Conclusion
The high market penetration of mobile devices has paved an exciting path for internal communication. But one thing is certain whenever ideas and tools make their way from the world-wide-web to the sphere of private companies: work-related requirements will be different from private ones.
Whoever pays attention to these differences and designs communication tools with them in mind will be successful. It's an exciting challenge that Staffbase wants to meet.
Learn more about how and why companies choose Staffbase: