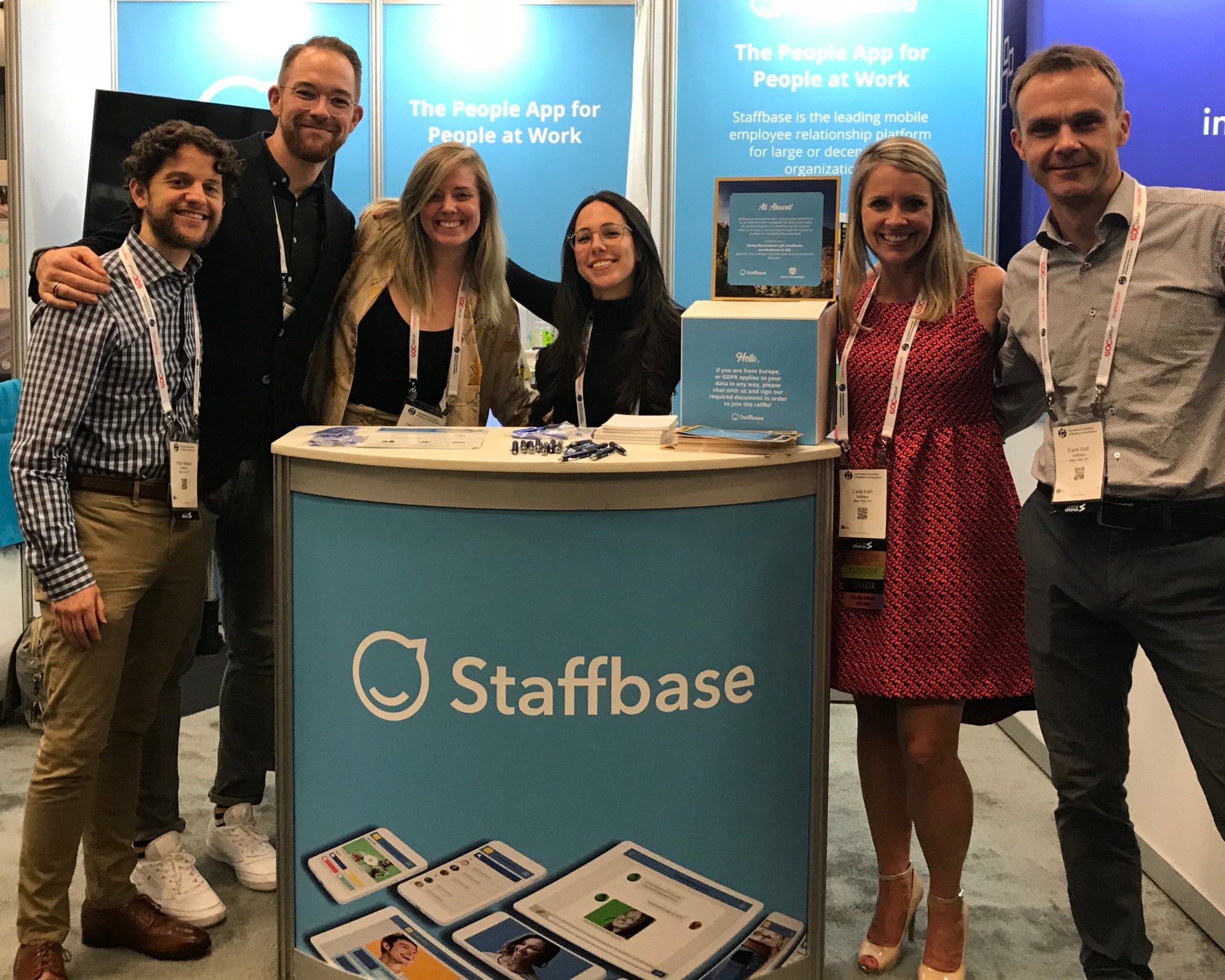 Staffbase was proud to be the premium sponsor of the 2018 IABC World Conference in Montreal from June 3–6. The Conference provided the opportunity to meet with other business communication professionals and gather insights from experts in the field. It helped to foster conversations about current strategies for communicating clear company messages and creating connected communities at work.
Sunday, June 3:
The team arrived in Montreal and headed to The Palais des congrès where the Staffbase crew worked together to set up the company booth in the Hub. Excited for a conference filled with business professionals sharing their personal experiences and ideas, Staffbase set out to meet and converse with as many of the guests as possible and to visit as many of the presentations as they could. The guests included keynote speakers Seth Godin and Anab Jain.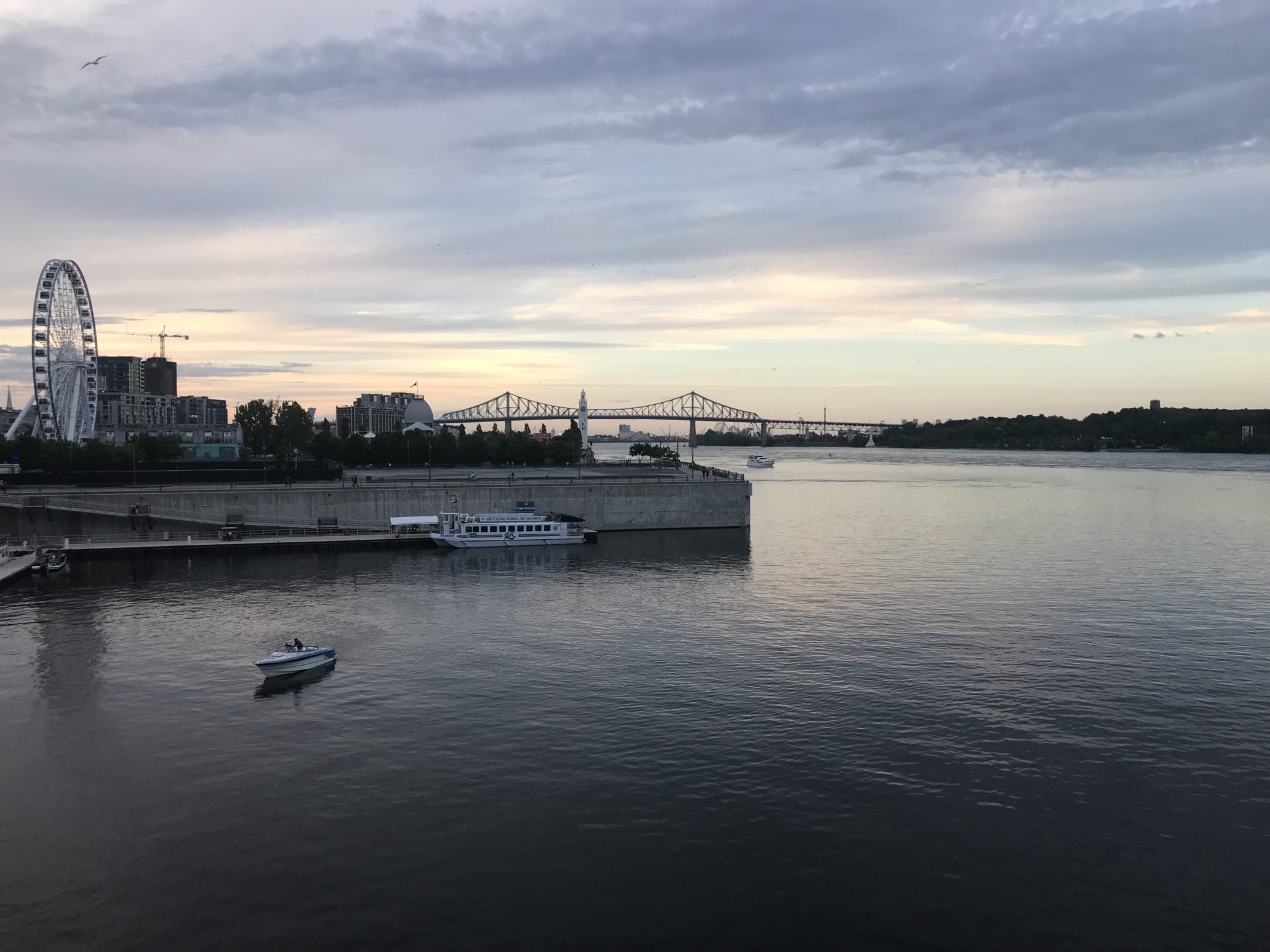 After prepping for the days ahead, the Staffbase team joined hundreds of other business professionals gathered to hear Seth Godin speak about effective communication in the age of new technology. Seth Godin is the author of numerous bestselling books about success and marketing in the business world during the ever changing digital age. In addition to being a renowned author, Godin is an entrepreneur and has launched many business ventures over the years which have given him the experiences to become such an innovative thinker. Seth spoke about the difficulties facing communicators in the age of new technology where everything is, "just a click away." The industry is changing so much and communicators must adapt. They must begin to tell stories and market to different people differently to be successful.
The person who invented the ship also invented the shipwreck. It's your choice whether to get on the ship"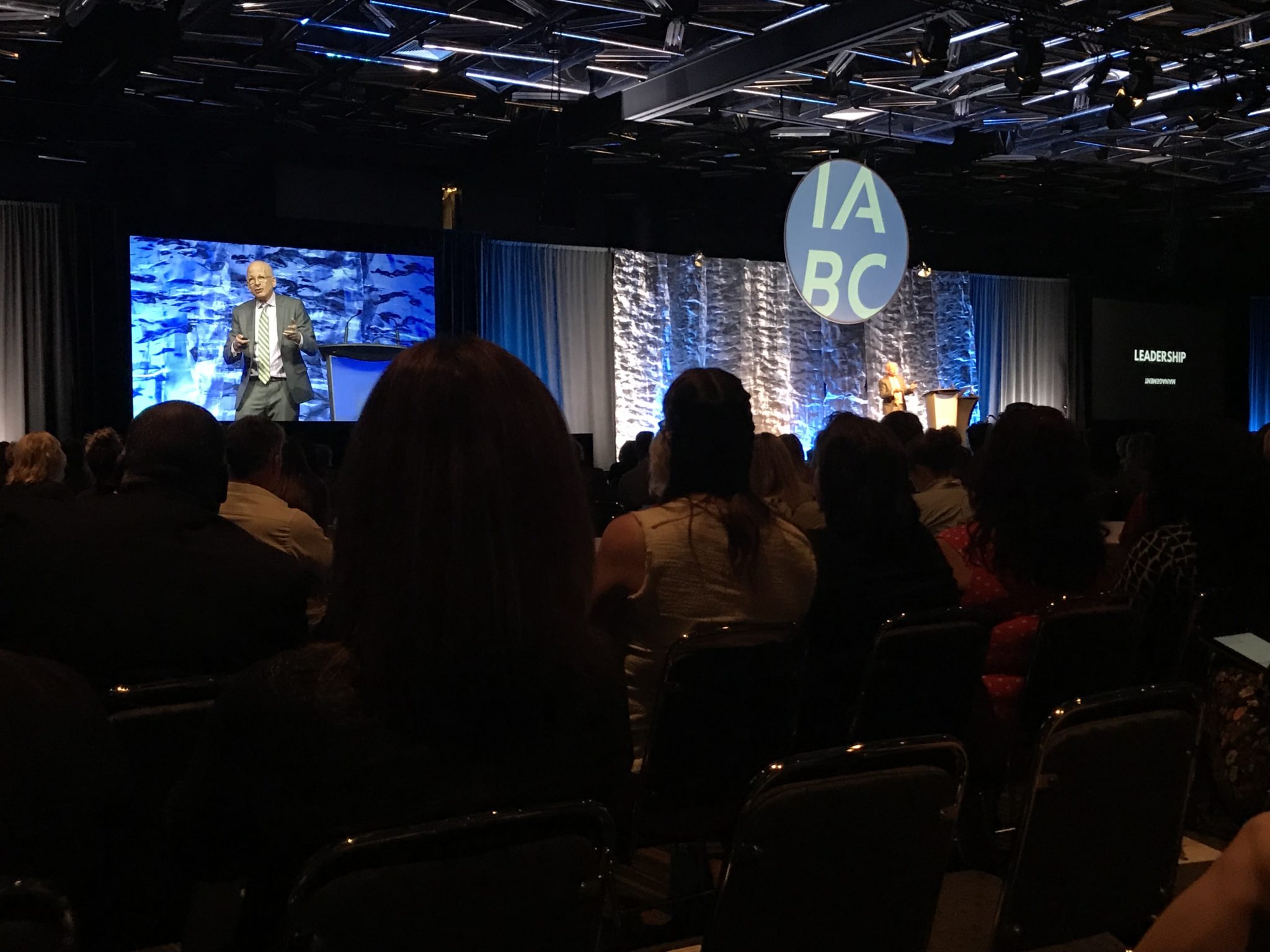 Monday, June 4:
After fueling up with coffee, breakfast and conversation in the Hub, guests met to hear a keynote speaker sponsored by Staffbase, Anab Jain. Jain is a TED Fellow and the director and co-founder of Superflux, a design studio which is shaping the future. She imagines and designs future worlds for people to witness and experience in order to provoke change. In showing the consequences of our present choices, Jain influences the future. She spoke of her concerns about the future, as the technology we create not only advances the quality of our lives but also may change our lives in ways that we did not consider. She suggests that we embrace the uncertainty and ask the questions which will serve us best in such a time of change.
We often don't understand how our technologies work and we often also don't understand their intended and unintended consequences."
Before lunch, attendees split off into breakout sessions, and the Staffbase team visited a presentation by Gerard Braud on "Social Media at the Crossroads." Gerard is a news veteran and a crisis communications expert, along with being the founder of Gerard Braud Communications. He addressed the harm that social media can do to companies when mishandled-particularly in times of crisis. Being responsive in social media posts is essential especially in times of crisis when social media becomes the first spokesman on the story.
Braud urges companies to get in front of the story because in the age of new technology, "the person posting about your crisis becomes your de facto spokesperson if you fail to do so." The concept of treating the company social media like a newsroom is applicable not just in times of crisis but should be practiced at all times.
Social media has all of the attributes and faults of a teenager."
Staffbase presented during lunch, demonstrating how an employee app can be a solution for many industries' internal communication difficulties. They discussed how having the ability to communicate to workers through their mobile devices is a game changer. The workforce is becoming increasingly mobile and having information at their fingertips is an expectation for many people, especially millennials who are beginning to make up more and more of the workforce. By reaching employees wherever they are, employee engagement and connection can be achieved.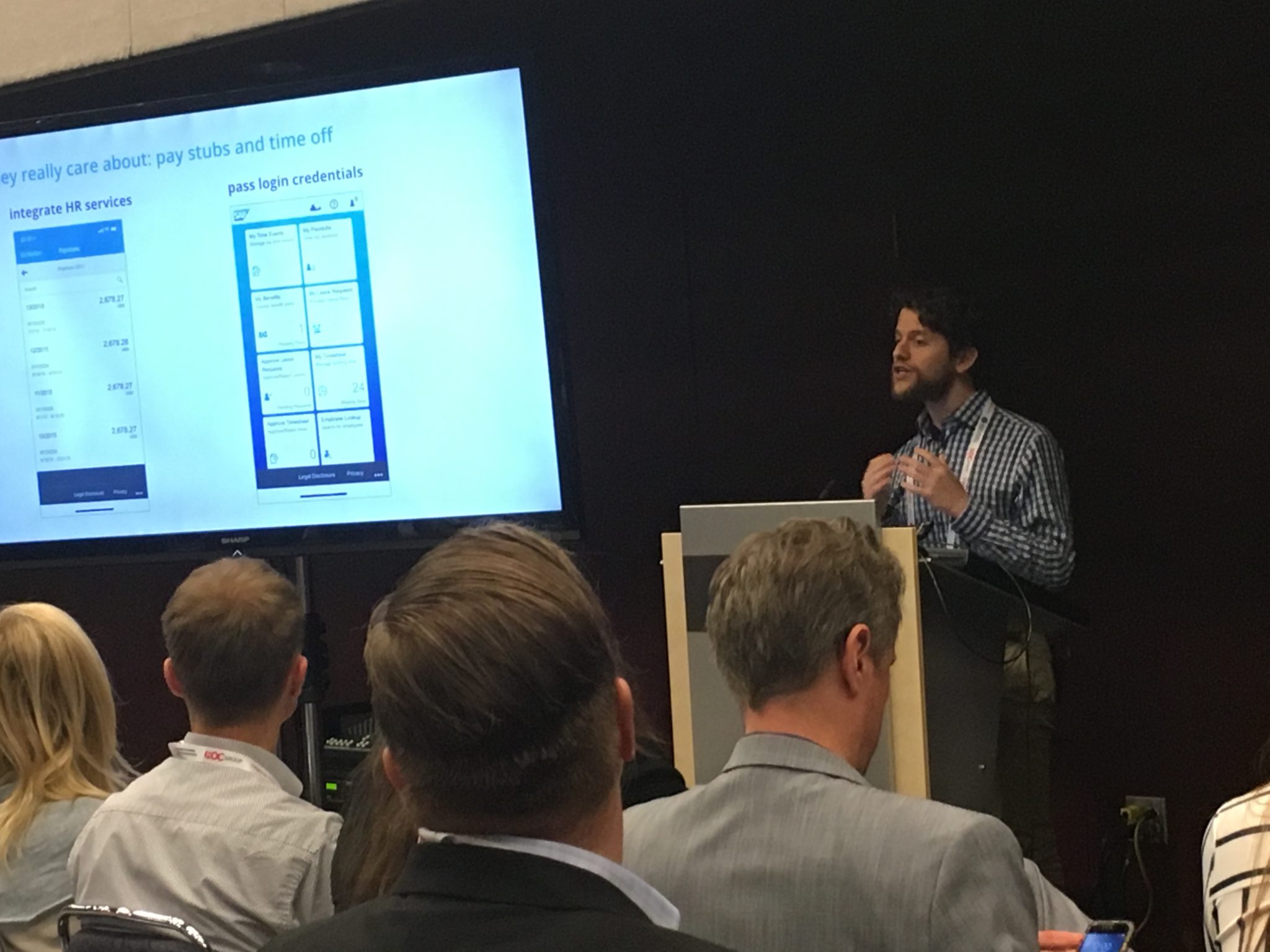 To finish off such an eventful first day, Staffbase participated in the Dine Around, a longstanding IABC tradition. The team spent the night exploring Montreal and tasting the local cuisine of the host city with new friends from Australia and Canada.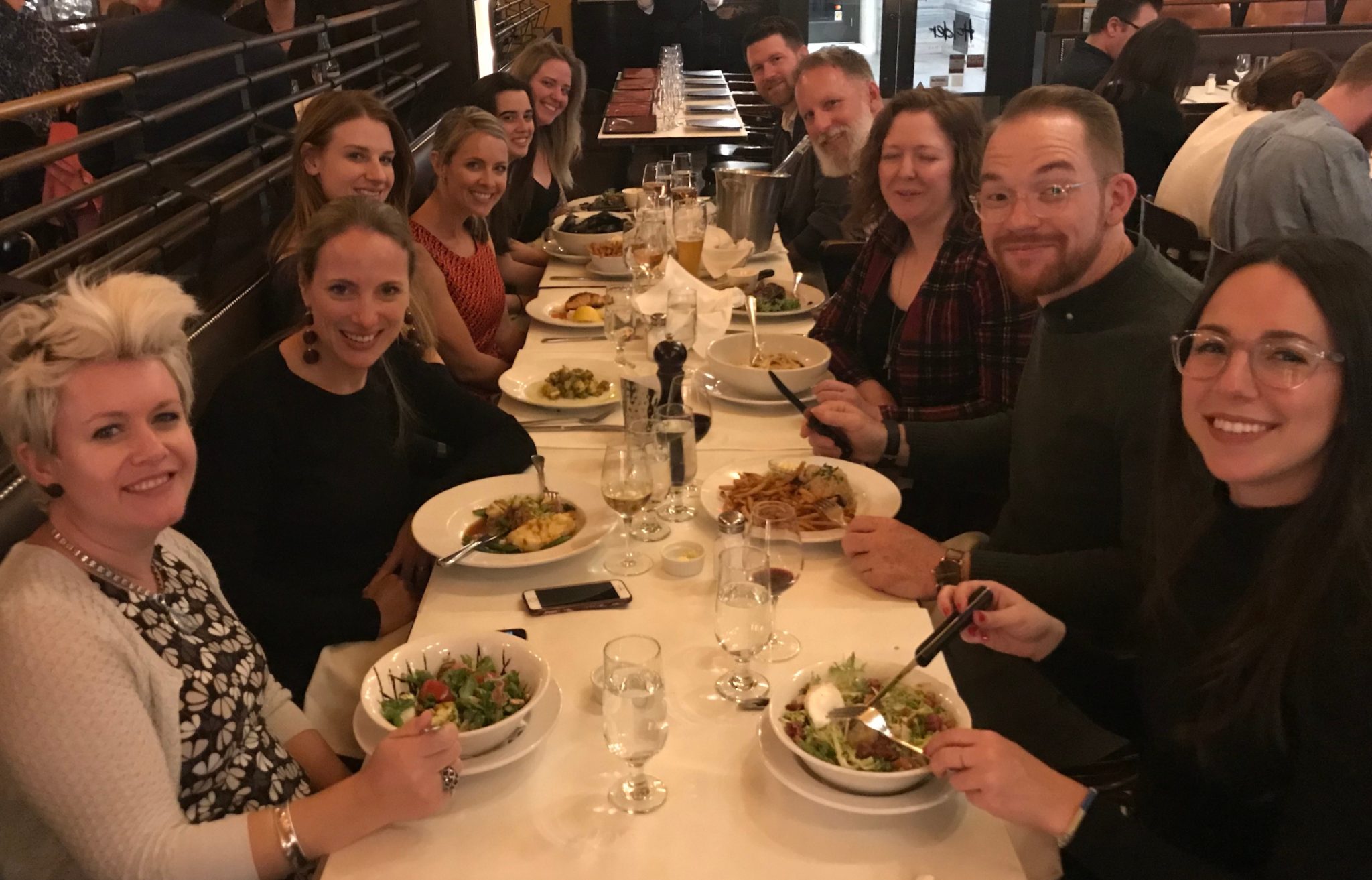 Tuesday, June 5:
Tuesday morning kicked off with a Staffbase hosted client panel in which Staffbase guest presenters and clients Troy Griggsby, Communications and Brand Manager of US AutoLogistics, and Scott Linke, Marketing Manager of SAK Construction, discussed their challenges in reaching non-desk workers and how they combine traditional and digital channels to make their communication efforts successful. The panel was filled with great discussion of internal communications strategies, and the stories of US AutoLogistics and SAK Construction illustrated how effective internal communication channels can lead to increased employee engagement and productivity.
Once we implemented the app, everything was there; we call it a one-stop shop."

Scott Linke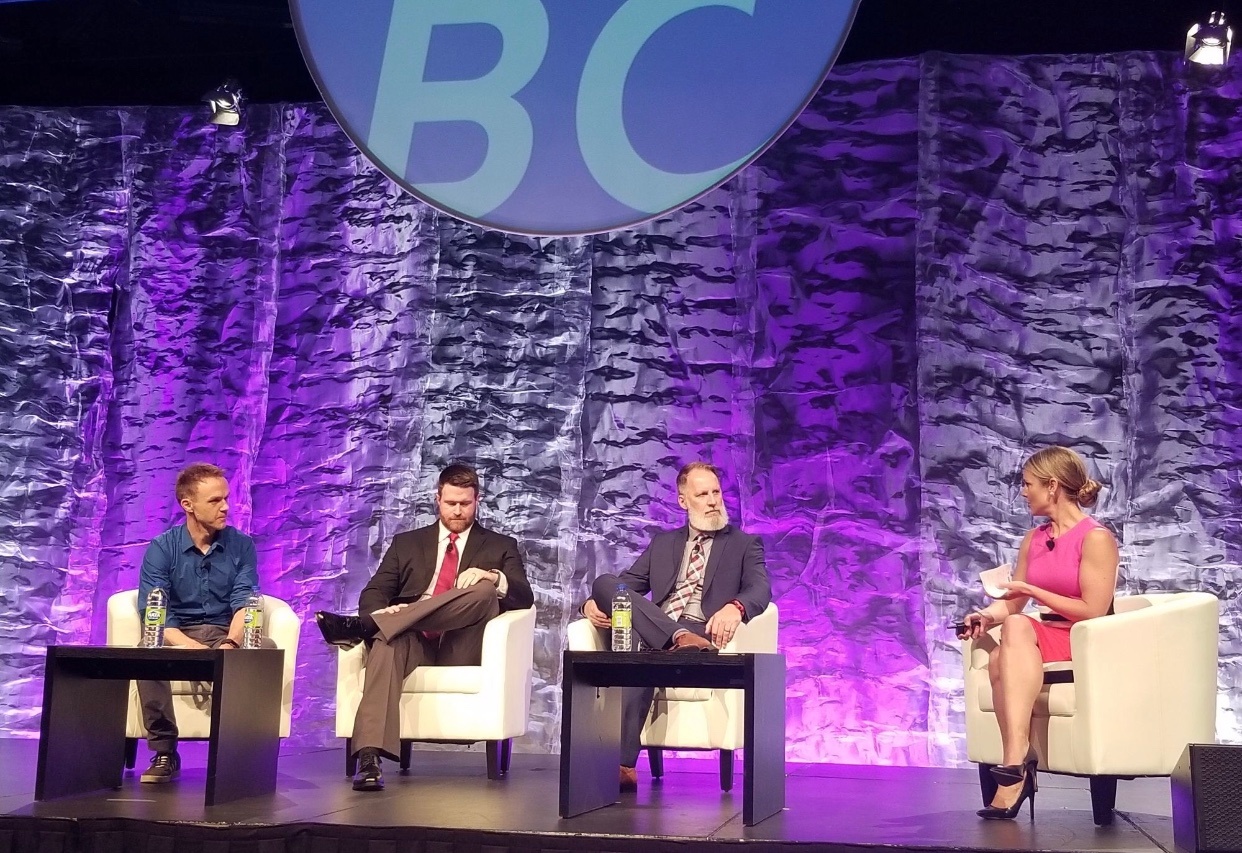 Our old intranet was difficult and cumbersome."

Troy Griggsby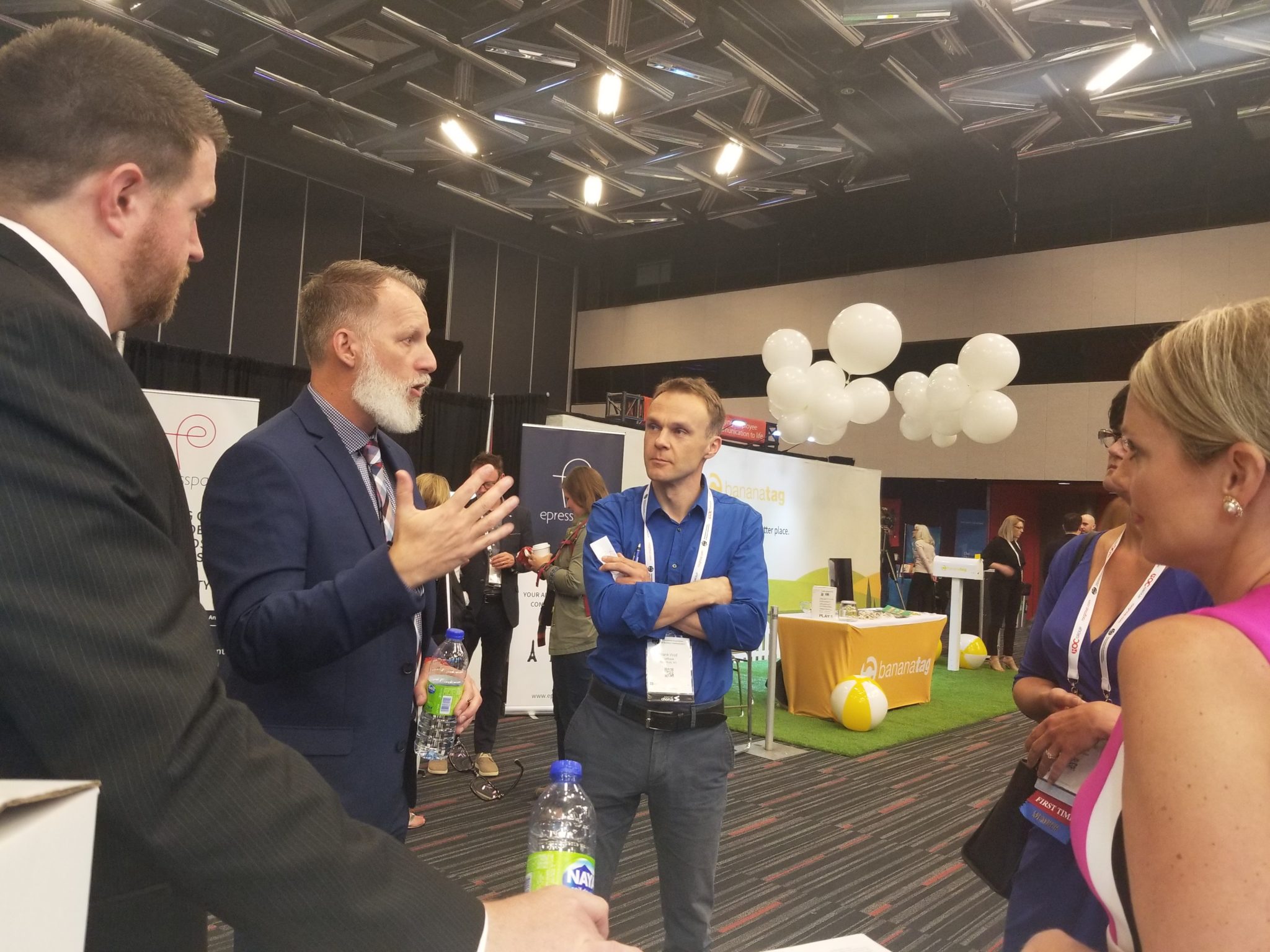 Following the Staffbase client panel, IABC held a general CEO panel in which Hugues Mousseau, vice president and partner of Syrus Reputation, moderated a discussion about how communication can help the success of business amongst several top level CEOs. The panelists included Luc Sabbatini (CEO of PBSC Urban Solutions, a company dedicated to innovation in sustainable mobility solutions), Eugène Lapierre (Tournament Director of the Rogers Cup and Senior Vice President of Tennis Canada, a non-profit company with the mission of expanding tennis in Canada and making Canada the world's leading tennis nation) and Ralph Hosker (President and CEO of Belron Canada, the Canadian leader in automotive glass repair and replacement). There was some uproar from the crowd concerning the absence of women in the CEO panel, and all present agreed that diversity in leadership is necessary to find the best solutions and ideas.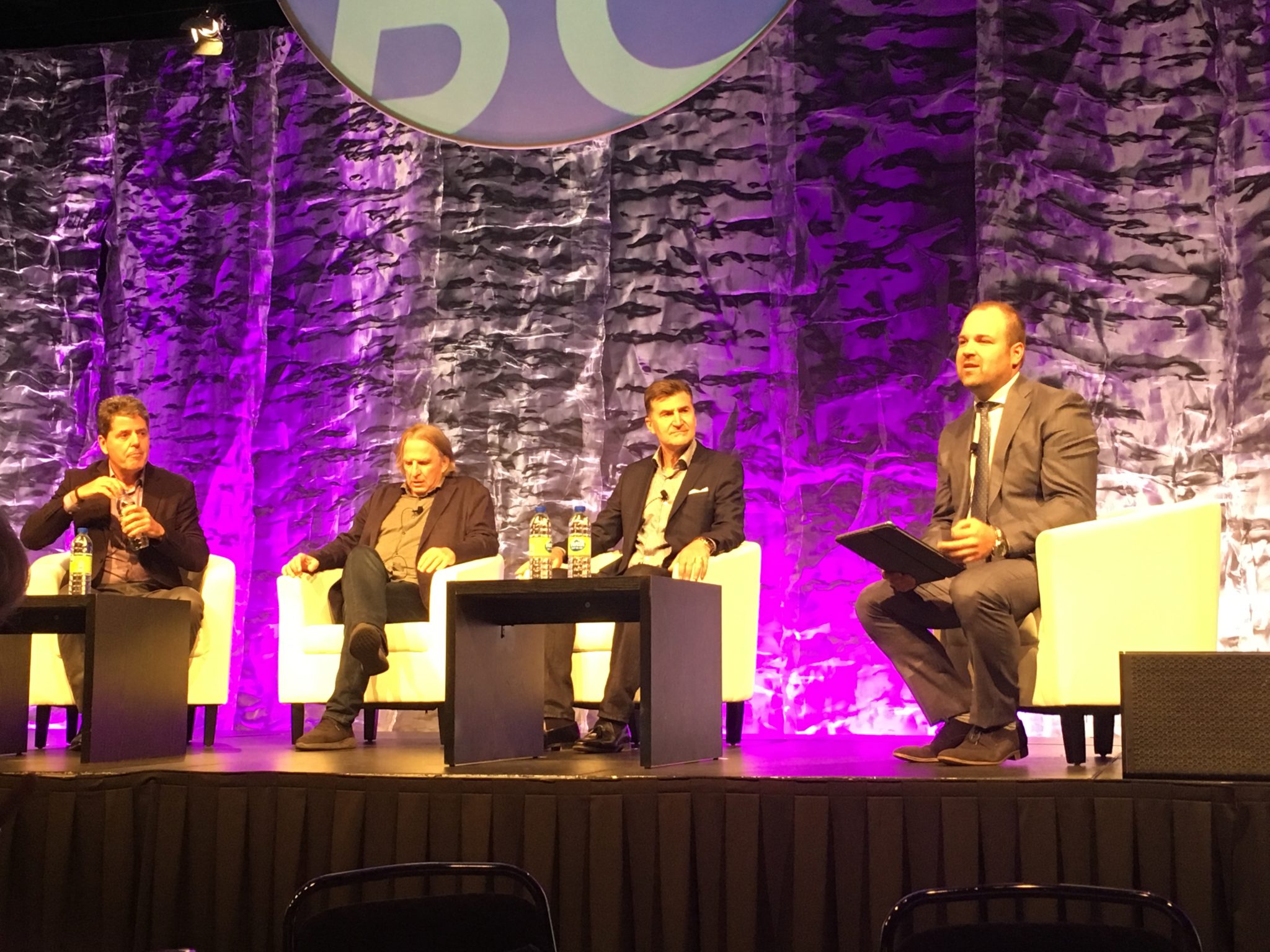 The CEOs discussed the present difficulties in communicating and spoke of how internal and external comms professionals can help their CEOs to be better about communication. Many in the field of communication feel that CEOs do not recognize the importance of communication to company success. Luc Sabbatini stated that, "for some CEOs, communications is a necessary evil" and they need to be pressured to get on board. All on the panel agreed on the importance of communications and that CEOs and communications experts working together is essential to company cohesion.
Here were Ralph Hosker's two specific directions for communications professionals to most help their CEOs: 
Be connected. Get out into the field and see if there is a difference between what I am saying and feeling and what is being communicated to employees and how they are interpreting it.

Give us that feedback. Tell us. And be honest.
Before heading to lunch, guests were split into breakout sessions and Staffbase attended "How to Prepare for the Next Technology in Communications" hosted by IABC Fellow Shel Holtz. Shel focused on voice technology, predicting that AI voice will become the new interface to everything and said that 50 percent of all searches will be done by voice by 2020. An increasing amount of internet searches are done by voice search every day. This is relevant to communications professionals because with the increase in voice searches, SEO will change. Google has recently announced that they will be reconfiguring their SEO for voice rather than for mobile, which means that those hoping to increase their SEO will need to answer natural language questions in the future as voice becomes bigger than mobile.
After lunch, Staffbase announced the winner of the raffle for a gift certificate worth almost $2,500 toward a luxury train journey on the Rocky Mountaineer.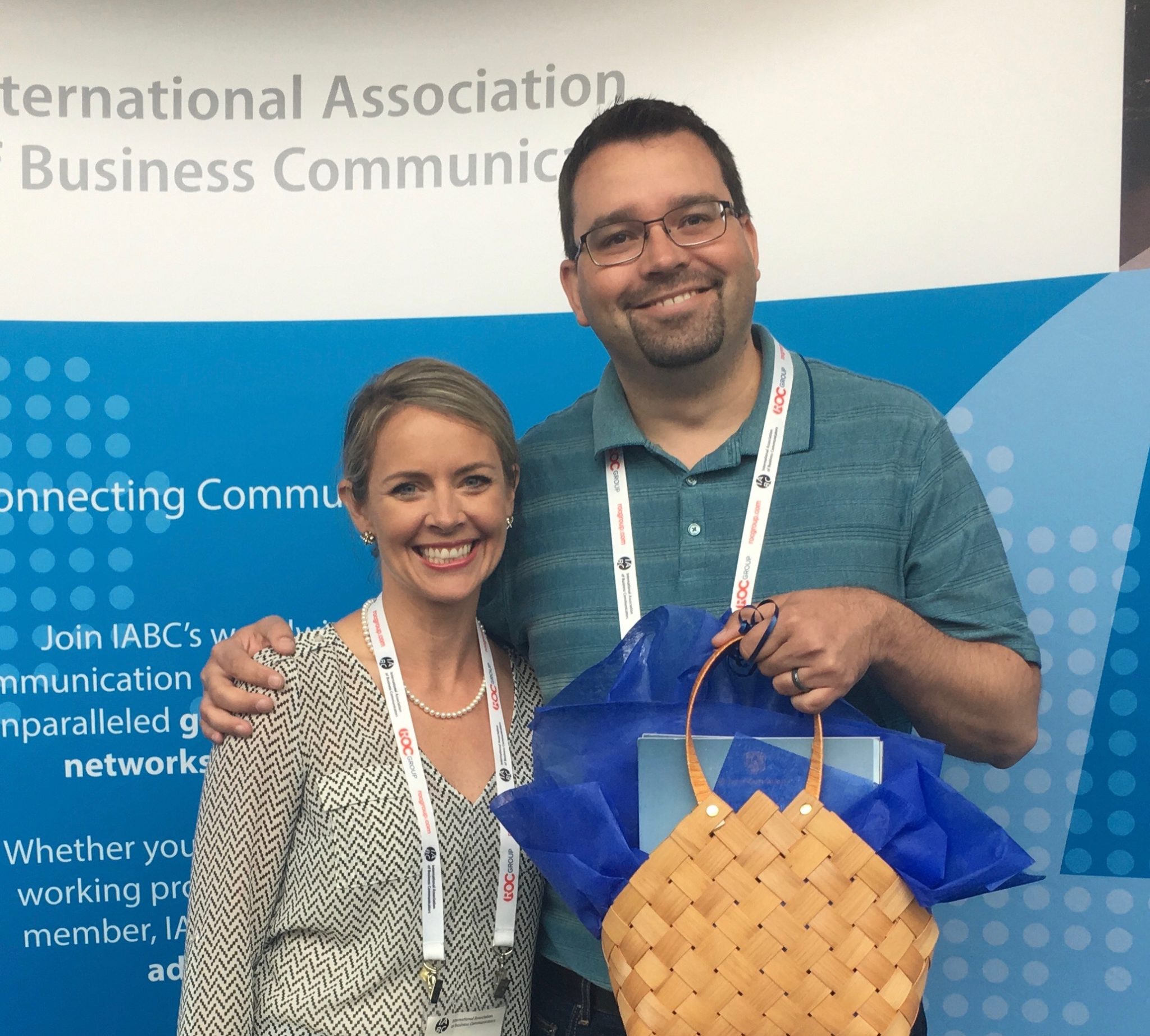 In the evening, Staffbase was honored to attend the Excellence Gala. The Excellence Gala is held each year to honor and celebrate the highest achievements in the field of professional communication. The evening included delicious food, inspirational speeches, lots of great conversation, and acrobats!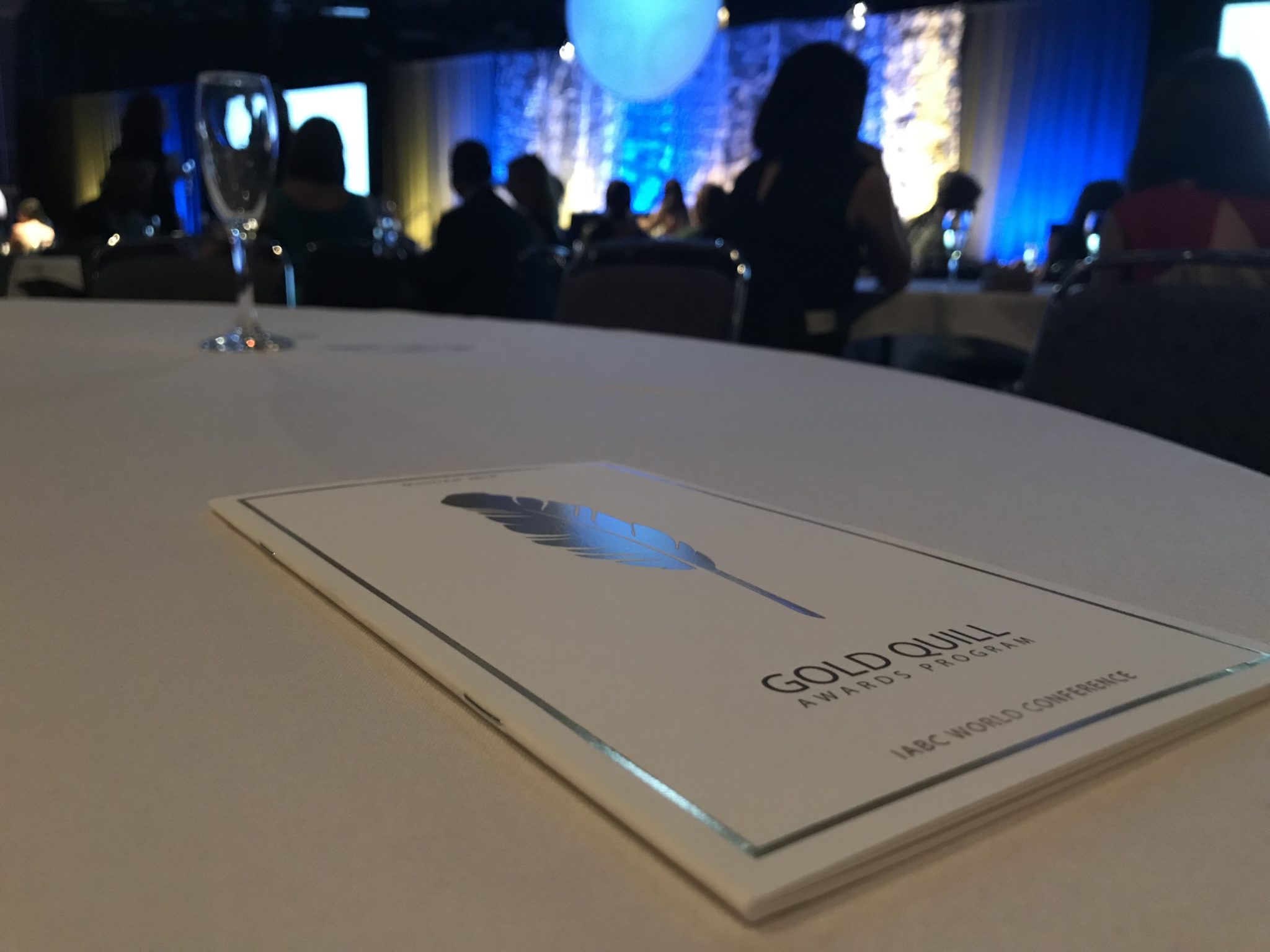 Wednesday, June 6:
On the final day of the IABC World Conference, the closing keynote by Ryan McCarty, former director of customer and employee relations at TCC, which is the largest Verizon Authorized Retailer in the US, focused on empowering employees through a powerful cultural movement to do good and connect your why with your what to make a difference in the world. The inspirational speech motivated the group of communicators to give one last cheer before saying "au revoir" to a wonderful 2018 IABC World Conference.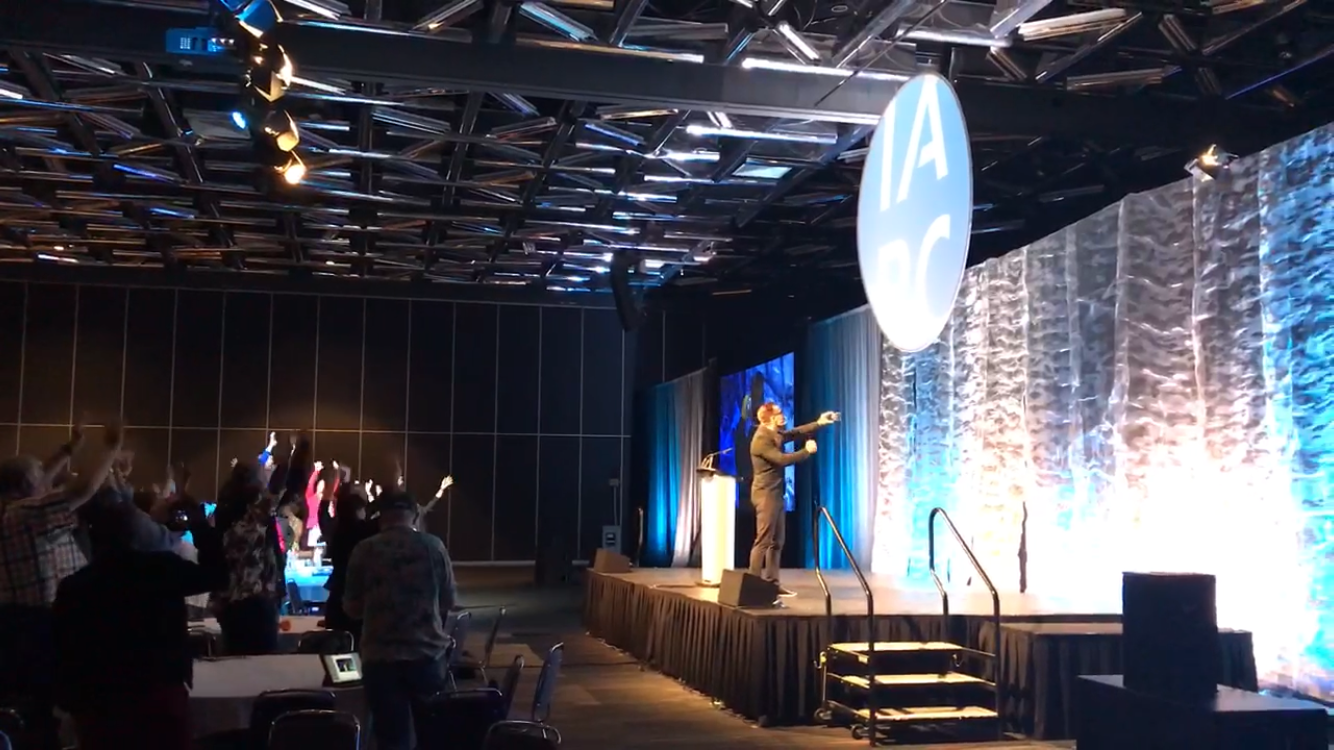 Staffbase was proud to be the premium sponsor of the 2018 IABC World Conference, and we look forward to furthering relationships with the communications pros that we met at the event. We are excited that companies and communicators are connecting the dots between the customer experience and the employee experience. Employers are focusing internally to build employee relationships with the hope that this strategy will translate to external success. And we're happy to build a platform to help companies reach, connect, and communicate dispersed workforces.
Read more about employee communication best practises: