This year starts with a great app update that brings integrations for Office 365 along with more new features that support larger and distributed organizations. The re-confirmation of terms and conditions works much easier now and we also added improvements for a better user experience. And everyone who is still hungry for more can check out the preview package with brand new trial features.
Staffbase Meets Office 365
Office 365 has become integral to the IT landscapes of most larger companies. We've been hard at work on features that allow you to link your existing Office 365 applications to Staffbase, and are now proud to present three integration options. With these options, information from SharePoint and Staffbase reach your employees wherever they work and guarantees smooth workflows.
If you use Microsoft SharePoint and/or Microsoft Teams, we've built the following options for you:
SharePoint >> Staffbase: News Synchronization   

 

If you are currently using SharePoint for internal communications, you can now synchronize your content from there with the Staffbase platform, allowing employees to access news from all sources through their employee apps.

This SharePoint add-in is available from Microsoft AppSource. Details and installation instructions can be found on our support portal.

Staffbase >> SharePoint: Embed News as a Web Part   

 

Do you create content in Staffbase and want to display it in your SharePoint? No problem! Simply embed a Staffbase news channel as a web part in SharePoint. Your employees can read articles created in Staffbase, as well as like or comment on them without leaving Office 365.

This SharePoint add-in as well as details and installation instructions can be found on our support portal.

Staffbase >> Microsoft Teams: Show News in a Teams Tab   

 

If you would like to provide your employees with news from your Staffbase app via MS Teams, we now offer an integration that notifies employees of employee app news in MS Teams and displays the news in a tab within Teams.

This integration will soon become available on Microsoft AppSource. If you have any questions, contact your Customer Success Manager.
Reach your employees where they prefer to be reached! We are planning further integrations for Office 365—stay tuned for more.
The More the Merrier—Features for Large, Distributed Organizations
Large companies with many different locations face special internal communication challenges. In previous releases, we have worked on making it easier to target content, for example with Spaces and having multilingual options for the app interface and content. We are continually expanding these functions to make things easier for internal communication heroes in large organization, as well as improving the user experience for their employees.
Until now, analytics could only be viewed by global app administrators as well as roles with editor rights. With this round of updates, Space administrators are now able to access analytics for their respective space. The statistics displayed are filtered according to the rights of the space administrator and statistics from other spaces are not accessible to them. Decentralized locations or departments are also now in a position to understand how their content is being used.
In addition, even more plugins now support multilingual content. Administrators are now able to create forms, calendars, event registrations and advent calendars in different languages. Our family of supported languages grew again with this release, too. The app interface is now available in nine more languages: 🇨🇳 Traditional Chinese, 🇧🇬 Bulgarian, 🇭🇷 Croatian, 🇱🇹 Lithuanian, 🇷🇸 Serbian, 🇫🇮 Finnish, 🇸🇮 Slovenian, 🇬🇷 Greek, and 🇩🇰 Danish. You can find the complete list of available languages in our support portal.
The Staffbase app interface now speaks 28 languages. It's wunderbar! 

Terms and Conditions Just Got Easier
When company communication is accessible via private smartphones, attention to detail regarding compliance is essential.
Before this release you were easily able to change or adapt legal documents, however information regarding changes required a separate message to users.
Now you can request re-confirmation of terms of use or privacy policies directly from your app. When changes occur, users can be prompted to confirm the new terms and conditions the next time they enter the app via a pop-up dialog. If a user does not agree, they will be automatically logged out of the app and will not be able to access content again until they accept the conditions.
Improved User Experience for Forms and Menu Notifications
In order to reach your employees effectively and promote interaction, it is important that employees enjoy using the app. We're always sprucing things up aesthetically and making the app easier to use, and this time was no exception.
Thanks to technical and optical modifications, the forms plugin now adapts to your branding. It uses your app colors, and form elements, such as highlights and required fields, are more clearly recognizable. More Staffbase plugins will be capable of adapting soon in order to give users a clear, consistent user experience.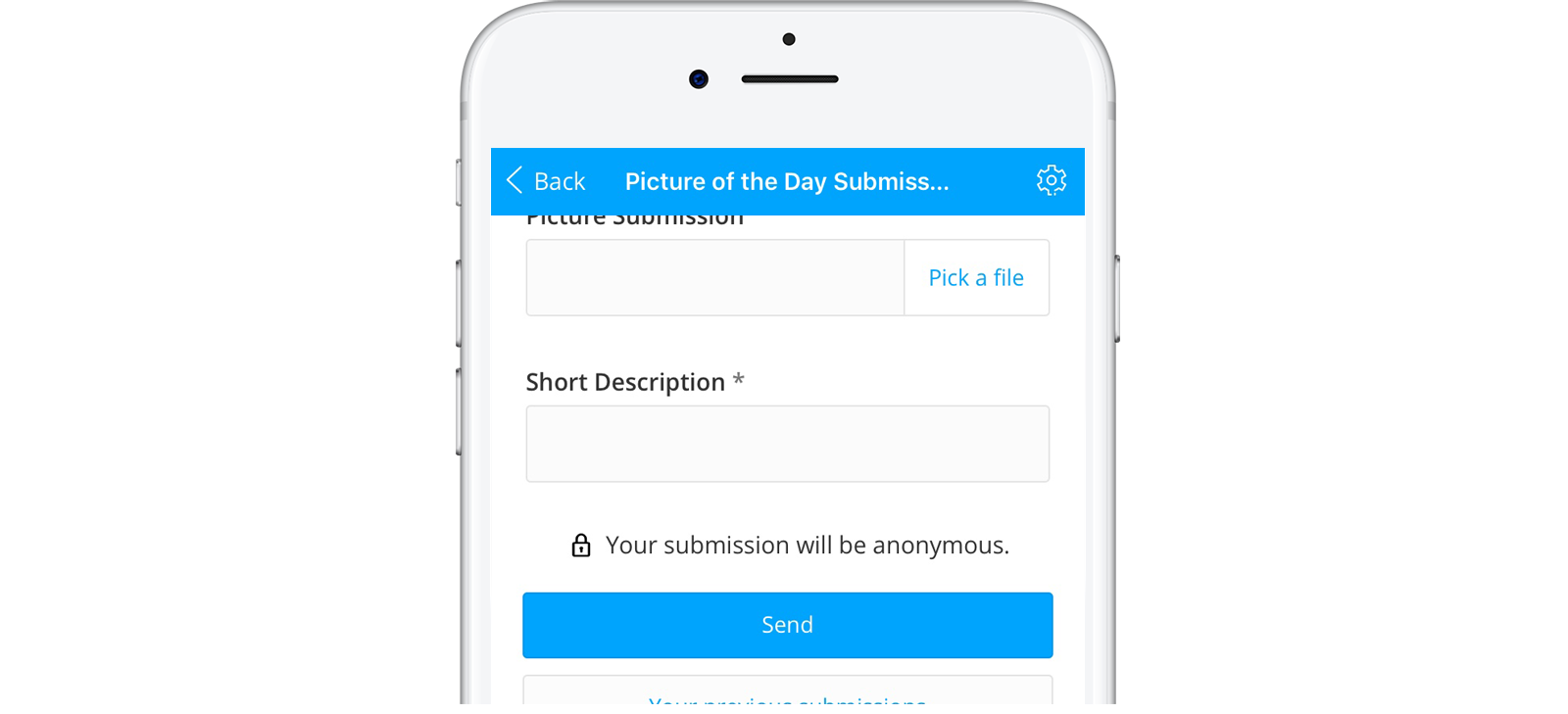 It's also now even easier for users to find news within the app. Some of our customers who have built up complex structures with many folders containing lots of information, and we recognized the need to keep users up to date about what is happening deep within these structures. Markers for unread news or chat messages are now also displayed on folders in the menu bar, so that employees don't miss a beat.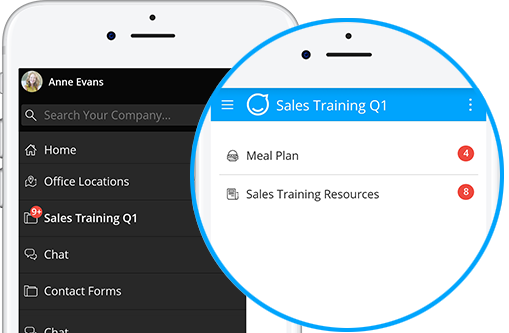 Want More Updates? Check out the Preview Package
About a year ago we opened our idea portal and asked for customer suggestions and wishes for the platform. In the meantime we have received more than 600 ideas, and our development team is currently working on implementing some of the most popular ones. Our customers are invited to take a look at these trial features:
Notifications API: developers working on custom Staffbase plugins can send notifications from these plugins through the app
PDF preview: open PDF files directly within the web app
Audio player: listen to sound recordings or music directly in the app
If you would like to try one of the features, contact your Customer Success Manager. We are looking forward to your feedback!
Read the details about all new features, improvements, and bug fixes in the full release notes.
The release has just been rolled out to your web app. Employees should see the update becoming available on their mobile devices throughout the day.
If you have any questions, please don't hesitate to contact us or leave a comment below.
Learn more about how and why companies choose Staffbase: