Internal communication is more important than ever. In today's world of work, effective communication is the glue that connects people, creates a sense of community, and holds organizations together. For many of these companies, having an employee app has allowed them to remain capable of timely action, keeping employees up-to-date daily, and implementing necessary corporate measures quickly and effectively.
What's the benefit of an employee app?
An employee app is a platform for internal communication. It focuses on the mobile channel in particular and should be available to all employees, usually on both company and private devices.
Not only do employee apps remove the access barrier for communication, but certain essential functions such as push notifications also help to better activate dispersed employees compared to more conventional digital platforms for employee communication.
Anyone who starts researching employee apps will quickly notice that as simple as the concept may first appear, a whole host of questions will almost immediately arise. This is especially true for questions about technology, because at first glance everything looks familiar: a mobile screen, usually displaying news. That means your employee app is ready to roll, right?
At Staffbase, we have years of experience in the introduction and development of employee apps for hundreds of organizations ranging from between 300 to 500,000 employees. 
Here we will discuss the 8 most important questions you should ask yourself when considering an employee app.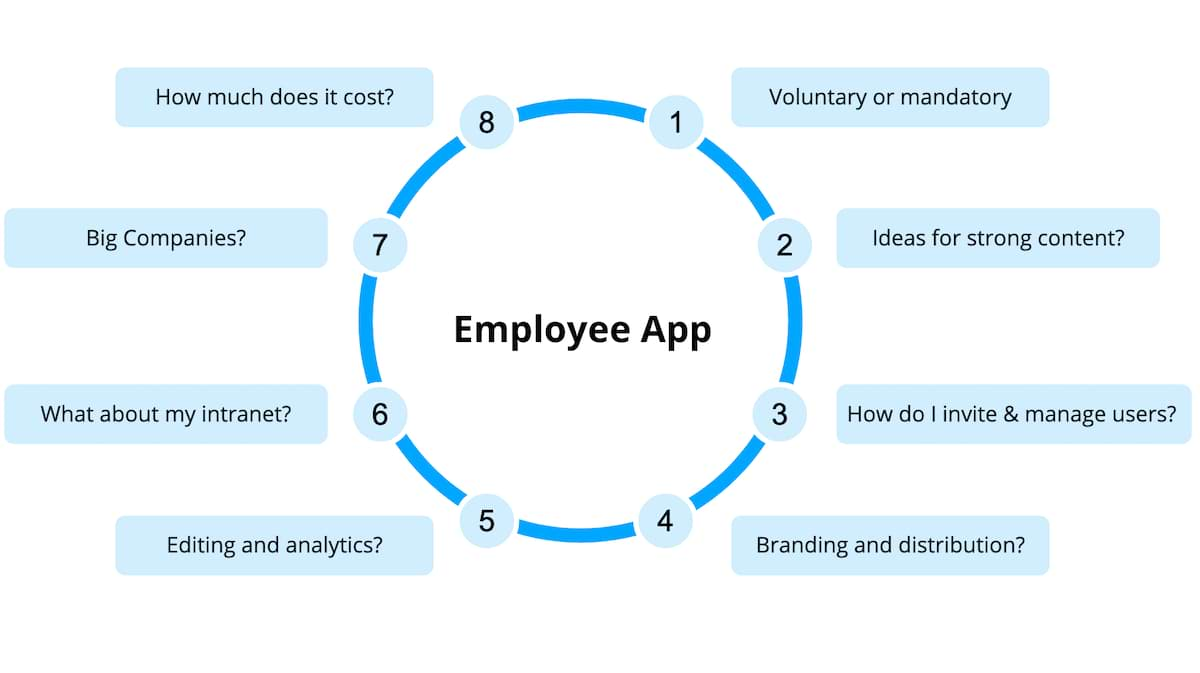 Don't have time to read it all now? Don't worry, we've compiled much of the information from this article into a free guide, Internal Communications App—All You Need to Get Started. Download it here.
1. Is an employee app voluntary or mandatory?
This is a fundamental decision to make as you're getting started. Clarifying and communicating this point to all concerned from the very beginning will help prevent misunderstandings down the road. 
It is possible to mix voluntary and mandatory use. For example, management level employees might receive compulsory information via company-owned devices, while employees in production might voluntarily receive company news on their private smartphones.
Incidentally, in many countries, the question regarding voluntary use will be the first thing a works council will ask.
Here's an overview of the main differences between voluntary and mandatory use:
Voluntary use:
Goal: Better inform employees, encourage interaction, make everyday work easier
Devices: Private Smartphones + mostly private (data) charges
Alternatives: These methods may continue being offered for sharing basic information (terminals, private PCs, limited edition of the employee newspaper, bulletin boards, etc.)
Advantages: Easy and cost-effective implementation
Disadvantages: Only limited reach for core work process
Mandatory use:
Goal: Mobile mapping of work processes
Devices: Smartphones / tablets (+ data charges) / WLAN (provided on-site by the company)
Alternatives: Not necessary
Advantages: Direct cost savings and direct improvements to core work process
Disadvantages: Higher investment costs, effort in maintaining many mobile devices
More than 90 percent of our customers offer the app for voluntary use. 
But how can you compel your employees to use the app voluntarily in the first place?
The main answer is that content in your employee app must be attractive and relevant for every individual employee. 
This brings us to our second question:
2. What kind of content works best for an employee app?
An employee app can only be successful if the interests and goals of both the company and its employees are taken into account: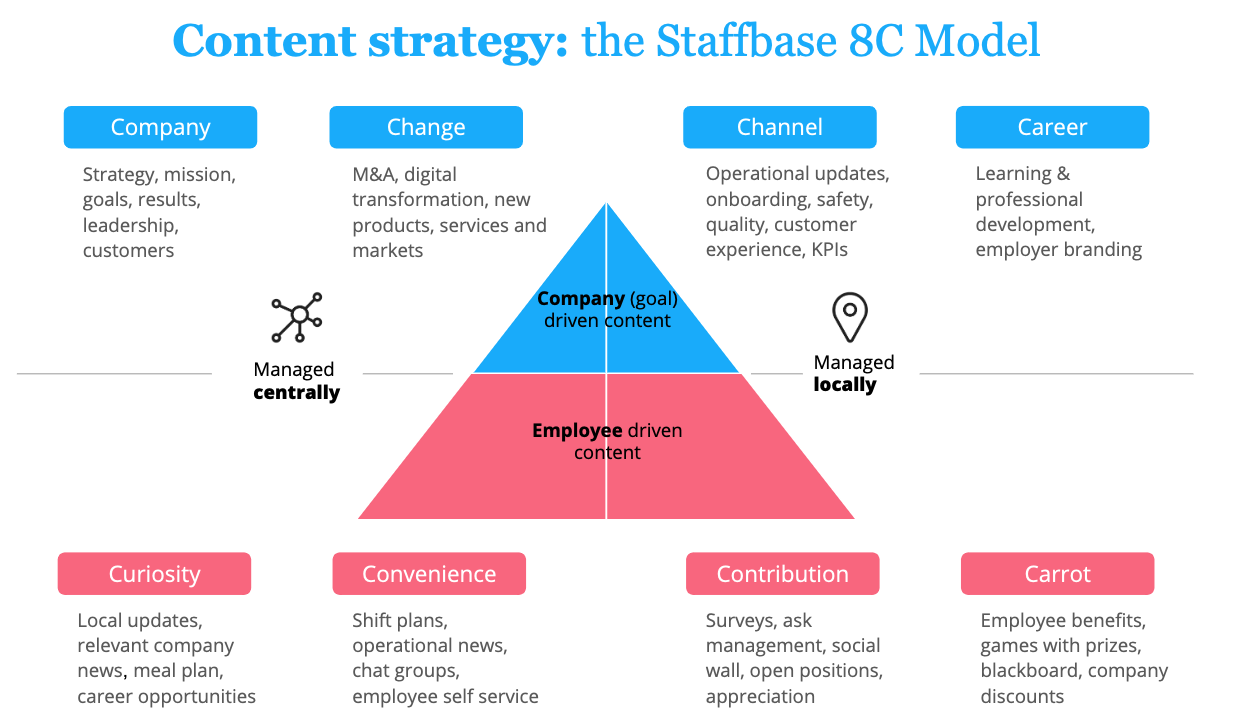 By improving internal communication, companies can better achieve economic goals such as increasing the commitment, motivation, and job flexibility of their employees.
In addition, there are operational purposes such as the creation of more efficient personnel processes and employee self services with features like mobile vacation requests and shift planning.
Employees have a far greater self-interest in content that affects their immediate working environment and everyday work. This includes information such as the cafeteria menu, shift schedules, local site news, bulletin boards, and an employee marketplace.
When planning and implementing your content strategy, satisfying the interests and goals of the company and the employees must be your goal.
The most important content and use cases of an employee app fall into four key areas: Communication, Interaction, Services, and Knowledge.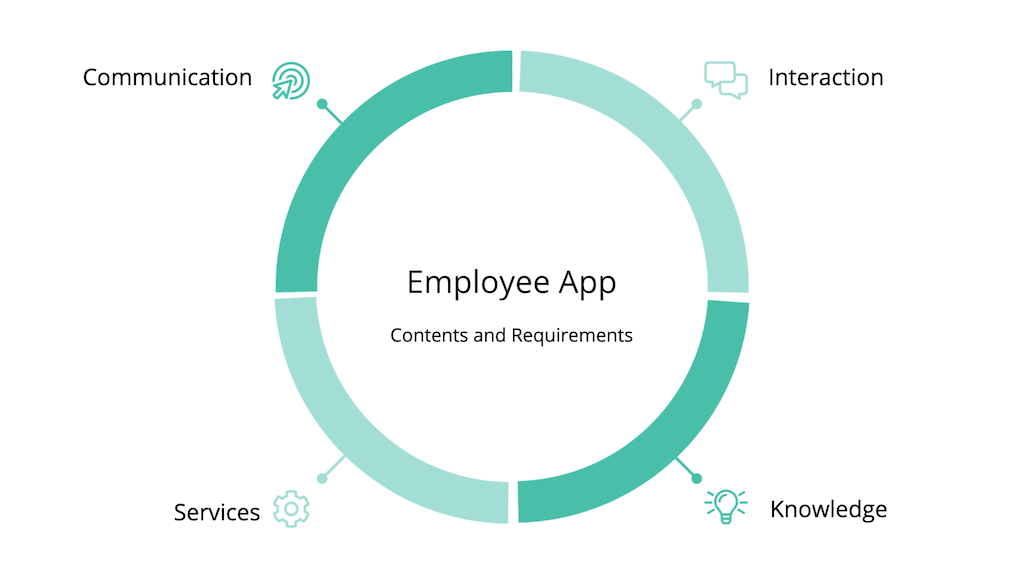 Communication
Central use cases are company news or locally-specific updates. This need not always be top-down. As a result, a good employee app should support various formats.
Examples and contents:
Promoting an understanding of strategy: Explaining vision, goals, and values, and using stories to make these explanations memorable to employees.
Help employees to get a picture of their company in the truest sense of the word: with pictures and videos (it's a fact that many employees have never seen their CEO live or in a video).
Distribute time-critical information in real time via push notifications.
Ask employees for feedback and communicate its implementation transparently.
Communicate across departments or target group-specific channels.
Enable decentralized units to easily create content.
Combine of mandatory and voluntary channels.
Support operative communication (e.g. within a shift team).
Individual communication for moments that matter (e.g. onboarding).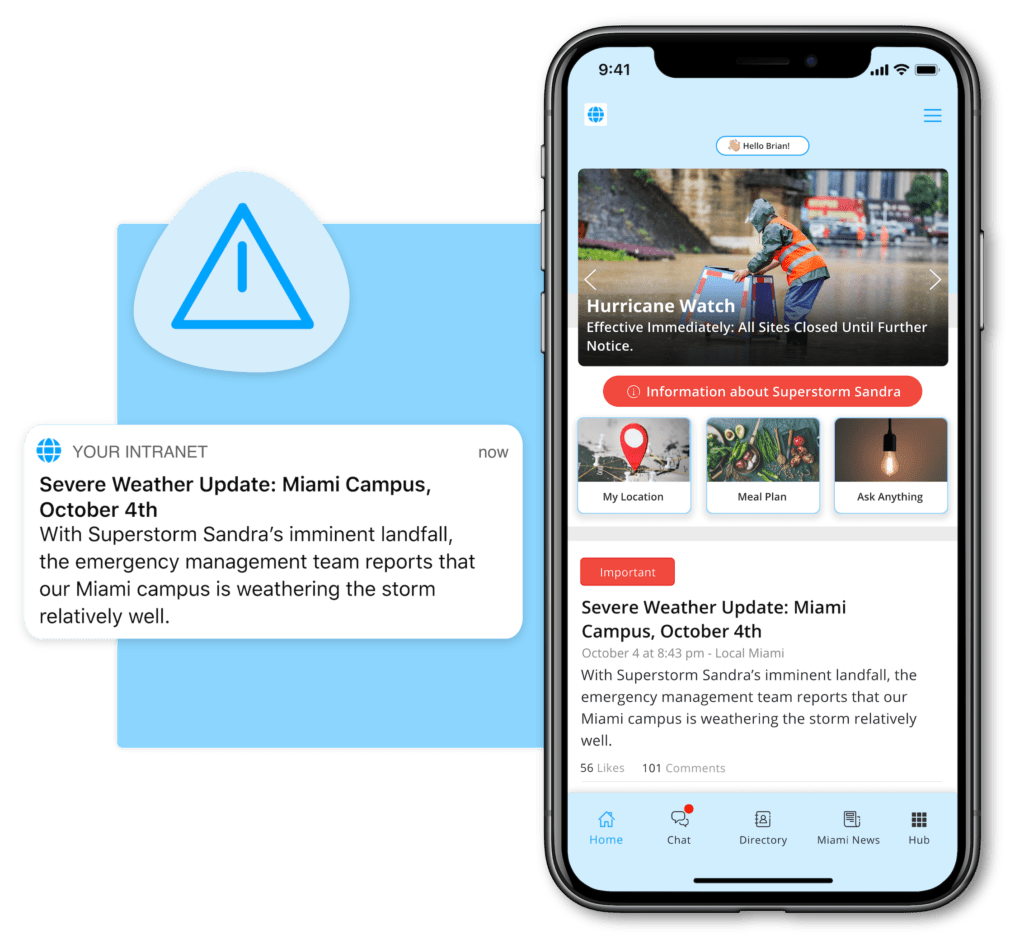 Interaction
Employee apps enable communication in two basic directions. Employees should easily be able to give feedback so that the organization can develop better and faster. As a result, the ability to actively participate and truly be heard will lead to increasingly committed employees.
Examples and contents:
Questions to the management (public or anonymous).
Feedback via employee surveys.
Digital support of employee events (live survey, voting, questions).
Cross-departmental community building.
Social wall or bulletin board.
Raffles and competitions.
Collect ideas (digital suggestion box).
Knowledge
This use case may seem surprising at first, because often employee apps are thought to be pure "news apps." But such an orientation limits the potential and relevance for employees, as well as benefits for the company.
Unlike news, knowledge and information that is permanently valid should be well structured and easy to find. You can use content in the app to answer employee FAQs, for instance.
Examples and contents:
Emergency plans and contact persons.
Frequently requested topics (personnel, location information).
Important campaigns, projects, and events.
Information about the product and service range.
Uniformly provide frequently requested templates and documents.
Learning content (courses, short videos, quizzes).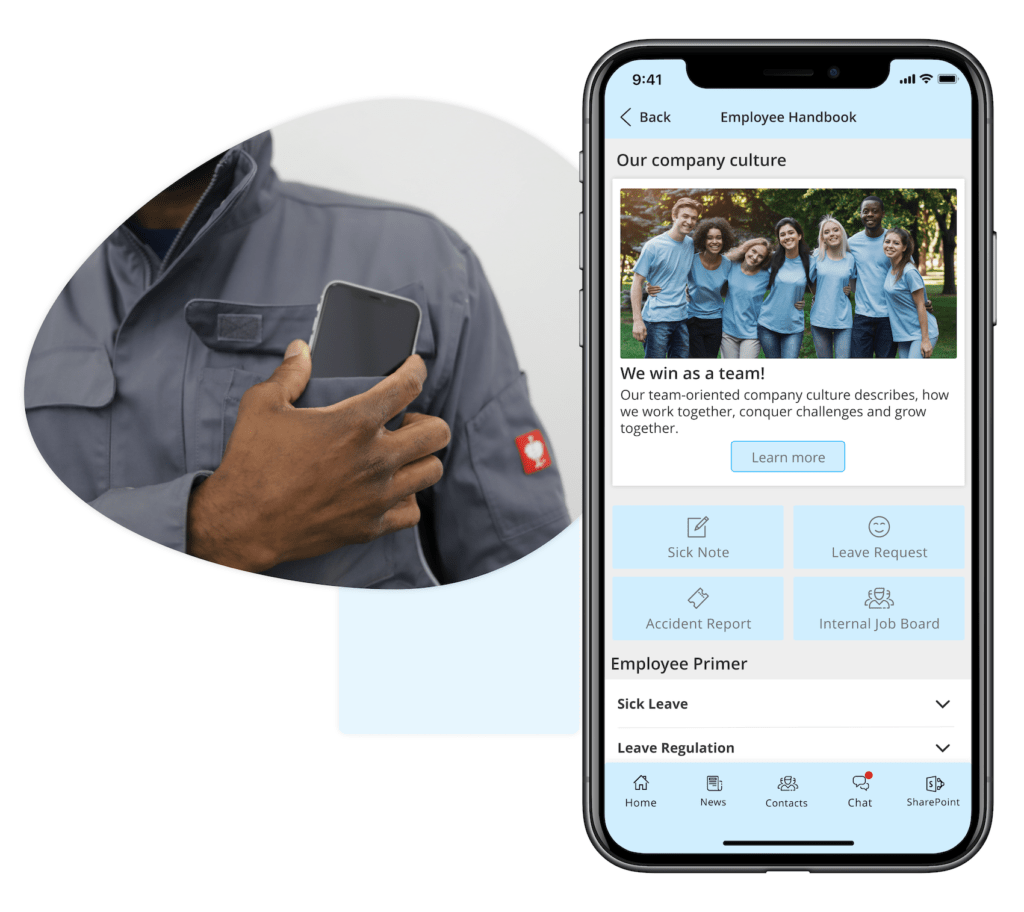 This category is exciting because content can remain relatively stable. Following their initial effort, there will be less ongoing work for editors. For employees, static knowledge content makes the app much more relevant because it acts as a "company in your pocket."
An important requirement for a technology platform is having content pages that are modular in structure, easy to edit, and deliverable via smart navigation to the right target groups.
Services
The focus of this use case is on the practical benefit for employees in their individual daily work routines. Those who can perform simple tasks themselves are more independent and therefore generate less effort for internal service teams, too.
Examples and contents:
Telephone directory
Shift schedule
Menu
Status of individual achievement of objectives
Employee discounts 
Leave requests and vacation status
Payroll accounting
Car-park occupancy
Carpooling availabilities
Travel management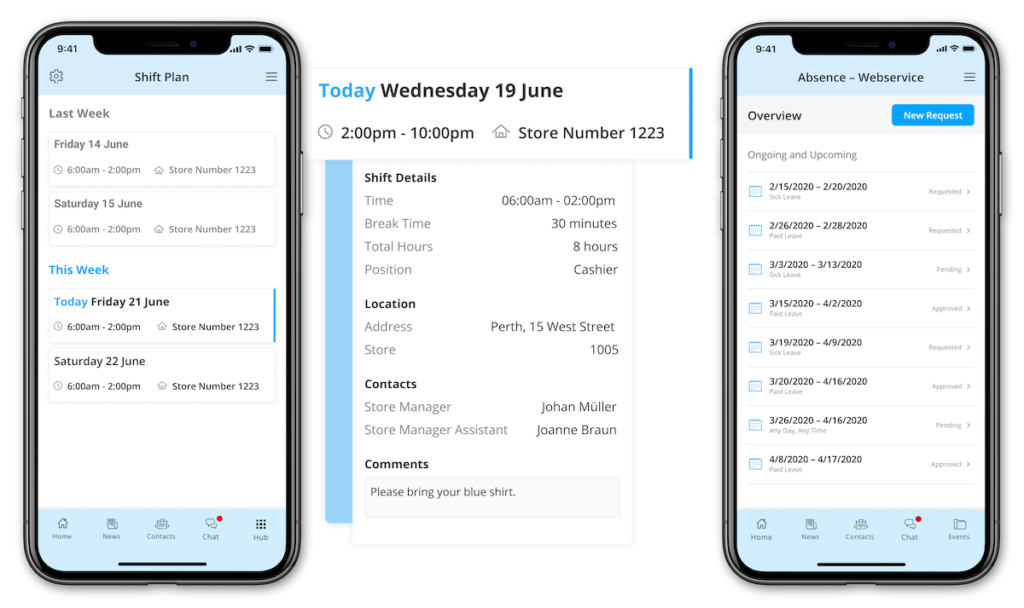 3. How are users administered and how do they log into an employee app?
Many production or service employees don't have a company email address and aren't listed in company user directories (e.g. Azure Active Directory). In addition, their company tenure often fluctuates (e.g. temporary holiday staff).
On the other hand, many employees already have an AD account and want to log into the app using Single Sign-On without having to enter a password with every use. An employee app should therefore offer options for both these target groups.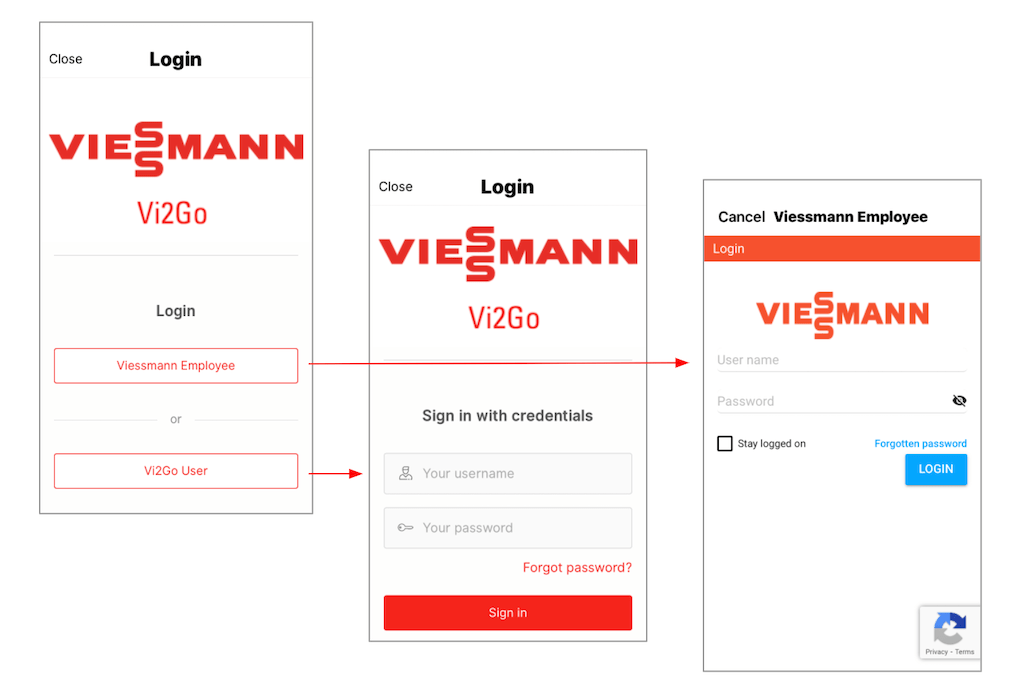 For automatic personalization or a phone book, information about location, contact data, or department can also appear in the employee app.
User management can therefore become a very complex topic. The first step is finding the appropriate method for user onboarding or combining different approaches for different target groups. 
The following is a brief overview. If you want to delve deeper, you will find a detailed description of all available options here.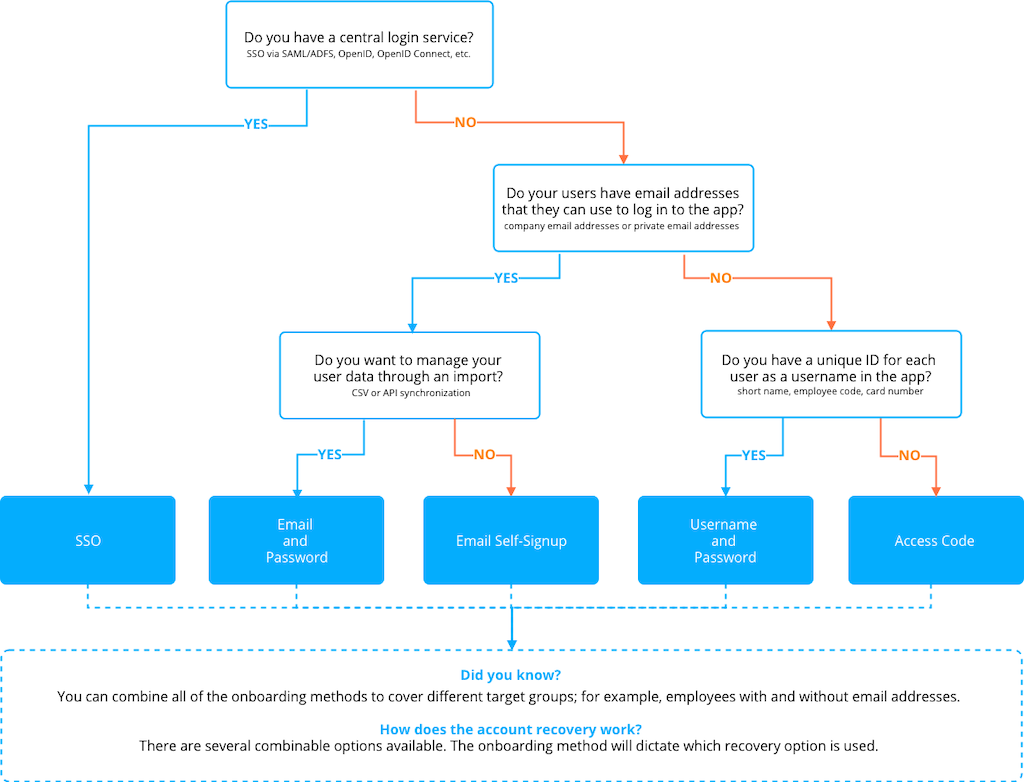 4. What's the best way to brand and distribute an employee app?
At this point it is useful to consider the typical requirements and usage context of an employee app:
Ideal usage is regular (daily or weekly), but only for short periods (3–5 minutes).
Employee training about how to install and use the app is only possible to a limited extent.
Employee trust in data protection is important and must be communicated coherently (e.g. Does the app track my location? No. Is my personal data managed securely? Yes).
Various other tools and apps are often already in use or will be replaced by the app. How can clear differentiation between these tools be achieved?
Companies often take an employer branding approach with the app. Your employees should be happy to show the app on their phones and be a visible example of how your company is forward thinking and modern.
Existing internal media (an intranet or employee magazine, for example) will have already established an internal brand for employee communication. Your app should reflect this branding.
All of these points support your employee app as being a recognizable and easy-to-use platform. We see the company branding of employee apps as well as intranets in general as an important part of their success and sustainability. This applies to both the external and internal design of your app: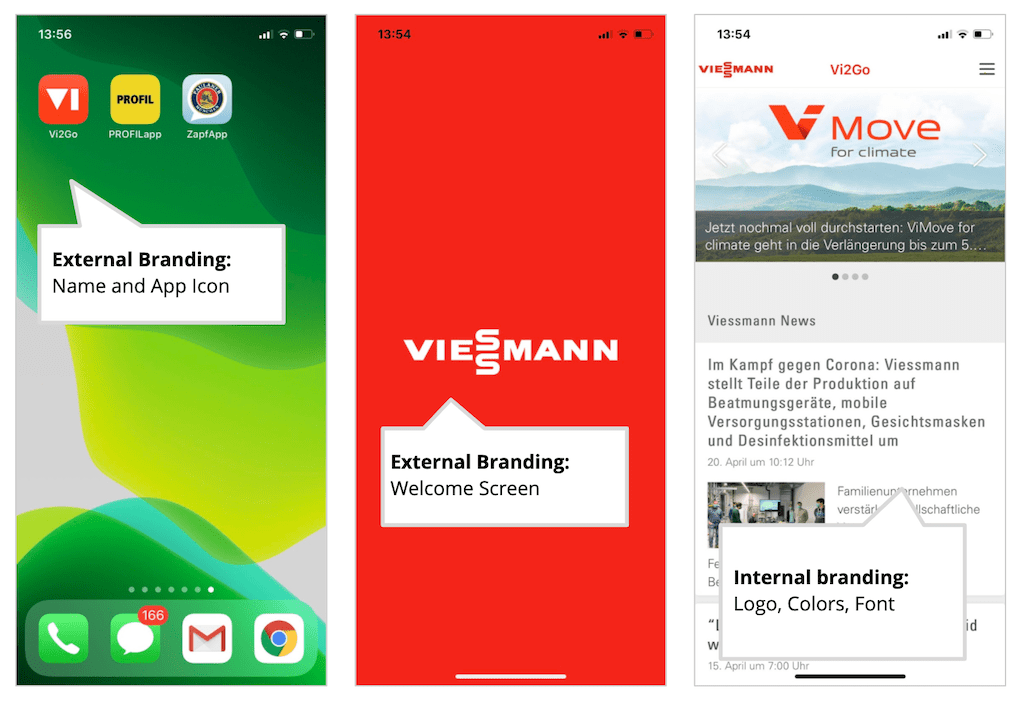 Distribution of the employee app
There are various setup possibilities which have been summarize and described in detail here. Basically, distribution via the public App Stores is the best option. Employees will already know this process because almost every smartphone user has already searched for and downloaded new apps in the App Store.
5. What should editors focus on in an employee app?
Good content is what makes an employee app attractive to users. An employee app platform must therefore support the work of editors.
Let's concentrate on three requirement classes that are important:
Easy and flexible content creation
Some sample requirements:
Different templates for news articles.
Determine which content needs to be sent via push notification.
Which articles need to be marked as important or require a read confirmation?
Schedule articles for publication.
Integrate videos externally, loaded directly onto the platform and streamed from there.
Pictures and picture galleries, with automatically optimized file size.
Share or copy articles to other news channels.
Create content both on the desktop and mobile.
Use predefined content widgets to build clearly structured pages.
Have a preview function.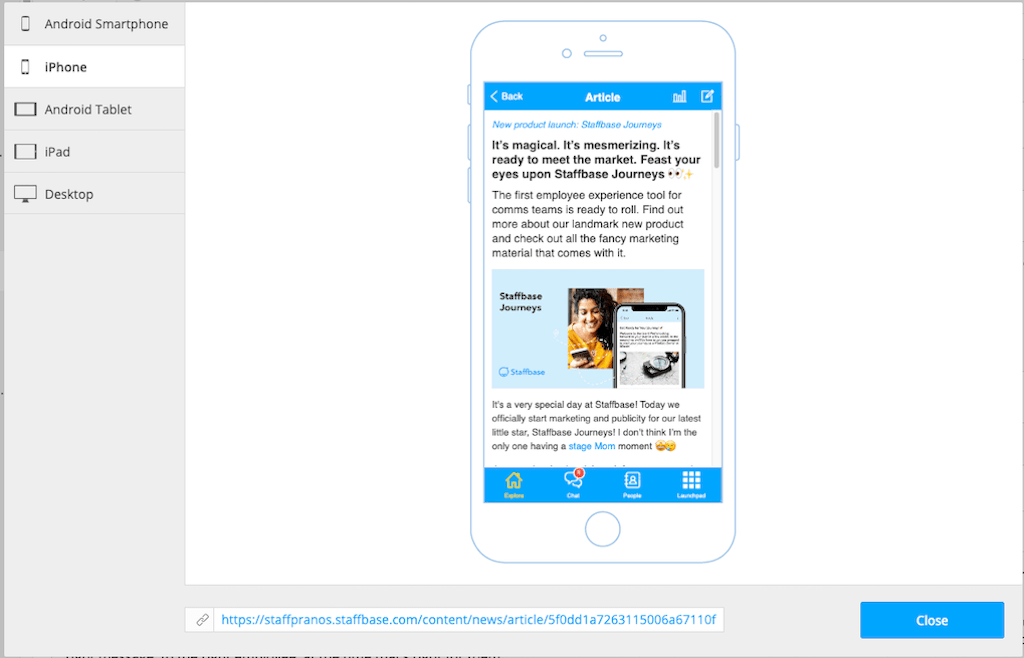 Delegation of content creation to local sites and users
Some sample requirements:
Local editors can create and manage content in their specific area, but are only normal users in the rest of the platform.
User-generated content is possible in selected channels (e.g. bulletin board).
Seamlessly combine global and local content from the user's perspective.
Simple and advanced analytics options
Some sample requirements:
Local editors and users can easily and directly see the number of views in the app.
Analytics function for admins and editors to compare views and interaction with content over any period of time.
Analysis of different content types: news, pages, and chat.
Filter user activity based on group membership: job profile, location, or department.
The last point is very exciting for organizations that employ diverse groups of employees. For example, our clients in the health care sector (hospitals) see differences in the use between doctors and nursing staff. And often, trainees will be the most frequent users of an employee app. This kind of information helps to target these groups with relevant messages that will further increase app use.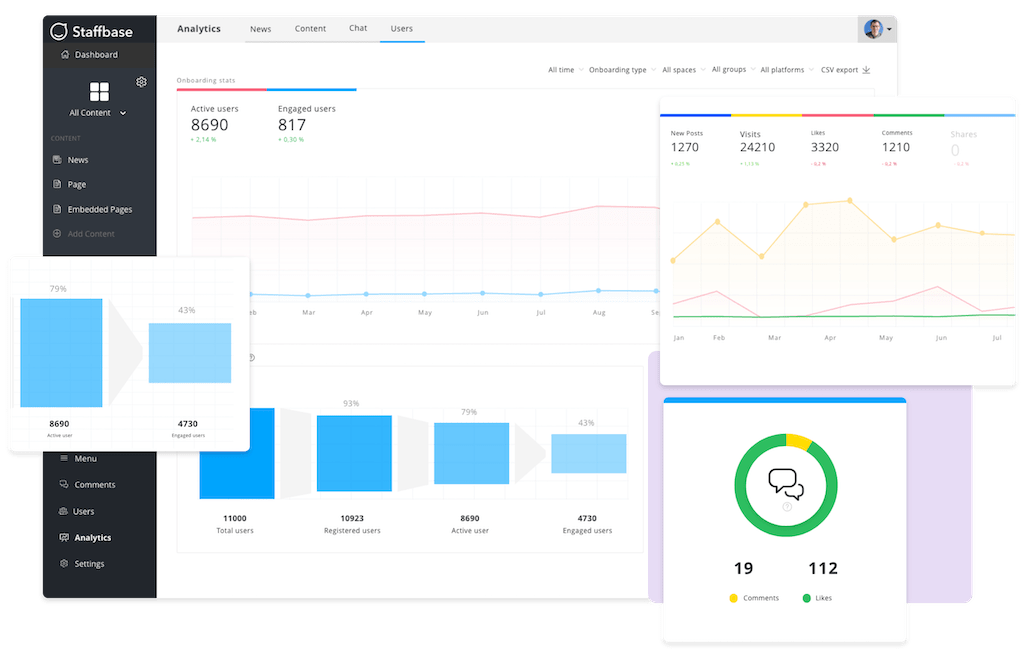 6. How does an employee app fit with my intranet and digital workplace?
This question is often not urgent, but it will certainly come up at some point and that's why it's important.
Many companies use an employee app alongside an existing intranet. That's a good idea, because it will allow you to start quickly. Your app will often replace the printed employee newspaper or at least alter the way it's published.
An employee app can operate alongside an existing intranet for a very long time, but there is a strategic advantage to an app platform that ultimately integrates with an intranet. After all, the respective strengths and weaknesses of intranets and employee apps are complimentary: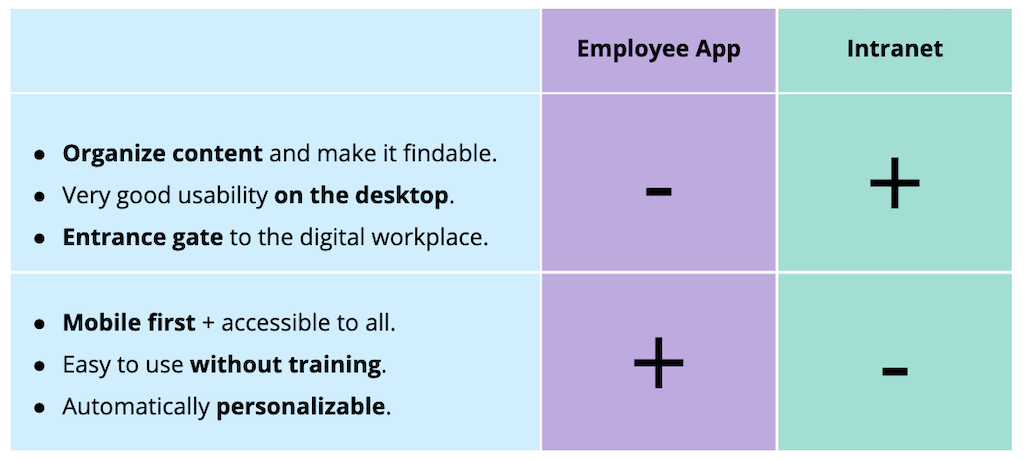 From this perspective, a future trend in intranets and employee apps will be for the two platforms to converge to a new generation of modern intranets. For this reason, we now offer the Staffbase Employee Experience Intranet, an extension of our app platform to a complete intranet: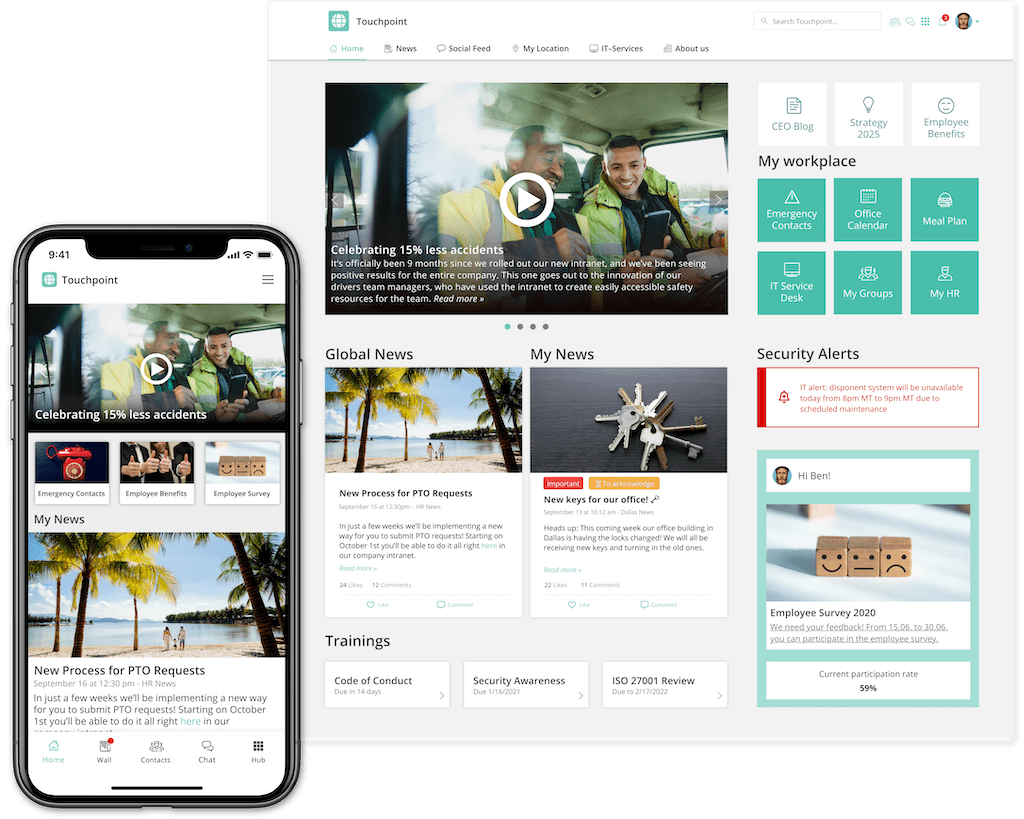 With an employee app, your intranet relaunch will go from slow-motion to warp speed.
You can introduce employee apps quickly and they will finally allow you to reach all of your employees. The introduction of an employee app will create an opportunity for a smart relaunch of an existing intranet. An employee app can be the first step in an intranet introduction, and done successfully, will give you greater freedom when scheduling the migration of your remaining content.

7. What are the employee app requirements of larger companies?
The larger the organization, the greater the technical requirements for the the app and its supporting infrastructure.
Here's a short overview of five areas worth considering:
Data protection and security
Both topics are without question important to all companies, but larger organizations generally place even more emphasis on security. The gold standard for data protection is ISO27001 certification. According to this standard, providers should certify their data center as well as the entire product organization.
You can find a detailed overview of data security in the video below, or you can read all about it in this informative white paper.
Multilingualism
Global organizations employ people from different countries who speak a variety of languages. As a result, an employee app should provide the best possible support in this regard:
App interface available in as many languages as possible (for example, Staffbase offers 34 languages).
Content and navigation can be created in different languages.
Merge multilingual comments under multilingual content so that discussions are not separated by language.
Automatic translations of comments and content.
Global + Local = Glocal — Creating freedom for decentralized administration
Very large companies are too widespread to maintain content centrally. Because of this, they want to delegate some responsibility for content to national territories or even individual locations.
In this scenario, global-only editorial roles won't be sufficient. You will need local administrators (e.g. for a plant or a country) with extensive rights for certain areas in the app, but who are still prohibited from viewing or changing global content.
Staffbase calls this concept "Spaces," a feature which makes it possible to administer a wide range of content in very large companies.
Functional extensibility
Large companies often have many different tools in use. One of the most important IT strategy goals is to reduce cost and complexity by consolidating these tools. In addition to its user management and data protection aspects, IT will therefore look at an employee app platform from this perspective.
From an IT perspective, an employee app has a very special position: it is often the platform with the widest reach throughout the company. Services and content relevant to all employees should be integrated into this platform as easily as possible:
It should be possible to create functional modules to extend the app yourself or have them created by partners and connected to the app platform via an open programming interface (API).
Individual integrations to third-party systems should have the support of various options (linking, direct embedding with SSO, individual development).
Introduction and continuous app improvement
Large companies will need to put more effort into an implementation project and are therefore especially dependent on structured approaches. Not only does this apply to methodology, but also to the initial and ongoing support from an app service provider, who should act in accordance with the processes and expectations of the customer.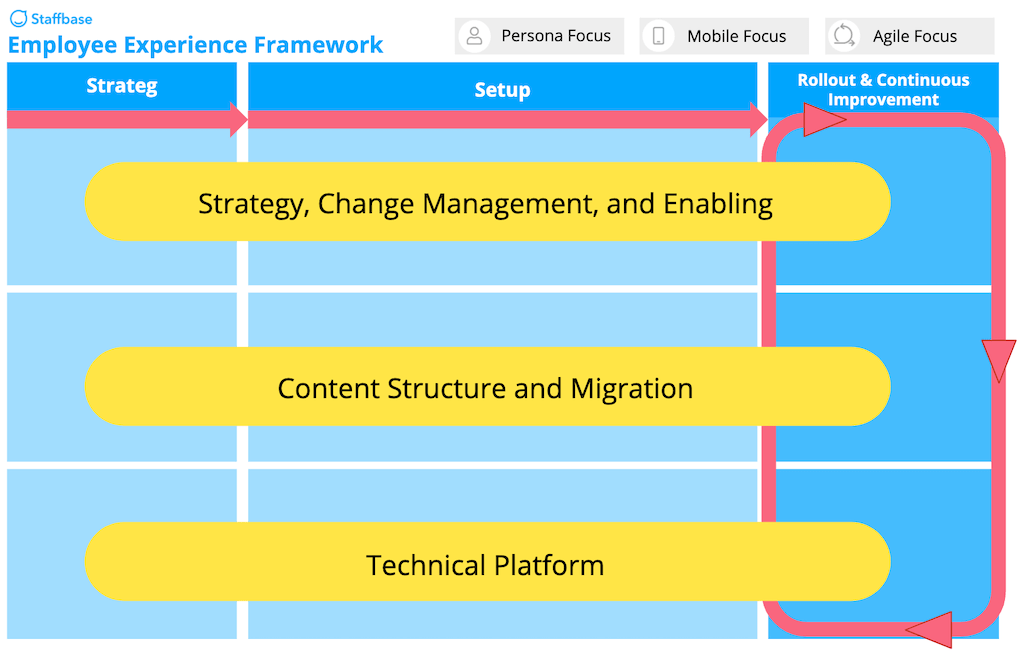 8. What does an employee app cost and can you build one yourself?
Almost all app providers offer their platform as a so-called Software-as-a-Service (SaaS) solution. This means that the use of the platform is paid for with an annual fee which covers things like hosting, support, and regular updates.
Fees are usually based on the number of employees invited, as well as certain functional modules that you have the option to choose. One example of an optional module at Staffbase is the chat function. Some companies definitely want chat, while others either don't need it or have another platform in use.
On this basis, providers can create an individual offer. Employee apps are generally cheaper in their price per employee than Microsoft 365 licenses, for example.
Build an employee app yourself?
Most of the apps we use in everyday life use existing software. In fact, most companies also see a clear benefit in Software-as-a-Service providers for internal applications. The reasons are clear: low costs, reduced risks, and shorter delivery times. Internally developed apps struggle in all three areas with these challenges.
Here are some examples of time and costs:
Time
With a SaaS solution, an app can go live in a matter of weeks or even days. Programming an app on your own will extend this period well over a year.
Concept: The 80/20 rule applies when creating the concept of a mobile app. The devil is in the details: How will user onboarding work? What do you do when a user loses their login information? What are mandatory fields for editors?
Decision Making: With your own concept, long internal discussions about everything from button colors to app functionalities may arise.
Approval: Answers to questions from the works council, data protection officers, and IT security teams.
Development: Three versions of an internal communication app are needed: Android, iOS, and Web.
Testing: Android, iOS, and Web each have different software versions and browsers on the market. All of this will lead to a lot of effort in testing.
Submission to the App Stores: For an internal communication app, it is important that it be made available in the App Stores, where it must comply with strict guidelines.
Downtimes: The app is a very "visible" project in the company and requires a highly available hosting environment and ongoing support.
Maintenance Time: New Android and iOS versions often include changes which will have to be implemented promptly, otherwise the app will become inaccessible for all users of the latest version.
Costs
You should estimate costs based on the actual size of the project. You can quickly develop an initial news feed in the app. But as we've seen, for an app to be successful, much more content and functionality is necessary. Don't underestimate the overall scope of the project:
Development costs: The complexity of a solution is very difficult to understand without a detailed concept. Topics that are typically underestimated include:
Cost of a content management system: "It's just an app" might be the thought of a development partner who will subsequently give a low project cost estimate. But how does content get into the app? We invest 75 percent of our development power at Staffbase to things that aren't immediately visible in the app; for example, the content management system, performance, and infrastructure.
Maintenance costs: New Android and iOS versions often contain changes that need to be adapted quickly and continuously in the app.
Costs for wrong decisions: In a user-defined app project, the app usually cannot be tested with many users before it goes live.
Combining the best of both worlds
Every company will have its own specific requirements, because not everything will work with a standard solution. That's why modern SaaS platforms like Staffbase are open platforms that are easy to customize and extend. 
Standard Application Programming Interfaces (APIs) allow individual extensions that will remain compatible even after updates to the core solution.
Read more about employee communication apps: