Making an intranet or parts of it available on mobile devices involves much more than just making it "responsive." Mobile enables communicators to reach new non-desk audiences, but also creates previously unknown technical and practical challenges as a consequence. Many customer projects have helped us to gather real-life insights about the questions raised and possible solutions for each case. Here are the 8 most common questions: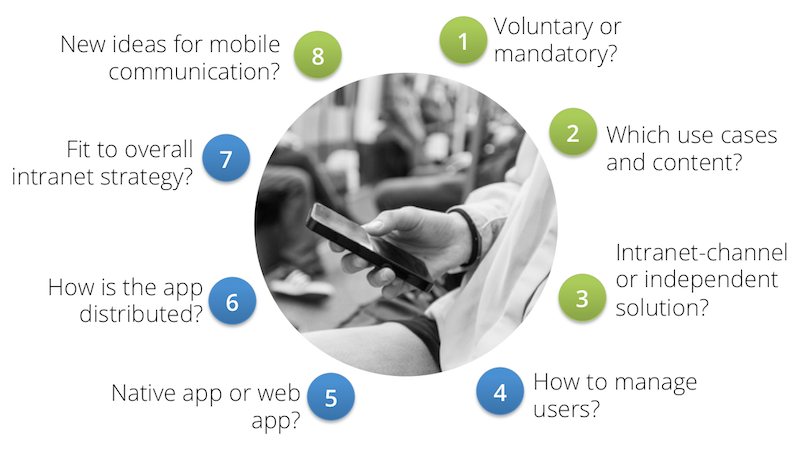 1. Should an employee app be voluntary or mandatory?
This is an important and fundamental decision to begin with. Communicating this aspect openly and clearly from the beginning will prevent future misunderstandings. It is possible to unite both, voluntary and mandatory use. For example, you could inform the management level mandatorily with company devices, whereas the production staff can voluntarily chose whether or not to get informed about company news. Here is an overview of the most important differences:
Voluntary use:
Purpose: better information for employees, facilitate everyday work
Devices: private smartphones + often private (data) tariffs
Alternatives: need to be offered for basic information ( terminals, PCs, a remaining limited edition of the employee-newspaper, bulletin boards,...)
Advantage: introduction is easy and economical
Disadvantage: no direct connection to core work processes
Mandatory use:
Purpose: mobile support of core work processes
Devices: smartphones / tablets + tariffs / WiFi provided by the company
Alternatives: not needed
Advantages: cost savings and direct improvements in the work process
Disadvantages: higher investment costs, costlier operation of the devices
2. Which content should be represented in the employee app?
Not every piece of content in a modern intranet is suitable for the use on smartphones. For some specific scenarios like communication, mobile use offers an excellent platform. Companies should always keep their internal target groups in mind when making this decision - what are the employees' needs and how many employees does this affect in general? See our detailed analysis of an intranet's most common use cases and their fit to mobile use.
3. Does "mobile" represent another intranet channel or an independent solution?
The situation is complicated: modern intranets have to deal with a growing amount of needs. The intranet now has to be a "social intranet", supporting teamwork and offering virtual team and project rooms. A lot more to cover than just communication like company news or information like submittals or telephone directories anymore. Therefore, intranets are becoming more complex and the stored data is becoming more sensitive in respect of data security. That is one side of the coin. On the other side, there still are many employees in production, service or external service who do not have access to the intranet. In order to reach them with digital communication and basic information, it is important to allow mobile and private devices, keyword: BYOD - Bring Your Own Device. Here, two worlds collide:
Information worker:
already use the intranet
generate a growing number of documents
collaboration becomes a key use case
extensive handling of sensitive information
Requirements:
security: HIGH
functionality: HIGH
cost/ employee: HIGH
Non-desk worker:
access via private devices (BYOD)
management of devices impossible
easy access
Requirements:
reach HIGH
simplicity HIGH
cost/ employee LOW
With these preconditions, there are many reasons to promote an independent solution. "Independent" means that the app will have its own specialized content management system (CMS). That does not implicate that the employee app has to exist in isolation - integrations of user data (Active Directory) or contents is possible.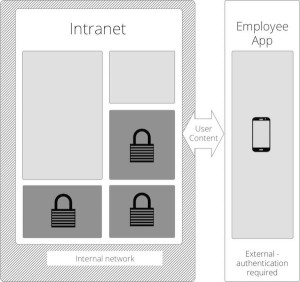 4. How do you keep track of the users?
Many employees in production or service do not own a business email address and they are often not included in the company directory (e. g. Active Directory). In addition, there is a higher employee turnover e. g. with quickly changing numbers of external workers or during seasonal business. User management is not only about the first login of the user, but also about removing access of those being no longer part of the company.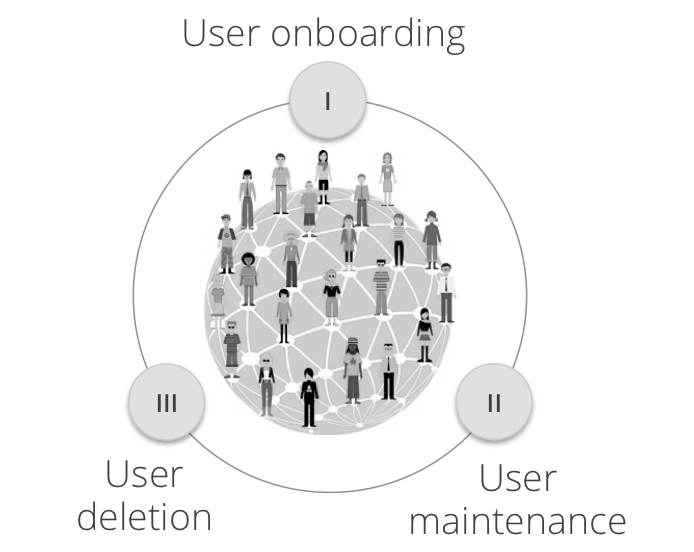 Additionally desirable: information on location, contact details or company department, which can be used for automatic personalization of the employee app. An overview of the options for user management:
Direct connection to a company directory (e. g. Active Directory) - including everyone in this directory is obviously the best solution.
Pro: Works automatically
Con: Often, not all employees are included
Semi-automatic import (e. g. CSV file) - An up-to-date and complete employee list can often be extracted from the human resources system - this data then can be imported on a regular basis (e. g. once or twice monthly)
Pro: Easy to implement, high security
Con: Limited manual effort
Manual maintenance in the employee app's user management.
Pro: No integration effort
Con: Manual maintenance efforts – not suitable for companies with more than 300 employees
Login with a business email address – users will be identified as valid through their @company email and will be able to create an account
Pro: Easy onboarding
Con: A business email is needed; manual solutions needed for employees leaving the company
5. Choosing a native app or a web app for employees?
There are three possibilities for publishing information on your employees' smartphones:
Native apps: Applications that can be downloaded via an app store
Web apps: Mobile optimized sites that are accessible in a browser on a smartphone. These sites can be saved as app icons under favorites and appear as apps on first sight
Hybrid apps: Aim to combine the advantages of both approaches. With regard to distribution and access on camera etc., these apps work like a native app, but they store the majority of their contents on mobile optimized sites. To simplify matters, hybrid apps can be counted as native apps in the following list.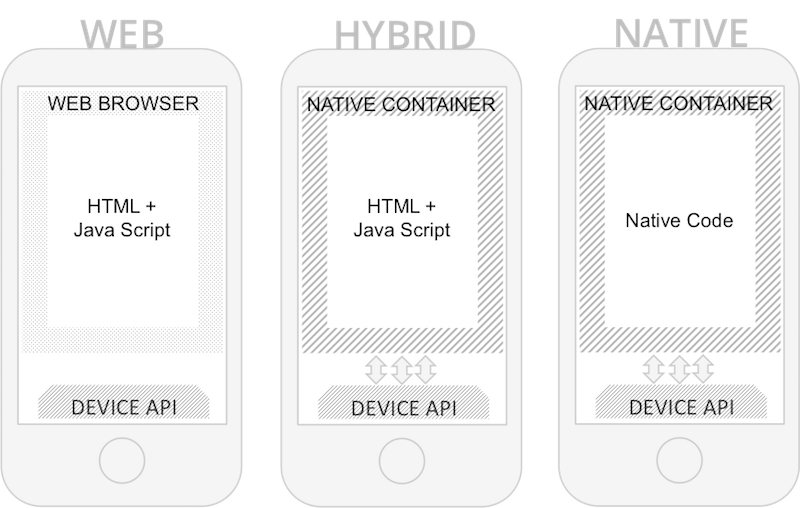 What is the difference between these concepts?
Distribution: Apps are distributed in an app store. Employees know this process, because every smartphone user has already searched and installed new apps from an app store. For web apps, the employees have to enter a web address (URL) into the browser. Both approaches can be simplified by providing a link (or QR code). However, saving the site as additional app symbol on the home screen will be an obstacle for a number of users.
Access to device functions (technical term "Device API"): here lies the most dramatic difference. Native apps can directly access the camera and more importantly - the push notifications of the smartphone. Thereby, news can be send more actively - according to user experience of employee apps this is a huge step in actually reaching and involving employees.
Offline ability: native apps are able to store selected content offline and make it available without internet access.
Development effort: The effort for developing native apps is considerably larger than developing websites optimised for mobile use.
6. How is the app distributed?
The public app store is just one option for native apps. Apple even prohibits using its own App Store for an exclusive employees target group. In this case, there is a so-called Enterprise App Store. The determining factor is the question for further target groups. Should associate companies or service provider get access in the midterm, too? Maybe there are even plans for a completely public area, which can be e.g. used for press releases? If that is the plan, then the public App Store is the better choice.
Partly desired, but difficult to achieve: Download of the employee app from an independent location - e. g. in the company's intranet. Here, the installation can cause problem, because the smartphone's basic settings warn users from installing apps from unknown sources. Moreover, updating the app automatically and regularly cannot be guaranteed - it would be a nightmare to motivate all employees to download a new app version manually - every time the app gets updated.
7. How does the employee app fit into the intranet strategy?
We see several scenarios, which can be run in stages. As a start (A) the app can stand alone for e. g. replacing the in-house employee newspaper. In an expansion stage (B), contents from the existing intranet (e. g. company news) can be transferred to the employee app. With that, combining intranet and local contents is possible. Finally, an employee app can be responsible for the complete communication of the intranet (C) - the intranet then is a combination of a "communication intranet" and a "collaboration intranet" and fits to the specific needs of all target groups.

8. What are new ideas for mobile employee communication?
Being more local, up to date, personal and visible with images and videos: new digital possibilities make new tools for internal communication available, achieving more with the same effort. Local editors can directly integrate contents, images and videos. Pulse surveys can capture and carry the mood and current topics faster and more directly.
Besides, standardisation of the platforms offer new possibilities. The aim is to provide ready to use modules, which are close to the employees issues and not only bear the strategic communication in mind, but cover basic needs like menus or even games like a digital Advent calendar to convey fun and team spirit at work. The aim is clear: Providing a solution for a problem and not only a technology. We are working on it.