The employee experience platform (or EXP) is a new breed of enterprise software. It is designed to give workers a single place to manage the ever-increasing number of digital tools they need to do their jobs and help them navigate moments that matter at work. But if real moments that matter are ultimately all about the ways people interact, then communication needs to be the heart and soul of any successful EXP.
Think about it. When you consider the moments that matter to you in the workplace, what comes to mind? If you ask an HR professional, they might offer examples such as "successful onboarding," "role transitioning," or "parental leave taking." And certainly, these are crucial steps in the employee journey.
But how much do these significant occasions matter relative to the day-to-day concerns of an employee? Probably not much.
Especially now, in a world changed by COVID-19, could it be that employers and employees have two very different ideas about the moments that truly matter?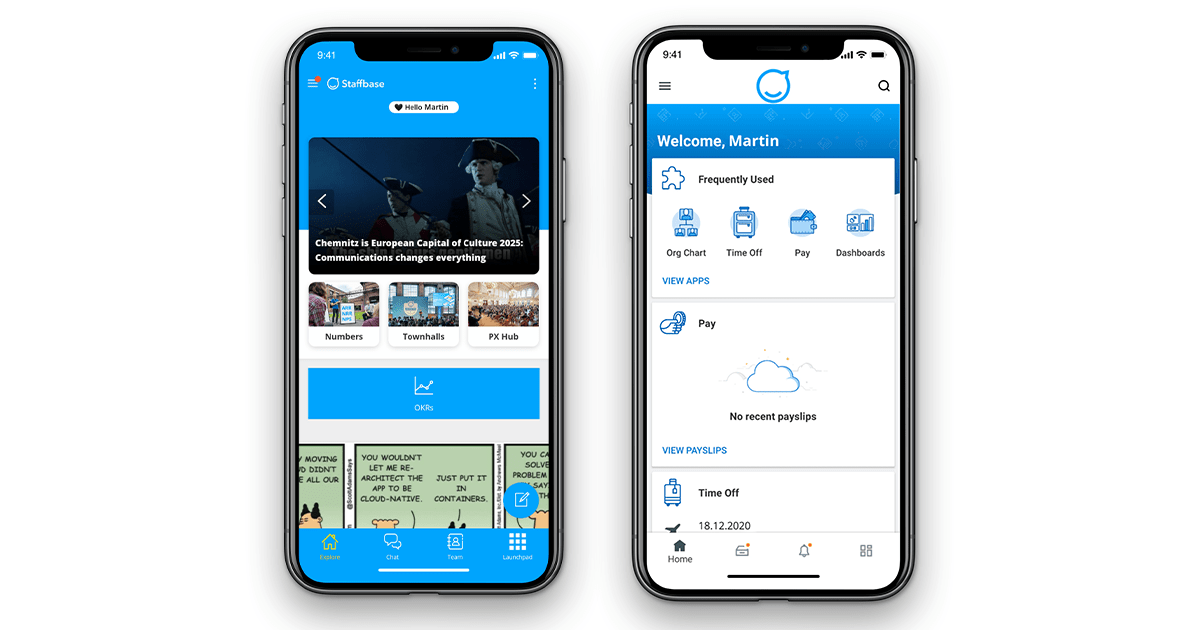 What are the real moments that matter to employees?
Traditional employee concerns have followed a fairly standard pattern. Employees have always placed great importance on values such as trust, appreciation, and the desire to be heard. And rightly so. Meeting these needs has been seen as key to driving employee happiness. And it ultimately impacts crucial outcomes such as engagement and productivity.
Top Drivers of Happiness at Work
Trust in transparent company leadership
A commitment to employee success
A culture that encourages the sharing of ideas and opinions
An environment where coworkers feel like family or friends
Benefits that meet employee needs
Source: MetLife's 17th Annual U.S. Employee Benefit Trends Study 2019
This is all well and good. But when looking at the above list, what's the common denominator?
The answer is "communication." And it needs to be a central function of any platform designed to help employees be their best. Why? Let's have a look.
1. Comms builds the most important moments that matter.
Leaders who effectively communicate a direction and a clear plan provide stability for their employees . . . But Gallup research shows that only 22% of employees strongly agree the leaders in their organization have a clear direction for the organization - and that was before the COVID-19 outbreak."

Gallup, How to Communicate to Create Stability Despite Uncertainty, May 21, 2020
Effective leadership communication has always played a major role in providing workplace stability, especially in times of crisis. In 2020, traditional employee concerns regarding the values outlined above were surpassed. Consequently, they were replaced by more basic anxieties regarding workplace safety and the vital need for trusted information.
An Edelman Trust Barometer survey in March 2020 confirmed that employees want their organizations to provide reliable and timely news. Of their eight key findings, three in particular reveal the perceived responsibility of businesses to fill the void of credible information.
Employer communications is the most valid source of information
My employer is better prepared for crises than my country
Employers must share information transparently
Companies around the globe who were fortunate to have an EXP in place at the start of the pandemic were better prepared to fulfill this responsibility. And they placed communication front and center in their coronavirus response.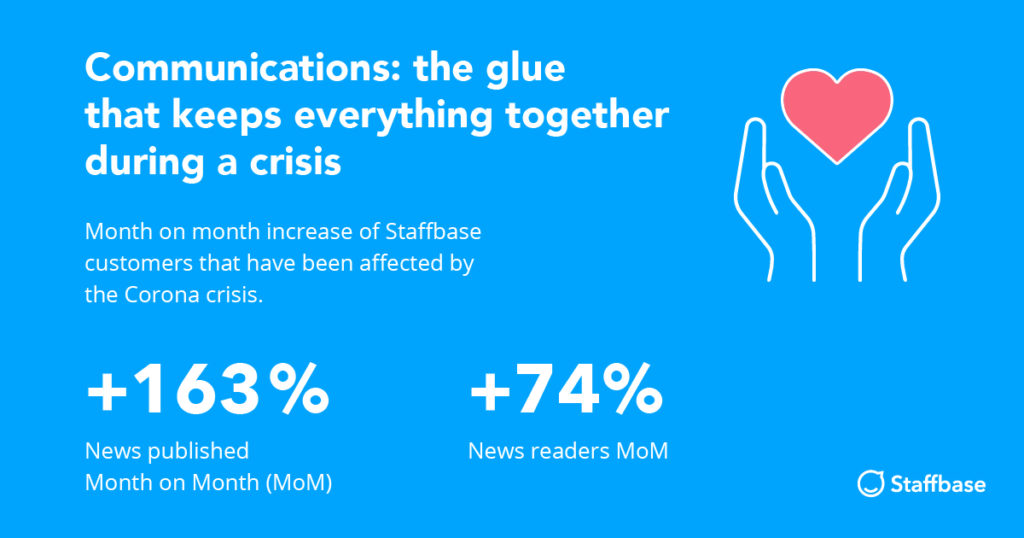 At the beginning of March 2020, the EXP of one major international automaker (their name rhymes with "Euphrates") reported a surge of more than 1,500 new registered users in just two days. The reason? Its employees were clamoring for official communication that was clear, reliable, and honest. So naturally they turned to their company.
Communication puts employees at ease.
An EXP gives organizations the ability to share the trusted information their people crave during times of apprehension and fast-breaking news.
Companies can satisfy their employees' desire to be in the loop-and contribute to it, too. How? By sharing immediate, broad-reaching, multi-lingual messaging and targeted, actionable information to which they can react and respond.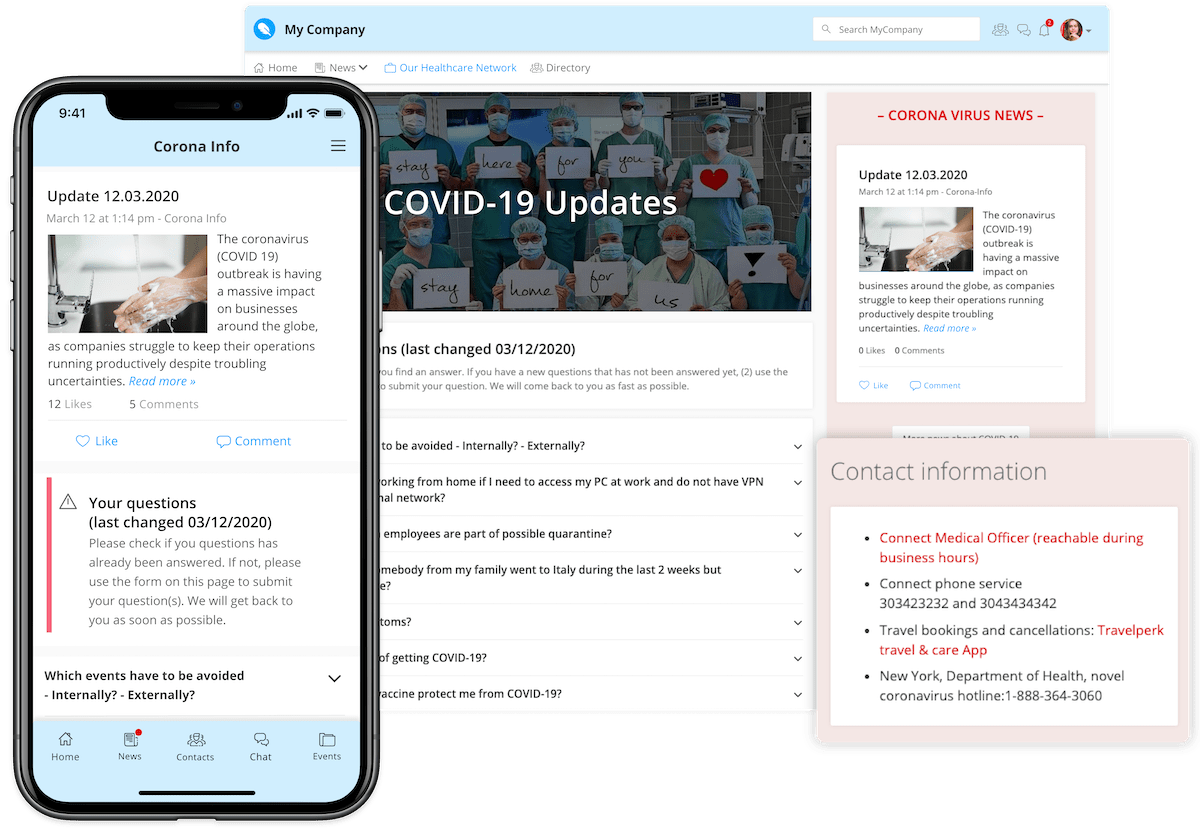 COVID-19 also necessitated a massive shift to working from home, and with it, the desire for a more seamless integration of work and life. Subsequently, companies competing for the best employees have begun offering innovative perks. These include subsidized elder care, paid time off for volunteering, and flexible work schedules.
An EXP provides a great place to access and manage these new benefits and services. And by demonstrating its value through potent communication, an EXP has the built-in power to reinforce its own use.
Whether mitigating the impact of crises or communicating practical information, an EXP lets companies demonstrate concern for employee wellbeing. In return, employees will be at their most productive when they believe they have the all facts they need to feel secure.
2. Comms helps HR leverage employee benefits.
Putting communication at the heart of an EXP allows HR to leverage the ability of comms to share information about benefits, services, and innovative new programs. By utilizing the power of storytelling with compelling, real-life examples, HR has an advantage it has traditionally lacked.
Furthermore, an EXP focused on comms has the power and accuracy to share stories that have local relevance. In other words, a comms based EXP tailored directly to the needs of individual employees gets the right information and the right tools into the hands of the right people at the right time.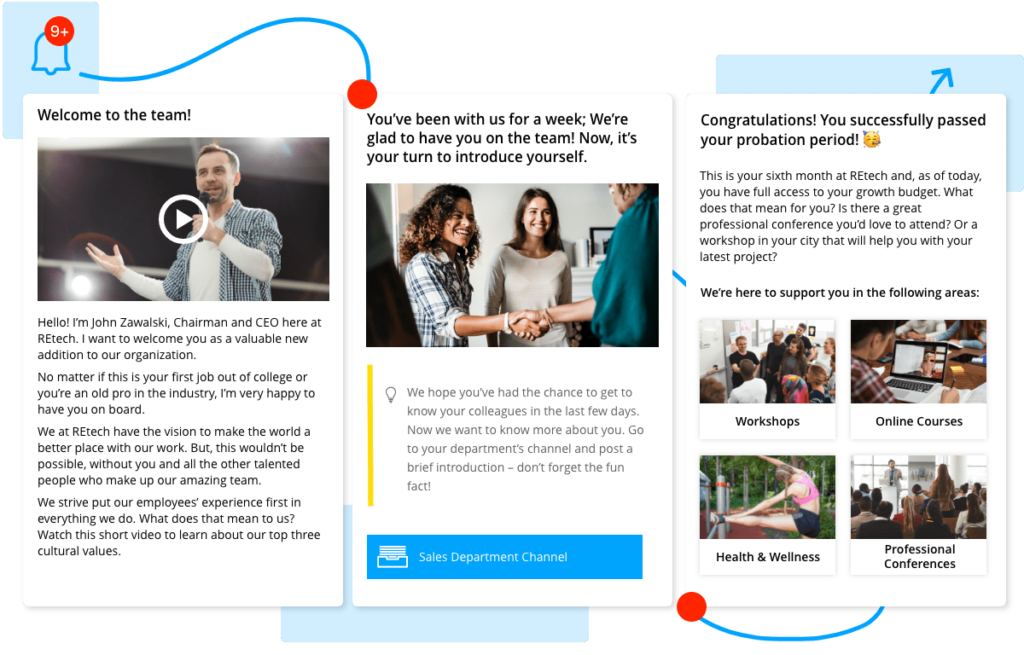 By creating useful and relevant experiences, an EXP will keep employees coming back again and again. They can use the platform to navigate the diversity of touchpoints that will occur throughout their careers. And those touchstones aren't limited to HR, but can include IT, Operations, Finance, and pretty much every other department. Through these interactions, they can offer useful feedback for the further development and adoption of practical new benefits and tools.
A shortlist of HR touchpoints that an employee experience platform can help facilitate
What are my onboarding tasks?
Where's my employee handbook?
What are my OKRs?
Where can I find my 401-K information?
How do I offer feedback?
How can order new hardware and get tech support?
What are my opportunities for advancement and promotion?
Where do I file for parental leave?
Where do I report a safety incident?
How can I anonymously call out workplace harassment?
The above list represents only a few examples in the almost endless array of touchpoints along the employee journey. And there are digital tools available for addressing pretty much every one of them. But . . .
Your people can't use benefits they don't know they have. And they won't use what they don't find valuable.
An EXP gives employers a place to design, manage, and measure the employee journey. It gives HR the ability to leverage comms to broadcast information that points people in the right direction. And it enables employees to tell their organizations when they're feeling lost.
3. Modern comms give employees a voice.
New generations expect and demand to be heard.
Millennials and Gen Z make up a majority of the workforce. And more than any previous generation they demand mobile communication, transparency, feedback, and an employee experience that lets them work in better and more productive ways.
Workers put a premium on transparency in their interactions with all levels of management. As mentioned above, transparency is a top factor in determining happiness and satisfaction in the workplace. An employee experience platform gives members of every generation throughout an organization the opportunity to create and communicate information in a channel they can trust.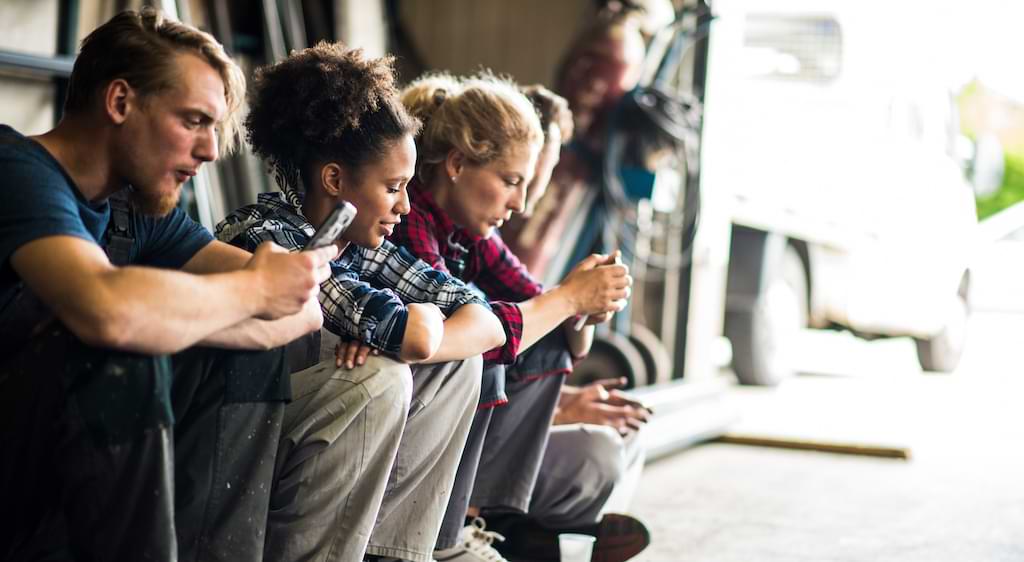 Growing up with Facebook and Twitter, millennials and Generation Z value interaction and opinion sharing with their peers and their superiors. An EXP with functions such as chat and interactive news channels is certain to engage younger workers just as social media does.
Younger generations also strive to be a part of companies that foster real purpose. The downside is that their loyalty often only goes as far as their engagement.
An employee experience platform creates engagement in two ways. First, it provides practical value at every step of the employee journey, from onboarding to rewards to benefit programs. And second, it encourages consistent usage by satisfying the desire to be well-informed, always connected, and to easily share their values and opinions.
Millennials and Gen Z are technological natives. In order to reach their fullest potential, they need and expect access to consumer-grade digital tools. An employee experience platform will seamlessly integrate into their working lives, giving them an instant connection to their workplace, whenever they need it and wherever they happen to be working.
An Employee Experience Platform with communication at its ❤️ doesn't just manage moments that matter, it creates them.
Let's conclude by pointing out that despite an abundance of new digital business tools for managing tasks like file sharing, project coordination, and employee self-services, the average long-term gain for employee productivity is only 2.2 percent according to the US Department of Labor Statistics.
As for employee engagement, its numbers saw an unprecedented drop during the upheavals of 2020. It's pretty clear that for all of the technology designed to help employees work better, it hasn't had the desired effect.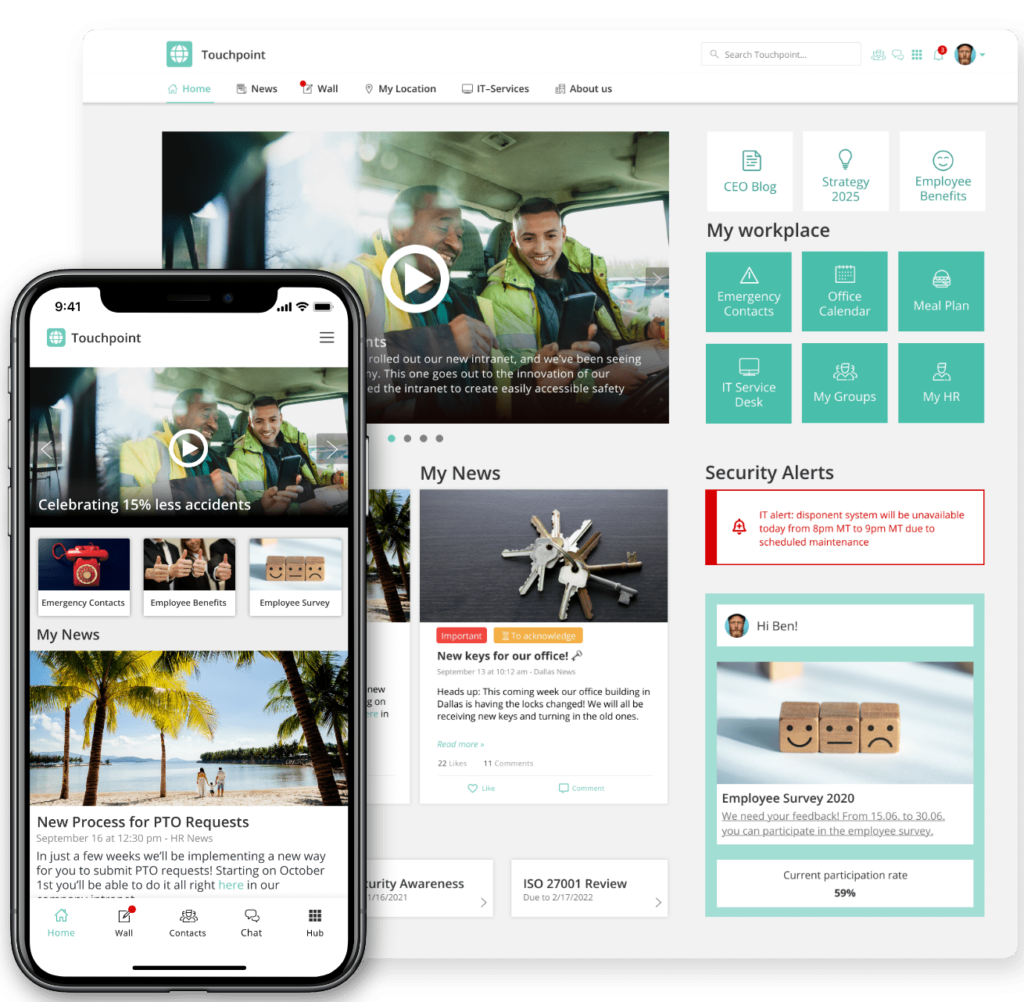 An employee experience platform addresses the issues of poor engagement and low production growth by giving workers of all kinds a single access point where much of their work can begin.
The Employee Experience Platform Runs on Communication
At the same time, it leverages the power of communication to increase engagement and productivity while reinforcing its strengths through repeated use. This dynamic is essential to any organization looking to get employees to adopt and use its digital tools.
Providing a next-level employee experience gives everyone in an organization the very real sense that their company understands their needs and is doing their best to meet them head on. And it creates the kind of cyclical engagement that keeps people coming back for more.
For anyone working on improving the employee experience in their organization, an EXP with comms at its core gives them an opportunity for an easy, impactful win.
We're not building software for HR anymore-we're building it for employees. If employees don't find it useful, if it doesn't fit into 'the flow of work,' then it's not going to be used."

Josh Bersin
By putting communication at the heart of an employee experience platform, it is far more likely to become an integral part of an employee's life. An EXP that runs on communication doesn't just manage moments that matter, it creates them.
Read more about the Employee Experience: