Just be human, like you would with anyone else in your life."

Jaime Klein
Jaime Klein is the founder and president of Inspire Human Resources, an HR consultancy firm that specializes in areas such as coaching, employee relations, talent management, and diversity and inclusion. Inspire Human Resources is a Certified Woman Owned Small Business, and in 2018 Jaime was recognized as one of New Jersey's Best 50 Women in Business. She has worked as a workplace culture expert and HR Business Partner since 1994, and she carries all those years of experience and knowledge into her business ventures today at Inspire Human Resources.
Through short-term projects, interim roles, and consulting services, Jaime and her team of HR experts help companies navigate the constantly changing workplace and adjust their strategies to improve employees' experiences and productivity.
We sat down with Jaime to discuss a highly relevant issue in today's workplace: diversity and inclusion. Jaime and her team work with a lot of companies to guide them in the creation of safe and inclusive cultures for all of their employees, as well as restructuring their HR initiatives regarding issues such as harassment and unconscious biases.
There's a thing in our mind that's always looking to check in with how much discretionary effort we want to give or not give to a piece of work. And the reality is that if you feel comfortable at work, you're going to do your best.

– Jaime Klein
Jaime shared many insights with us about the important aspects of diversity and inclusion that she stresses to her clients, such as transgender inclusion, diversity amongst leadership, and honesty in the workplace. You can listen to the full podcast episode with Jaime Klein, or read on for some of the highlights of our conversation.

We began by asking Jaime how the topic of diversity and inclusion has become more relevant in the workplace in recent years and what kind of work this has created for her and her team as HR consultants.
A couple of years ago, says Jaime, clients began asking her how to deal with the bathroom situation for employees that are in transition. She notes that this topic sparked a conversation about inclusion in the workplace, "but in working with organizations, I've found that it's going way beyond the bathroom. It's really how do we help folks who are in transition or have identified as transgender feel comfortable? We spend as humans roughly half of our waking hours at work, we better be comfortable and productive while we're there."
Jaime noted many times that people perform at their best when they feel comfortable and motivated in their place of work. Therefore she believes it is up to the company to provide this atmosphere and experience for their employees, especially those who may feel marginalized or less included than others. She shares "We all have a little discretionary effort that we can give or not give to a piece of work and there's a thing in our mind that's always looking to check in with how much discretionary effort we want to give. And the reality is if you feel comfortable at work, you're going to do your best work."
Focusing on the transgender community in today's workplace, Jaime believes that it is the role of the organization and its leaders to ensure the comfort and therefore productivity of these employees.
Jaime focuses on the transgender community specifically here because "we all have things that we can tuck away as we get into that elevator bank and go up to the 32nd floor, but someone who is in transition can't hide that. So I think that we need to create space for them to talk about this other thing that they are working through and make it a positive experience for them to feel like work is an extension of the way that they're moving through the world."
As more and more companies today have employees who are transitioning genders, Jaime believes they need to be prepared to support these people and make sure they don't feel marginalized because of something that has nothing to with their work performance and is very crucial to their identity.
Training on diversity and inclusion can help companies do just this, so we asked Jaime to elaborate on how she defines these two important words to her clients and what role they play in her team's strategy to help these clients.
Jaime says that "diversity is getting the right people in the door… Inclusion is about people feeling comfortable when they get there. How do you get them to stay and find people that they feel are part of their tribe, that they can be their authentic selves with?"
It is important for organizations to understand the difference between these two terms and how they approach them, as simply focusing on one or the other won't be enough to make all employees feel comfortable and productive. At Inspire Human Resources, Jaime's team of experts help companies do exactly this, and they start by focusing on the company's leadership.
Jaime highlights the importance of diversity in company leadership to bring new perspectives, ideas, and representation to the organization, noting that "if you have stronger diversity in your workforce and around the leadership table, you get better results, better productivity; the research is there… What we need to do is have structural things in place so that we don't surround ourselves with people that remind us of our fabulous selves."
Jaime encourages diversity in the workplace because it is proven to create better results for business. But aside from that, it also can also engage employees and make them feel represented and heard. Jaime notes that "if you've ever been in a forum where your leadership team is up on the stage, when you're in the audience I think it is so important that you see someone that reminds you of you, however you define you."
Being able to relate to someone in a position of power and leadership at your company can make you feel important and represented in the ways that you define yourself and your values. The comfort this brings to employees is what makes them more productive and engaged as a workforce.
Diversity and inclusion is about more than hiring the right people. It continues through the employee journey, changing the way people are evaluated, promoted, and rewarded financially. Taking into account all these aspects of an employee's experience, organizations must constantly keep diversity and inclusion in mind. To do that, Jaime states that one must "make sure that the organization's HR team, communications team, and leadership team are all aligned and . . . looking for ways to embrace diversity through the entire employee lifecycle."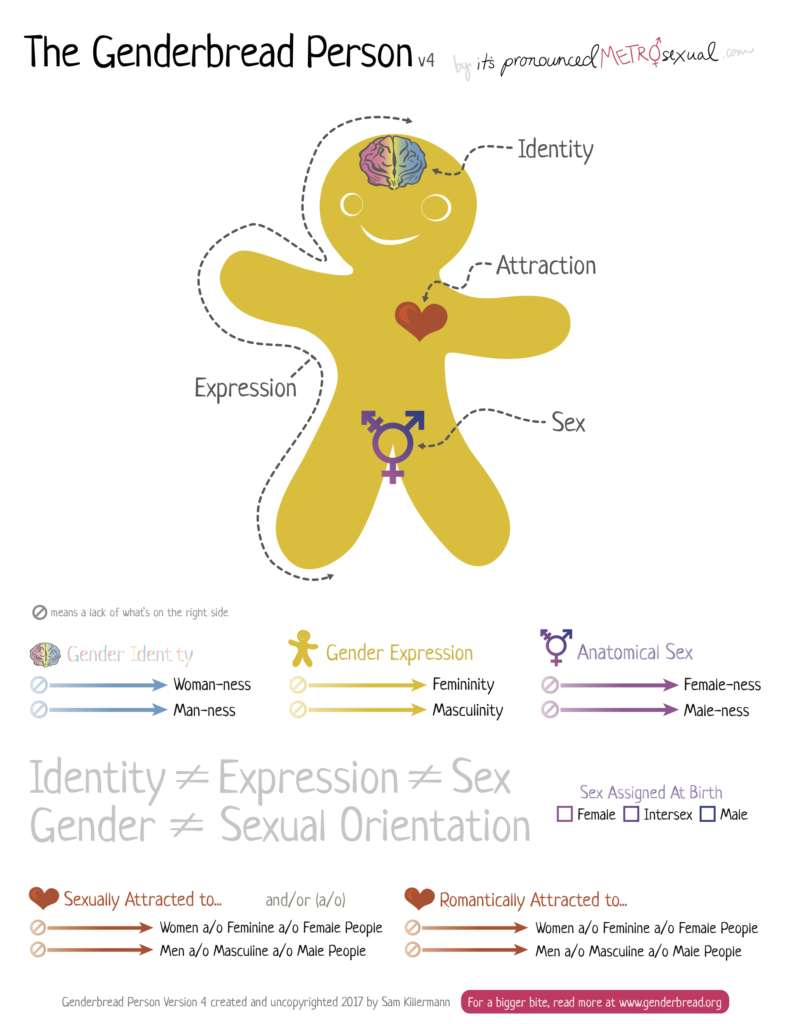 Jaime and her team understand that the older generations in today's workforce may not be fully educated on some of the topics surrounding diversity and inclusion discussion because they just weren't talked about or relevant in the workplace throughout most of their careers.
One method of educating these employees and helping them understand how to participate in the inclusive culture at their organization is by using the Genderbread, a teaching tool for breaking down the concept of gender into identity, attraction, expression, and sex. Jaime shares "The gingerbread person is expression. It's how you present gender through your actions and your clothing and your demeanor and your name, and how this marries or doesn't marry social expectations.
This is a tool we use with multigenerational teams to talk in the most simplistic terms about how identity, attraction, sex, and expression all come out." This tool is simple but effective in educating Inspire HR's clients on gender identity and giving them the tools they need to create that diverse and inclusive culture they seek. 
One of the most important things Jaime noted to remember when dealing with diversity and inclusion in the workplace is "creating a space where people can have honest conversations." She stresses that employees and management alike have to be open and honest in their efforts to include everyone around them, noting that it is okay to say "'I just want to do the right thing and I'm sure I'm going to trip over some of this, but just know that I just want to be as supportive as I can.' Just be human, like you would talk to anyone else in your life."
Jaime believes that as long as your intentions are good, you will be able to help someone in transition feel supported in their workplace, it just takes time, practice, and honest conversations.
She encourages employers and employees to have these conversations ahead of time, so as to be prepared for when situations arise. She notes "It is so much less expensive to get prepared than to deal with a lawsuit. Who wants to deal with a lawsuit? Life is too short to deal with lawsuits. Let's be proactive rather than reactive." By making diversity and inclusion an initiative, Jaime's clients' actions prepare them to help and support their employees when necessary.
Jaime and her team at Inspire Human Resources encourage the collaboration and alignment of their clients' teams in HR, communications, and leadership to deal with not only diversity and inclusion but all topical issues in the workplace today, whether it be employee relations, leadership coaching, or talent management, to name just a few. In doing so, Jaime helps people think about the future of work and therefore helps employees and employers alike create better relationships going forward.
Thanks for the interview Jaime! We wish you and your team at Inspire Human Resources the best as you continue to advise people in the ever-changing workplace.
From the episode: Jaime mentions an incredibly inspiring story of Maeve DuVally and her transition at Goldman Sachs. Here is a link to that wonderful article.