"How do I measure internal communications?" is probably one of the questions internal communicators ask most often.
Many prominent reports show that communicators are struggling to measure their comms efforts. The reasons are a lack of time, metrics, and benchmarks; no action plan in response to the data uncovered; and reporting that lacks context.
At the same time, measurement is an opportunity internal communicators should seize. It can help them demonstrate the strategic value and impact of their work to leadership and other stakeholders.
Unfortunately, much of the industry advice is complex and not actionable. And that can make it difficult to understand where to even begin. But this is the most important thing: you need to start.
And that's our focus in our Masterclass on Starting with Measurement. Let's look at some of the most important ideas from the video.
Benchmarks and the Measurement Cycle
The good news is that there is a cyclic nature to measurement.
We always start by defining our success. Here, we make use of benchmarks, because they help us use previous data as a point of comparison.
Then we collect our data and then compare it to our definition of success.
We then evaluate the next steps we should take. The central question here is whether we are currently investing our resources wisely to attain the outcome we're aiming for.
If our data does not match our definition of success, that could be an indication that we should:
Adjust our content
Increase activities in this area, or even
Discontinue working on this topic altogether
If our data does match our definition of success, this could be an indication that we should:
Increase our activities in this area, because it is engaging for employees
Examine the context for important learnings as to why this activity was successful
Like many communicators, you might be asking "But where do I get my benchmarks?"
If you measure the same metrics for the same contexts each time you make a new round in the measurement cycle, you will have created your own set of benchmarking data in no time.
Soon you will know, which times are best to share content, which target groups respond best to which types of content; or which audiences are not yet engaged. And then you can use this data to set new goals — and adjust your benchmarks as your data set grows.
How to Measure Internal Communications: Getting Started
As an internal communicator, two core questions you want to answer with your measurement efforts are:
Is my channel performing as intended?
Is my content performing as intended?
Let's look at some of the common goals and data points available to us for our channels and our content.
Data Points to Measure Channel Success
The first goal for any channel is to establish reach. We can measure reach through the registration rate; that is, how many employees have signed up to receive content over this channel.
The next goal is for our employees to actually use the channel. Here, we can look at the activity rate, on a weekly or monthly basis.
Our next goal is employee interaction with the channel. Here we can measure likes, reactions, comments, event registration, survey participation, and user-generated content.
And finally, our goal is employee satisfaction with the channel. This is often assessed with the help of a Net Promoter Score, or NPS. This data is collected with the help of an NPS survey, asking employees and content contributors whether or not they would recommend the channel. NPS can be collected quarterly or even annually.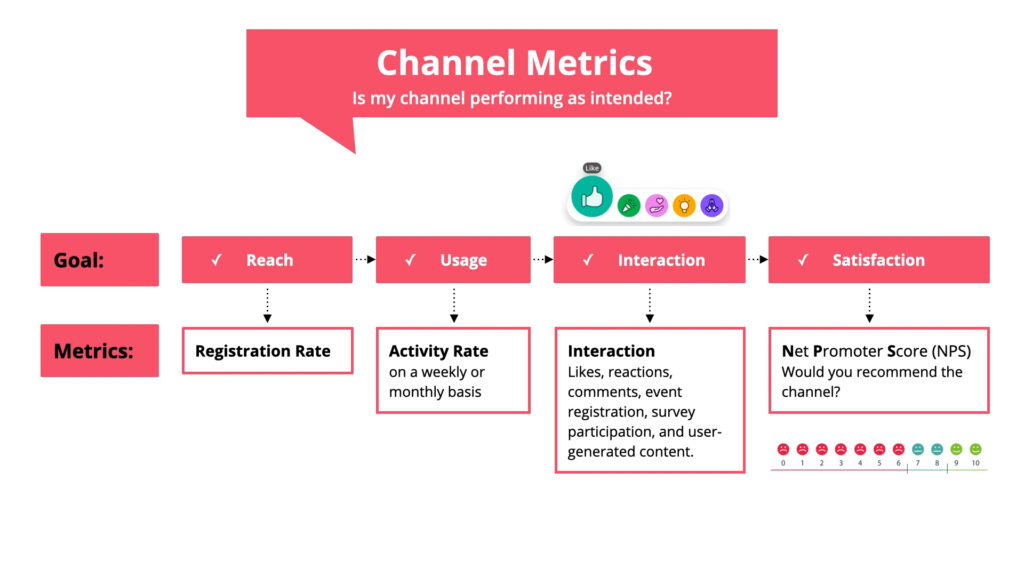 Measuring Content Metrics
Let's look at our content metrics next, to measure if the content we share over our channels is performing as intended. For accurate insights, the idea is to focus on individual pieces of content, not full campaigns.
The first goal when it comes to content is getting our employees' attention. This we can measure through potential reach. That means the total number of employees we can access through the channel.
Next, our goal is to create a high level of interest in the content we've shared. This is the actual opening rate, or number of visits, views, and visitors of our content.
The next goal is to engage our employees with our content. Here we can measure likes, reactions, comments, and sentiment analysis. Another good indicator for engagement is the number of returning users. You can calculate this by dividing the number of visits to a specific piece of content by the number of unique visitors.
And our final goal can be for employees to take action. This we can measure through shares, @mentions, event registration, survey participation, and subscriptions.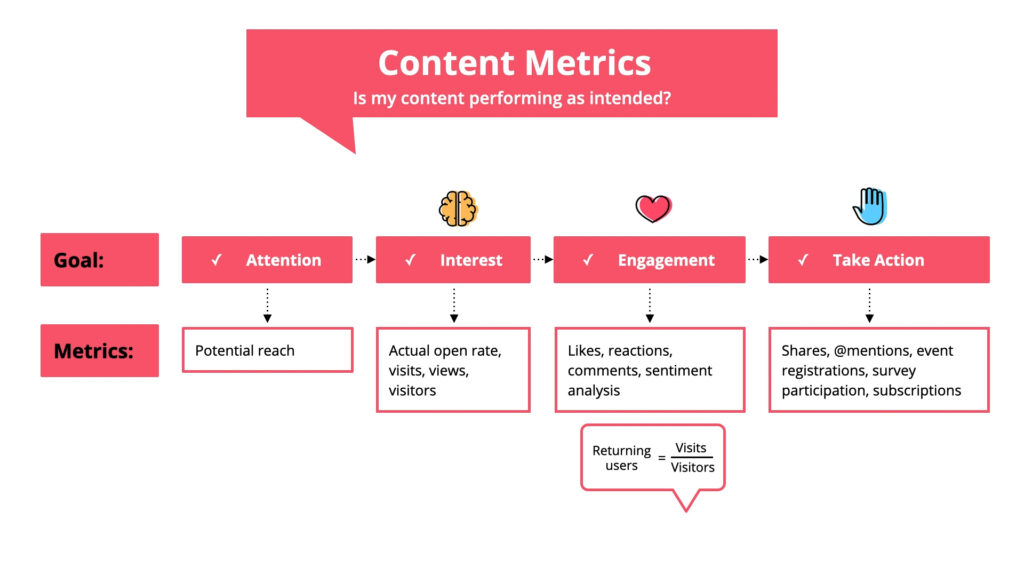 Both for channel and content metrics, many modern digital communication solutions can easily access such data through the platform dashboard. However, when it comes to measuring returning users, subscriptions, or survey responses, you might want to collect the data at different places.
And one more thing that's important when you are starting with measurement: It is essential that you set your
goals, objectives, and key results properly if you want to measure them successfully. Check out our lesson on Setting Goals for Internal Communication to learn more about this.
Resources to Help You Measure Your Internal Communications
Now you have an idea how you could start with measuring your internal communications setting. Want to dive deeper? Check out our full Masterclass here:
Do you want to level-up your comms game with our full Masterclass series? We've put together an e-mail course for you with snackable tips, trick and ideas. Click on the image below to sign up.
Want more Masterclass content? You can find an overview of all of our free Internal Communications Masterclass Lessons here.