Not long ago, many businesses looked at internal communications software as a nice-to-have—arguably helpful for keeping employees informed and creating a sense of transparency and openness—but not really essential to an organization's overall success.
Well, for reasons that might be obvious in the wake of the coronavirus crisis, and others that are less clear, all of that has changed in a hurry.
Let's take a look at what has happened, examine some of the common options available regarding digital tools for internal communications, and narrow it all down to what we conclude are your best options.
Digital Internal Communications Platforms Become Mission Critical
Employee comms and corporate comms have traditionally had two very different ideas about what constitutes "relevant" work-related information. This split at least partially stems from a disconnect between employer and employee motivations regarding the purpose of internal comms.
While employers have generally favored top-down, company-wide messaging, the latter have been increasingly asking themselves:
"What does it have to do with me and my job?"
This split has even been reflected in how internal communications software is classified by review sites and vendors such as G2 and Capterra. Business instant messaging products make up one sub-category, with more all-encompassing employee communications platforms included in the other.
Then came the coronavirus pandemic.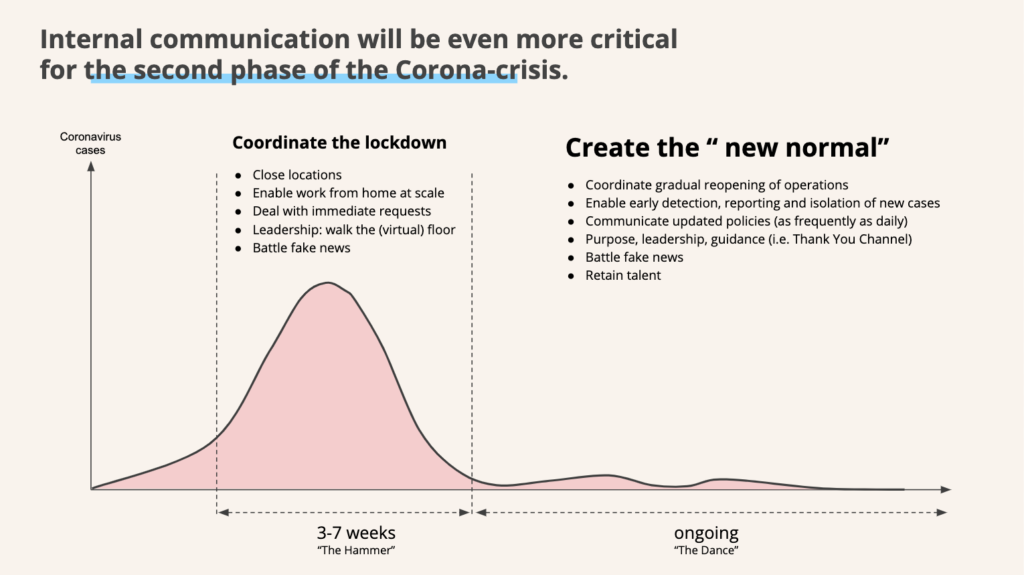 Non-digital employee communications channels such as printed employee newsletters or staff meetings clearly weren't viable options during the crisis. At the same time, businesses have witnessed a profound change in how they view the significance of their internal communications efforts.
As global HR analyst Josh Bersin recently reported, companies have "totally ramped up the volume, frequency, and transparency of their communications."
There has been a realization that effective comms can offer a virtual lifeline for employees, allowing organizations to maintain operations under extraordinary circumstances. At the same time, they provide their people with the vital tools and information necessary to feel secure in their jobs and transition to working from home.
Digital internal communications channels became indispensable because they:
Have reach (at least some of them)
Work in real time
Allow for feedback, questions, and interactions (all of which are vitally important during a crisis)
Are measurable (in real time, too)
Allow for targeted communication (which has proven highly relevant during the coronavirus pandemic given the very different situations depending on factors such as geographical location and types of work)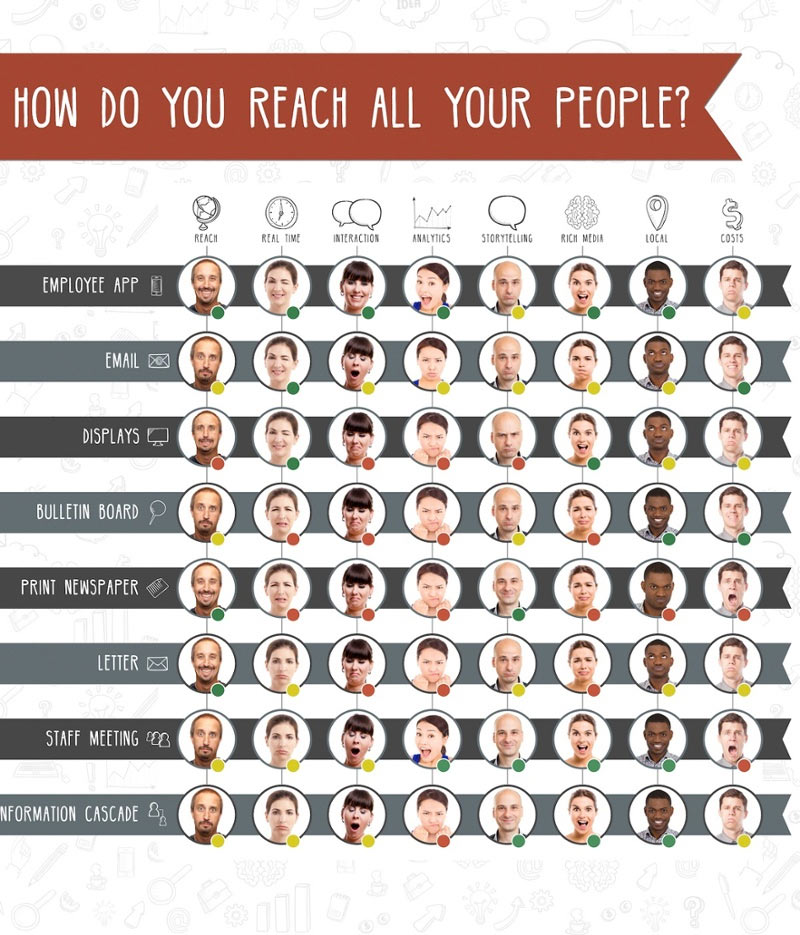 Effective, real-time, and employee-relevant comms have suddenly become a matter of business survival:
Battling fake news
Coordinating the reopening of business operations
Helping to retain talent
Providing employees with purpose, leadership, and guidance
And there's no going back. Internal communications software is now being recognized as mission critical for ensuring business continuity and resilience planning.
What is internal communications software?
Today's internal communications software generally serves as the core communication system within an organization. These tools help businesses and their employees share information and files, and they're designed to connect and engage a workforce through various digital channels. They include, but are not limited to:
Chat Services and Forums
Podcasting Tools
Video Communications
Collaboration Platforms
Video Conferencing
The best of these internal communication tools are intuitive and easy to use, making it simple and more convenient for a company's employees or specific team members to interact—both with leaders and peers—in real time.
While all of these tools are designed to facilitate communication, the focus of some is aimed at collaboration-based use cases, while others are more about sharing internal news—both top-down and peer-to-peer.
Internal communications software for collaboration has pretty much taken the emphasis away from email and made teamwork among coworkers—sharing links, documents, and files—as easy as social media and private messaging services such as WhatsApp or Facebook Messenger have made personal communication.
Like these private communications tools, the best internal comms software lets users interact the way they do when they're not at work, including the use of emojis and GIFs, making workplace interactions more fun and dynamic.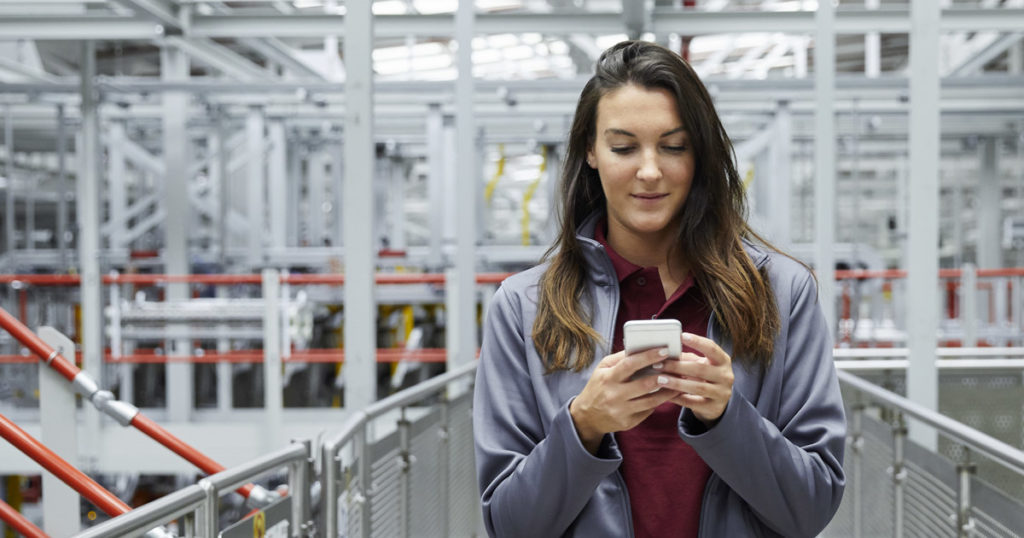 Examples of Internal Communications Software
Finding the internal communications software that allows your company to get off to a fast start with its comms initiatives is great, but not if your choice sends you down a one-way street. When considering an employee app or other comms channels, you need to be sure that what you choose plays well and can scale with the other tools in your digital ecosystem.
Knowing the different types of IC software will help in this regard.
Standalone: Most internal communications software are standalone products that can be integrated into different platforms. Dedicated internal communications tools can also include added features such as video conferencing, voice communications (VoIP), and employee directories.
Embedded: Instant messaging and group chat can also be just one aspect of other types of internal communications software or larger collaboration suites, including intranets or employee engagement software. Communication software such as video conferencing tools will also usually include instant messaging capabilities.
Industry-Specific: Some internal communications tools are built for the unique needs of specific industries. For example, manufacturing and field service internal communications tools often include push-to-talk software, allowing devices to be used like walkie-talkies, facilitating instant communication for remote employees.
In health care, many use cases are required meet strict compliance rules for their communication and collaboration platforms and messaging software. Bear in mind the compliance issues in your industry and be sure to share them with any of the software vendors you're considering.
Common Internal Communications Software Features
A wide range of features will help to create a highly effective communications platform. It's also a good idea to take some time and look at intranet and employee app ideas and examples and get a better understanding about the broad spectrum of possible use cases.
News Feed: A personalized news feed is a core function of most modern internal comms platforms. News feeds allow employees and employers alike to share a variety of work-related updates, publish and track internal company information, and send instant notifications for time-sensitive information, all of which encourages reactions and feedback.
Instant Messaging: Instantaneous, direct messaging is a cornerstone of internal communications applications. Users can send direct 1:1 messages or communicate to groups that they can create and manage, depending on the administrative permissions they've been granted.
File Sharing: A major benefit of business messaging software is the ability to easily share files and documents. Users can attach desktop files to their messages or share links to cloud documents.
Activity Feed: Activity feeds show users new messages sent directly to them or to the groups to which they belong. Activity feeds also usually display the replies received by a post.
Push Notifications: Business messaging tools can provide push notifications when an employee has received a direct message or one posted to a group in which they're a member. These notifications can generally be turned on or off by the individual user.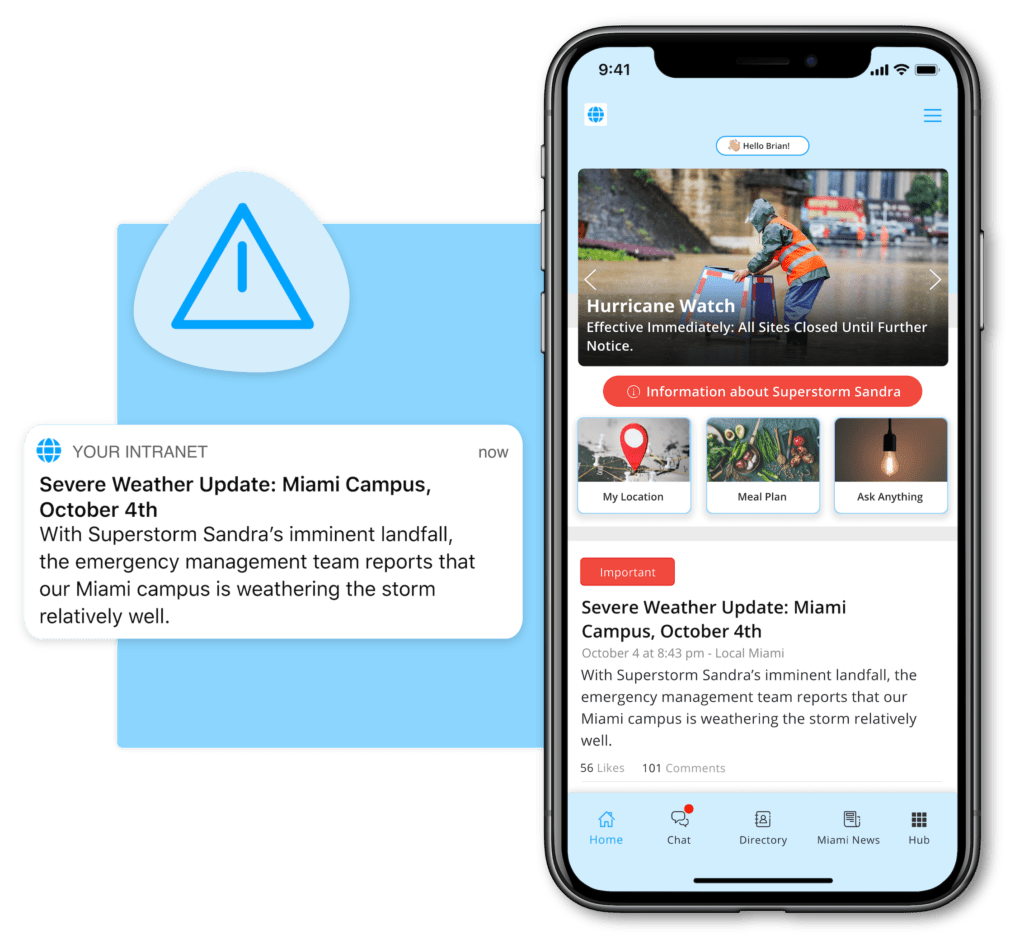 Search: A search function is a crucial feature of most internal communications software, making it easier for users to find older messages that might be otherwise lost in the constant flow of incoming information.
Individual Journey Support: The rise of the employee experience has coincided with an increased focus on employee journeys. Advanced internal communications tools allow employers to surface unique content to employees in moments that matter. Companies can support new hires with cultural onboarding while guiding seasoned experts as they advance roles.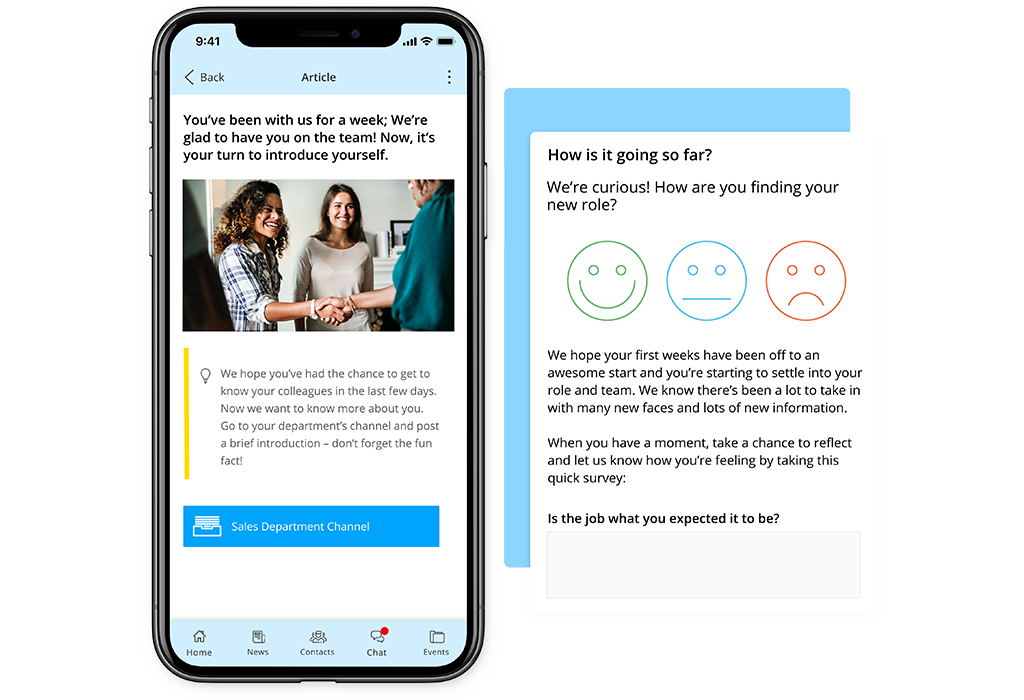 Emojis:  Most business messaging apps now allow for the use of emojis, and some even give users the ability to create custom ones. They're especially useful for giving short, follow-up reactions. 👍🏽
Surveys and Polling: Survey and polling features make business messengers a great way to reach quick decisions among employees.
Auto Translation: Many business messaging applications can automatically translate messages from one language into another, which is an obvious benefit in large, multi-lingual organizations.
Intranet: Some employee intranet solutions, like the one offered by Staffbase, feature built-in internal communications tools. Employees benefit from having business messaging tools as part of their intranet, allowing for it to serve as an all-in-one collaboration and communication suite.
Why Use Internal Communications Tools?
Internal communications software provides businesses with a wealth of benefits that have made it a crucial component of the modern corporate software stack.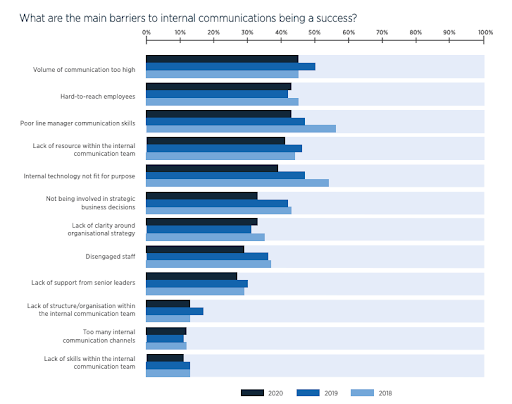 Here are just a few:
It's Fast: People expect communication to happen in real time. Internal communication software facilitates synchronous collaboration between remote employees, teams, and dispersed offices.
It's Measurable: The impact of internal comms has traditionally been difficult to gauge, especially regarding your non-desk audience. IC software lets employers easily track the number of employees who are active and engaged with company communications, and set KPIs that will indicate whether or not your internal communication is effectively meeting the needs of your employees.
It's (ideally) Mobile First: The most effective internal communications products will have a robust, intuitive mobile application to compliment their desktop offering. For better or worse, work today requires employees to be constantly available and provided with communications tools that are as easy to use remotely as they are when sitting at a desk.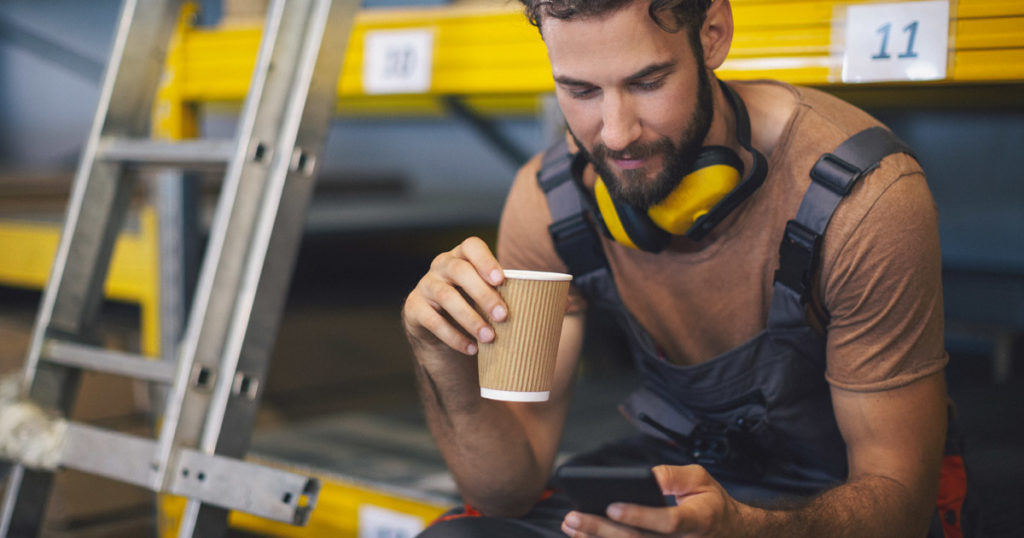 It's More Like Life: Communication has become increasing informal in the digital age, which is one reason why email has fallen out of favor. Not only is it less than instant, but it's often considered too uptight for asking simple questions. Business messaging tools, while they have their own rules of etiquette, allow employees to communicate quickly and informally, just as they do outside of the office.
Employees Expect It: Instant messaging has become second nature to most people, especially millennials and Generation Z, who now make up a majority of the workforce. For these employees, internal communications tools are a no-brainer, and are therefore likely to be easily and widely adopted.
Internal Communications Software: Our Top 4 Choices
As we mentioned earlier, employers and employees have very different ideas when it comes to effective internal communications tools. The four types we've chosen here reflect those differences.
Traditionally, email and collaboration tools have gone to where the employee already sits, assuming they're at a desk. The result is that employees feel spammed with non-essential comms while job-critical information gets lost in the noise.
Employee apps and modern intranets, on the other hand, generate value around their comms core and provide a practical offering with a variety of built-in tools and services.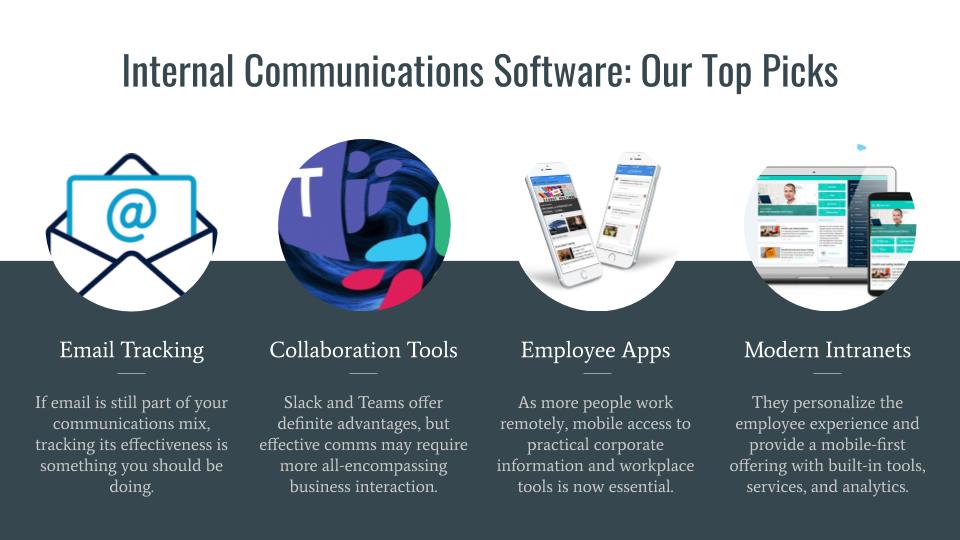 1. Sending and Tracking Employee Emails with Internal Communications Tools
What problems do internal email tracking tools solve?
Despite the fact that communicators are adding more social and collaborative communications channels to their digital communications efforts, email remains one of the most widely used communication mediums in many organizations.
Internal email tracking software like Contact Monkey and Bananatag have been designed to keep email relevant in an age when everything is being measured.
We did a memorable webinar with our friends at Bananatag about the pros and cons of email vs. an employee app. If you're brave enough to watch all five rounds (the last one isn't for the faint-hearted), here is the free recording.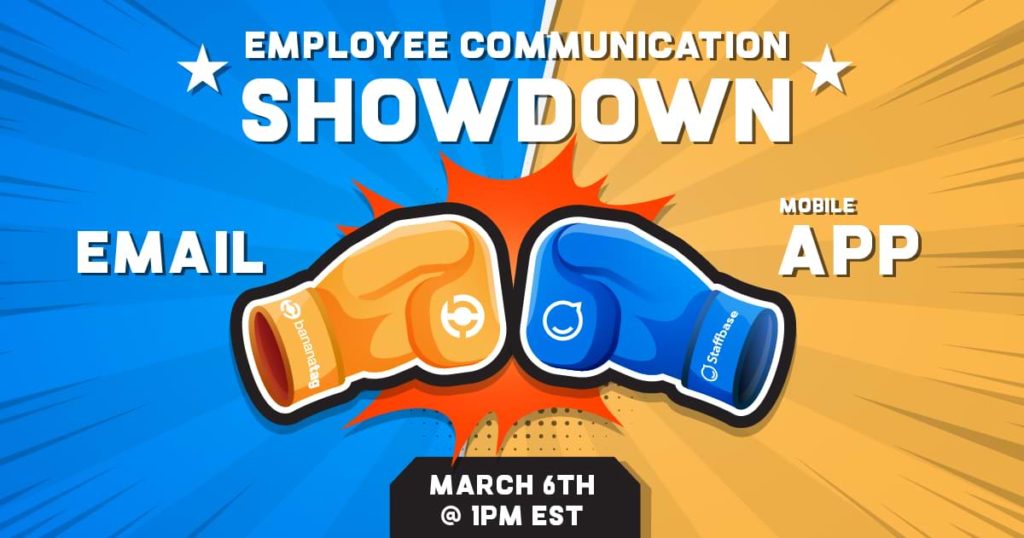 PRO: Email tracking provides valuable metrics that internal communicators can use to make email more effective, providing insight into how to deliver interesting and engaging content to employees.
CON: Although email is still used to drive employees to alternate communications channels such as the company intranet, it's questionable whether it remains the most effective tool for delivering organizational updates, announcements, and newsletters.
PRO: Many organizations have relied on employee surveys and intranet metrics to provide some visibility into engagement. The ability to measure email communications makes it possible to evaluate the overall effectiveness of what remains an integral part of many organizations' communications strategy.
CON: "I didn't get your email" has become the 21st century equivalent of "the check is in the mail," but the truth is that it's very easy for emails to get lost. Spam filters are more aggressive than ever, and the tendency of recipients to receive emails only to ignore them or let them get buried is all too common. Can internal email tracking tools help to buck this trend or will they simply confirm it?
Conclusion: For internal communicators to be their most effective, they need to know how well their communications are being received, allowing them to improve engagement with the content they're delivering. If email is still part of your communications mix, tracking its effectiveness is something you should be doing.
2. Using Team Collaboration Platforms for Internal Communication
What problems do collaboration platforms solve?
Collaboration tools such as Slack, Yammer, and Microsoft Teams are helping organizations break down communication silos and encourage transparency. But while they aid in addressing certain common internal comms problems, they also create some surprising new ones.
PRO: For employees in large or growing organizations, collaboration software creates efficient ways to connect with teammates and peers in other departments. Tools such as Slack and Teams help break down communication silos and make collaboration possible by allowing connections and groups to form both organically and with direction from upper management.
CON: Having too many channels can be overwhelming. Employees who were once working within a single silo and dealing with one unwieldy email inbox must now figure out which channels are the most important to his or her work, and as a result are faced with keeping on top of an array of incoming synchronous information that's difficult to organize.
The silo might be gone, but in its place is a barrage of information that's often irrelevant and messages that are generally hard to find again once they've been sent or read.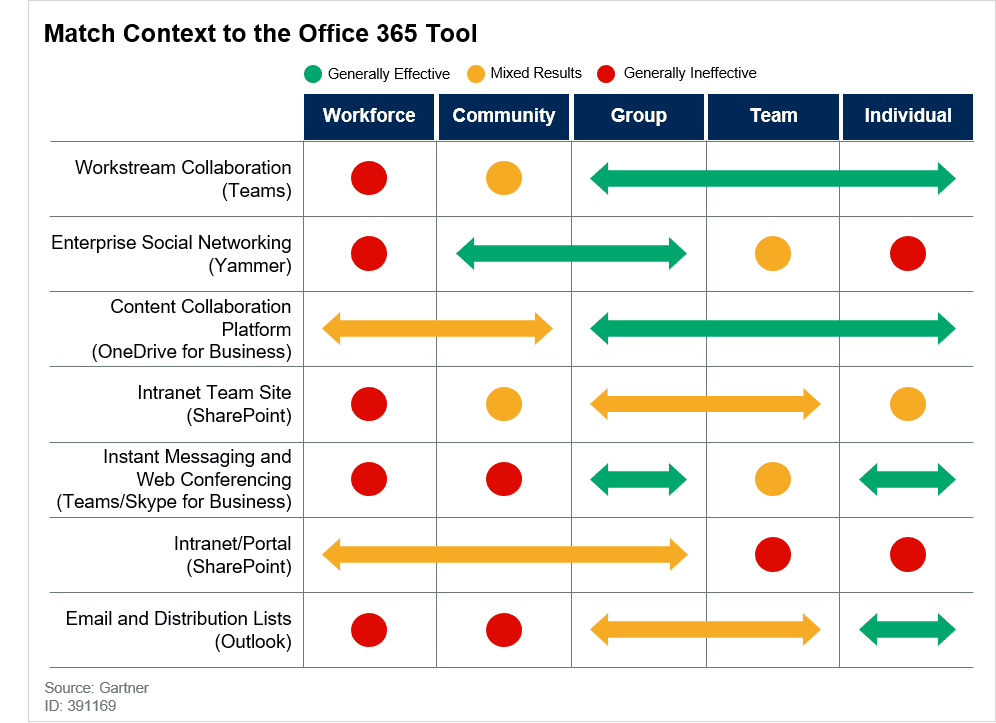 PRO: Slack and Teams amplify the voices of employees eager to help and make their voices known. Collaboration tools make it easy to seek and receive help.
CON: Expert but busy colleagues are all the more likely to tune out of conversations that don't affect them directly. Are your company's avid "Slacktivists" the internal experts you want sharing advice? My grandmother used to say, "If you want to get something done right, give it to a busy person." Chances are your most active "Slackers" aren't necessarily the "busy" workers you want offering their opinions.
PRO: Certain posts, articles, and messages are certain to go viral within your collaboration platforms, being met with "likes," comments, gifs, and emojis. That's nice. Good for you.
CON: It's impossible to measure practical metrics and analytics about who's participating on Slack or Teams, and how their participation correlates to performance, retention, engagement, KPI achievement, or any of the insights that really matter to your bottom line.
Conclusion: Employee communication and connectivity have benefitted thanks to Slack and other next generation communication tools. They provide undisputed advantages to employees. But enterprise leaders should beware. Over time, businesses will need internal communications solutions that offer a more all-encompassing means of organizational interaction and provide greater structure and data about how employees and teams actually form, connect, and get shit done.
3. Employee Communication and Engagement Apps
What internal communications problems do employee apps solve?
Employee apps are being adopted as a mobile solution for reaching employees via their personal devices—and they often feature push notifications. An app can be an effective and secure channel for connecting dispersed workers who lack corporate email addresses or regular access to desktop computers, such as non-desk or remote workers, as well as freelancers, non-contract employees, temps, etc.
PRO: As more and more people work remotely, an employee app can provide them with easy access to corporate information and workplace tools, targeted for practicality and relevance while promoting alignment and engagement.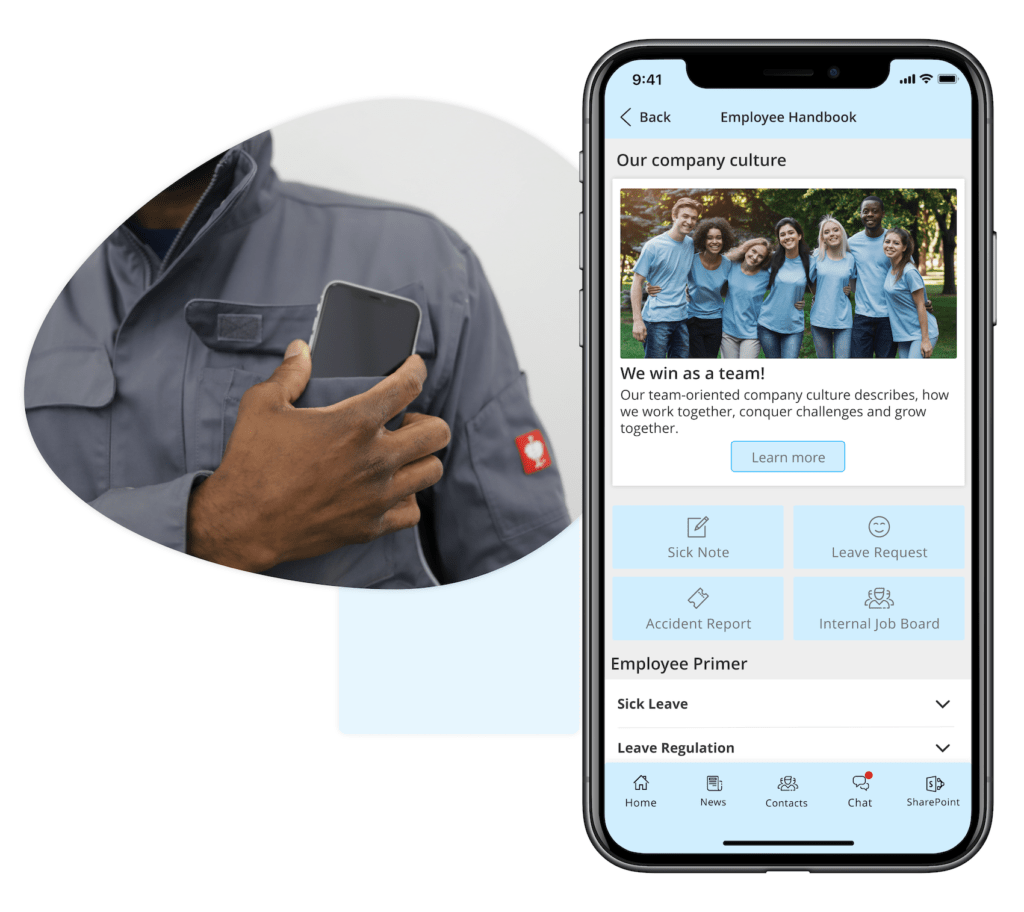 CON: For companies that still rely on a traditional intranet to share information with their desk workers but have trouble reaching their remote employees, an employee app makes a lot of sense. But placed alongside an intranet, an employee app will likely double the effort of editors, who will need to enter news and information in two different channels. An app is most effective if it's part of an integrated digital comms strategy that has been streamlined for administrative ease.
PRO: According to a UK study, 60% of employees now use apps for work-related activities; 71% spend more than two hours a week accessing company information on mobile; and 70%of employees keep their phones "within eye contact" at work (as reported by CNBC).
CON: 59% of workers believe their organization has been too slow at delivering apps for the workforce. This number seems to indicate that many companies mistakenly believe "communicating" with employees via traditional intranets, email, or collaborative platforms is enough. Clearly it isn't.
Conclusion: At their heart, employee apps are communication tools, although the best of them—integrated within a modern employee intranet—can and will do a great deal more.
As more and more people work remotely, employee apps can provide easy, mobile access to corporate information and workplace tools, targeted for practicality and relevance, and in the process they do a great job of fostering alignment and engagement, especially if they allow for customized branding.
4. Modern Intranets Have a Renewed Focus on Internal Communications
Q: What internal communications problems do intranets solve?
Intranet software allows companies to create a private, secure network that can only be accessed by internal employees. An intranet serves as the front door for employees of an organization to access internal and external resources, and enables employees to communicate, collaborate, and share documents and other information.
Modern intranets—unlike the cumbersome platforms of the past—are:
Mobile-first
Personalized
Easy to use for administrators
And come with advanced, built-in analytics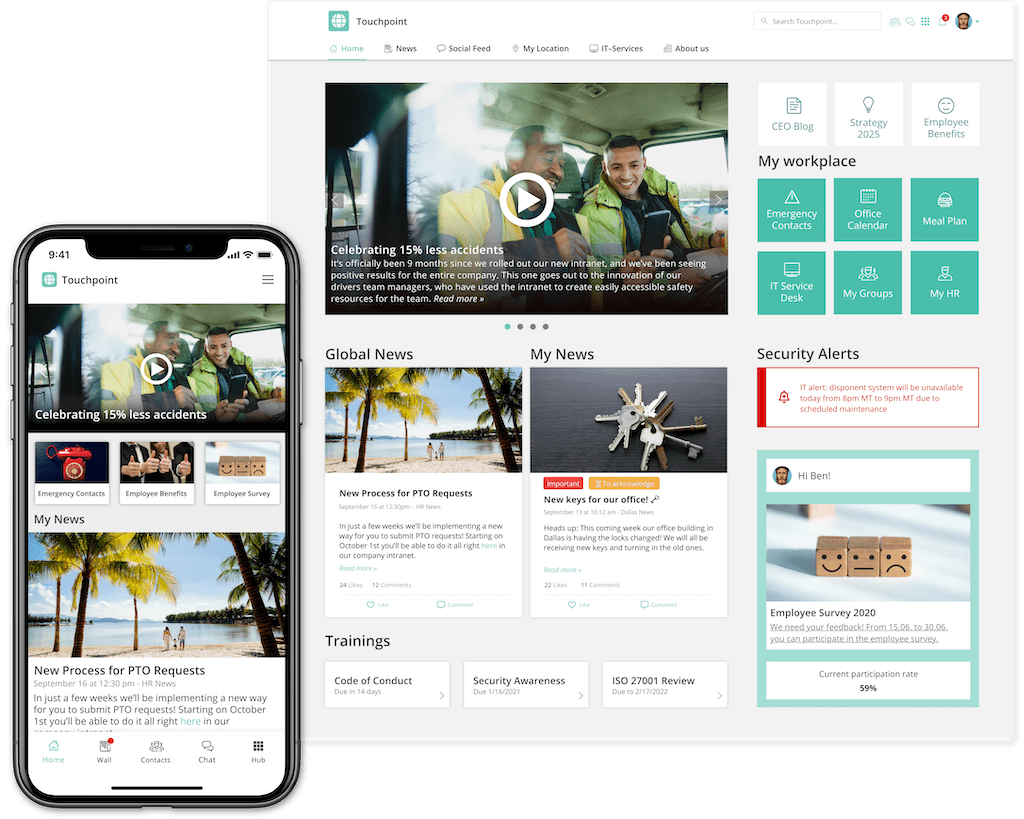 PRO: A reported 87% of today's workforce still typically receives company information via an intranet. The benefits of the intranet have developed far beyond knowledge sharing. Traditional intranets have evolved to make it easier for companies to share news and corporate information, improve workforce productivity and employee engagement, align teams, and promote corporate culture.
CON: Times have changed. The way people work has been evolving in fundamental ways since the late 2000s, and has changed dramatically as a result of the coronavirus pandemic of 2020.
A 2020 Gallup survey revealed that 62% of employees report working remotely at least part of the time. Intranets—at least as they were designed until fairly recently—have limited reach, never having been meant to handle what in our mobile age has become the crucial task of easily and effectively sharing relevant information to an increasingly dispersed and decentralized workforce.
PRO: Traditional intranets were a great way for a company to gather all of their work-related documents in one place, and they might even allow administrators to see how many views a document has received.
CON: Measuring engagement isn't what traditional intranets were designed to do. They simply weren't built to measure that level of specificity. Old-fashioned intranets aren't optimized to analyze trends of engagement on different days or at different times, nor can they measure for different topics, mediums, locations, or job roles.
PRO: Traditional intranets were "everything hubs" where all of a company's documents could be securely stored. They allowed this wealth of corporate information to be securely shared, making them useful tools for collaboration among knowledge workers with access to desktop computers.
CON: Employee communications and the employee experience are two sides of the same coin. Today's internal communication needs to be personalized and timely, and the same goes for the way it's distributed.
Managing content for maximum relevance means synchronizing its distribution though HR and content management systems, and mapping this information so that it can meet and guide people at all of the many touchpoints of the employee journey.
In the SaaS (Software as a Service) world—especially with intranets built around Office 365—companies risk offering an experience that's as fragmented as the increasing number of applications their employees need to do their jobs. "Which tool do I need for which job?" is a common question.
This one-size-fits-all approach to the digital workplace can be confusing, because just as company communication should be individually relevant in order to create maximum engagement, its distribution also needs to be personalized and focused.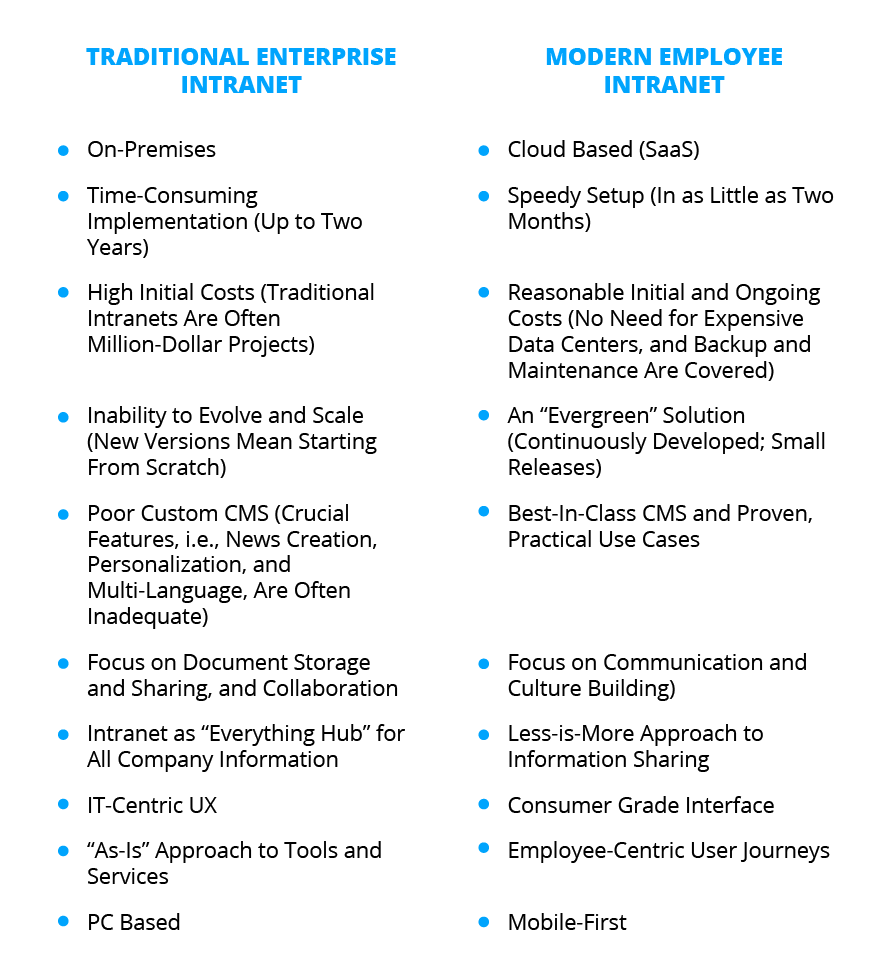 PRO: As workers have been going mobile, a whole new world of Cloud-based SaaS applications have become available to the enterprise. This hugely revolutionary development means that individual employees can subscribe to the software they need and organizations no longer require physical data centers to build and house it.
CON: With each new application comes a unique interface and the often-confusing reality that employees have different portals for different apps: one for the intranet, one for HR services, one for a calendar, etc. Nothing is consolidated, and employees are being forced to constantly check all of these systems, which generally require separate logins. Chances are, they also need secure remote access to these various systems, creating a conflict between security and reach.
Obviously, this isn't how a single-destination intranet should work, stretched well beyond its capabilities in order to serve an ever-expanding SaaS world.
Surely there are better ways out there.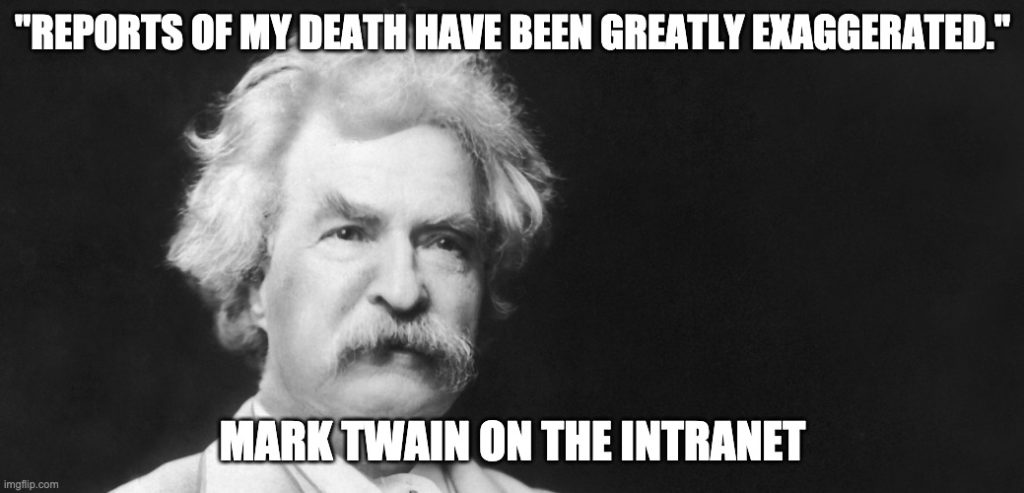 Conclusion: Successful engagement requires strong connections. The intranet isn't dead, but it has been reborn. Today's enterprises need to completely rethink their approach to internal communication by looking for solutions that put the employee experience front and center.
A modern employee intranet platform purpose-built for today's mobile-first workforce will unlock the potential of the content buried deep in your traditional intranet (assuming you have one) and distribute it with ease and relevance that will satisfy the multiple needs of employees and the employers for whom they work.