This is the second part on our article series about the key requirements for a modern mobile intranet CMS. The first part on mobile intranet CMS tools laid the basics on the connection between intranet strategy or (more commonly used) digital workplace strategy and the resulting demand profile for an intranet CMS tool.
Intranet Communication and News Management
The distribution of news has always been one of the central tasks of an intranet. Social intranets usually deal with this issue by referring to a blog feature. But there is a lot more to it than that, especially in large companies with many different locations, writers and languages.
Organizing Intranet News Using Channels
Channels are an easy option for organising news. One easy, but important questions is, how news are aggregately displayed on the cover page.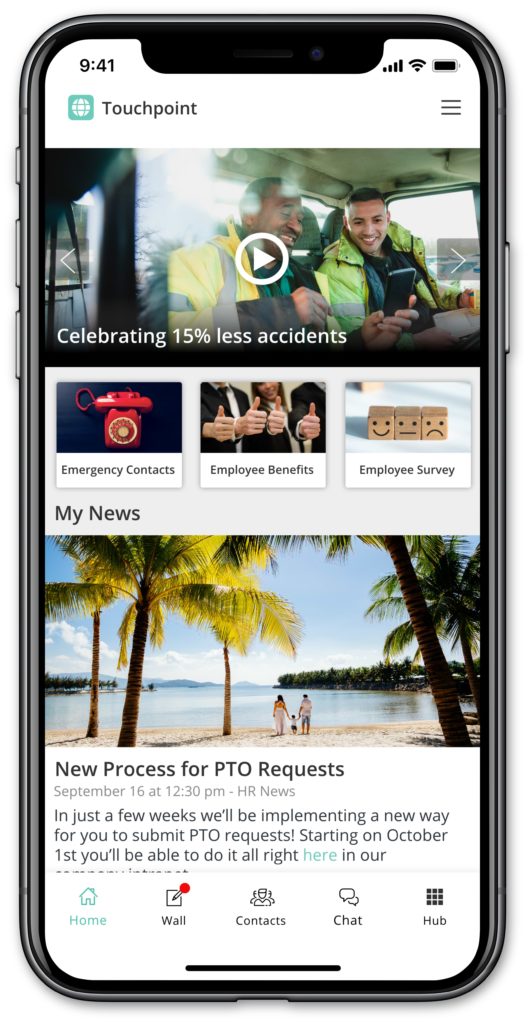 News pages look easy at the first sight but there are plenty of requirements:
The channels are displayed as if displayed on a web news portal. The navigation offers an overview over all channels. On mobile devices it is accessible through the menu button.
Interactions, namely number of comments or valuations, are supposed to be visible on the overview page.
The number of displayed articles per channel should be adjustable, because those only having one channel would like to see as much as possible, whereas companies owning many channels prefer seeing fewer news per channel in the overview.
Displaying more than one channel in the overview offers another challenge during sorting, because updating individual channels might be very different. Readers then will hardly see a change on articles on top while further down, articles have already been updated. For such cases, there is the option to decide between viewing top news (sorting according to channels) and latest news (sorting according to time).
We often hear branding when speaking about channel overviews. Companies want to allocate colors and even logos to individual channels in order to emphasize their affiliation with a part of the company, especially in groups with multiple brands. In the coming weeks we will offer this opportunity on Staffbase, too.
A very current topic for overview pages for internal news are so-called sliders or platforms displaying large images to scroll through. While being visually great, this form of presentation offers some issues making us hesitant offering this feature on Staffbase. This feature adds a horizontal element to the usually vertical scroll logic on mobiles, which irritates the users. Moreover, sliders require perfectly suitable images transporting the articles message. Many internal writers are overstrained by producing contents being relevant in short time on a regular basis. The fact that large news portals have nearly refrained from using sliders by now supports our reluctance.
The sequence of channels should be adaptable. This is particularly useful for company events or emergency situations where specific channels can be moved to the top.
Channels can have different layouts due to the fact that the companies' requirements are often completely different. A large internal communication will always be able to produce news including title, teaser image and teaser due to claiming exactly this. Local writers have an entirely different claim: they want to distribute information as easy as possible, do not require an image for every news and want to distribute everything mobile on smartphone. Local and fast news make intranets attractive and, therefore, a good news platform should offer both options.
Another essential topic is the question of which channels the user can see (which will be discussed under "personalization").
Configuring New Channels in the Intranet
The aim is to configure news inside particular channels by adopting some general settings of the channel. By that, every writer can fully concentrate on the article and produce it quickly – the most important settings are predefined through the channel. Here is an example of the settings of a channel at Eyo.
Channels can be published and withdrawn as a whole. This is especially useful when establishing content when starting a new channel or in case channels are only activated on particular occasions like company events or emergency cases.
One of the most important features of channels is the access control through users. By that it can be easily specified who can see the channel and who can distribute content. Doing this for each individual user is not possible for larger organizations, where this can be managed with user groups. The task is to easily and flexibly separate the users into user groups. We explain this precisely under "user management."
Channel features make for a new central control element for company news. The readers' interaction possibilities for individual articles can be defined for each channel. Users can interact with the articles according to task, target group and content making the setting very individual. Those settings can even be used on the basis of a single article — standardized activation or deactivation of the specific feature can already be defined in the channel.

One central element for a mobile CMS is the control of push notifications, which are so important. Push should not be available for all channels in general, but rather be enabled for only few channels and writers. Here, this, too, works once on channel base and again for each individual article.Notifications should also be possible by email.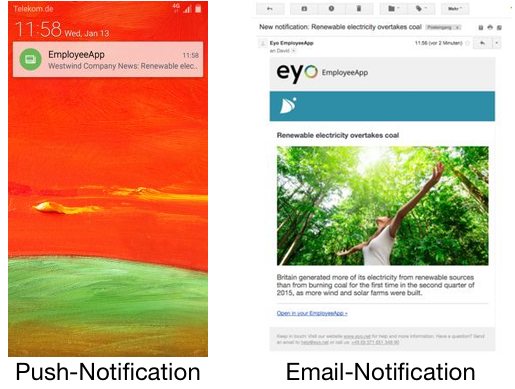 Notifications should not only be controllable by the writers but also the users. Thus, apps allowing the deactivation of notifications by the user itself have become standard.
Is an Approval Workflow Needed for CMS?
Once set, writers are able to quickly create content within a channel while at the same time automatically adapting all selected central settings. Content can be saved as draft and published later. In most cases, this is sufficient for mapping the editorial process - modern intranets go without clearly defined approval workflows built in the CMS in favour of a more up-to-date and efficient communication.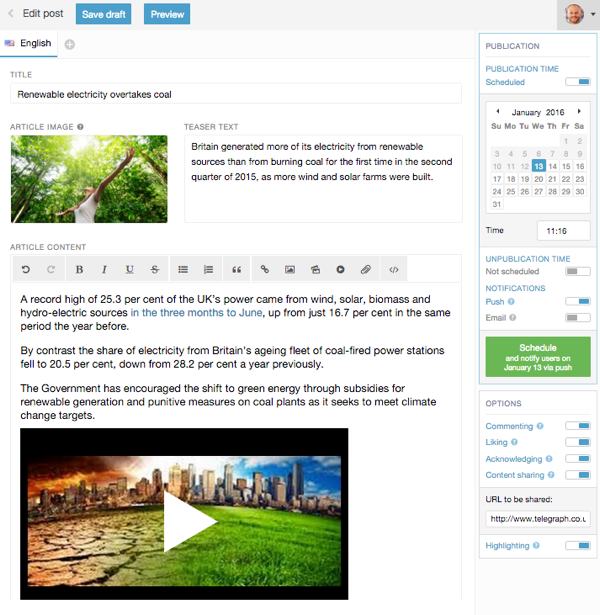 Publishing for the Mobile App and the Desktop Browser in the Intranet CMS
No matter how much talking there is about the mobile channel: those working as writers in front of a large screen all day easily tend to forget that most employees read this content on completely different screens. In order to help writers to see the bigger (desktop) picture, an integrated preview is useful for checking the look and feel of their work on all kinds of devices.
Editing and Publishing Intranet Content in the Mobile App
Especially, local writers need to be able to publish content on smartphones. The in-built camera simplifies sharing pictures, and writers can use it intuitively. When it comes to communication, images are much more powerful than text only – the idiom "a picture paints a thousand words" is not for nothing.
Intranet Statistics for Writers
Immediate feedback of the readers on which topics and formats are in great demand is as important as good contents and images. Surely, comments and valuations help, but the mere fact whether or not an employee has opened a news article allows conclusions. Writers should, therefore, have an easy way to measure internal communications.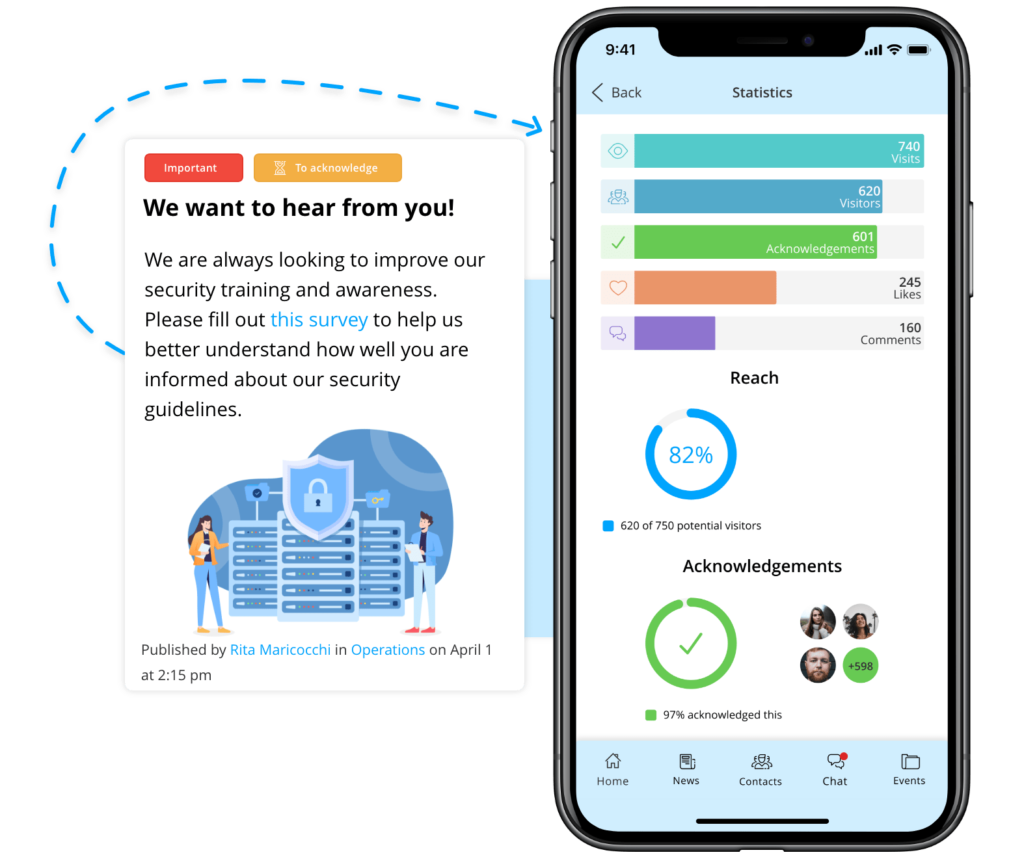 True Multilingual Functionality for Multi-Language Support
The requirements for showing more languages in an intranet CMS – shortly "multilingualism" — can be divided in two areas.
The first aspect is that multilingualism of user interfaces needs to be taken into consideration, namely everything written on control elements, which the manufacturer can offer multilingually ex factory. This option is easier to implement, since corresponding translations can be found in a separate language file. In case languages not being included in the CMS are needed, the developer or even customers can add new languages easily.
The second aspect is much more complex and, thus, only found in few standard intranet solutions. This aspect deals with the multilingual content. From our experience with Staffbase, we know that this aspect is particularly important for large, multinational organisations. Therefore, contents can created in many different languages. Even more important is that the various language versions are known and are treated as only one language version of the same information object. Thus, employees located in Italy receive news automatically in Italian, due to the fact that their mobile phones' language setting is Italian, whereas their British colleagues will receive the message in English. If the content is not available in the given local language, the content will be displayed in the set standard language. The huge benefit of multilingual content is that there is only one structure changing automatically for each language and not many parallel structures for every offered language.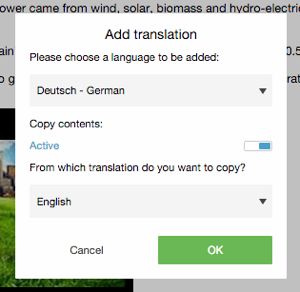 Contents can, therefore, be created in one language and afterwards translated easily. While translating, images and attachments are automatically taken into account, keeping the editorial effort for linguistic variants to a minimum.
Thats a lot of content for intranet communication and news management. But there are other requirements for a mobile intranet CMS. Part 3 of this series will be published soon!
Read more about employee communication apps: