As we celebrate our latest release today, it's safe to say that a lot has changed between version 4.2 and 4.3. 
No, we're not just talking about the updates (though we've got some great ones for you).

Here at Staffbase, "HQ" now stands for "home quarantine." Over the course of the past two months, we've been introduced to our colleagues' kids, pets, and favorite sweatpants, new home fitness routines, and overuse of the term "quarantini."
We're also realizing that the further away we are from one another in our daily routines, the more we rely on connection and communication to hold us all together.

Many of us are living with this reality for the first time. However, for many employees on the road, in shopfronts and healthcare facilities, or on the factory floor, struggling to stay connected to their company and colleagues has always posed a challenge. 
That's why creating solutions to help you reach, connect, and communicate with your entire workforce has been our goal since day one. 
Today, Release 4.3 is pushing us even further towards this goal!
Our new updates make it simpler for employees to get and stay connected to your Staffbase platform and find the information they need even quicker. 
New Chat 
At some point in the last few weeks, have you had that moment when you needed to reach a coworker quickly and just couldn't get a hold of them? 
We certainly have.
Maybe you need to confirm the details of that virtual meeting starting in ten minutes and no one has responded to your email?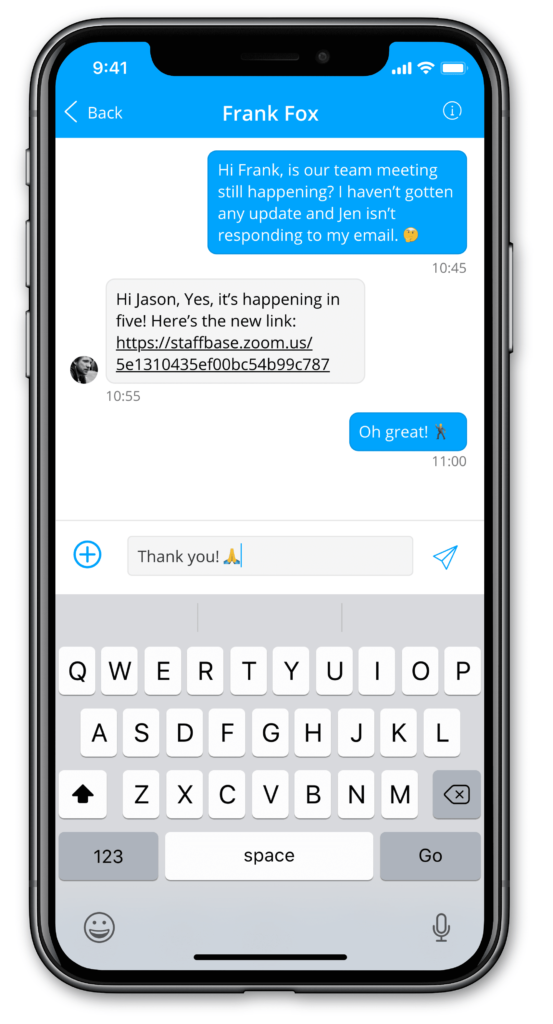 For most of us, the quick solution would be to send a message. But, while relying on private messaging apps, texts, and DMing on social media may be second-nature in our personal lives, none of these options are ideal for professional communication. 
Think about it—if employees are discussing professional topics on private channels, what does that mean for your company's data privacy? What if internal company information is forwarded, copied, or shared externally? 
Even if using these backchannels isn't strictly against company policy, how can you include everyone or make sure private contact information stays up-to-date? Being added to the work group-text, featuring a long list of phone numbers with no context, shouldn't have to be an unofficial step in your company's onboarding.

That's why we created Staffbase Chat, the instant messenger built for businesses. With Chat, you can level up your Staffbase platform and make secure instant messaging accessible for every employee as a direct part of the communications platform they're  already using. 
With Release 4.3, we're launching a brand new Chat experience, with a fully-revamped look and feel!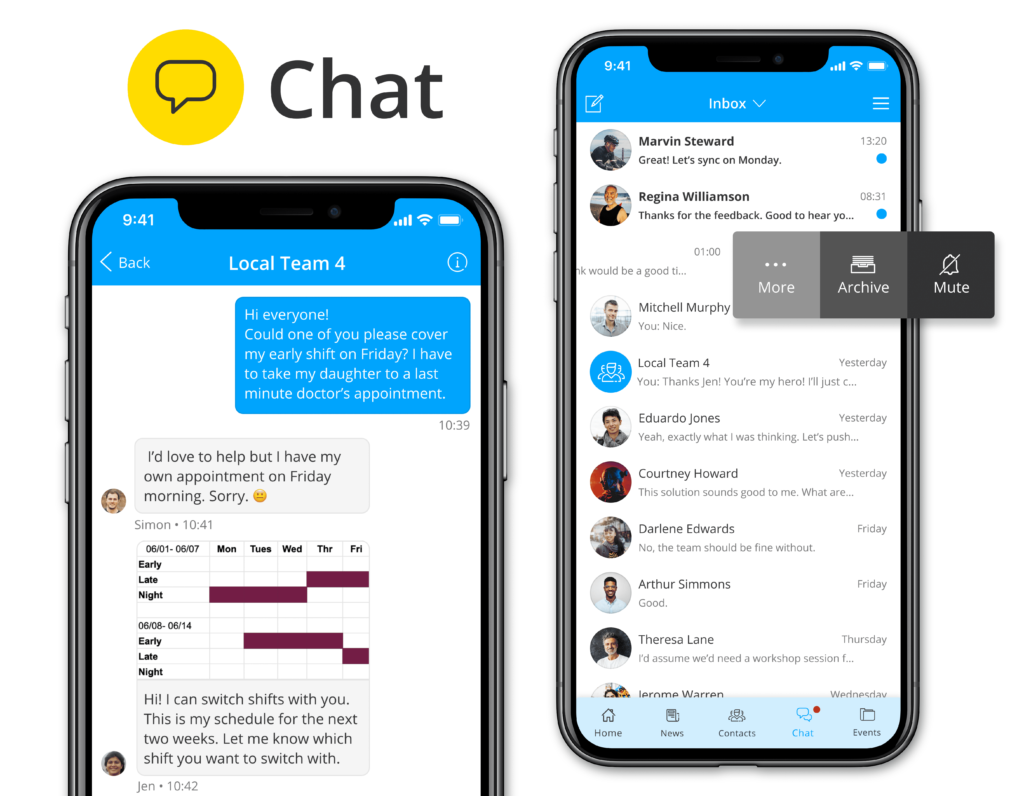 With the new Staffbase Chat you can:
Cut out the chaos in group chats, with a simplified overview and quick in-chat actions
Keep it all convenient; jump to your last unread message, mute and leave conversations, and send messages with a simple swipe or tap
Start a conversation more easily by sending a message directly from your colleague's employee directory profile listing
Ready to kickoff the conversation in your employee platform? Find out more about our new and improved Chat here.
Smarter Search 
Quarantine has also shown us how crucial it is to have a reliable source of information for our workplace. But, while having a resource in place is key, it won't do any good if it's difficult to navigate. Finding the information you need, right when you need it should be simple. That's why Release 4.3 makes some serious updates to your platform's search experience.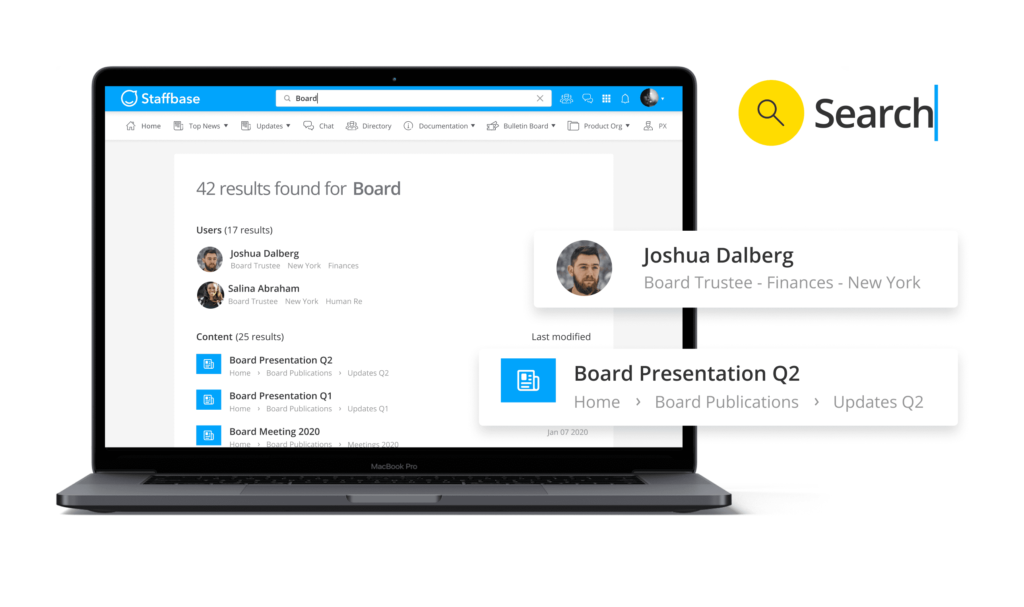 With the new search, from the moment an employee starts typing, they receive both content and contact suggestions based on their query. Results are more relevant than before and show convenient details, like the source of the content and when it was last modified. And, for desktop users, results are displayed in a flyout menu that makes it easy to find exactly what you're looking for. Your last search is even kept in the search bar on desktop, meaning it just takes a click to search for similar terms and related results.
For even more accessibility, administrators now also have the option to make content that exists in open groups searchable for everyone. For employees, that means they don't have to join the Going Green Initiative group, for example, in order to find a recent news clipping that has a photo of their new, sustainable assembly line. This option makes it easy for all users to find the information they want, while still filtering only the most relevant information to their newsfeed.
Connecting with SCIM 
Release 4.3 also offers more integration possibilities than ever before! By now supporting SCIM 2.0, we're making it even simpler for companies to connect their user management and HR systems with Staffbase. So, as your Staffbase platform grows, it's easier to keep user info up-to-date and unified across your entire digital workplace.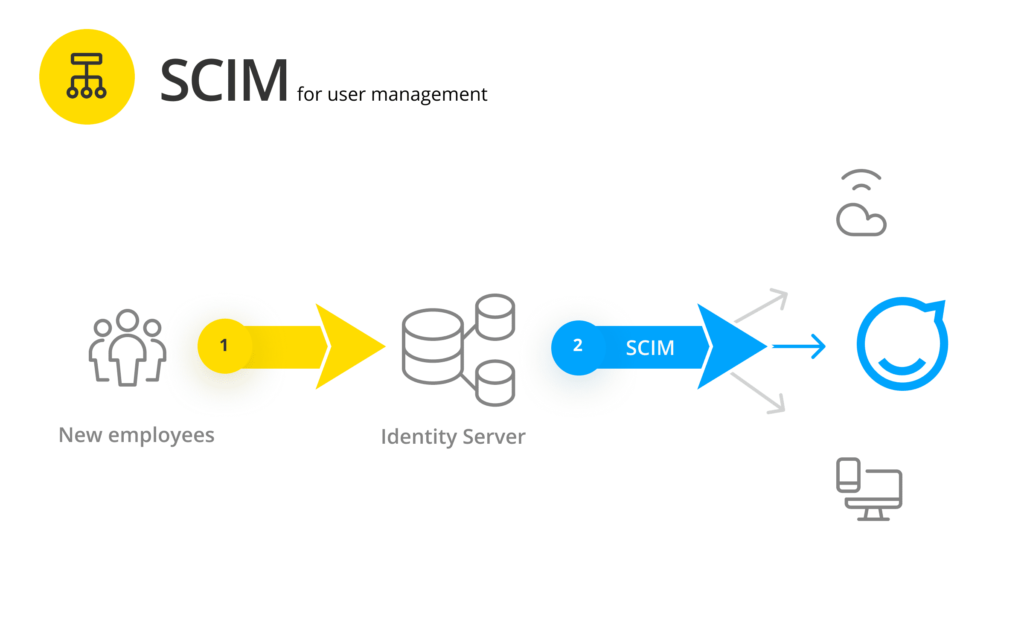 Automatic user management with SCIM also ensures your employees can access their communications platform faster, the initial setup of getting everyone onboarded will be quicker, and require less backup from IT teams.
If  your organization connects Staffbase with one of these systems, then this update will save you time, effort and resources, especially for enterprise-level business. 
Microsoft Azure 
Okta
Google
OneLogin
Oracle Identity Management
Idaptive
PingFederate
And many more! 
Who knew four letters could make such a big difference?
The world is pretty complicated. Let's make work a little simpler.
With every new release, our team here at Staffbase continues to push our platform to the next level. We hope Release 4.3 makes staying connected and getting everyone the information they need easier, especially in these uncertain times. We look forward to working together to create a better employee experience for your people. 
In the meantime, If you're looking for more details on Release 4.3  and how it can help you right now, read our full release notes.