It's about that time of the year when we all want to install a kiddie pool under our desks, are considering popsicles a full meal, and are spending our workdays dreaming about upcoming "Holi-stays". But, just because the weather is heating up doesn't mean your internal communications need to be put on ice. That's why Release 4.4 of the Staffbase employee app and employee experience intranet is filled with new updates to help you better understand the impact of your content, boost bottom-up communication, and keep things convenient and connected for employees across your entire digital workplace.  
Introducing: Staffbase Journeys
The summer days are drifting away, but our new product, Staffbase Journeys, is just getting started! We're so excited about the first employee experience tool for comms teams, that we couldn't possibly fit it all into one paragraph. So, if you're looking to create highly tailored content to inform and engage employees right at the perfect time, read our dedicated blog post here. If you're saying, "Tell me more! Tell me more!" then you can find further details about Staffbase Journeys on our website. 
Reach Analytics: Measure and Prove Your Impact, Even While Poolside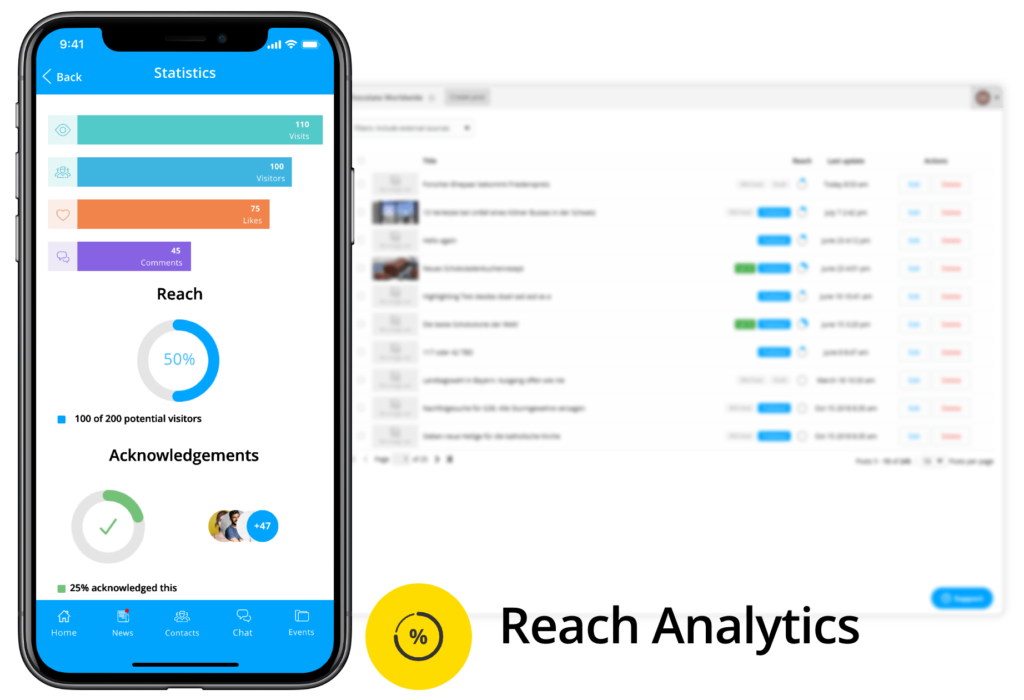 It's 2 pm on a Thursday in the dog days of summer and you're about to publish your latest news update. You've put a lot of effort into making your summer posts engaging, since you know most employees are mentally at the beach, even if they're physically just in the breakroom. Given all of your hard work, do you ever wonder, "Is this reaching the people it needs to?" or "How many people are actively reading this stuff, anyway?"
One of the things we hear most often from internal communicators is how challenging it can be to measure and prove the impact of their work. But, it's also one of the most crucial factors for your communications success. That's why our platform has always focused on getting you the numbers you need to back up your strategy to leadership and ensure employees are staying engaged. 
With the launch of Reach Analytics, we're taking measurement to the next level. With detailed reach reports available for every news post, you can deepen your communications insights and get the stats you need to prove your impact. Reports show you the exact number of total visitors for a post, the size of your potential audience, and the ratio of both figures, aka "post reach." 
These reports can be quickly viewed directly from the News overview page in your Experience Studio, so you can compare the reach for all your recent content fast. For even more in-depth insights, a full report is also now available to view directly from every news post. Your organization's content creators can easily publish news and access important insights anytime, anywhere, and directly from their mobile devices. 
Just click on the "Statistics" button to see a reach report for the post, including the number of likes, comments, and views, all displayed in a clean, visual format. As of today, Reach Analytics is being automatically rolled out to all customers, making it even quicker and simpler for you to measure and fine-tune your strategy for future data-driven success
Make Sharing Vacation Photos Even Simpler with the Post Widget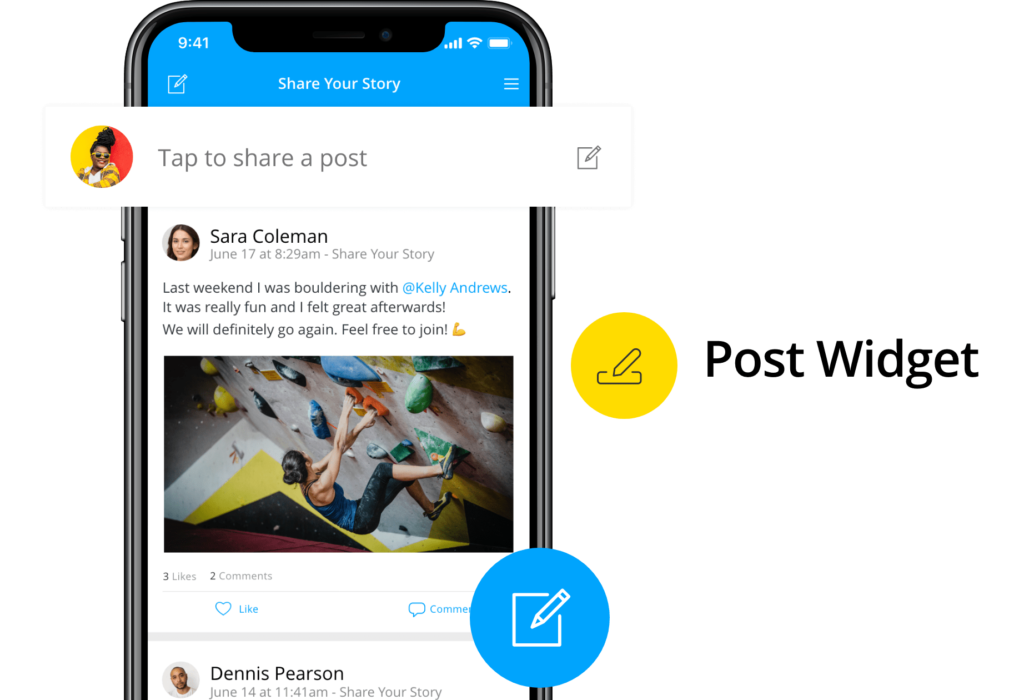 At Staffbase, we definitely toast to "bottom-up" communication, especially if it comes with a cocktail umbrella. That's why we're making it even easier to support authentic employee voices in your communications platform with our new Post widget. With just a tap, platform users can now share and post to on-page news channels even quicker, just like they do from their personal social media profiles. 
Administrators can simply drag-and-drop the Post widget onto any existing page. If the page features multiple news channels, admins can also set up multiple post widgets and quickly define who has authority to post in which channels. This means employees can stay social in circles that are relevant to them, like a marketplace or team updates channel.
On mobile, the post widget can also appear as a button that floats on your page. So, employees won't be left searching when they want to share. Start pepping up your pages today with the Post widget, now automatically available in your Staffbase platform.
Stay Cool, Convenient, and Connected with the MS 365 Teams Integration and Search Extension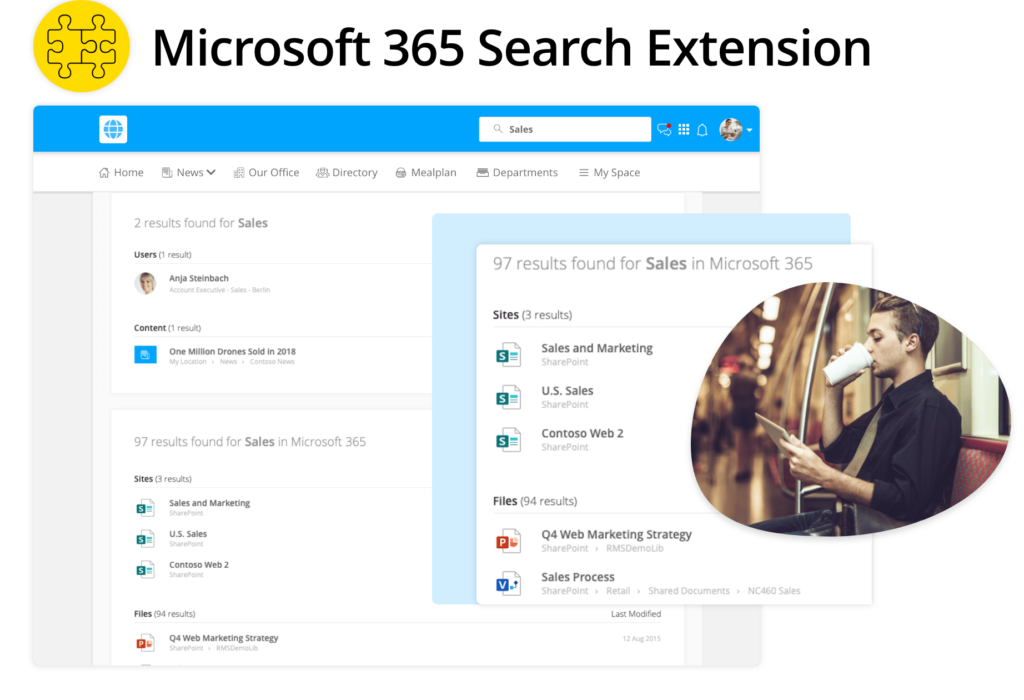 Your Staffbase platform is like a good sunscreen; It should cover everyone! While Staffbase focuses on employee experience and reaching, inspiring, and engaging all employees, we know that some of our customers have office workers that rely on Microsoft 365 as their tool for collaboration. To keep engagement high for your Staffbase platform, offering flexibility to your employees is important. That's why, with Release 4.4, the Staffbase Employee Experience Intranet and the Employee App solutions can both be seamlessly integrated into the Microsoft Teams environment!

Office workers who keep Teams open throughout the day to collaborate with coworkers can also stay up to date and engage with company culture in your Staffbase platform—directly in their Teams desktop environment. No switching apps or opening new tabs needed! And, when they step away for their coffee break or pop around the corner to grab lunch, they still have the flexibility to check your company app directly on their smartphones. If this sounds like an option that could make a difference for your desk workers, contact your Customer Success Manager to learn more about this Microsoft 365 Integrations exclusive feature.
4.4 also powers up your cross-system searching experience. Employees can now search for content that exists exclusively in their Microsoft 365 environment, including SharePoint and OneDrive, directly from their Staffbase platform. Search results from Microsoft are conveniently listed in a separate section shown immediately under the Staffbase search results. Save your content creators the effort of content duplication and make it even more convenient for employees to find the right information, right when they need it. This beta feature is also a part of our Microsoft 365 Integrations product; contact your Customer Success Manager to activate it for your organization.
Stay Sunny, with Staffbase
With Release 4.4, the future is looking bright for your Staffbase solution. We hope these updates help you gain even greater insight into your content, enable employee storytelling, and keep things convenient and connected across your entire digital workplace.  
If you're looking for even more details on how to keep your internal communications shining all summer long, check out our full 4.4 release notes.