Six weeks into 2021, whose New Year's resolutions are still going strong? For many of us, the yoga mats, decaf coffee, and mindfulness apps may have already fallen by the wayside. But at Staffbase we're sticking to our 2021 goal: Helping our customers become internal communication champions. And there's no better step than with the first product updates of 2021: Staffbase Release 4.6.
This release is full of ways to improve both the employee and editor experience in your platform. That includes smoother searching, to more integrations with Workday and Google, and much more. These new features are expanding the ways your entire organization can benefit from your internal communications platform. And it will make your digital workspace even more connected and convenient. So, without further ado, let's see what's new and how it can support your internal comms goals in 2021.
Supercharged Search Improvements 
Finding content in your platform just got smoother. Now, alongside the convenient results tabs introduced last release, employees also have the option to narrow their search even further with advanced filters and sorting options and an on-page search.
Advanced Filters and Sorting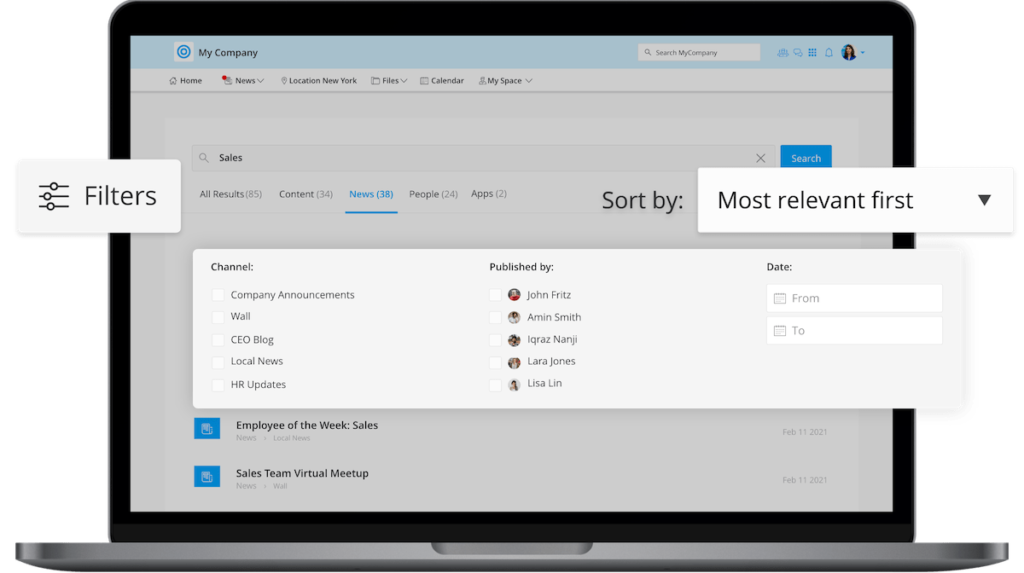 As of today, employees can now filter their results by channel and author. And the option to limit results by timespan is coming soon. Sorting lists results automatically, either by the most relevant or the most recent posts.
For organizations with a lot of content in their IC platform, these small changes have a big impact. One of the most frequent reasons traditional intranets fail is that they become content black holes. While they suck up a lot of information, they're totally opaque. The thing you need might be in there somewhere, but good luck finding it. These updates keep it super simple to use and locate content in your Employee Experience Intranet. And they also make it even easier for employees to discover the info that's relevant to their work. 
But, the search improvements don't stop there. Staffbase Release 4.6 is also introducing on-page search.
On-Page Search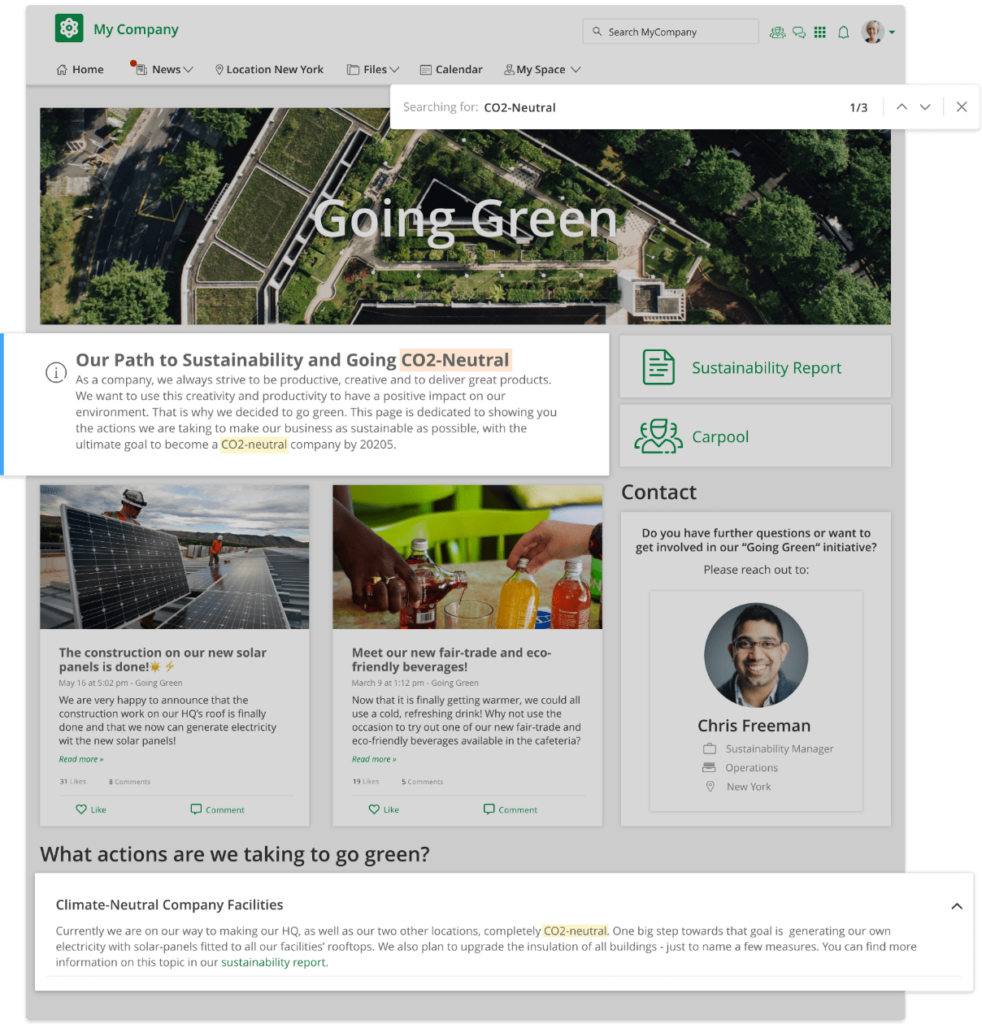 Now, employees can quickly find results within content—even info that's tucked away in accordion sections. Ctrl-F only wishes it was that intuitive. This update is particularly useful for pages with a lot of info and many types of content. You'll be left thinking, "How did I ever get by without this?" It's yet another way Staffbase Release 4.6 is creating a smoother experience for all employees.
Both the advanced filtering and sorting and the on-page search are available for all Staffbase customers on mobile and desktop. Now every employee can find what they need even faster than before. Contact your Customer Success Manager for details.
Sleek Integrations: Workday and Google Drive
The last few releases have been full of new ways for using Staffbase to connect the tools modern organizations rely on. Staffbase Release 4.6 is continuing to expand these options and add even more value to your platform for every employee.

This release introduces two new ways to tie convenient Workday tools and a Google Drive to your Employee App or Employee Experience Intranet. 
Workday Absence Widget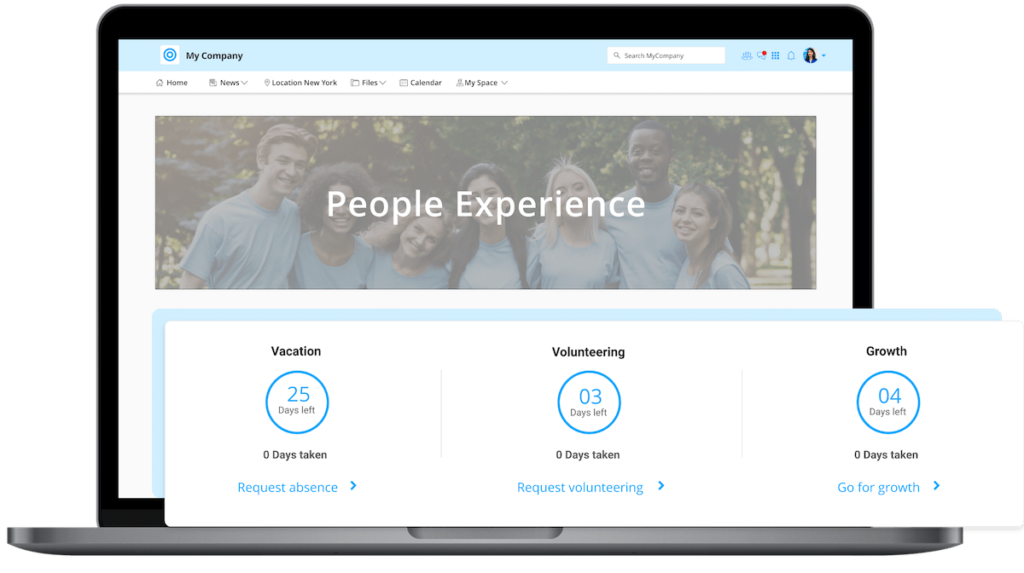 Employees can now easily check their Workday absence info directly in your platform—no linking or separate tabs needed. Just place the Workday Absence widget on a page, like an HR hub or your platform's start page. Employees will then see their personal info usefully positioned next to other updates and content. This is a real win-win, not only saving employees time but also boosting the one-stop-shop relevance of your comms platform. 
Workday Org Chart Widget

Speaking of added value, Staffbase Release 4.6 also offers a stylish way to display your company's Workday Org Chart in employee profiles. With just a click, employees can now see their department, team, or unit's chart as part of their profile and quickly check out where other colleagues are positioned in their org, too. If they want more information, they can seamlessly navigate to their company-wide org chart within Workday. Help employees better understand their organization and role, and boost the "We" feeling right from your comms platform.
Google Drive Widget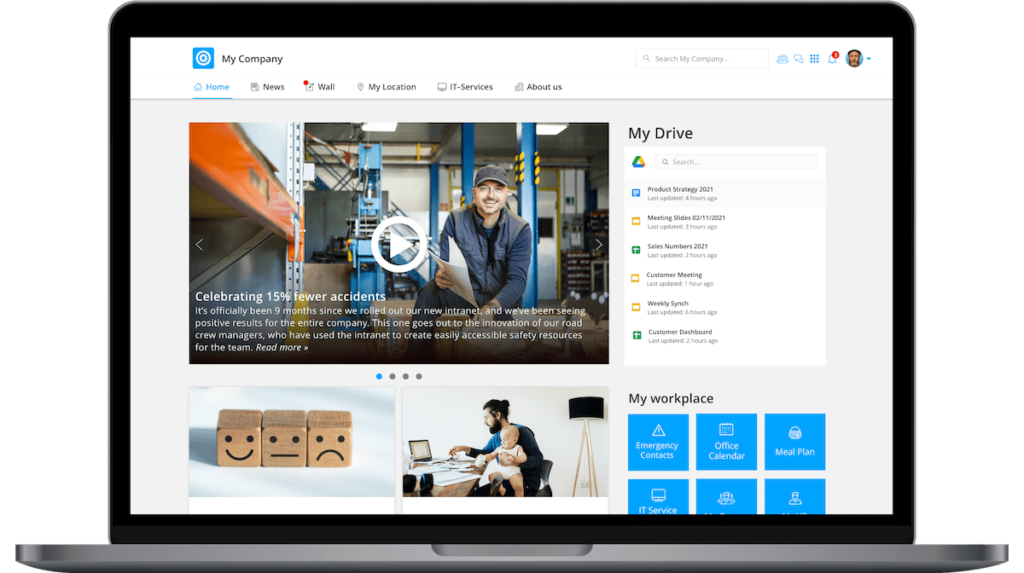 The second big integration in Staffbase Release 4.6 opens the front door to your digital workplace even wider. As of today, employees who work in Google Drive can now access their drive directly in their Staffbase platform. Place the new Google Drive widget on any page, like your platform's startpage or a My Work page, or even add it to a Journeys post or news article. Employees can log in to their Drive directly from the Staffbase menu and can:
automatically see a list of their most recently viewed files
search for content within the drive
jump right into their work in Google with just one click
If a connection to these Workday or Google tools could make the difference for your employees, reach out to your Customer Success Manager to learn more and test the integrations today.
Pages Overview: Keeping All Your Content in Check Just Got Easier
One of the things Staffbase customers love most is how simple it is to create and manage content. In fact, we've won awards for it! That's why we're happy that Staffbase Release 4.6 is making it even easier to keep your platform's pages organized and up to date. Just in time for your 2021 content.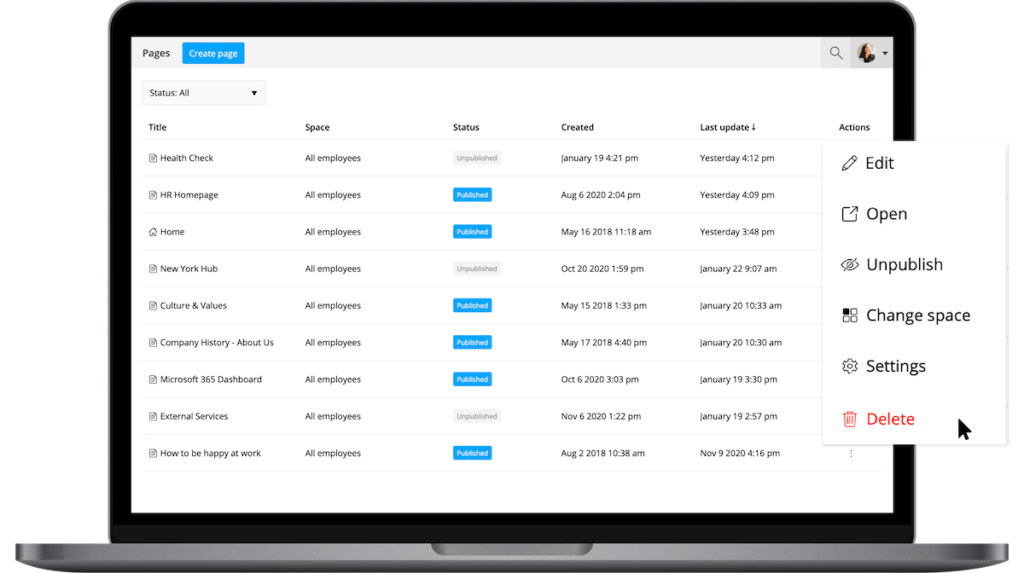 From now on, editors can find all their pages smartly arranged in one dashboard in the Experience Studio. Get all the info you need on a specific page available at a glance, like title, space, or publishing status, and have an overview of all your platform's pages at your fingertips. The pages overview is more than a visual update, it's also a time-saver. It makes platform-wide governance easier and sleeker than ever before.
Instead of endlessly scrolling through all your platform's pages, editors and admins can now quickly search for a specific page or filter and sort existing pages by: 
title
status
creation date
last update 
If you want to create new pages or update existing ones, it now just takes a click from the page overview. To make creating and managing content as simple as possible for every Staffbase user, the pages overview will be available to all customers. Reach out to your Customer Success Manager and check it out today in the Experience Studio!
Add More Value to Your Pages
On top of the Pages Overview, Staffbase Release 4.6 is adding two additional ways to add more content and convenience to your platform's pages.
Group Subscription Widget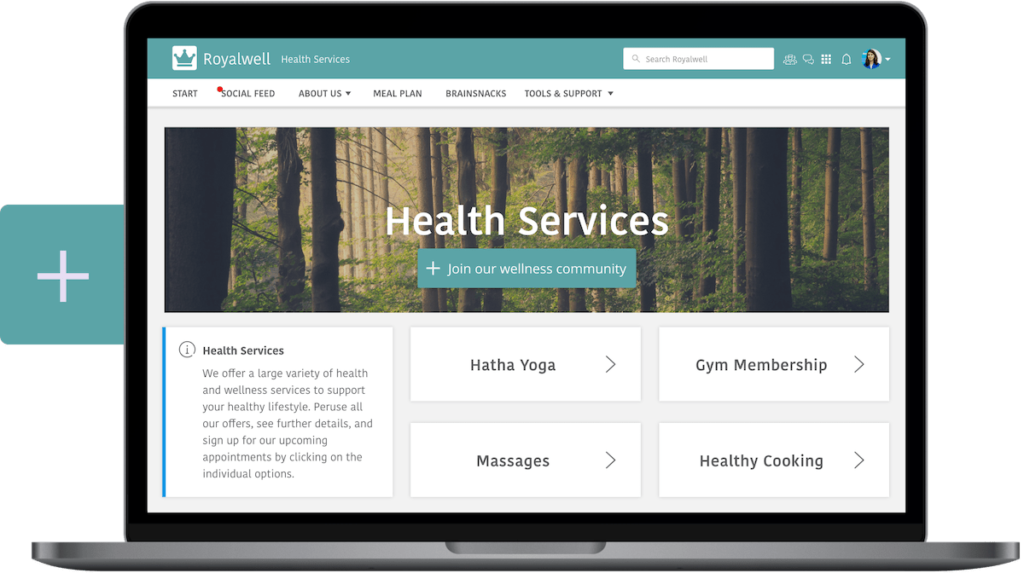 Joining a group, signing up to hear more about a specific news topic, or getting active in a community just got way more clickable. The Group Subscription widget gives editors a new way to advertise and direct employees to their platform's various open groups in the form of a can't-be-missed button. 
Instead of having to scroll or search through a long list of available groups, employees can now discover opportunities directly within their platform's pages, news articles, or even a Staffbase Journeys post. So, if an employee is visiting your Health Services page and sees there's a group for wellness, they can join with a click and be automatically subscribed to content from that group, such as updates on subsidized sport classes, work from home tips, or posts from colleagues about healthy recipes. If they decide the group isn't for them, they can also unsubscribe with a second click of the same button.
This update works great across a whole host of cases, including:
Department or location-specific homepages 
Content about company initiatives like D&I or innovation 
HR info or posts about employee benefits and services  
A communities hub that highlights all your virtual groups 
News on giveaways or seasonal games 
Who knew boosting engagement and building communities could be so easy? 
Embedded Pages Widget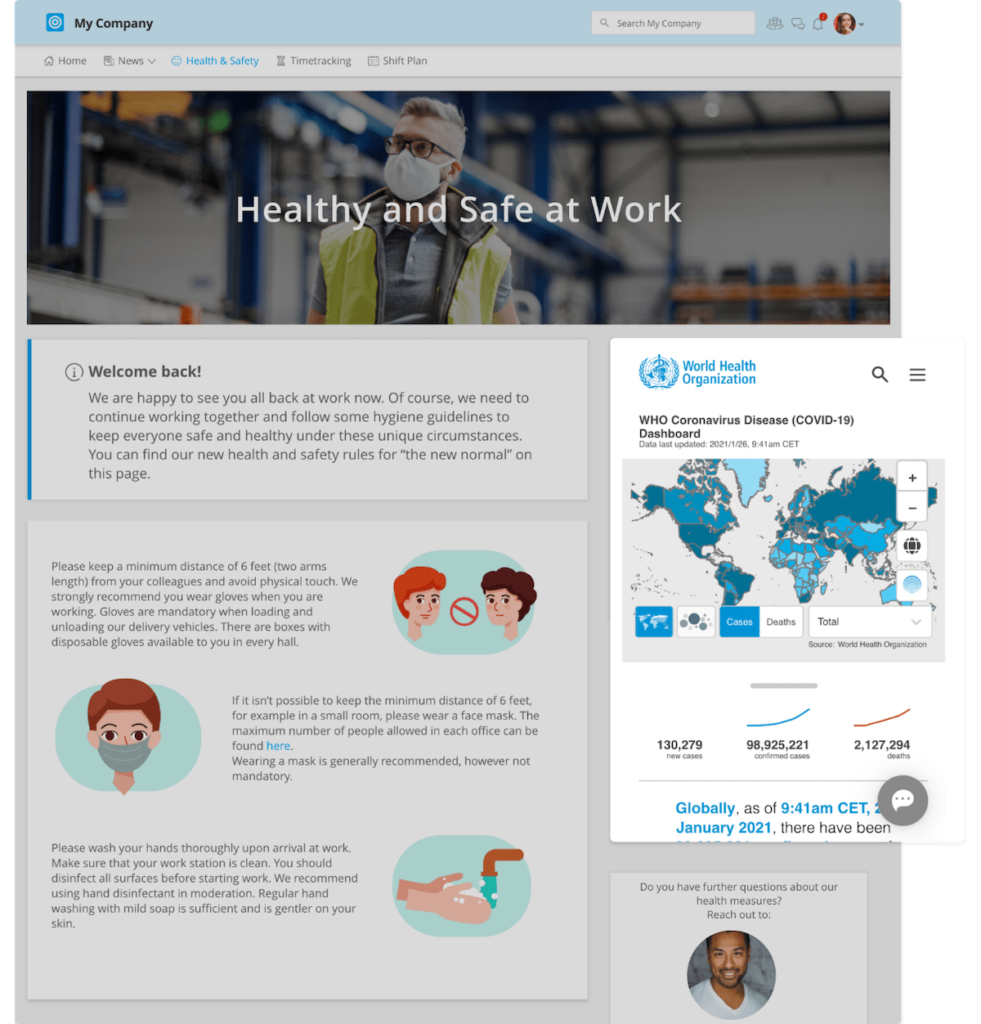 To make things even smoother, Staffbase Release 4.6 is also adding a new way to feature external websites and content directly in your Staffbase platform. You might be thinking, "Wait, our homepage is already featured in our platform menu, and we have a Google Map showing our locations on another page, too. What gives?" 
While embedding outside content in your Staffbase platform has been possible, the new Embedded Content widget lets you place it directly on your pages. That means employees won't have to visit a seperate section to find additional resources. They can see and use external sites right next to other related content, all on one page. So, not only are your individual pages packing more of a punch with consolidated content, they've also just gotten even more stylish. 
As of today, both the Group Subscription widget and the Embedded Pages widget are part of Dynamic Pages. If you want to add more value to your platform's pages, reach out to your Customer Success Manager.
Build Meaningful Feedback Loops Faster than Ever
Giving every employee a voice is a trending topic in the world of IC and is only growing in importance. That's why in recent months we've been expanding our efforts to support communications professionals as they make day-to-day employee feedback a part of their strategy. Our latest advancement: Quick Pulse Surveys.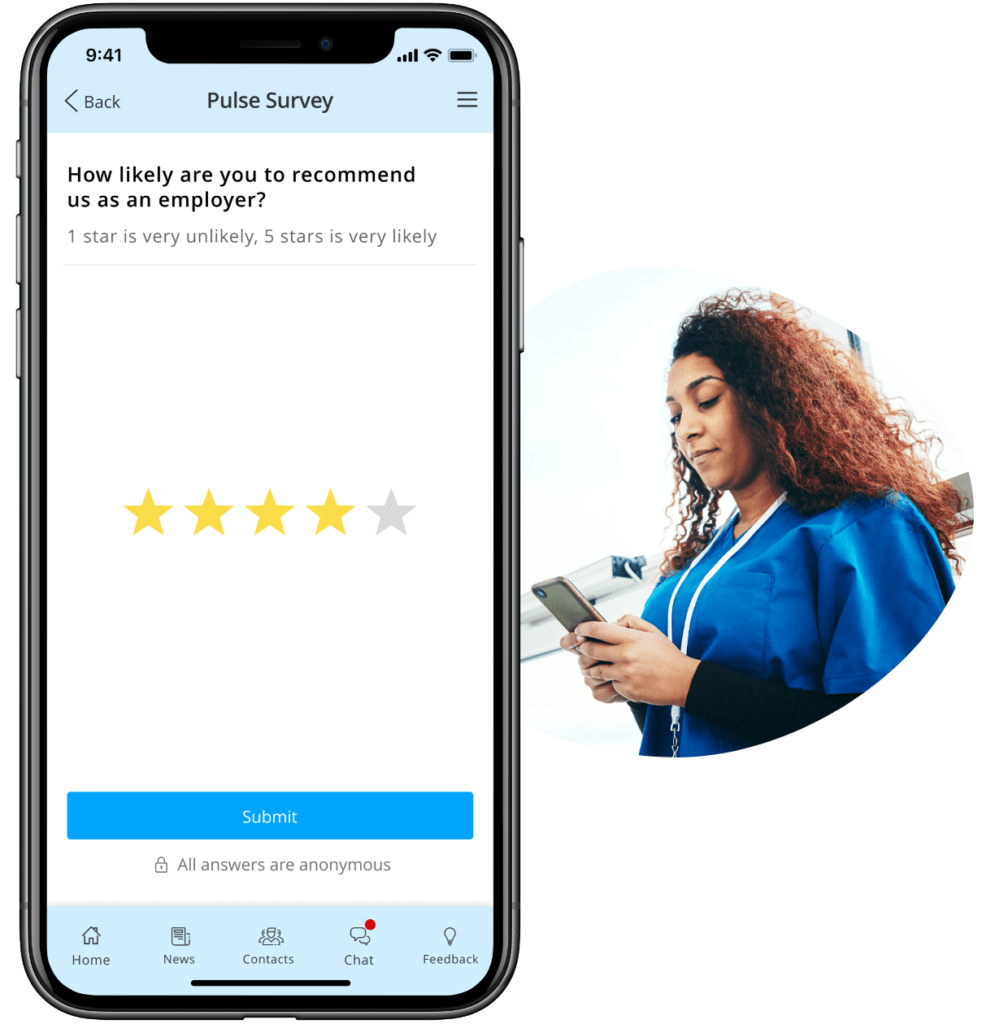 With Quick Pulse Surveys, you can now create, schedule, and send customized, anonymous pulse surveys to employees. In-depth analytics let you track ongoing feedback and measure insights on everything from on- and off-topics to larger changes and initiatives. 
In the coming weeks, we'll be putting the final touches on targeting and preview options, so you can create feedback loops that are even more effective. If you can't wait to see how these updates can help you create high-impact comms that include the voice of the employee, check with your CSM and learn more about employee surveys. 
Looking Forward, Together.
As always, we look forward to working together. If you have questions, feedback, or want to see all the additional updates we didn't get to here (Editing Chat messages! A new look for the Cafeteria Menu! More possibilities with SCIM!) reach out to your Customer Success Manager and check out the full 4.6 release notes. 👇