Hard to believe, but today we're bringing you Staffbase's final release of the year! When we kicked off 2021 we told you our goal: Helping our customers become internal communication champions.
Since then, the year has brought a lot of (exciting!) changes at Staffbase. We can now proudly count more than 1,000 internal communications professionals at businesses worldwide who are using Staffbase. Together we're making a difference for more than two million employees.
We know this has been a year of change for businesses and employees alike. Many have risen to meet unprecedented challenges brought on by the pandemic and found ways to move forward together in dramatically changed marketplaces. The key piece to that business success? Effective internal communications! Which is why IC drives our latest release, too.
From internal comms planning to supporting feedback and building trust in your brand, Release 4.9 is giving business leaders and communicators even more powerful options to craft their most effective internal comms and reach their entire workforce on any channel. 
Ready to see for yourself? We've got some big things planned. . . .
Communications Planning Just Got Simpler
Imagine this, you just pressed "publish" on an update about your company's remote work policy. Soon afterwards, you find out that a manager sent their team a message that inadvertently contradicts the policy you just announced. Employees are confused. Rumors start swirling. Before you know it, you've got a full-blown comms crisis on your hands. 
Seem like poor planning? It is! But it's also an unfortunately common challenge faced by even the most seasoned IC professionals. Just ask Google. 
Especially in times of change or crisis, ensuring updates are frequent, aligned, and reaching everyone is crucial. Yet it's in these fast-moving situations when planning is also the most challenging. That's especially true for communicators relying on disconnected tools, paper processes, or those with no official plan in place at all. 
That's why today we're especially excited to launch Staffbase's Editorial Calendar!
Introducing the Editorial Calendar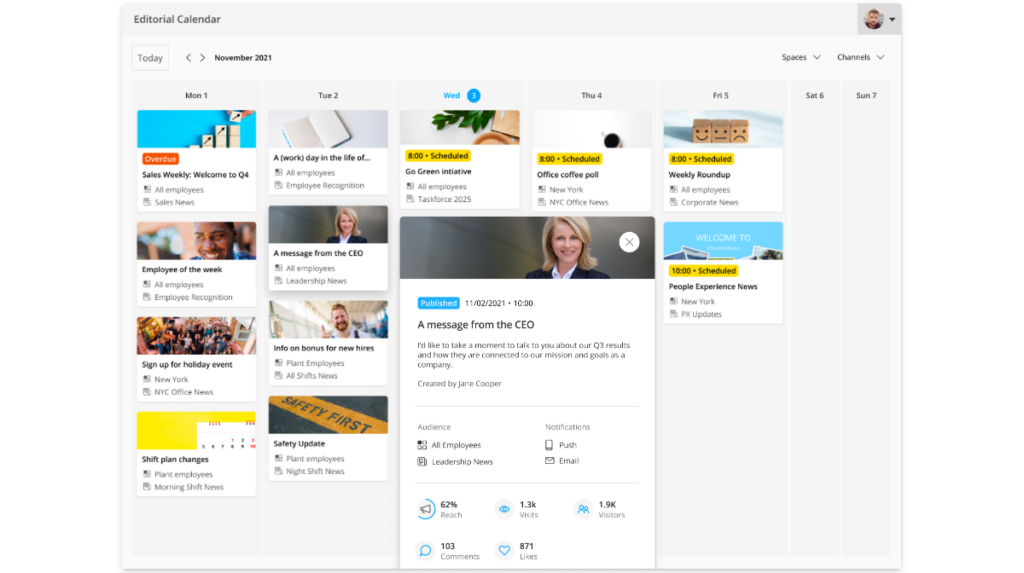 The Editorial Calendar is a fast and straightforward way to plan and keep all your company news in check — right in your Staffbase platform. The sleek dashboard gives you an overview of:
Exactly which content is planned, published, or scheduled on a weekly basis. 
Which employees your content is being pushed to.
Where and when your content will appear. 
How your published content is performing. 
The clear-cut calendar view makes it simple to keep your information flow manageable, ensure your content is engaging the right employees, and combat comms fatigue within your workforce.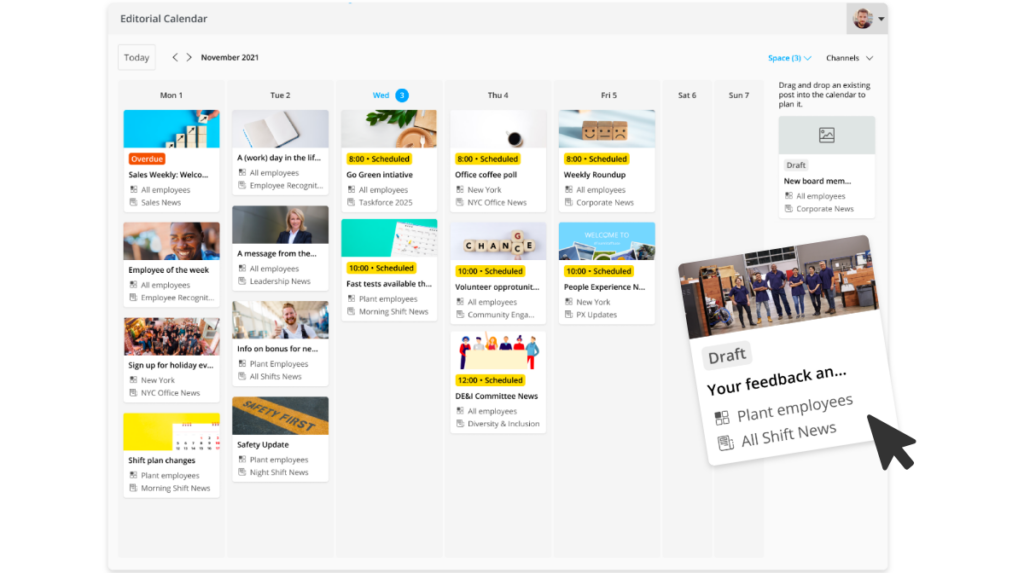 You can also proactively and transparently plan, prioritize, and schedule content creation on an ongoing basis across teams, all from one centralized calendar — no switching between schedules or need for outside tools! 
Editors can create and schedule posts directly from the calendar to any news channel for which they have editing rights, or drag and drop an existing, ad-hoc post into the calendar. This is an especially useful way for organizations with large or dispersed editorial teams to stay on the same page and stop inconsistent, duplicate, or poorly-timed messages before they're ever sent. 
The Editorial Calendar is also an ideal way to operationalize content creation for quarterly or yearly campaigns. We'll soon be announcing more details on connected campaign content.
In the meantime, reach out to your Customer Success Manager to try the Editorial Calendar in its beta version today and learn more about Campaigns in Staffbase.
Even Stronger Survey Analytics
Another main focus at Staffbase in 2021 was empowering IC pros to include the voice of the employee in their communications and to build stronger employee feedback loops directly in their Staffbase platform. The Employee Surveys feature has continued to grow and bring more value to communicators with every major release this year. Release 4.9 is no exception!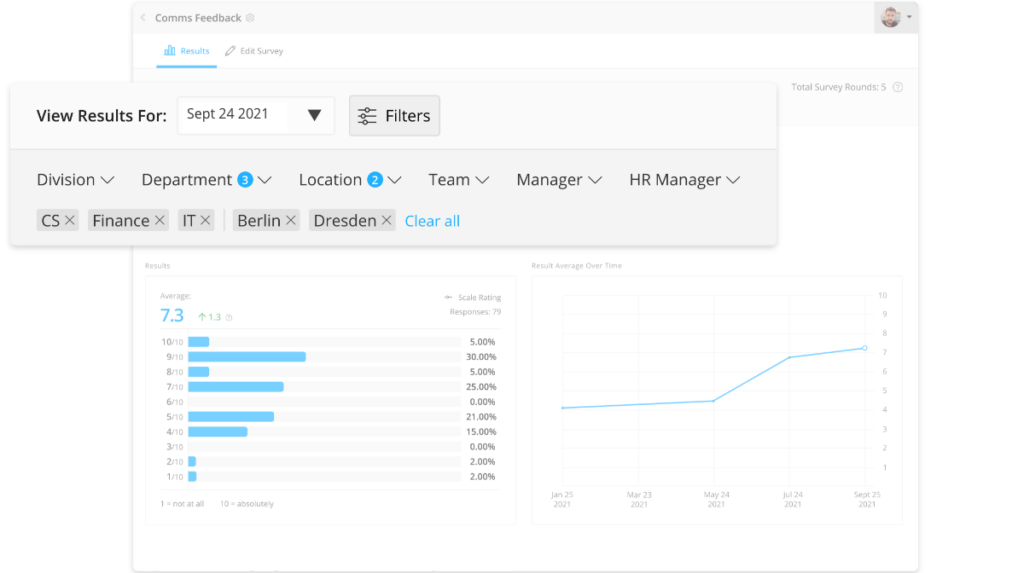 Starting today, you can break down the results of your surveys with custom filters. Creating a filter is simple and can be based on any of the information in employees' user profiles. This gives you the flexibility to filter and analyze results using criteria that's relevant to your workforce, like:
Where employees work. 
Different departments, teams, or business units. 
Role and job titles. 
Manager or seniority level. 
By understanding trends both company-wide and zooming in on specific segments of your workforce, you can respond to feedback and make changes even more directly than before. And that makes a huge difference! 75% of employees say they would stay longer at an organization that listens to and addresses their feedback. With these survey updates, you're one step closer to making employees at your organization both seen and heard.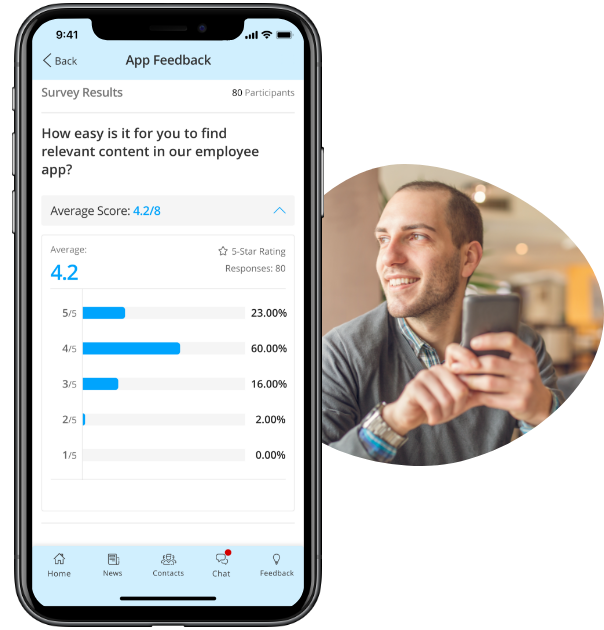 Another way to improve feedback culture is by sharing survey results. With 4.9 that's possible in real time! Now when an employee responds to your poll, they'll be able to see anonymous results from their peers. This is a great way to boost transparency and highlight your commitment to two-way comms. But it also affords your team flexibility. Sharing can easily be switched on or off depending on the survey topic. 
For customers already using Employee Surveys, both of these updates will be rolled out automatically! If you want to learn more about including the voice of the employee in your Employee App or Intranet, get in touch with your CSM today. 
Sleek Integrations: Google Calendar Widget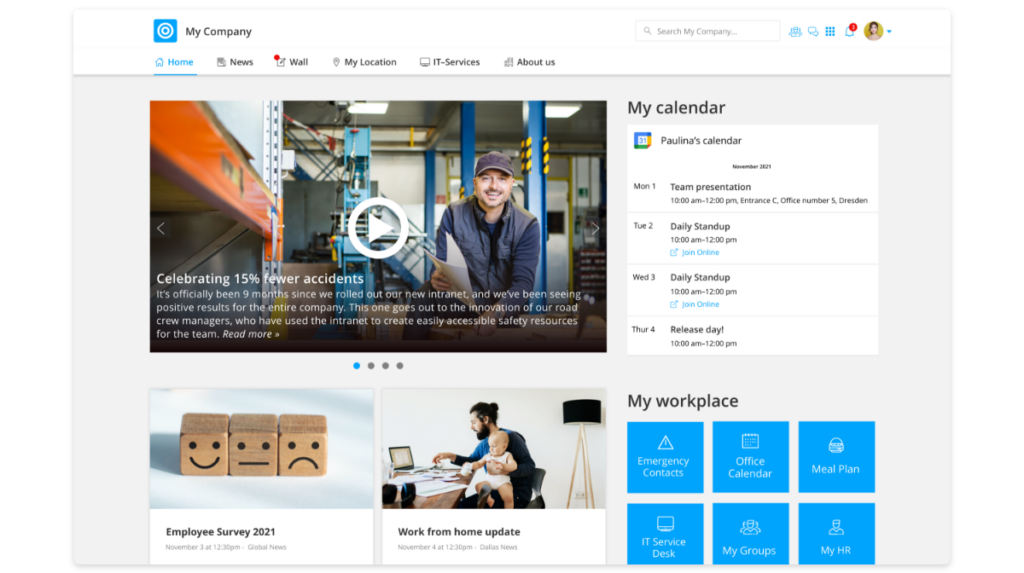 The last few releases have been full of new ways for using Staffbase to connect the tools on which modern organizations rely. Staffbase Release 4.9 is continuing to expand these options and add even more value to your platform for every employee.
As of today, employees who work in Google can now access their calendar directly in their Staffbase platform. Place the new Google Calendar widget on any page, like your platform's startpage or a My Work page. Employees can log in to their Google account directly from your platform's menu and have the option to:
See their own calendar. 
Check their team or department calendar. 
Jump to a call or virtual meeting right from your IC platform. 
If a connection to Google tools could make the difference for your employees, reach out to your Customer Success Manager to learn more and test the beta Google Calendar Widget today.
Boost Your Brand with Custom Icons
We know building employee trust is a key part of effective internal comms. A well-thought-out internal branding strategy can strengthen this trust and turn employees into brand ambassadors. That's why Staffbase ensures our customers' brand identities shine in every detail of their platform — from colors, fonts, and icons, all the way to the name and logo.
With Release 4.9 we're boosting your brand even higher. While it's always been possible to customize the icons in your platform's menu, you can now add custom icons yourself with just a click! 
Go to the Menu point in your Experience Studio. 
Pick a premade icon or upload your own. It can be anything from a brand logo to a graphic your marketing team uses on the external website!
Sit back and relax. Your platform's even more on-brand! 
Personalizing your platform down to the smallest details is yet another way to build your brand with your communications and make employees believe your platform was built just for them. That's why we're automatically rolling out custom icons for both mobile and desktop menus to all customers today!
See You in the New Year
We hope Release 4.9 helps you round out the year with even more effective internal communications. We're already looking forward to offering more valuable updates and insights in 2022. Until then, we'd love to hear from you!
If you have questions, feedback, or want to see all the other new things we didn't get to here (Hello, content in Somali, Tagalog, and Mexican Spanish!) reach out to your Customer Success Manager and check out the full 4.9 release notes. 
Not using Staffbase yet? Sign up for a free demo of all our new features and more here.