Our latest release is BIG. In fact, it's so big that we decided we needed a new format to show you everything we've been working on. 
There's something in release 5.0 for everybody, whether you use Staffbase's Employee App, Front Door Intranet, or Staffbase Email. And there's even more in it for you if you use all three.
So buckle up. Here's everything you need to know about Staffbase release 5.0 in 4 minutes.
Staffbase 5.0 Highlights
New Staffbase Studio for all Employee App and Front Door Intranet customers
After several months of beta testing, we're rolling out the new Staffbase Studio to all Staffbase app and intranet customers. 
A fresh new design and improved information architecture make it easier than ever to plan, create, and measure all of your internal comms from one central location. This includes Staffbase Email, which is now integrated into the Studio.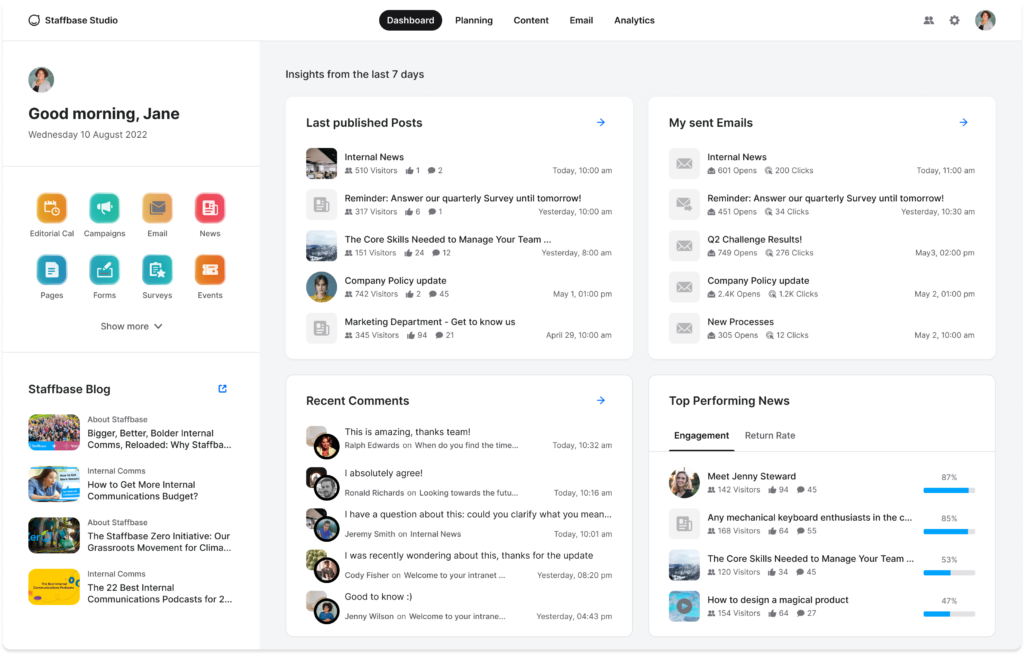 Multichannel Post Statistics 
Our new Post Statistics feature makes it easy to identify which communication channels are driving traffic to your content, and gives you the data you need to inform and improve your multichannel communications strategy.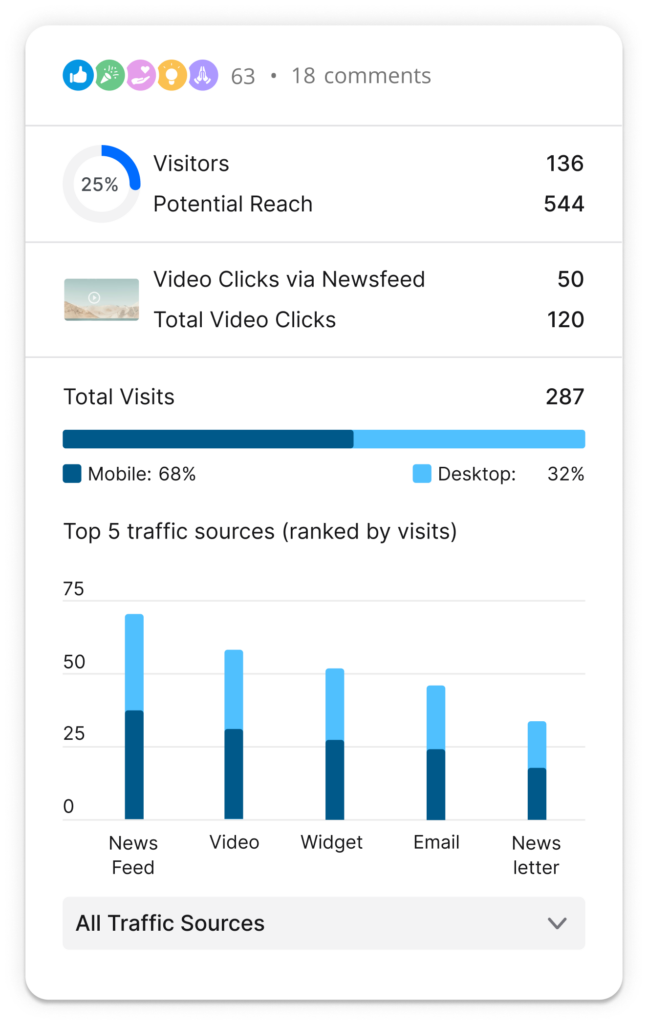 Improvements to Staffbase Email
Customers who use Staffbase Email alongside a Staffbase App and/or Intranet will now see their sent and scheduled emails on the Editorial Calendar alongside their posts and blockers. 
All Staffbase Email customers can now share distribution lists with individual users, giving you greater control over the use of sensitive lists. A new distribution search functionality will make it easier to find the lists you want to share or edit.  
You'll also see improved search functionality when it comes to finding contacts, with the ability to search by contact email addresses. This is great for finding a specific contact or searching for a group of contacts with a common element — like a subdomain — in their email addresses.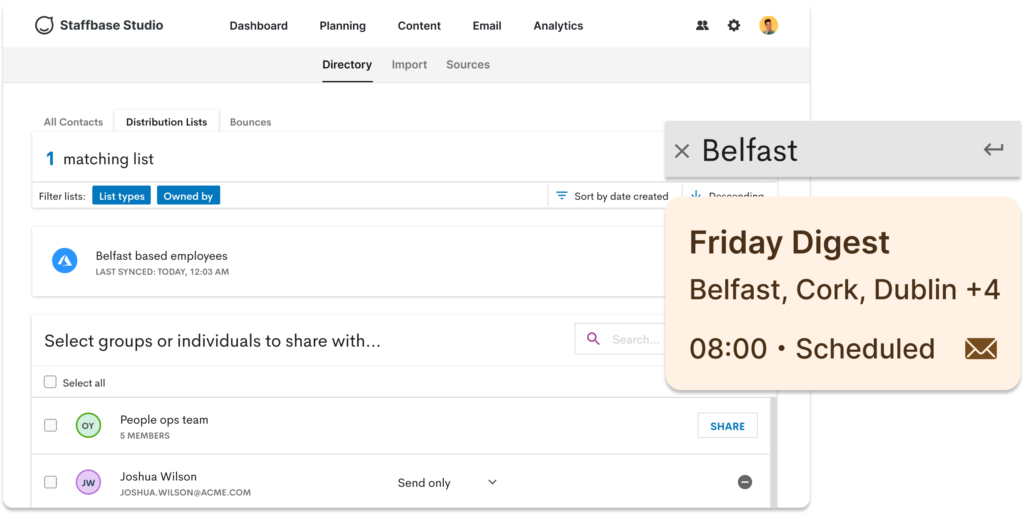 New ways to engage your employees
We've added reactions to provide a more expressive way to respond to content on your platform and increase employee engagement. You can also see a breakdown of the numbers of reactions, giving you better insight into how employees are thinking and feeling.
Staffbase Surveys now support multiple choice questions, in addition to the existing five-star, scale, and text questions. Multiple choice questions make it easy to gauge employee preferences and create polls.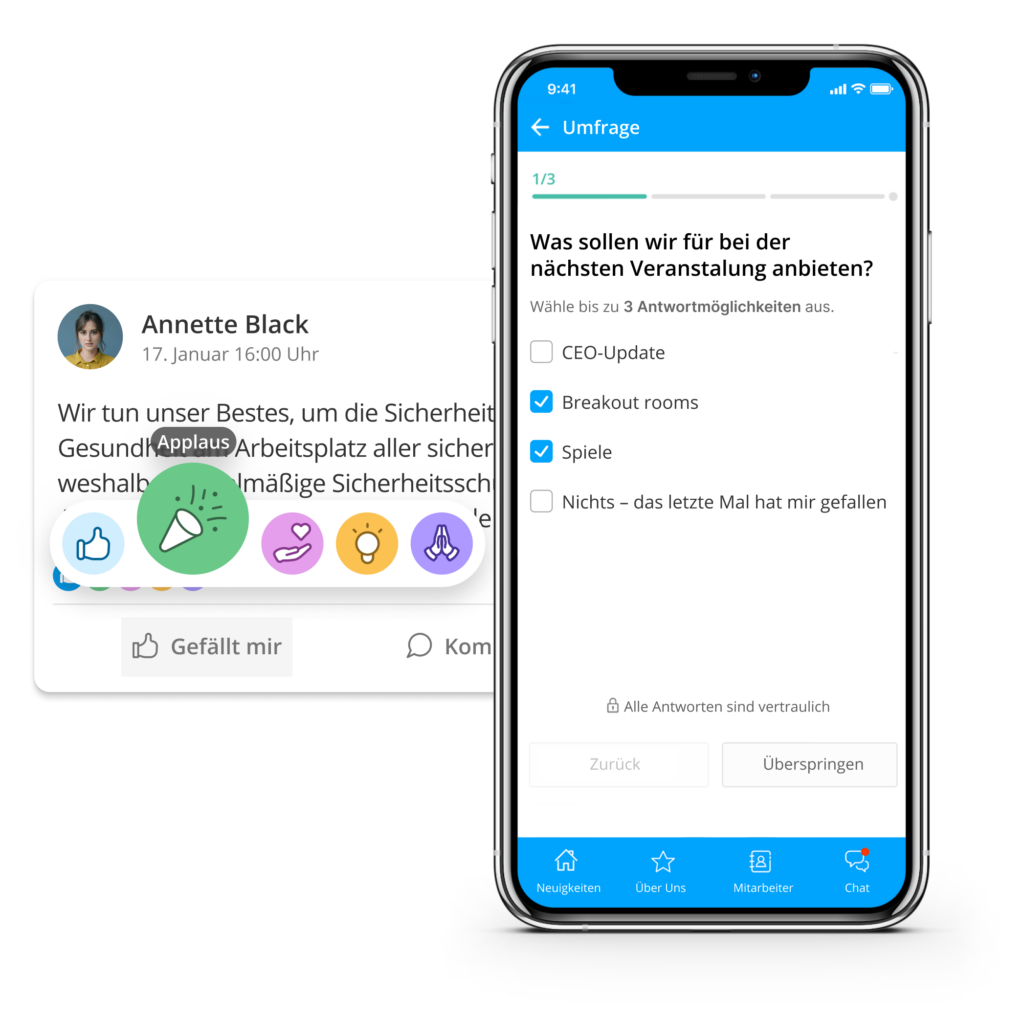 File-handling improvements
Now you can include files in the search results seen by users of your Staffbase platform. Our new file search functionality not only looks across the files you've uploaded to your Staffbase pages and posts, but also looks at the content inside the files to ensure employees are seeing the most relevant results.
Our new M365 File Viewer Widget enables you to display a single file, such as a video or employee handbook, that's hosted on SharePoint or OneDrive directly within your app or intranet. 
Last but not least, the new File Manager enables editors to view the files they've previously uploaded; or upload new files and save time by quickly reusing them across posts, pages, and widgets.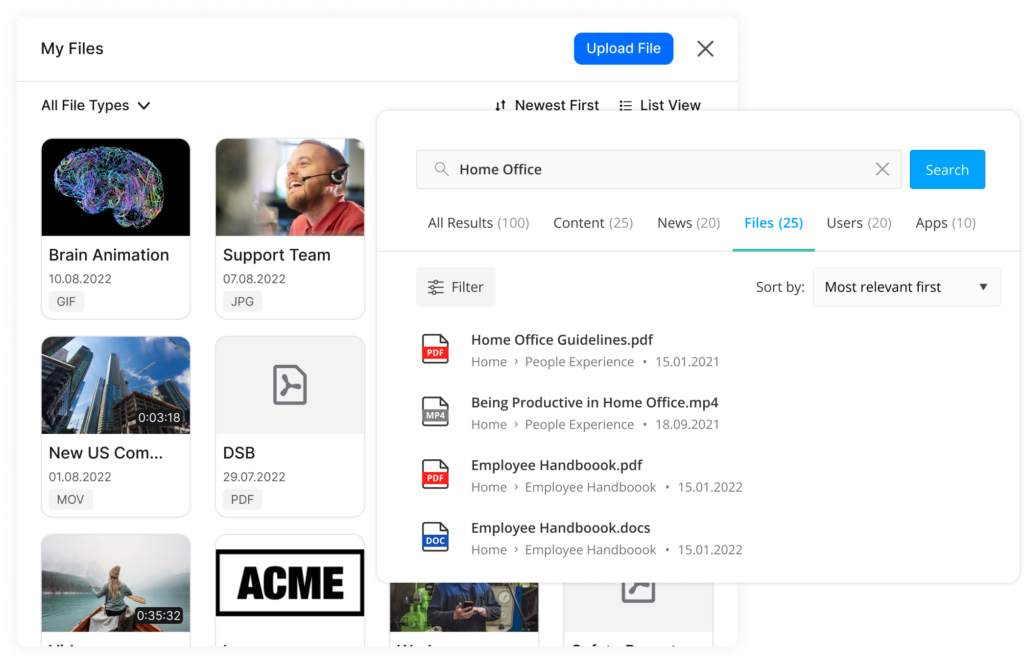 If you're already a Staffbase customer you can learn more by checking out our full release notes or reaching out to your CSM to try these new features today.
If you're not yet a Staffbase customer, we'd love to show you how our employee communications management platform can connect your employees and transform your organization.