At Staffbase, we know that internal communications counts! However, even when your organization sees the value of investing in employees and the conversations and connections you have with them, that's just the first step. Internal Communications professionals need to continue to foster company culture, keep content relevant, and make their message personal for every employee. And, that's no easy feat! Our Employee App and Employee Experience Intranet solutions are specifically designed to help your teams overcome these challenges and reach and connect with your entire workforce.

That's why we're excited to announce the launch of Staffbase Journeys, the first employee experience tool for comms teams. Journeys is a new way to create an even more personalized experience for every employee directly in your Staffbase platform.
Great employee experiences don't just happen, they're built.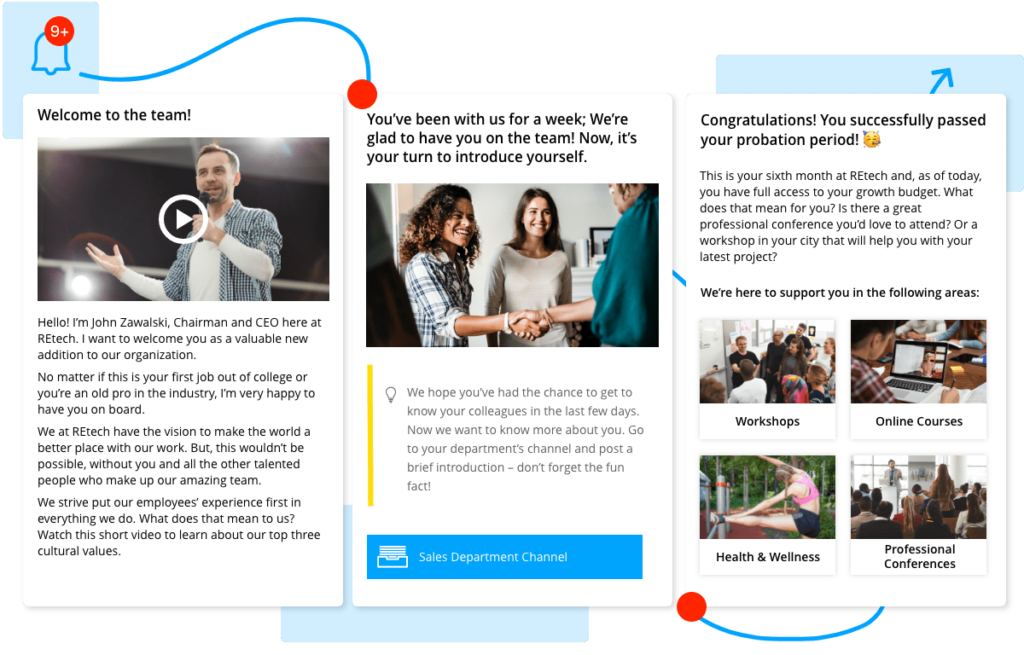 With employee journeys, it's not just about the "what" but also, the "when". Think about it: Is the message you share with new hires also fitting for your 10-year veteran? 
With Staffbase Journeys, you can go beyond content targeting. So, not only can you provide useful information and meaningful messages to your people, but also automatically deliver your tailored content at exactly the right moment during their journey. And, with the help of your internal comms team, that level of personalized employee engagement can start on day one.
What if every time an employee starts at your organization, you were able to automatically send them a welcome message with a video from the CEO on their first day? How about prompting someone who recently started a new role to give feedback about their first week? Or delivering information to an employee who just passed their probation period and now has access to new benefits? 
With Staffbase Journeys, this style of timely communication is not only possible, it's also scalable organization-wide.
More than Just Onboarding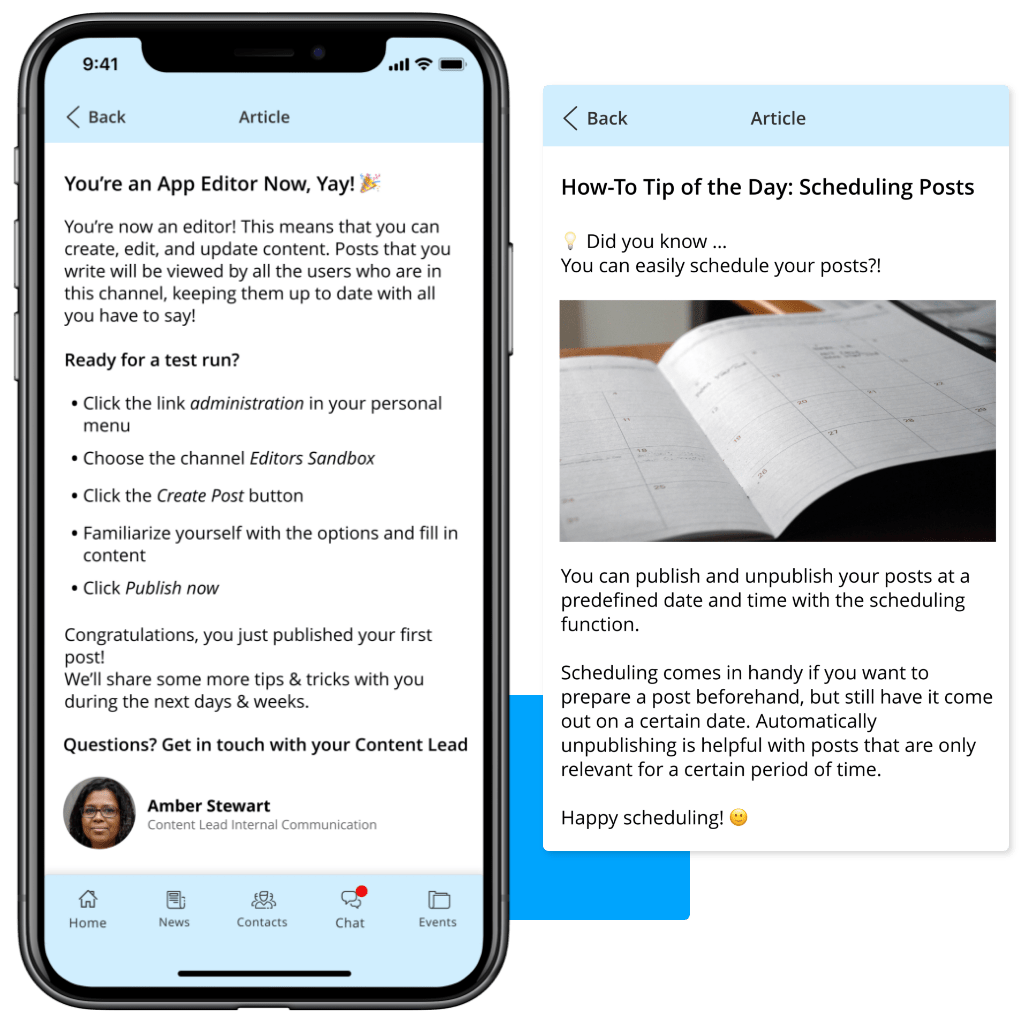 Employee journeys start on day one, but they don't end just because your formal onboarding process is over. Staffbase Journeys is designed to help you guide employees throughout their entire time at your organization.
From promotions, role changes, and employees returning from absences, to change communication and in-app guidance, all the way to a team member's departure, you can build a tailored journey fit to every meaningful employee experience. 
Connect, organize, and schedule related content into cohesive journeys like:
A Role Change Journey
A return greeting for employees coming back after a leave of absence
Need-to-know info about a new location or office 
A prompt to visit a new department homepage 
Tips & tricks for content creation for a recently-deputized local editor
An orientation course for seasonal staff, apprentices, or interns
An Offboarding Journey
A tasklist or deadline reminder during employee offboarding
A "Thank You" message for retiring employees
A request to leave a Glassdoor review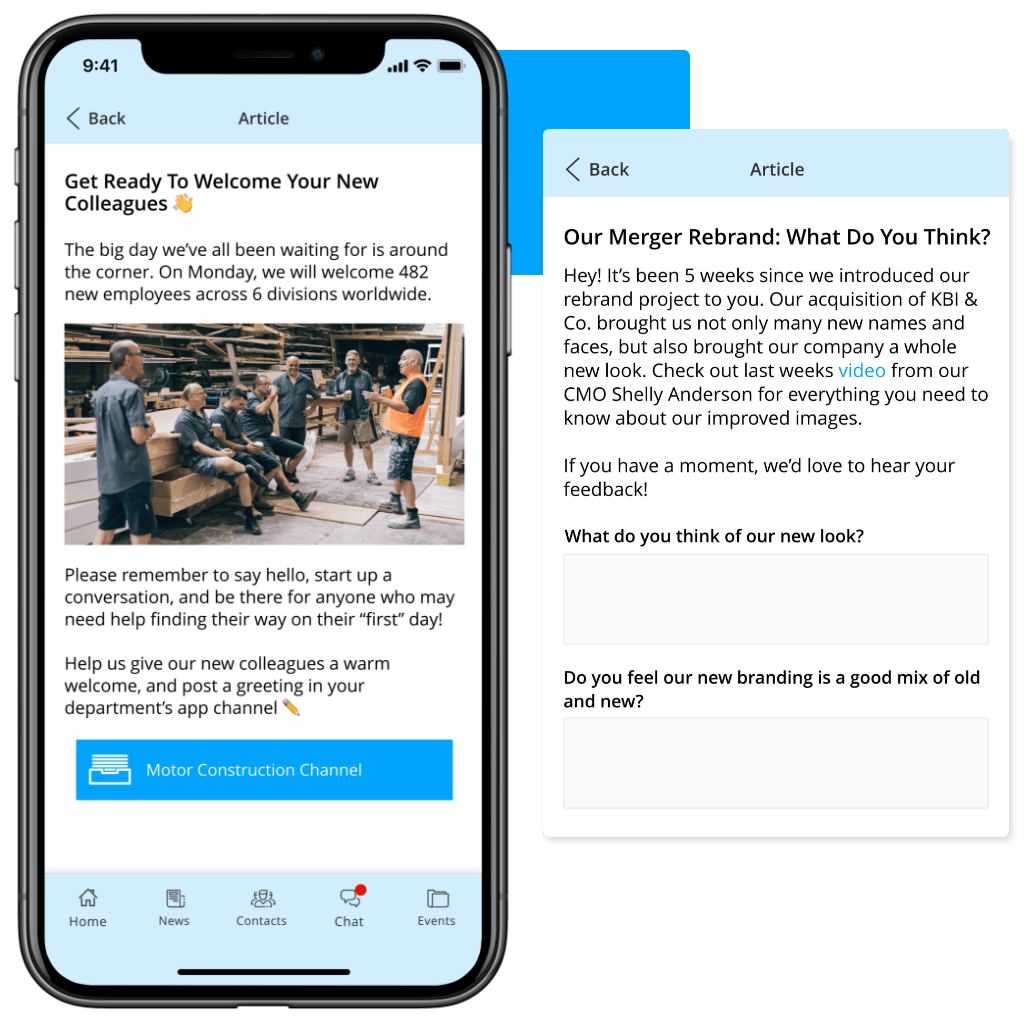 A Change Communication Journey
A personalized introduction message from leadership after a merger 
Daily trivia questions about company values 
A pulse survey at the end of the first shift with a combined workforce
An opportunity for feedback after a company-wide rebranding
Each piece of content is delivered as a personal notification directly in your employee experience platform, ensuring it's convenient and accessible to every person, from any device.
Increase Your Platform's Potential, Not Administrative To-Do's
Want to know the best part?

Highly personalized doesn't have to mean super time-consuming!
Working with Staffbase Journeys is simple and lets you reuse and resurface the great content you already have in your communications platform. By breaking down existing content into individual steps, you can ensure employees receive the exact information they need, without getting overwhelmed by a wave of updates.
How about taking that great year-in-review post and dividing it into insights by department that you can share with new team members? Or, highlighting the latest update on your diversity and inclusion campaign with a recently added committee member?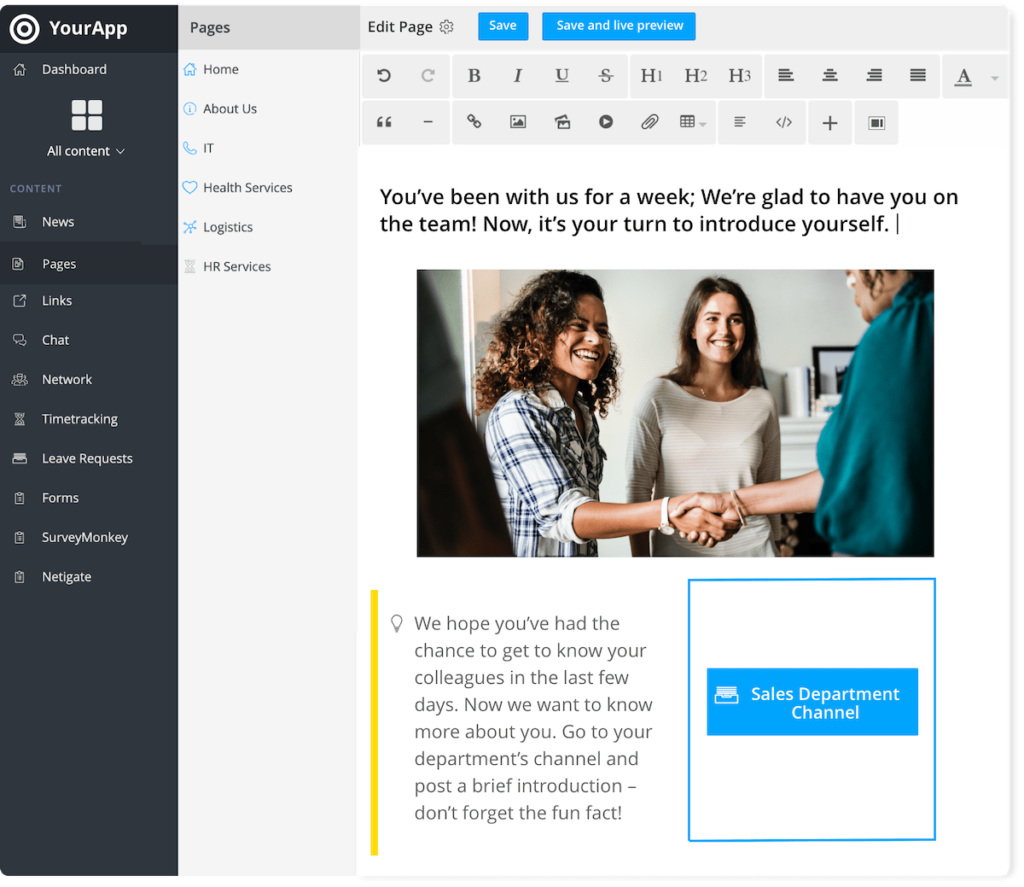 To create a new employee journey:
1. Pick a starting point; for example, the first time an employee logs in to your platform during their onboarding. 
2. Create steps at moments that matter, like their company anniversary. 
3. Choose the content you want to send for each step. This can be anything from a congratulatory message to new guidelines or a video training module! 
Creating and targeting new content with Staffbase Journeys is just like creating a news post. You can embed a form, event registration, calendar, map, meal plan, or any other custom element already in use in your platform, directly in a journey's post.  
Journeys can also be triggered when an employee joins or is newly added to a group. This allows you to make personalized experiences based on employee role, location, or interests. A new technician could be part of your cultural onboarding journey and, when they are added to their department's group, start another journey simultaneously that's more specific to their team.
How to Get Started
Staffbase Journeys was exclusively designed to bring even more value to your Employee Experience Intranet. That's why we've included it as part of our intranet solution for current and prospective users. Because creating a tailored experience for every employee shouldn't just be a possibility; It's paramount to every successful intranet strategy. As of July 30th, you can find the Staffbase Journeys plugin in your Experience Studio, right next to all your other tools and services. 
But we also know Staffbase Journeys is a fantastic addition for our customers who use the Employee App solution. Which is why, you now have the possibility to extend your employee app with Staffbase Journeys. 
Building Your Best Employee Experience
Whether you're a current customer or still considering a Staffbase solution, we want to help you provide a best-in-class employee experience. If you're ready to reach and engage all your people with personalized content at the perfect moment in their journey, take the first step.
Reach out to your Customer Success Manager, schedule your demo, and see how Staffbase Journeys can make the difference for your business!