The coronavirus crisis has made the need for effective communication tools in today's dispersed digital workplace more crucial than ever before. Many employees and their organizations have found themselves cut off from one another and their regular means of interaction, and social distancing practices seem set to remain in place for the foreseeable future.
Unfortunately, the pandemic caught many companies by surprise, especially in regard to their internal communication. Suddenly, adding to feelings of general uncertainty, arose the question of how to provide an unexpectedly remote workforce with the much-needed information essential to both organizational and employee wellbeing.
An employee communication app accessible on the personal devices of your workforce might seem like the logical answer, but without such a tool already in place, the process for implementing one has traditionally been lengthy. And in a crisis, time isn't on your side. So now what?
A Fast Solution for Crisis Communication—and Beyond 
Meeting the need for a communications solution that could be put to work almost immediately was the greatest motivation behind the creation of the Staffbase Internal Communications App. It's an easily and quickly implemented mobile tool designed for reaching your entire workforce in real time with important news and information, not only during crises, but whenever communicating with all of your people is essential.
After only one month, the Staffbase Internal Communications App has already been made available to more than 150,000 employees.
Let's have a look at how three companies have launched their Staffbase Internal Communications Apps in record time. 
Communication with Essential Workers: An App for the Health Care Sector
The Lower Austrian Provincial Health Agency (NÖ LGA) has a total of 27,000 employees spread throughout more than seventy-five provincial and university clinics, nursing homes, and support centers, as well as its headquarters. 
All of the system's workers have faced great stress and uncertainty during the coronavirus crisis. To combat this company-wide anxiety, it became clear to the organization's leadership that finding a channel to provide trusted and relevant information to everyone in their system would be the best way to promote a sense of security, preparedness, and community. The initiative quickly became one of the company's highest priorities.
On March 23, 2020, at the outset of the coronavirus spread in Germany, the company made the bold decision to act proactively by digitizing their communications with Staffbase NOW, rolling out their branded communications app "LGA Update."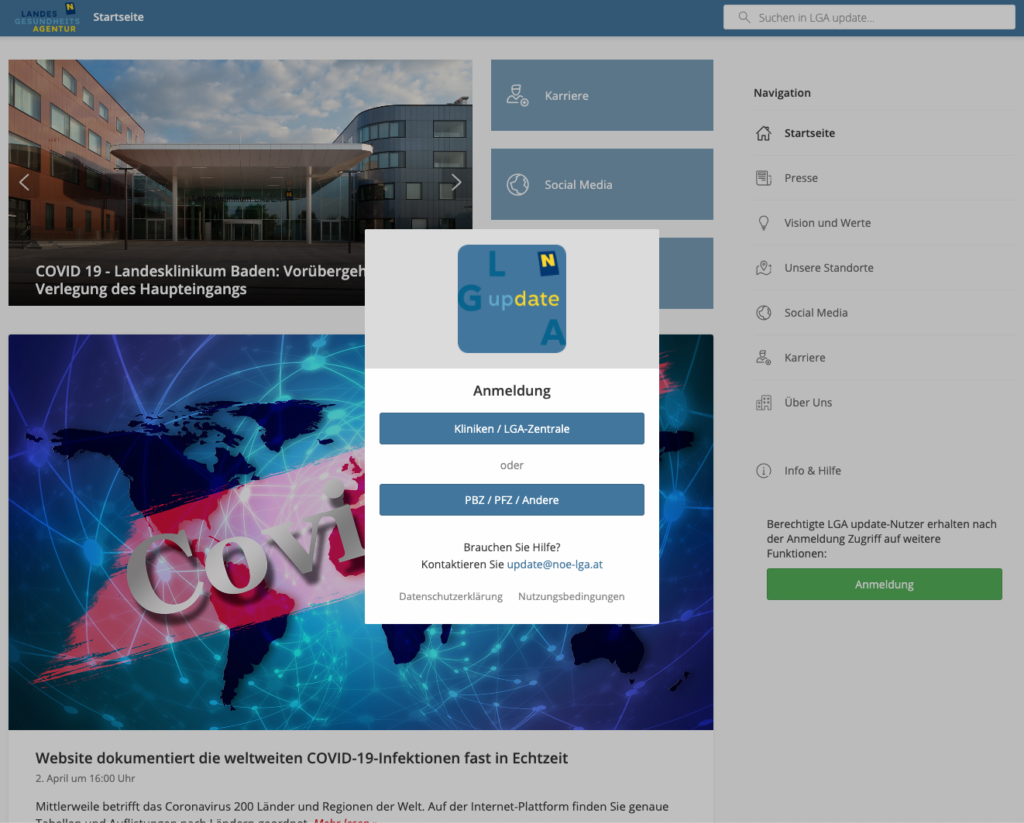 A web version of the app was made available to the company on the very same day they contacted Staffbase. An iOS app was up and running within a week, and full implementation of the app took only twelve days. The digital tool was quickly able to provide its users with the kinds of up to date and trusted information they had been craving.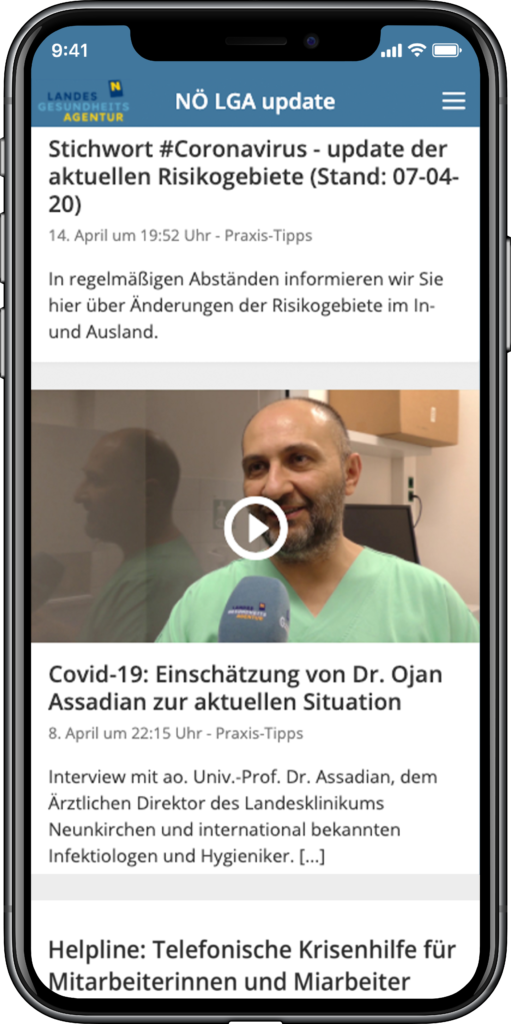 "It was the speed at which this solution could be made available that was a decisive factor for us," says project manager Matthias Hofer, who as head of communication at NÖ LGA managed the introduction of the "LGA Update" app. "Particularly in view of developments in connection with the coronavirus, it was imperative for us to ensure that medical and nursing staff were informed quickly and comprehensively."
It was the speed at which this solution could be made available that was a decisive factor for us."

Matthias Hofer, Head of Communication, NÖ LGA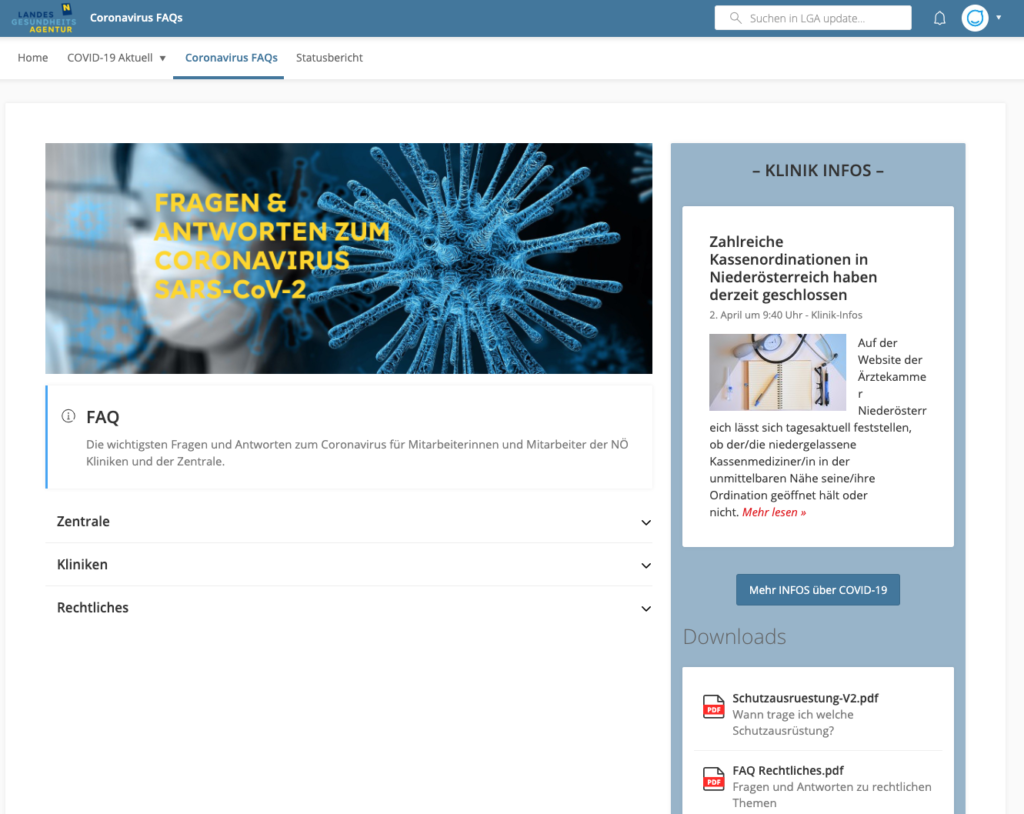 First contact: March 23, 2020
Kickoff date: March 23, 2020
Web version available: Same day (directly following kickoff)
Branded iOS app available: 7 days after kickoff
Branded Android app available: 10 days after kickoff
Full implementation: Within 12 days
Current user numbers (as of 4/17/20): 8,000 registered users, increasing daily
When Factories Are Closed: Communication with Workers Not at Work
Dräxlmaier is a global automotive supplier headquartered in the German state of Bavaria with more than 75,000 employees worldwide. One of the biggest challenges the company faced at the outset of the coronavirus crisis was the circulation of fake news among their workforce.
For example, it was widely rumored that employees could become infected with coronavirus by touching contaminated machines. The company wanted to combat this kind of false information with targeted, factual communication that their workers could trust.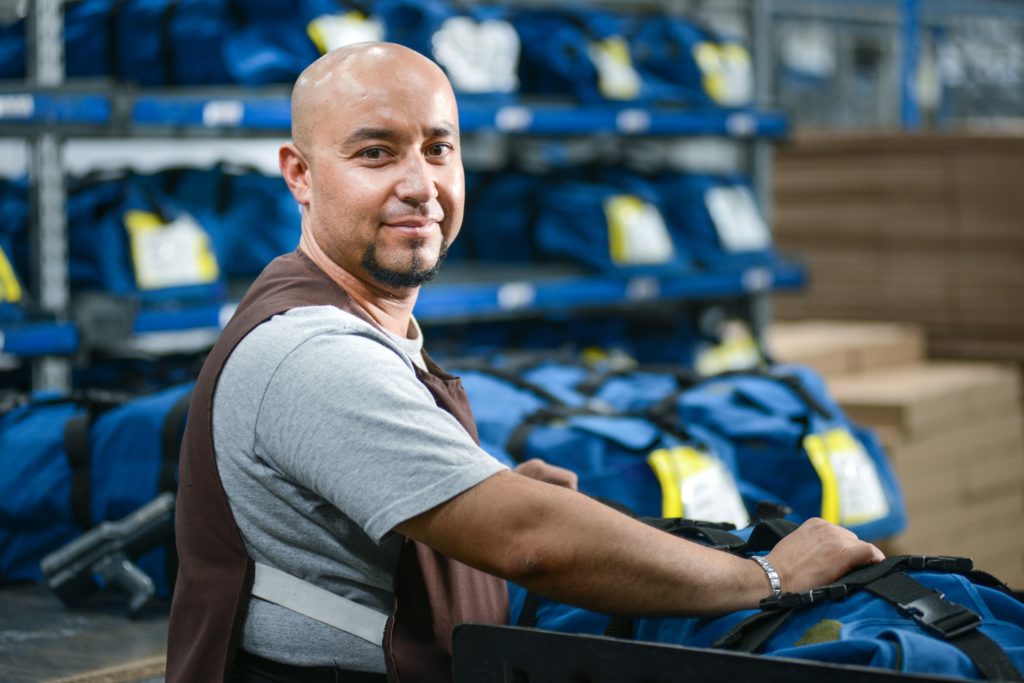 "We were looking for an alternative to our intranet and digital signage, and we found what we were looking for in Staffbase. We were particularly impressed by the promise of such fast implementation with Staffbase NOW," says Dr. Tobias Nickel, Head of Marketing and Communications at the Dräxlmaier Group, who was responsible for the introduction of the company's new D-NOW app.  
We were particularly impressed by the promise of such fast implementation with the Staffbase Internal Communications App."

Dr. Tobias Nickel, Head of Marketing and Communications, The Dräxlmaier Group
The company also wanted a way to put workers at ease while away from work. "The current Corona crisis is forcing many of our employees around the world to spend more time at home than usual. It is especially important to us not to leave people alone with their worries and fears, especially in such an exceptional situation," says Dr. Nickel. 
The D-NOW app addresses an array of workforce insecurities with trusted communication that's shared in real time. The company also plans to use the app proactively, knowing that access to this kind of information will be crucial as the company prepares for the new normal following a loosening of governmental restrictions and and the subsequent return of its workers to the factory floor. 
When asked how satisfied Dräxlmaier is with the rollout of their Staffbase app, Dr. Nickel reports, "Only seven days passed between the kickoff and the launch of our web version of D-NOW. This meant a tight schedule both for us internally and for Staffbase as a service provider. But having fixed contact people at Staffbase from the outset, as well as a step by step project plan, allowed us to implement our app very quickly."
Although the D-NOW app has only been available to Dräxlmaier's employees for a short time, all are convinced of its current usefulness as well as its future potential. "Our employees appreciate receiving up-to-date information from the company via push notifications, and the intuitive backend of the app makes adding content easy for our worldwide team of editors."
This was exactly the goal of the rapid introduction of D-NOW: to alleviate the fears and worries of every company employee with a single source of trusted information, and to meet the challenge of effective communication with a solution that can be used now and well into the future. 
Having fixed contact people at Staffbase from the outset, as well as a step by step project plan, allowed us to implement our app very quickly."

Dr. Tobias Nickel
Web version available: Same day (directly following kickoff)
Branded iOS app available: 13 days following kickoff
Branded Android app available: 9 days following kickoff
Full implementation: <2 weeks
Putting Employees at Ease: Communicating with Staff in the Hard-Hit Transportation and Travel Sector
The family-owned and operated company Sales-Lentz Group was founded in 1948. With more than 700 vehicles of various sizes and purposes, they own the largest private transportation fleet in Luxembourg. Sales-Lentz is thus able to meet a variety of transportation needs throughout Europe.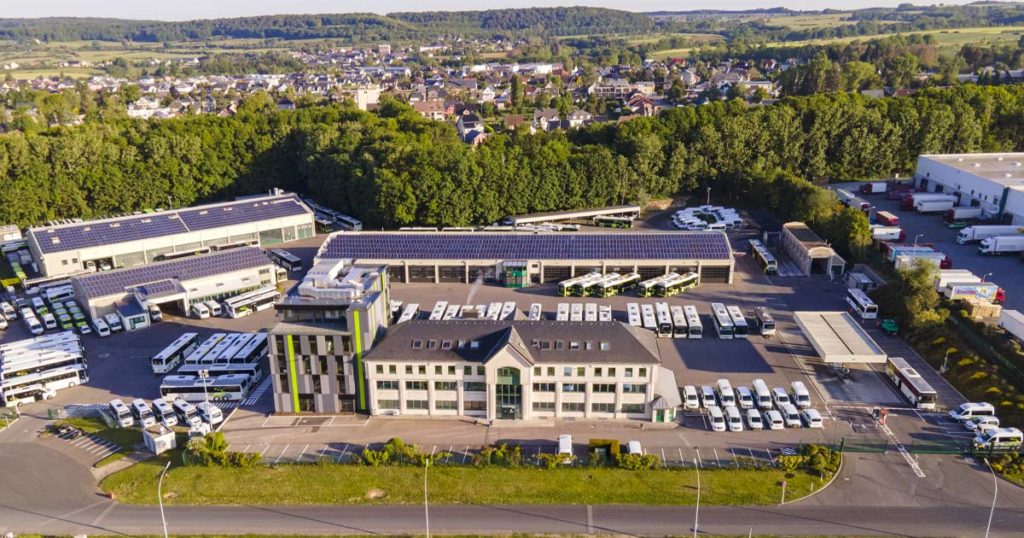 Covid-19 completely turned the company's business upside down. The tourism industry has been one of the worst affected by the crisis, and it's likely to be the last to return to normality. 
Although the company had to put a hold on all of its projects and investments, a few days in quarantine brought them to the realization that nothing is more important in times of crisis than communication with employees.
With most of their team members at home, desk workers largely had no access to their company email, and — aside from sending letters in the mail — there was no way to reach normally remote staff such as bus drivers and mechanics. 
It became clear that an inexpensive solution for communication with all of their workers had to be found as soon as possible. Enter Staffbase Now and the SLG Backstage employee app. 
The Sales-Lentz Group project team consisted of just three people: an IT Director and an IT project manager, along with Manon Junio, the project & innovation manager. 
While the promise of speedy implementation was welcome, it presented a challenge. From an IT perspective, the claim for a fully-implemented app in 15 days is totally possible, but from a product perspective, setting up all of the content in such a short amount of time took considerable effort. But with the aid of a supportive Staffbase team,  the app's deployment was both smooth and fast, going live after only 11 days!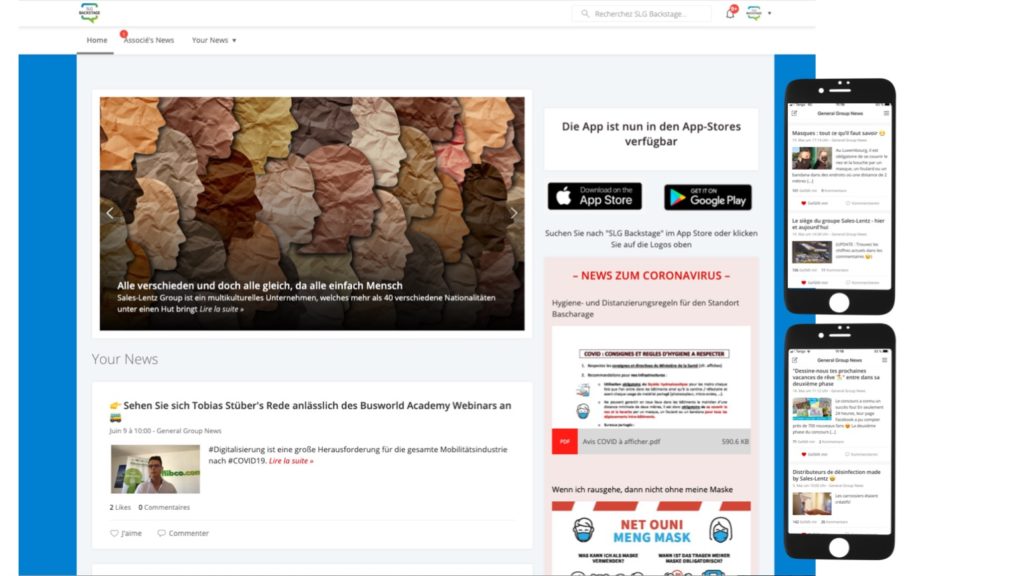 The result has been a resounding success, with the positive reaction of the Sales-Lentz employees confirming that it was absolutely the right decision. Since launching the platform in the middle of one of the most difficult crises in memory, the company has only received glowing feedback from its employees.
Thanks to the app, everyone now feels well informed and less worried about their job status. Already after the first month, the company has seen more than half its employees registered in the app — and that's without any communication campaign or advertisement on site!
Asked whether they have any tips or advice for companies thinking about using an internal comms tool like Staffbase NOW, the reply couldn't be more direct. In the words of Ms. Junio, "Just do it! You won't regret it!" 
The days of old-fashioned static intranets are numbered!" 

Manon Junio, Project & Innovation Manager, Sales-Lentz Group
Junio believes that there's no use investing in digitalization and new technologies if you don't invest in the employees who have to use them.
She says, "Employee care is just as important as customer care! With the advent of social media, the way information is produced and distributed has changed. We're now all used to reading news on the go with our smartphones." 
Her advice: "You need to have the top management on board. You need to have a clear vision about what you want to communicate and how. You need to trust the process and that your employees understand that their employee app will be a professional platform and not a private network. Define the rules by providing a 'netiquette.' And last but not least, trust the Staffbase experts."
Web version available: Same day (directly following kickoff)
Full implementation: 11 days
Current number of registered users (as of 5/20/20): 1,500
Are you looking for a mobile communications tool like the one quickly established by companies like NÖ LGA, Dräxlmaier, and Sales-Lentz Group? Then get in touch with us. As you've read, the Staffbase Internal Communications App is available for immediate introduction to your company.
Read more about employee communication apps: