It's February at Staffbase and we've got you a Valentine's gift: Release 4.2.
We love our platform and 4.2 is all about making it even more lovable for employees, editors, and administrators. 
So, how do we love thee 4.2? Let us count the ways. 
1. You Had Me @Hello
Who's the first person you see when you wake up? Your kids? Your cat? Carl from IT? While they may not be the first people we see, for most of us, our coworkers are a fundamental part of our everyday routines and it's important to be able to share information with them or get their take on an article, just like we do with people in our personal lives.
With @Mentions, one of the most beloved social media features is available on your communications platform! Now you can directly mention coworkers in important conversations or tag your teammates in news they may have missed. Each time someone is mentioned they are automatically notified. Having a Valentine's dinner you don't want to be interrupted? Users can personalize their settings to keep notifications within the app or choose to get direct push notifications.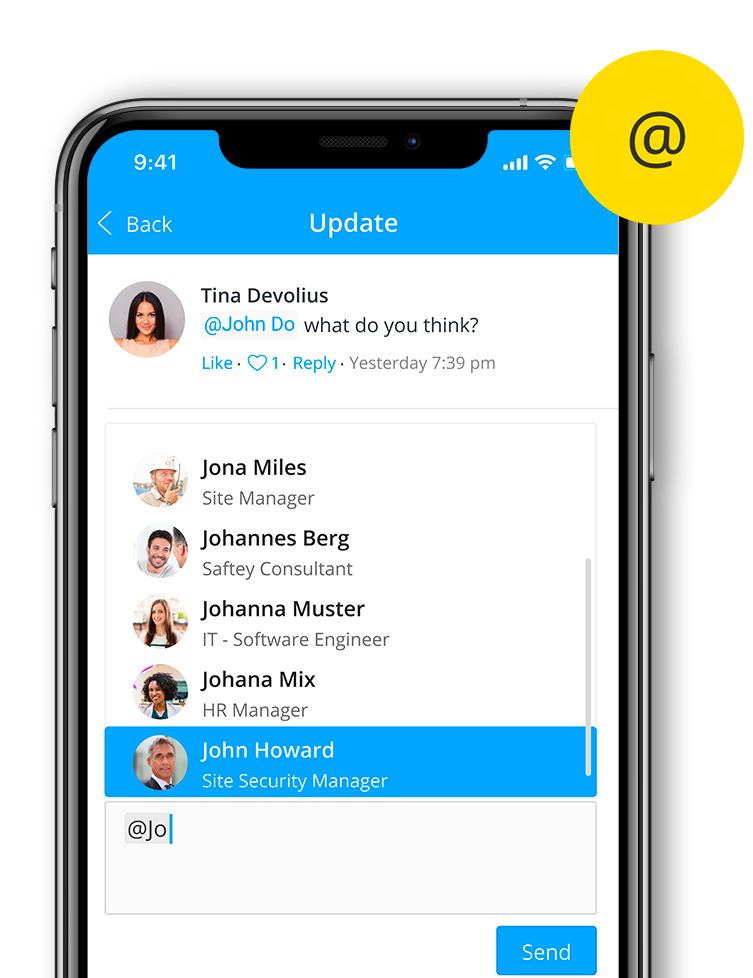 @Mentions aren't only useful for employees; for internal communications experts, they make your company's platform a more engaging, interactive space. It means fostering connection and starting conversations just got simpler and more social. 
2. HR tools + Internal Comms = Relationship Goals
At Staffbase, we believe that HR tools and communication platforms can be a perfect match. But, like any good relationship, it takes work. That's why Release 4.2 adds yet another new addition to our essential HR plugins: Shift Plans.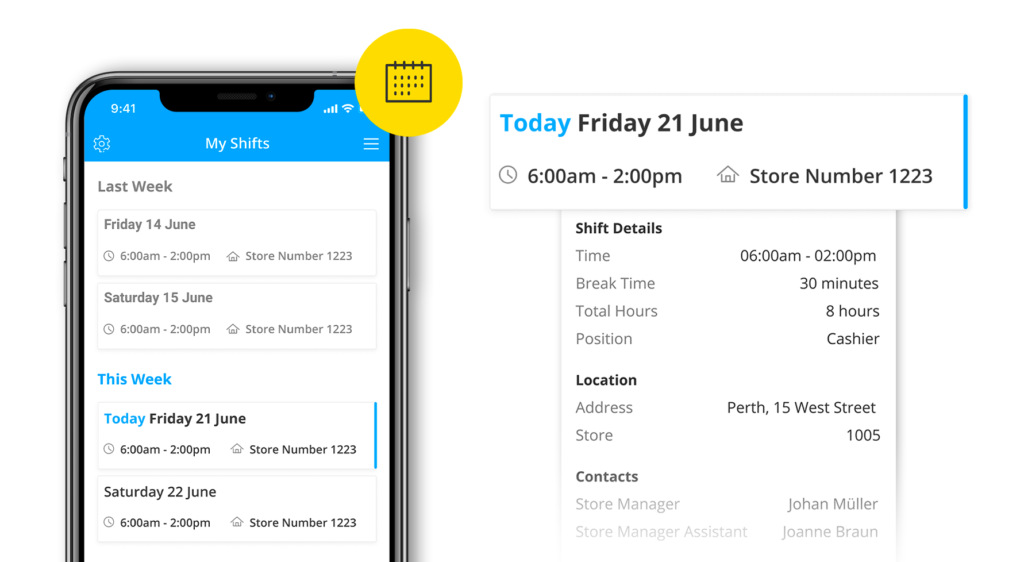 The Shift Plans plugin lets employees see their personal shift schedules at all times and stay updated on any changes directly in their app. With the new addition of Shift Plans to our current HR plugin, Absence Calendar, employees can now:
have an overview of current and upcoming shifts from anywhere 
keep track of their previous shift schedules 
see a tally of their absences
request time off directly from their smartphone 
see approved requests immediately 
Immediate, mobile access to HR services means employees no longer have to struggle to remember which system is used for what information or where they put that note with their password on it. The current suite of HR plugins also simplifies administration for HR departments and cuts down on outdated paper processes.
What's not to love about that?
Release 4.2 also offers more integration possibilities than ever before! With the new HR Service Connection Hub, any HR tools your company currently relies on for absence and shift planning can be connected to the Staffbase platform. Once connected, you can also rely on Staffbase for a pre-designed frontend that looks great and is easy for employees to use, on both mobile and desktop. Going forward, we're even working on adding out-of-the-box connectors for popular HR systems, such as Kronos, to make connecting your shift and absence planning systems to Staffbase even quicker. 
These improvements aren't just useful for HR and IT but, by integrating HR systems, internal communication professionals can ensure their platform is an even more indispensable part of every employee's experience at work.
3. Putting 'U' and 'I' Together for Better Editor Experience
Release 4.2 also has something to love for editors. Our last release launched a set of out-of-the-box design tools to make polished Dynamic Pages. With 4.2, those elements, such as the Infobox and Accordion widget,  are now available to use in news articles, too.
And it gets better.
4.2 also adds a brand new design element, the Portfolio widget, to organize and link information in an insatiably clickable way. The Portfolio style is the perfect method to link from a homepage to different departments, locations, or product lines, and represents each link with an image and description.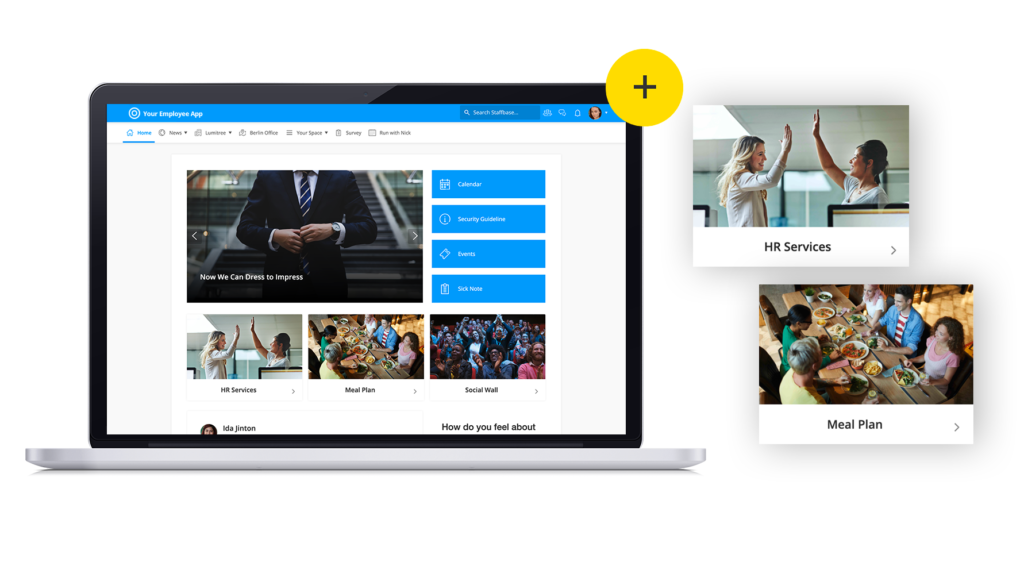 Starting today, editors not yet using Dynamic Pages also have a set of design elements to use on their classic pages in self-service.
That means all editors can now create and structure pages with beautiful layouts, using five drag-and-drop widgets and two formatting options, completely on their own—no coding or calls to Customer Success needed. 
Lastly, news articles are also getting a touchup for all apps, with new options for headlines and tables and clearer formatting. These refinements were specifically requested by our customers and we're happy that their input has led to improvements which make your editing experience even more powerful. Please, keep the feedback coming! We accept product love letters, too. 
4. The 'L' in Love stands for 'Legal'
To round out the 4.2 Release, we've got some major improvements for legal documentation from which our largest, global customers are already benefiting.
Previously, all employees received the same set of documents regardless of location, entity, or contract. Now, administrators can specifically choose which employees receive what documents, meaning a part-time employee can open their app on day one and see the guidelines especially meant for their role.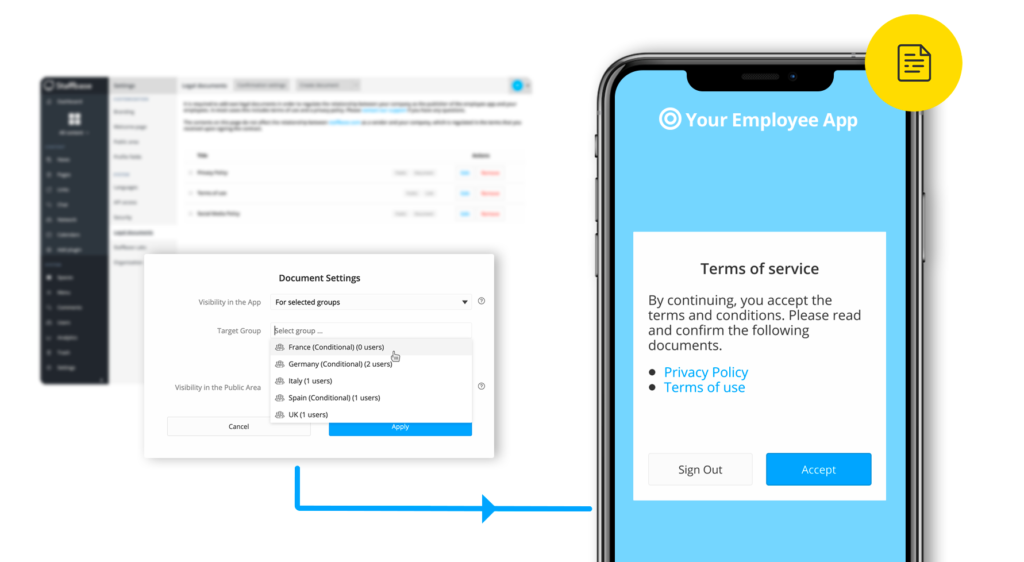 This update is also particularly useful if there are multiple versions of documents. Admins can now resend updated policies to targeted groups. For example, if there's been an important policy change, employees can now be prompted to confirm having received the latest version of the document.
These improvements simplify platform administrators' work, especially for those at enterprise organizations and multinational companies, and may even mean one less email from the legal department.
Now, isn't that the sweetest Valentine of all? 
Be Mine, Valentine? App-solutely.
We can't promise chocolates but, whether you're a Valentine's Day devotee or not, we do hope 4.2 has sweetened your day. 
Do product details and technical specifications set your heart aflutter? Check out our full release notes to learn more about what 4.2 can do for you!
Learn more about how and why companies choose Staffbase: