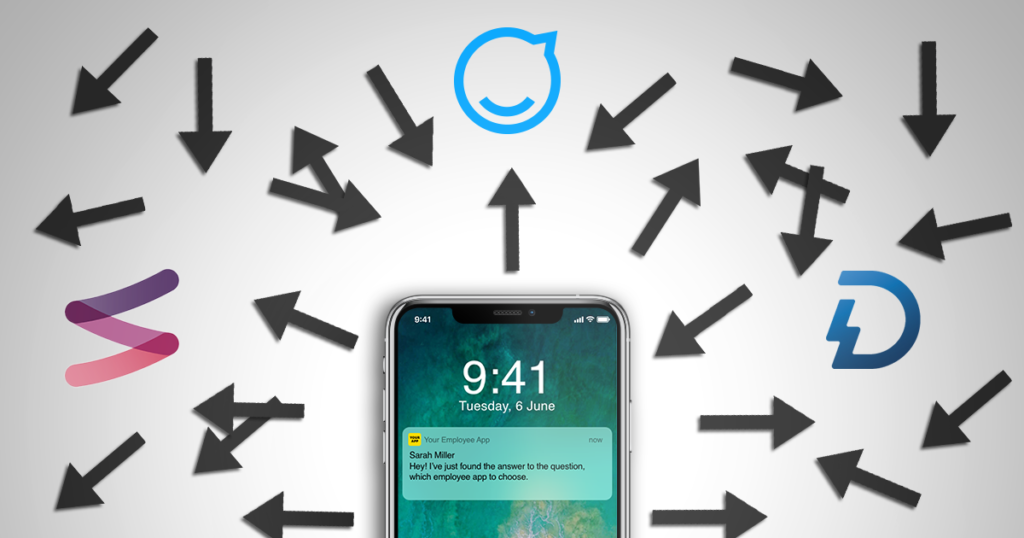 If you've clicked on this article, it likely means you're asking yourself what an employee app can do for your company. That's great, because the quick answer is that from connecting dispersed workers to providing easy, mobile access to corporate information and workplace tools, an employee app can do a lot!
This overview will look at three mature employee app vendors—Dynamic Signal vs. SocialChorus vs. Staffbase—that specifically address employee communication and engagement. And it will deal specifically with some of the questions you should consider before deciding which one best addresses the particular needs of your organization.
Chances are you've already done some research on the topic and you have a couple of basic issues to figure out before you can really get things rolling.
But bear in mind that the choice you make will be about more than finding the right technology. There will be other important questions to answer, and you're in luck, because we've written about what we think are the top 3 things you need to know about an employee app.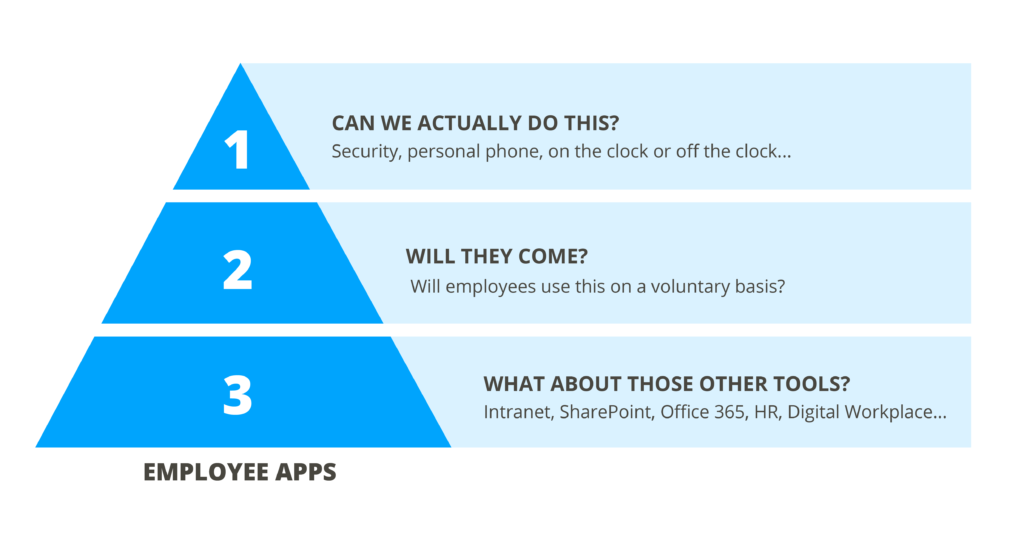 Employee App Options: Dynamic Signal vs. Social Chorus vs. Staffbase
One of the common challenges companies face when making technology decisions is knowing and understanding the main issues they're attempting to address.
Employee apps are primarily focused on improving employee communication and engagement.
What about Microsoft Teams, Slack, or Workplace by Facebook?
There are many more issues that online workplace technology can address, such as collaboration and messaging (Slack or Microsoft Teams), and then there are social intranets (Jive, Unily, or Workplace by Facebook).
But these tools don't put employee communications and experience for a non-desk workforce at their core, and that's why we won't discuss them here.
A Common Goal: Stop Excluding Dispersed Workers
I want to make an important disclaimer. I'm writing this article in response to a question I hear all the time: "How are you different from all of the other employee communication apps on the market?"
As a co-founder of Staffbase, I'm proud to say that we were among the first to develop an employee app—back in 2014.
My goal here is to help you figure out what's important to you and your company and then finding the best way to make it happen.
I have no interest in disparaging our competitors. We all share the goal of improving how organizations can reach and engage their often disconnected and dispersed workforces, sometimes by helping them to get rid of their clunky old intranet (yes, we're looking at you, SharePoint) or their spammy, out-of-date employee newsletter.
Do Your Research by Taking These 4 Steps
1. Run a communications audit to fully understand your needs.
Learn about your management's perspective, the needs of your employees, and the status of your existing communication channels. Our guide, Your Internal Communications Audit: 5 Steps to Getting It Right, includes great examples of some crucial questions for your IC audit.
2. Involve others.
We usually see communications take the lead here, but other teams can also provide valuable content and services (HR in particular), and IT will want to look at your plans from a technical and digital workplace strategy perspective. They in particular will need to understand what's going on—and how it fits into the overall digital strategy. The bottom line is that the wider the perspective you can get for your project, the easier it will be to get things rolling. 
3. Get an overview about the common requirements.
We created an employee app buyers' guide, an easy-to-understand guide to all of the features you need to consider when choosing your employee app, and why they're important. Giving thought to your initial requirements will also help you to think about and plan for what you're likely to need going forward. 
4. Take the time to do a real demo with test access for your team.
Can you do that? You bet! And honestly, there's no better way to really experience the benefits of an employee app. Don't skip this crucial step—it will be well worth your time and effort. It's also a great way to show a branded, custom-made test environment to your management. Their buy-in is essential, and a demo is a hands-on way to make them understand what an employee app is all about. 
Platform Overview
The following descriptions about the platforms are based on publicly available information, customer and partner feedback, and the recently published Gartner Market Guide for Employee Communications Applications.
Dynamic Signal—The Communications Aggregation Platform
Dynamic Signal was founded in 2010 and initially focused on employee advocacy. The original goal of the platform was to motivate employees to share and multiply company social media messages via their own social media accounts. The product strategy changed in 2017 to focus more on the distribution of internal communications via a mobile-first platform.
Dynamic Signal is positioned as a communications aggregator that brings together content from various other platforms and allows companies to create a more unified channel for employees. This means that not only are there integrations for common tools like SharePoint and Yammer, but also for platforms like Slack, Salesforce, Chatter, and Workplace by Facebook. 
Dynamic Signal describes its top three use cases as company news, line-of-business information, and executive leadership communications. Their pricing is based on renewable subscriptions with per-seat licenses for end users. Dynamic Signal is a good fit if you're looking for a tool for central news aggregation and distribution combined with advanced employee advocacy capabilities.
SocialChorus—The Workforce Communications Channel
SocialChorus was founded in 2008 and like Dynamic Signal was also initially focused on the employee advocacy use case, pivoting to employee communications around 2017. Its purpose isn't so much about news aggregation, but more about the centrally managed creation of internal communication.
SocialChorus pricing is based on a one-time fee for technical implementation and strategic onboarding, and an annual platform and user license. SocialChorus is a good fit if you're looking for an advanced communication channel that can create and distribute messages to a dispersed workforce mainly relying on mobile devices to access the information.
SocialChorus regards its top three use cases as company news, executive leadership communications, and enterprise policies. It does not focus on operational communications, as it doesn't support peer-to-peer and group messaging. Content is mainly created via a desktop application called Mission Control, which provides advanced capabilities for scheduling messages and campaigns. 
Staffbase—The Employee Experience Platform
Staffbase was founded in 2014 as a mobile-first employee communications platform. In order to support full employee journeys and experiences, the platform evolved over time to also offer plugins such as surveys, event planning, learning resources, gamification, chat, and an employee directory. Employee self-services are offered via integrations with platforms like Workday, SAP HCM, and Office365.
Staffbase offers an advanced experience on both desktop and mobile that creates a front door for employees to access important information and services pertaining to their jobs. Because of this capability, Staffbase is often used as a replacement for existing intranets.
Staffbase pricing is based on a one-time setup fee and a renewable subscription for named users. Staffbase is a good fit if you're looking to establish a single point of access for all employees to receive all the communication, information and services related to their job.
Employee App: What matters to you?
We can't stress this enough—take your time and do your research.
All of these tools are built by capable teams and enjoy success in the market. Evaluating how well the core focus of the platform aligns with the specific needs of your company will be the key to deciding which one is right for you.
Read more about employee communication apps: