The Ultimate Tool for Today's Changing Automotive Industry
Communication Drives Innovation
The automotive industry is undergoing its greatest upheaval since leading the transition from the horse-drawn carriage. Successfully managing change depends upon the ability to clearly communicate new technical methods and cultural attitudes. An automotive employee app will enable companies to get the best from all of their people, gathering new ideas from everyone, everywhere: the shop floor, the office, and the field.
"The simplicity and user experience of the app is what convinced us above all."
Thomas Dirmeier - IT Specialist at MAN Truck & Bus AG

Learn Faster and Evolve More Rapidly
Connect Your Workforce

Don't just talk down to your employees, help them to learn and evolve faster through open dialogues, information sharing, social interactions, employee-created content, and secure, customizable group chats.

Implement Corporate Culture

Fostering corporate culture and networks is key to managing change in today's evolving automotive industry. An employee app allows you to cultivate corporate attitudes among all employees: shared values, shared visions, and a shared mission.

Develop and Enhance a Safety Culture

Safety is always a priority. Not only does an employee app ensure that specific safety procedures can be shared between different work sites, but it also enables swift, on-the-spot communication in case of emergency situations.

SAP Integration

Creating an easy point of access to all SAP HR services with a branded employee app guarantees a high rate of adoption and retention while allowing you to reach all of your employees, including non-desk workers without access to corporate hardware, email, and the intranet. Staffbase supports different SAP integration scenarios depending on your specific use cases.
Read the Latest Real-World Tips on Internal Communication
E-Book
Engaging the [Digital] Workforce
Read a selection of exciting case studies that reveal how modern employee communication is essential to your digital workplace strategy.
Learn More About SAP HR Services in Your Branded Employee App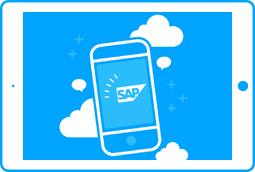 Whitepaper
SAP HR Services in Your Branded Employee App
- There are numerous reasons to invest in providing your SAP HR services with a branded app, including creating an easy access point for all HR services and reaching all of your employees.