Simplify HR Services and Get Them to All of Your Employees
A branded employee app puts HR policies and procedures directly onto the personal smartphones of all your employees, including the increasing number of hard-to-reach and mobile workers.
Your All-In-One, Mobile-First HR Portal
With our app, we've put popular HR use cases such as timesheet recording, vacation planning, and sick leave requests right into our employees' hands. They can now access presentations and general information on various HR topics quickly and easily from anywhere. The app brings the company even closer to our employees!

Robin Dehm - Head of Global HR Projects and Digitalization, E.G.O. Group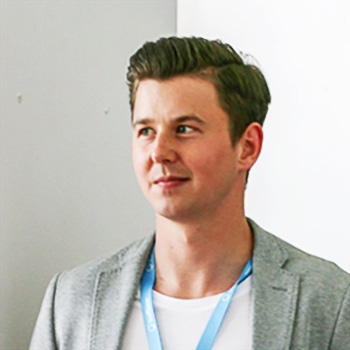 Designed to Work on Top of Your Existing Systems and Processes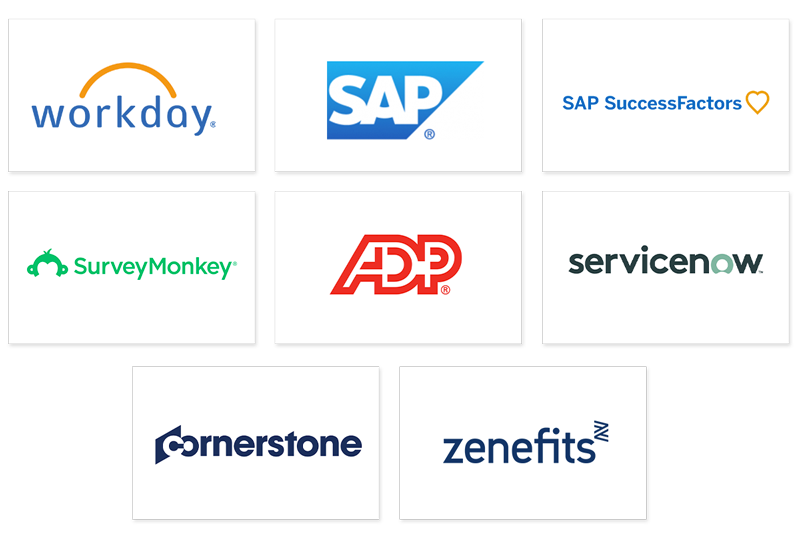 Payroll and Attendance—Keep Track the Easy Way
Save money and improve HR services at the same time by giving all employees direct access to your HR services.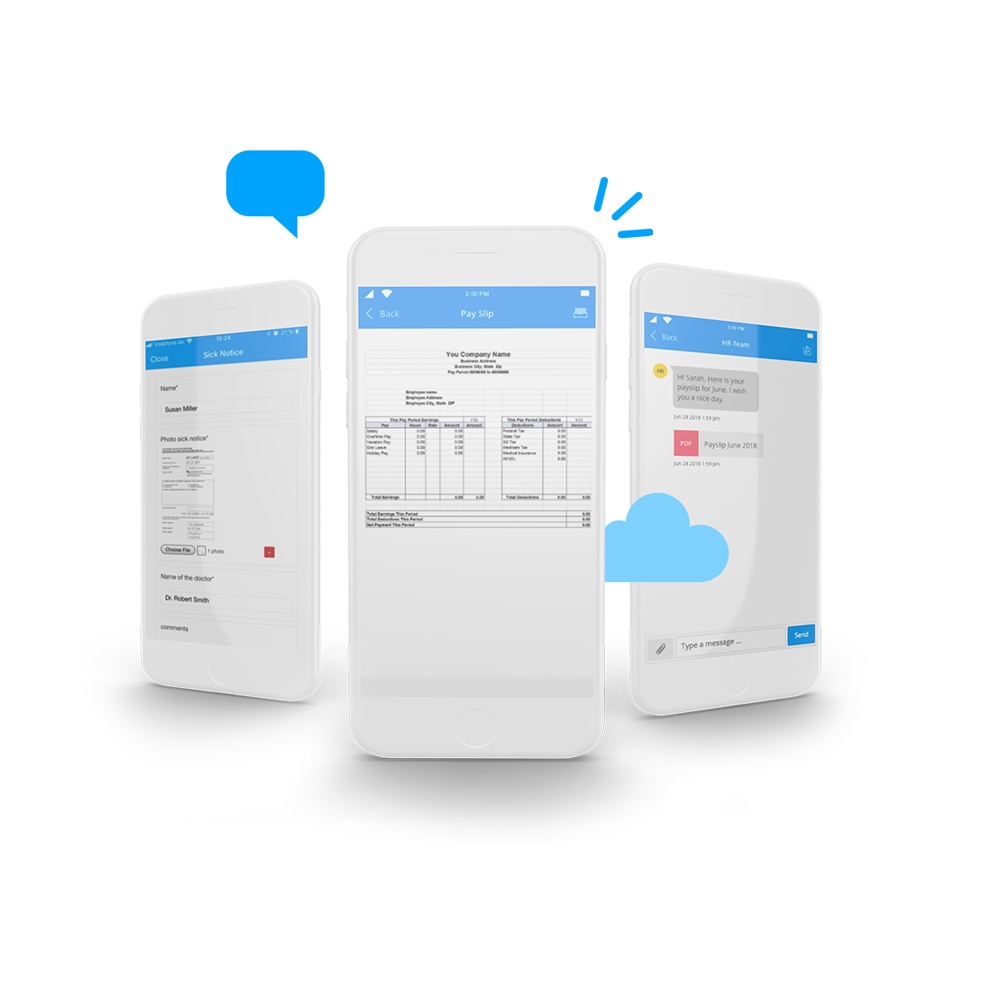 Digital Pay Stub
Staffbase plugins can communicate with your internal systems and present app users with their current timesheet and payroll information. Data and access to company infrastructure is controlled internally, always remaining secure.
Sick Notices
Employees can upload a picture of their sick note, simplifying and speeding up the process of reporting illness. In addition, severely ill employees won't have to go into work or to the post office to submit their paperwork.
Vacation Requests
Capture and process your employees' holiday submissions quickly and efficiently with digital vacation request forms, simplifying processes and helping your employees with holiday planning.
Shift Schedules
Share important information such as weekly shift schedules, either with shareable forms or by integration with your existing scheduling system.
Onboarding and Empowerment—Provide Guidance and Training at Scale
From preboarding to offboarding, Staffbase gives you a simple, scalable way to enable your people to deliver their best work from day one.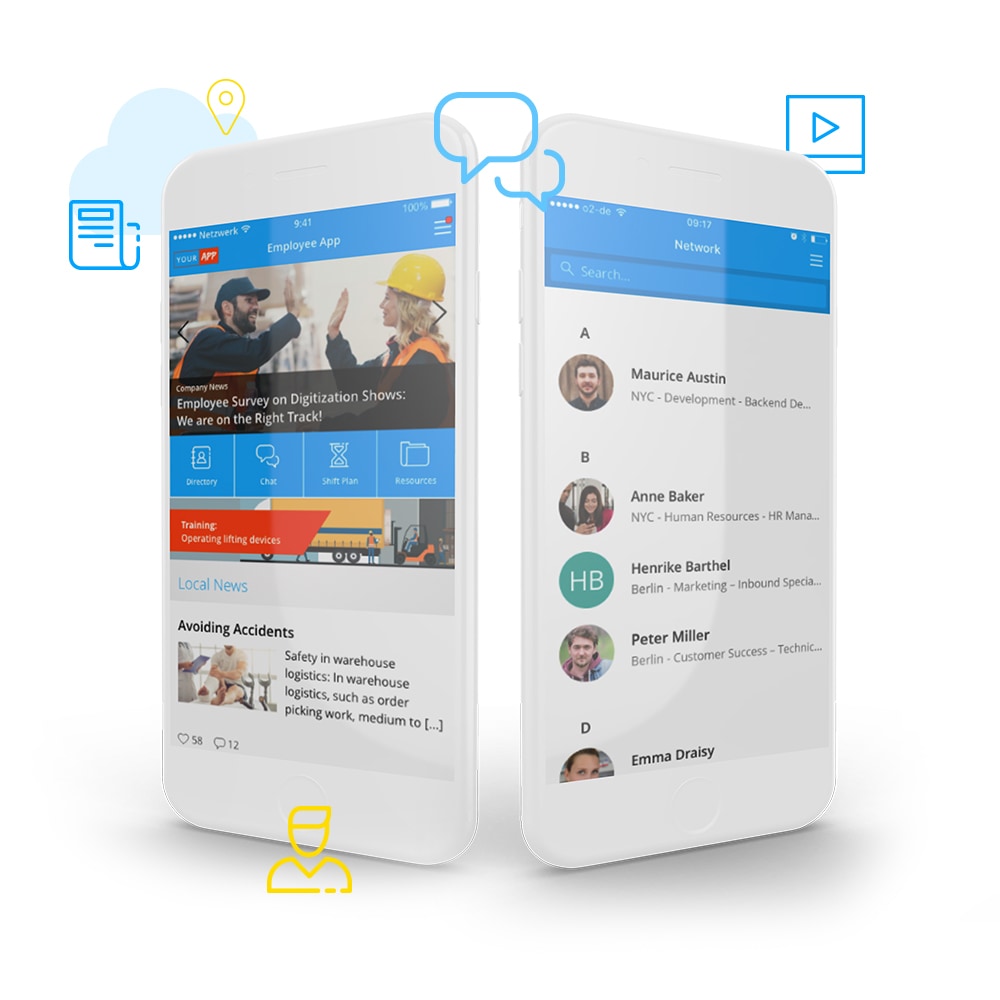 Chats and Chatbots
Public messaging apps like WhatsApp are a risk when it comes to data security. Staffbase provides an integrated and safe 1:1 and group chat to exchange text, pictures, and videos.
Company News, Guides, and FAQs
Always keep your employees up-to-date with in-house information, guides for continuous learning at work, and answers to commonly-asked questions about their workplace.
Employee Directory
The people directory sits at the heart of the Staffbase app, helping employees find coworkers with ease and speed. Synchronize with directories including Active Directory, Azure Active Directory, and other HR applications.
Video
Provide your employees with an IC channel open to sharing and commenting on video, and you'll be taking a giant step toward strengthening employee connections and bringing internal messages to life.
Surveys and Feedback
Take the guesswork out of your efforts to improve employee morale and engagement—making your initiatives hyper effective.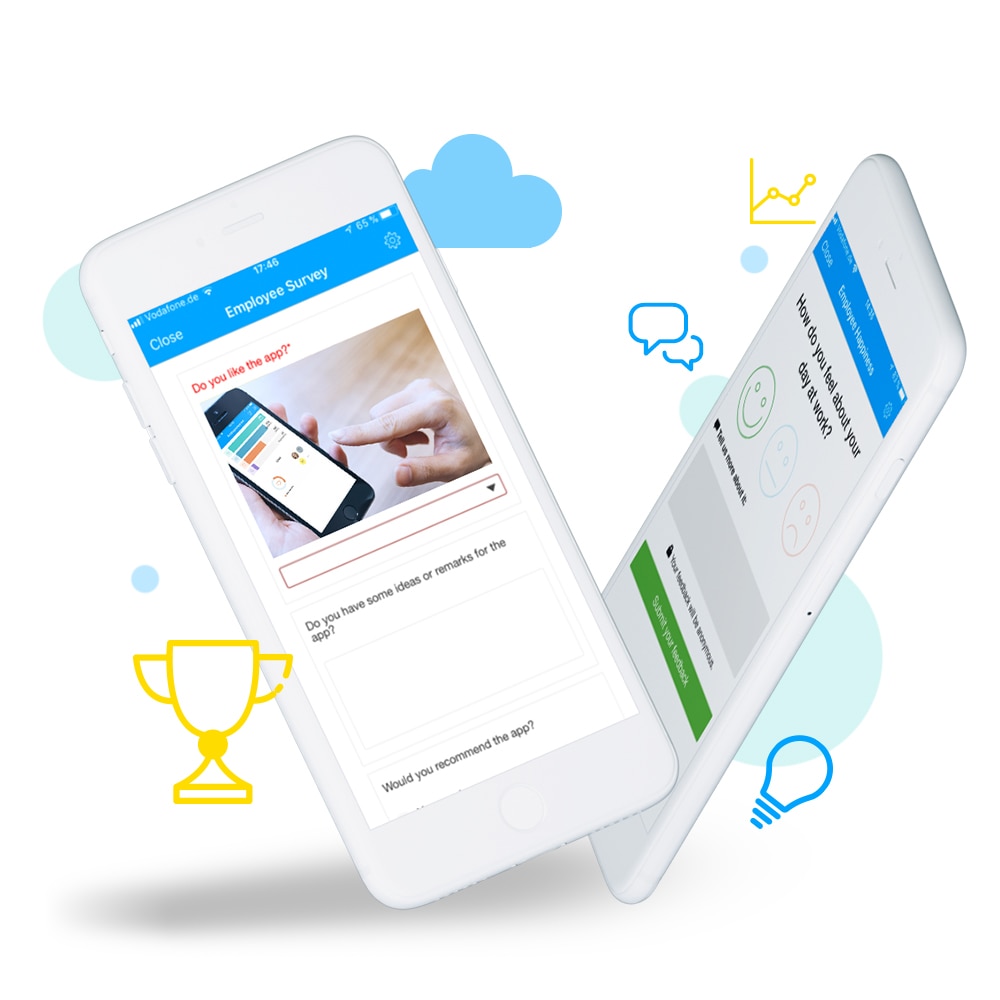 Surveys and Feedback
Launch employee surveys for the whole organization or selected groups and gather feedback on your company's initiatives by analyzing comments and likes.
Pulse Check
Pulse checks are short employee polls repeated at regular intervals. They're a great way to get immediate insight into the health of a company and its workforce.
Employee Recognition
Employee recognition reinforces and rewards the outstanding outcomes that people create for your business, as well as the actions and behaviors you most want to see repeated.
Ask the Organization
Enable peer-to-peer communication in your app by creating a channel for employees to communicate and help one another and answer unresolved questions.
Employee Experience
Encourage your employees to share their stories and inspire one another to be their very best.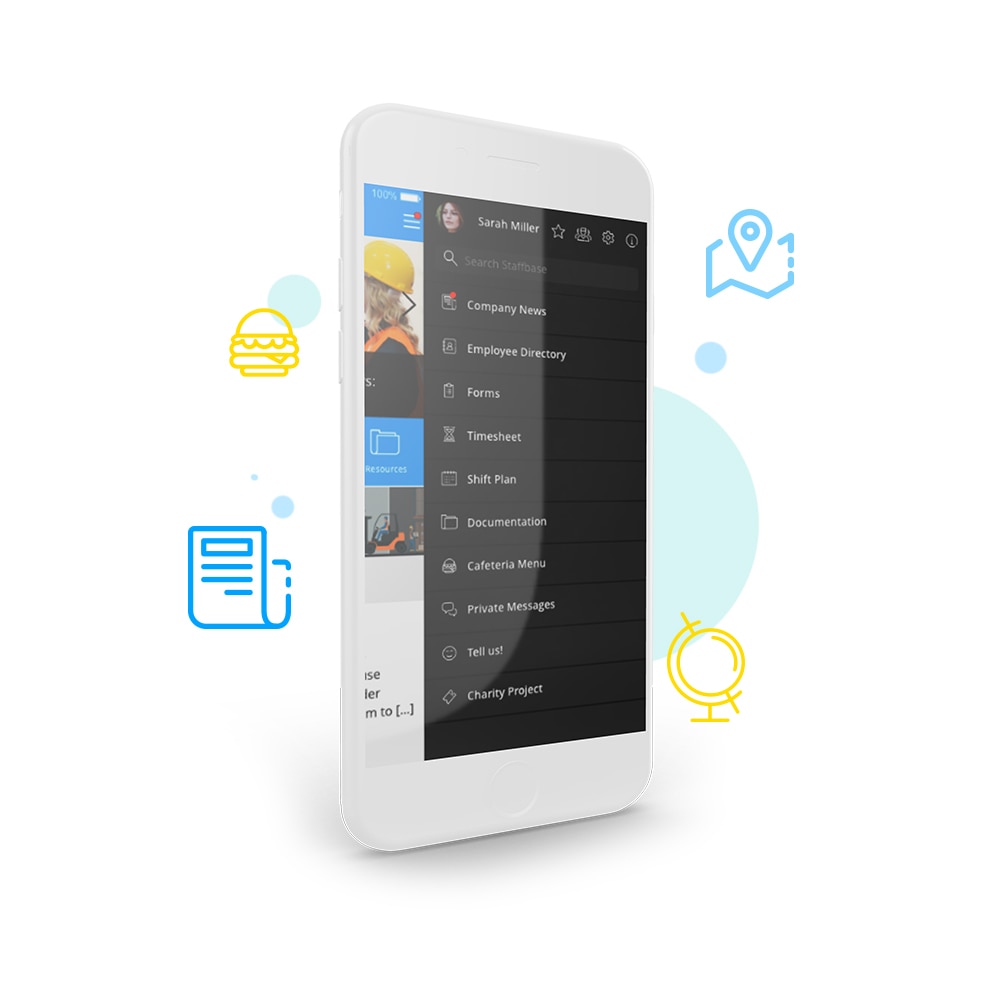 Social Wall
Helping employees tell their stories is a highly effective way to get important messages across to the whole company and encourage feedback and recognition.
Targeted Corporate and Local News
Creating user groups allows you to provide specific content for selected locations, business units, or teams, depending on your specific needs.
Find Experts and Cafeteria Menu
Share your daily cafeteria menu or provide your employees with a selection of nearby restaurants. It's a simple and easy way to generate recurring employee interest.
Make It Yours
Staffbase offers fully customized employee app branding, giving you a ready-made employee app solution—a great way to encourage users to identify with their app from the moment it goes live.
Are You Ready for a Customized Demo?
We'll connect with you right away to learn about your business.
We'll show you exactly how Staffbase can work for you.
We'll guide you through our recommendations for a smooth implementation.
At your request, we'll provide a quote that's tailored to your specifications.
Your App Is More Than Just an HR Portal
Your branded employee app brings all employee-facing tools together