Transform Your Internal Communications
Share information with the people who need it. Target content and interact with selected groups, and measure the results—all with one platform.
Your Fully Branded Employee Communications App
Through the app, our workflows are improved, and users can access all the data in the app while they are on the move. Targeted information is passed along simply, and staff have an easy way of entering vacation requests, notifying managers about sick leave, and viewing shift schedules without having to go directly to an office.

Guillaume Mauboussin - Transdev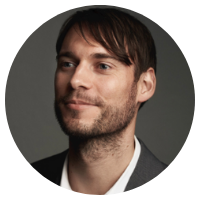 Reach Everyone
and Send Fewer Mass Emails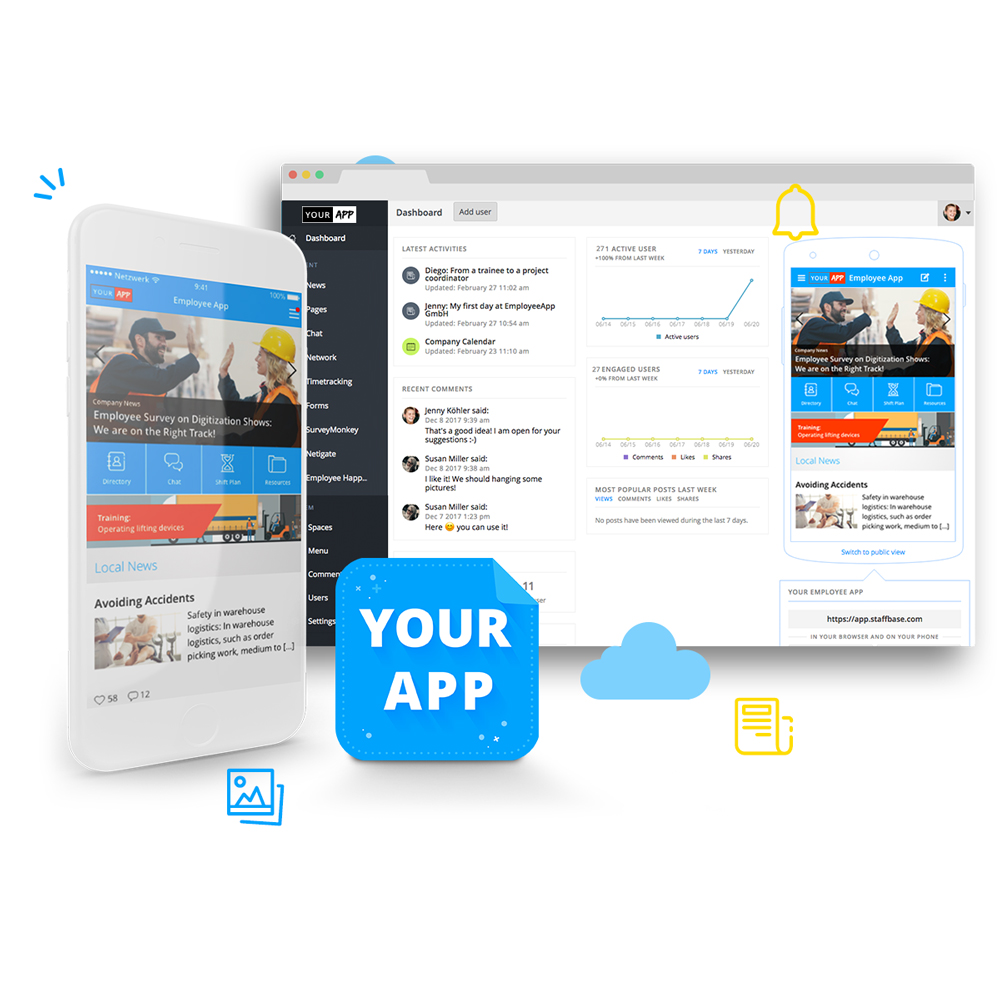 Share Important Updates
Use the personalized news feed to publish and track internal company information, send instant notifications for important updates, and encourage reactions and feedback.
Enable Local Conversations
Connect local leaders and employees to each other and to key information, and drive engagement with peer-to-peer channels like blackboards and social walls.
Understand Your Employees
From onboarding surveys to company-wide engagement, the Staffbase interaction plugins make it easy to collect, understand, and act on employee feedback.
Offer Useful Services
Your cafeteria's daily menu; an employee phonebook; benefits information; or traffic and weather alerts—there are many ways to generate value every day for your employees.
Team Chat for Your Entire Organization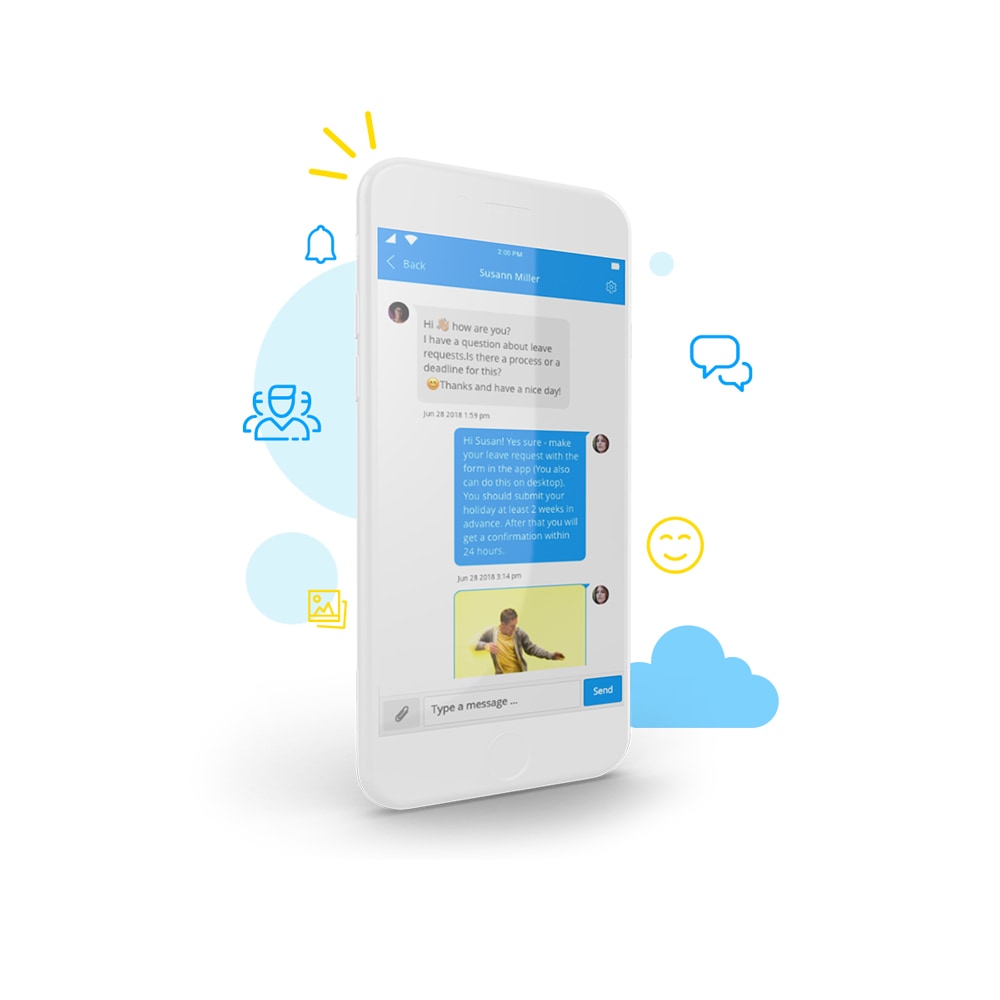 Chat—Ready When You Are
The Staffbase chat function offers one-to-one and group messaging. Like all other Staffbase features, chat can be unlocked individually—allowing you to pick the right features at the right time.
Group Messaging
Create chat groups with multiple users. Select users manually or use existing groups, and mute or archive chat conversations to focus on what's important.
Rich Media and Chatbots
Exchange text, pictures, documents, and videos, and see live previews of all media files. In addition, chatbot features (including a birthday and anniversary bot) can take the chat to a whole new level of engagement.
Protect Your Information
A secure internal chat takes conversations away from WhatsApp or other outside platforms, instead keeping them where corporate information is protected.
Manage Global Content with Ease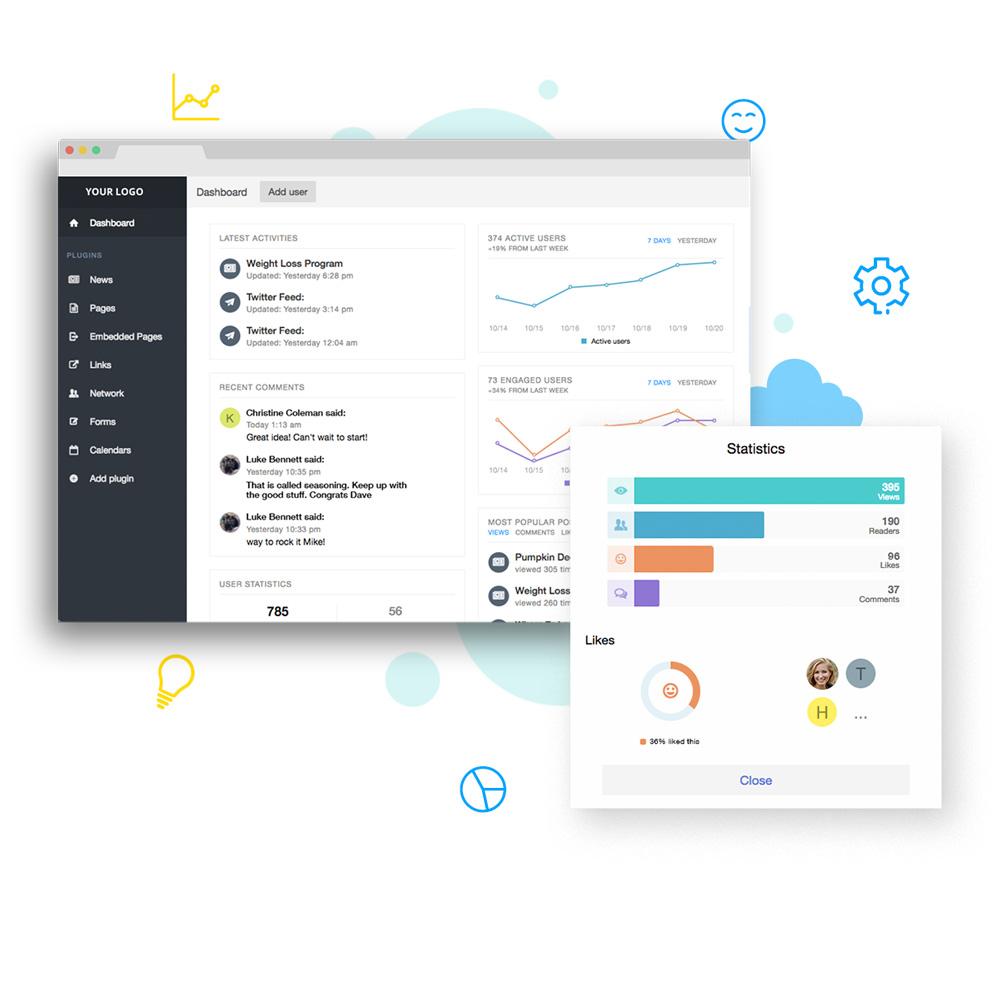 Market-Leading Content Management System
Staffbase's web-based CMS is a unique combination of two usually incompatible characteristics—broad and powerful functionality that's nonetheless easy to use.
Create Content Everywhere
Editors love Staffbase because content can easily be created and updated on all devices. Write articles with videos and picture galleries, see previews and schedule posts, or just share a quick update while you're on the go.
Multilingual Support
Having an international team is a reality in today's global marketplace. Our app supports content in more than 30 languages, with an interface that can be displayed in 15 languages, including Chinese.
Measure and Show Results
Staffbase analytics features include adoption rates, most-frequently read article statistics, and engagement analytics, all of which can be filtered by groups, times, and individuals.
Upgrade Your Intranet with Mobile Communication
Got a Stone-Age intranet? Staffbase is your easy first step into the future.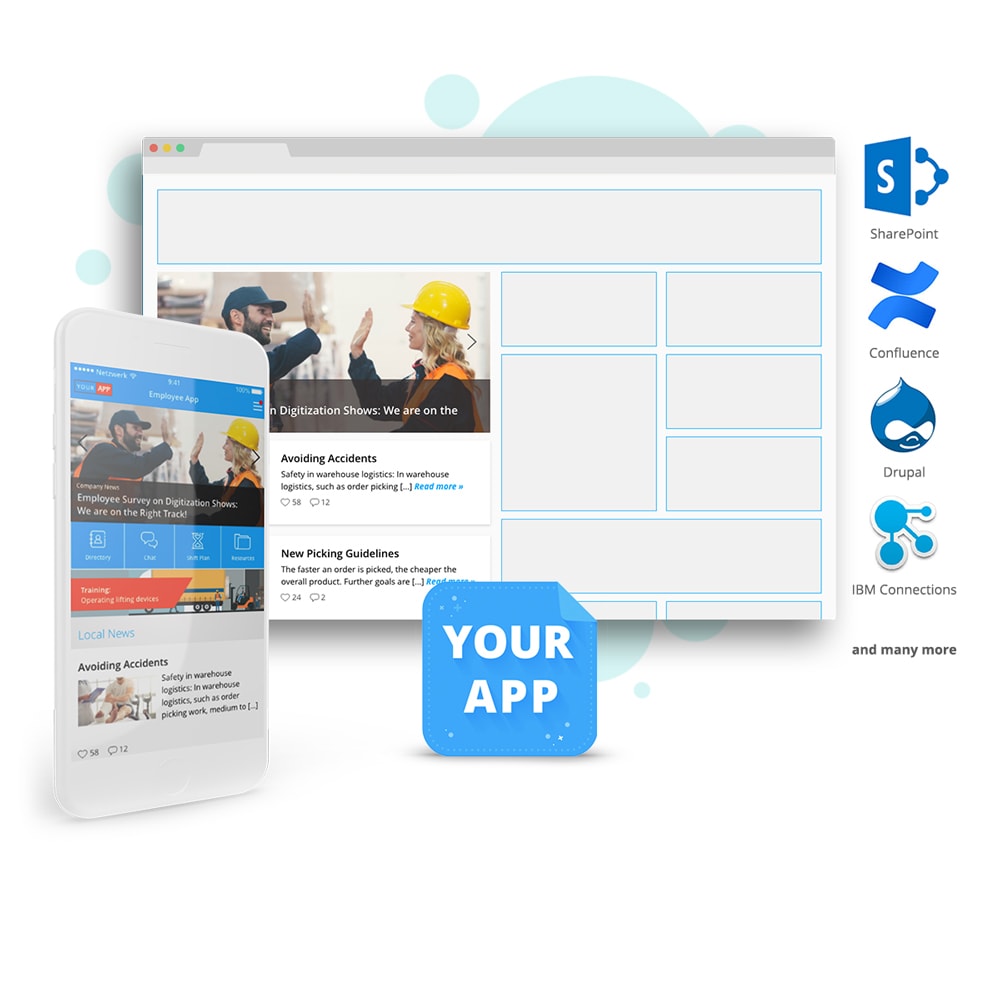 THE Place for Communication
Staffbase is the communication engine that drives your intranet. Embed configurable news widgets on the desktop and use branded native apps for iOS and Android.
SharePoint? Yes.
Use the Staffbase News Web Part to embed a fully personalized news stream into your SharePoint 2013 or 2016. Comment, like, view analytics, and create content right from within the Web Part.
The Missing Link of Office 365
Office 365 is great for team collaboration but it's not an option for company-wide communication. Staffbase is your organization's communication hub for office, non-desk, and frontline employees.
Single Sign-On
Staffbase supports a seamless user experience for your intranet audience. Employees are automatically authenticated using Single Sign-On (SSO) and only see their personalized Staffbase content.
Are You Ready for a Customized Demo?
We'll connect with you right away to learn about your business.
We'll show you exactly how Staffbase can work for you.
We'll guide you through our recommendations for a smooth implementation.
At your request, we'll provide a quote that's tailored to your specifications.
Your App Handles More Than Internal Comms
Your branded employee app brings all employee-facing tools together