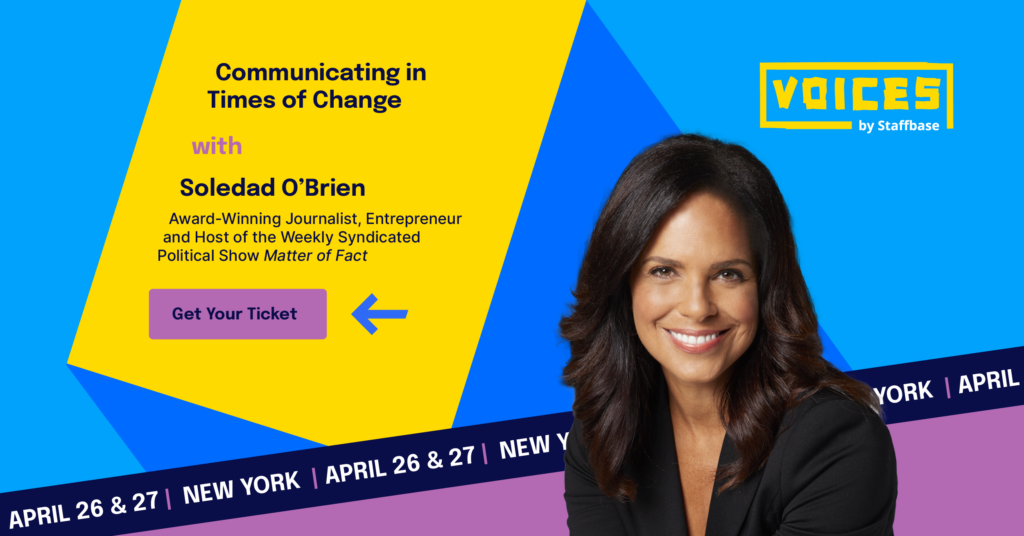 Award-winning journalist Soledad O'Brien to speak on communication in times of change
New York, NY, January 18, 2023 – Recognizing that there is strength in numbers, Staffbase, a leading provider of employee communications management platforms, announces its theme for the annual VOICES 2023 Conference – Better Together. 
Returning to New York City April 26-27, 2023, VOICES is the leading conference for internal communication professionals who want to connect with their peers and work together to elevate the impact communications has within their organizations. The conference will feature some of the most renowned industry experts, including award-winning journalist Soledad O'Brien, who will share insights around important topics including organizational resilience and crafting an impactful corporate narrative.
"Organizations around the world have come to rely on internal communications teams now more than ever, especially when it comes to communicating with employees about an increasing number of complex global issues," said Staffbase CEO and co-founder Martin Böhringer. "The challenge of responding internally to an unpredictable external landscape will continue to be a top responsibility of communicators this year and beyond. It's so fitting to have Soledad O'Brien join us at VOICES 2023 as I believe internal communicators will be looking to embrace a journalistic approach to create corporate narratives employees can trust." 
Taking place at the Metropolitan Pavilion, session topics for the conference include: 
Communicating in Times of Change

Creating a Culture of Belonging (and Knowing When to Stand Alone)

Setting Strategic Goals – and Keeping IC Top of Mind for Your CEO

Building Relationships Internally: The How-to's of Organizational Buy-in

Demystifying ROI in Internal Comms

More Than Shaking Hands & Kissing Babies: Connecting Leaders to Employees

Wellness at Work: Talking to Your Employees During a Crisis
Full event agenda, speaker list, and registration for VOICES 2023 are available here: https://voices.staffbase.com/us/ 
About VOICES
VOICES is the largest employee communications event bringing together over 1,500 communicators worldwide. Since 2019, it's been known for its festival vibe where communicators gain valuable job-related insight from leading industry influencers and enjoy food and networking with other internal comms professionals. VOICES 2023 is set to change the future of internal communications via two events in all (Berlin, Germany, and New York City). 
About Staffbase
Staffbase is a high-growth, deeply experienced provider of employee communications management platforms for enterprise companies. The mobile compatibility of the company's platform allows employers to securely reach their employees everywhere with reduced complexity — whether in the office, at home, on the factory floor, or on the road. Staffbase solutions give employees greater access to the corporate information that's relevant to them, along with tools for the modern digital workplace, including existing intranets. Staffbase provides branded solutions for more than 2,000 leading companies worldwide who are transforming their employee communications, including Adidas, Audi, Paulaner, Spark Power, UC Health, US LBM, and Vestas. Staffbase received the 2021 Global Employee App Choice Award and 2022 Choice Award for Intranet and Employee Experience Platforms from ClearBox Consulting.
Please visit staffbase.com for more information.
Press contact:
Leigh Nofi
Senior PR Manager, Staffbase Inc.
e-mail: leigh@staffbase.com