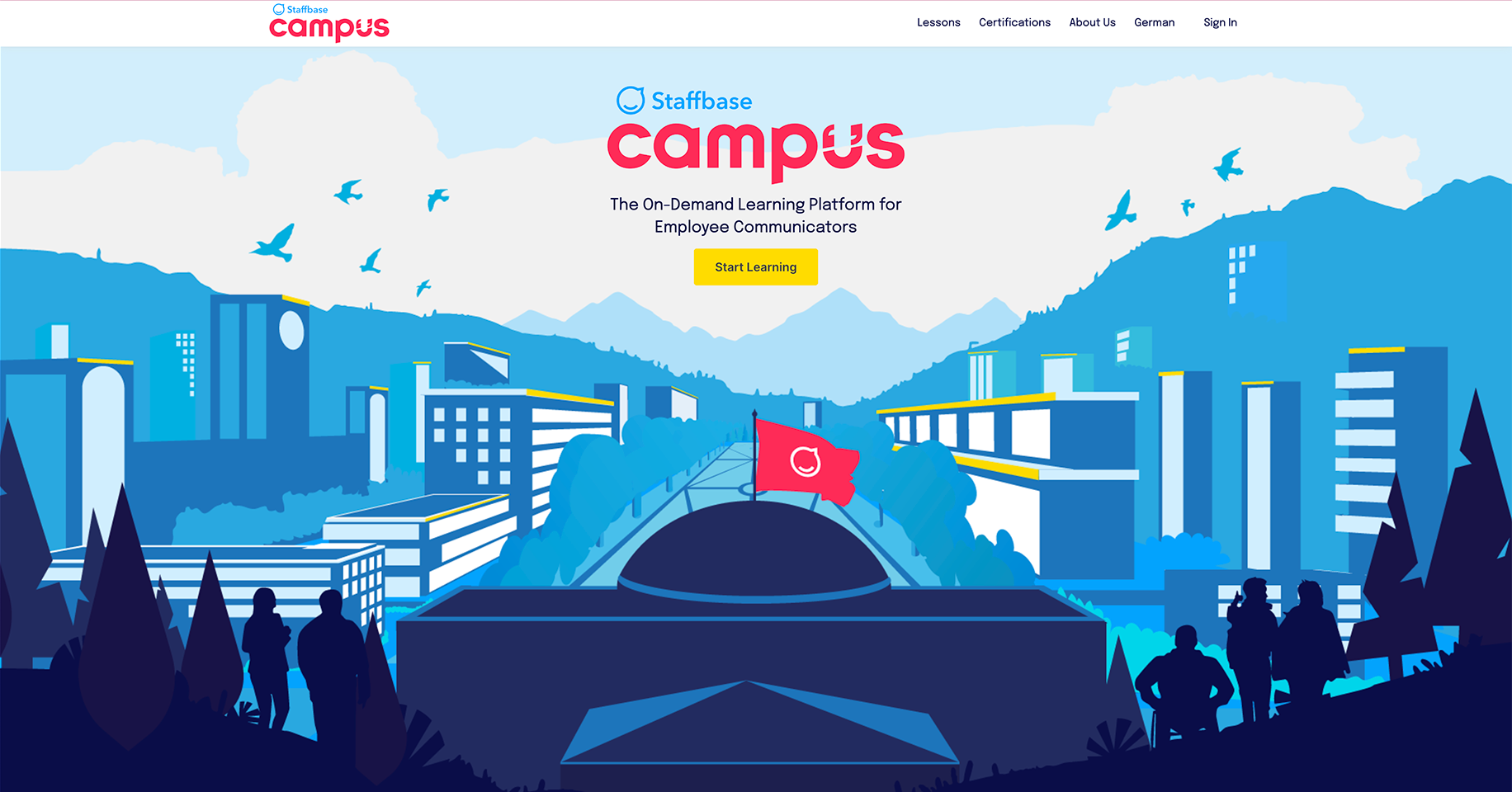 Interactive on-demand educational platform for communications professionals recognized for excellence 
New York, NY, November 13, 2023 – Staffbase, the leading employee communications platform provider, announced today that the company's award-winning online learning platform Staffbase Campus has received a 2023 Platinum MarCom Award in the Web Based Educational Video category.  Earlier this year, Staffbase Campus was awarded the 2023 Platinum Viddy Award in the Educational, Non-Broadcast, Long Form Videos category. 
"It's an honor to be recognized by MarCom as a high-quality educational platform and resource that really helps employee communications professionals upskill and apply what they learn to their daily work – giving their careers a boost," said David Burnand, CMO, Staffbase. "Staffbase Campus delivers education that elevates and inspires communications professionals to learn, grow and show the impact and value great employee communication brings to their organizations." 
About Staffbase Campus
Launched in March 2023, Staffbase Campus features free courses for internal communications professionals. It is designed to help comms pros meet the new demands of the profession, grow their skills, receive specialized certifications, and transform communications within their organization by becoming strategic partners to leadership.
The comprehensive courses cover topics such as:
The Value of Strategic Comms

Comms Planning

Creating Powerful Messages

Team Development

Measurement and Analytics
Please visit https://staffbase.com/en/campus/ for more information. 
About MarCom Awards
MarCom Awards honors excellence in marketing and communication while recognizing the creativity, hard work, and generosity of industry professionals. This international creative competition received over 6,500 entries from throughout the United States, Canada and 47 other countries. MarCom's Platinum Award is presented to those entries judged to be among the most outstanding entries in the competition. About 17 percent of entries won this award. MarCom is administered by the Association of Marketing and Communication Professionals (AMCP).
For more information about the 2023 MarCom Awards, please visit www.marcomawards.com  
About Staffbase
Staffbase is a high-growth, deeply experienced employee communications platform provider for enterprise companies. The mobile compatibility of the company's platform allows employers in manufacturing, healthcare, logistics, automotive, retail, and energy & utilities, to securely reach their employees everywhere with reduced complexity. Staffbase solutions give employees greater access to the corporate information that's relevant to them, along with tools for the modern digital workplace, including existing intranets. Staffbase provides branded solutions for more than 2,500 leading companies worldwide who are transforming their employee communications, including Adidas, Audi, Blue Apron, DHL, Paulaner, UC Health, and Vestas. Staffbase has received the 2023 Choice Award for Intranet and Employee Experience Platforms from ClearBox Consulting and is again the #1 Employee Communications Software on G2.
Please visit staffbase.com for more information.
Press contact:
Leigh Nofi
Senior PR Manager, Staffbase Inc.
e-mail: leigh@staffbase.com