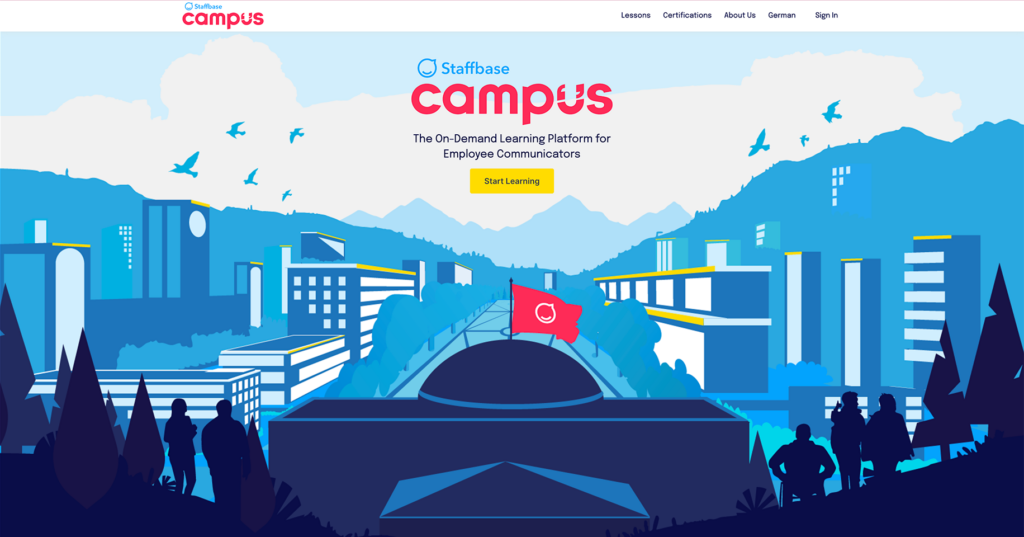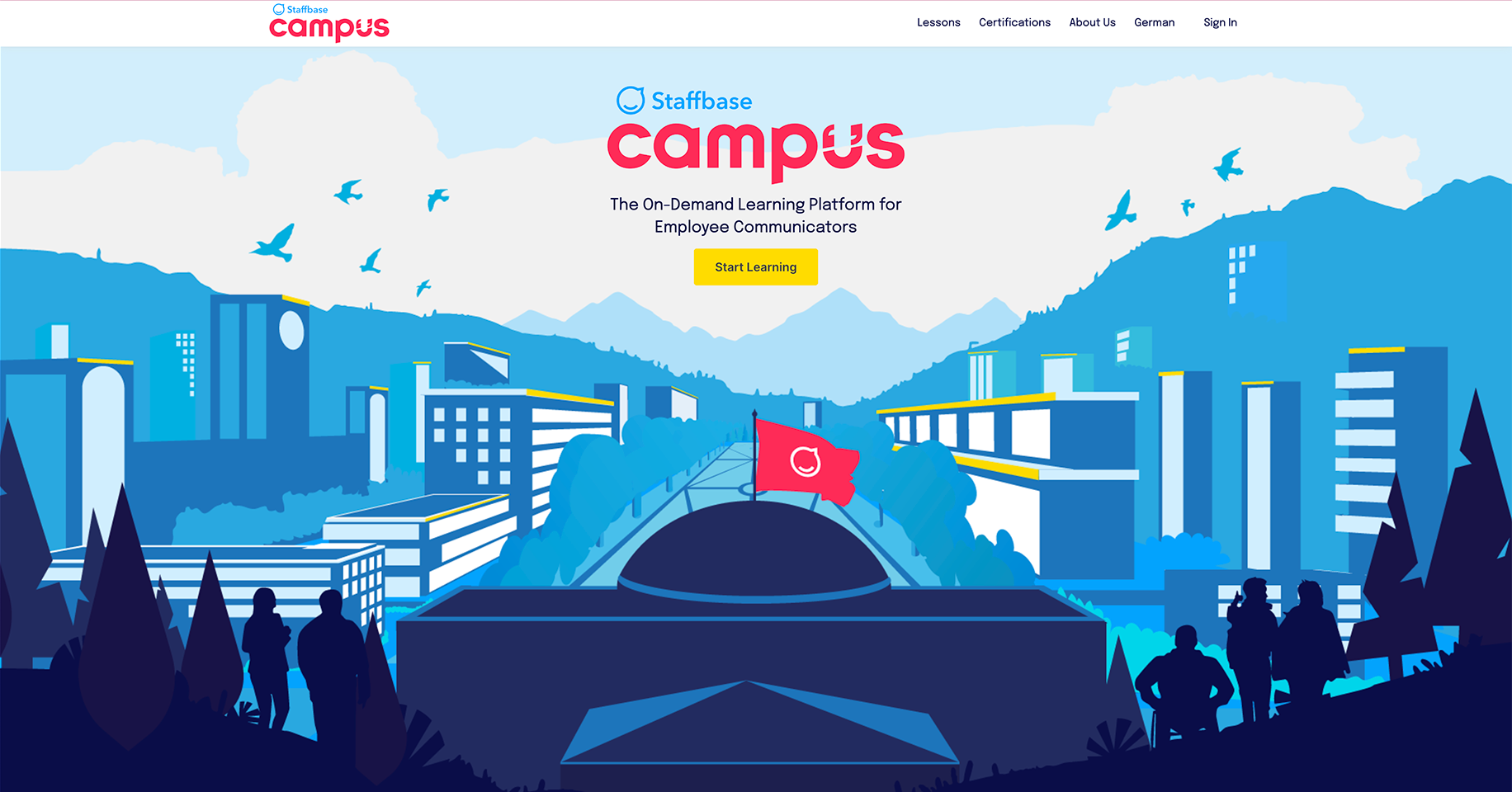 Staffbase Campus features free courses for internal communications professionals 
New York, NY, March 15, 2023 – Communication as an organizational function is fast changing and so are the roles of internal communication (IC) professionals. Because new roles and responsibilities call for new skills, Staffbase, a leading provider of employee communications platforms, launched Staffbase Campus today. This new interactive on-demand learning platform is designed to help IC pros meet the new demands of the profession, grow their skills, receive specialized certifications, and transform communications within their organization by becoming strategic partners to leadership.
"The vision behind creating Staffbase Campus was to develop an educational platform that makes it easy for communicators to learn the skills they need for the new world of communications," said Tara Jaf, director, Staffbase Campus and Online Education. "We kept hearing these same questions in the community: 'What skills are crucial to comms today', 'How do I show impact', 'Where do I go to learn and grow?'. So, we created Staffbase Campus to be a resource that really helps communications professionals upskill, apply their learnings to their daily work, and earn badges and certificates that can help boost their careers via bite-sized, on-demand lessons, developed with industry experts."
Available today is the certificate course "Strategize Expert", the first in a series of Comms Expert certificate courses covering the four foundational areas of employee communications: strategy, communication, engagement, and optimization. Consisting of six lessons, this "Strategize" course covers how to build a great comms strategy — one step at a time.  Participants will learn how to demonstrate the value of comms to their leaders and co-author their corporate narrative, how to create and deliver on impactful comms objectives that are aligned to an organization's objectives, how to optimally engage with stakeholders and internal audiences, and how to audit a comms channel to make sure you reach the right people with the right content at the right time.
Also available is the entry level certificate "Comms 101", for those just starting out in their comms career or wanting to get a refresher overview of what comms entails.
Some other lessons on Staffbase Campus include learning how to send powerful messages, how to become a listening organization and amplify the voices of your employees, and how to measure the value of IC campaigns. 
Please visit https://staffbase.com/en/campus/ for more information. 
About Staffbase
Staffbase is a high-growth, deeply experienced provider of employee communications platforms for enterprise companies. The mobile compatibility of the company's platform allows employers to securely reach their employees everywhere with reduced complexity — whether in the office, at home, on the factory floor, or on the road. Staffbase solutions give employees greater access to the corporate information that's relevant to them, along with tools for the modern digital workplace, including existing intranets. Staffbase provides branded solutions for more than 2,000 leading companies worldwide who are transforming their employee communications, including Adidas, Audi, Paulaner, Spark Power, UC Health, US LBM, and Vestas. Staffbase has received the 2023 Choice Award for Intranet and Employee Experience Platforms from ClearBox Consulting and is again the #1 Employee Communications Software on G2.
Please visit staffbase.com for more information.
Press contact:
Leigh Nofi
Senior PR Manager, Staffbase Inc.
e-mail: leigh@staffbase.com