Independent auditor TÜV Süd confirms data security at Staffbase according to ISO27001
New Spaces function enables targeted information distribution for different locations and user groups
Extended Analytics Dashboard provides internal communicators with extensive usage statistics
Information security as a top priority
New York, November 13, 2018. Data protection and information security have always been top priorities for Staffbase. All customer data and information is treated as strictly confidential by the leading provider of mobile intranets and processed in accordance with current security guidelines. The independent testing organization TÜV Süd has now confirmed the correct application of the Staffbase Information Security Management System (ISMS) with certification according to ISO 27001:2013. Companies that require ISO certification for their service providers and want to introduce an employee app can now do so minus the time-consuming paperwork otherwise required, and will therefore be able to get their employee app from Staffbase up and running much faster.
"Information security is Staffbase's greatest asset," assures Fabian Wiedemann, Chief Information Security Officer at Staffbase. "Our processes have always been ISO-compliant and this is what our customers trust. It was important to us to have our compliance verified by an independent auditor because this proof marks an important milestone for future business relationships. But certification is only the beginning: We will reliably meet the strict, changing requirements for information security in our market and continuously improve ourselves. In case of doubts and questions regarding data protection and information security, we are always at our customers' side as a trustworthy partner."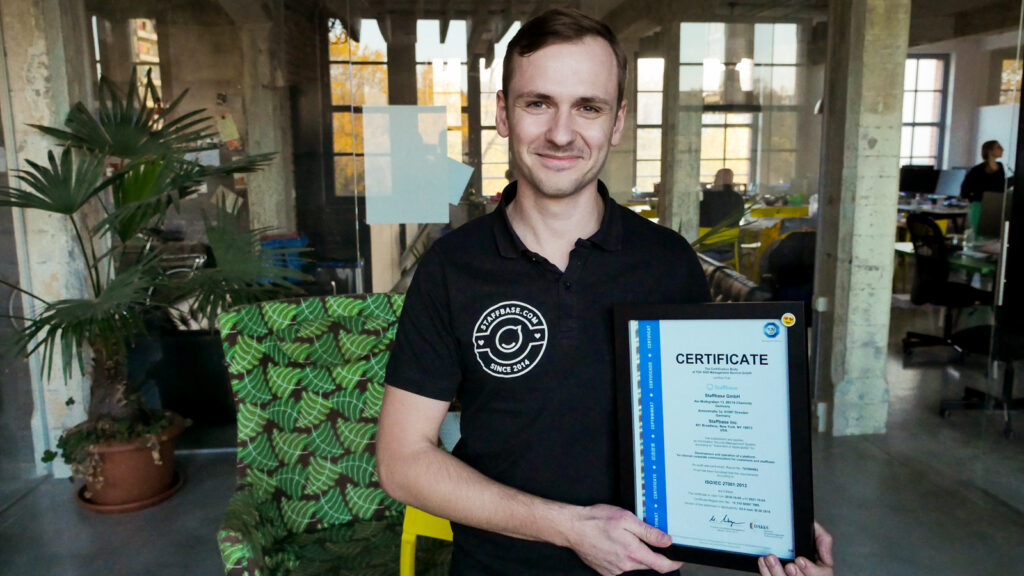 Staffbase Chief Information Security Officer Fabian Wiedemann with ISO 27001:2013 certificate
Enterprise-ready with Analytics Dashboard and Spaces feature
Large, international organizations have been successfully using the Spaces function for several months. With Spaces, they can set up independent areas for different locations and user groups within their employee app. Katharina Skarabela, Team Lead Digital & Online at RHI Magnesita, has been running her employee app from Staffbase for more than a year now: "An intelligent use of the Spaces feature allows us to distribute specifically relevant information in a targeted way to each of our over 100 locations. This approach protects our employees from unnecessary information overload". More information about the Spaces feature in the blog.
In addition, there is now also an extended analysis function. The "Analytics Dashboard" allows communicators in companies to use key figures to track the impact and attractiveness of their work. At a glance within the admin area, they can find detailed statistics and graphics on the use of app content. The success of employee communication can thus be analyzed more quickly and communicated in a meaningful way to management or other departments. All data recorded in this way is collected and processed anonymously in accordance with the General Data Protection Regulation (GDPR). Further information on the Analytics Dashboard can be found in the blog.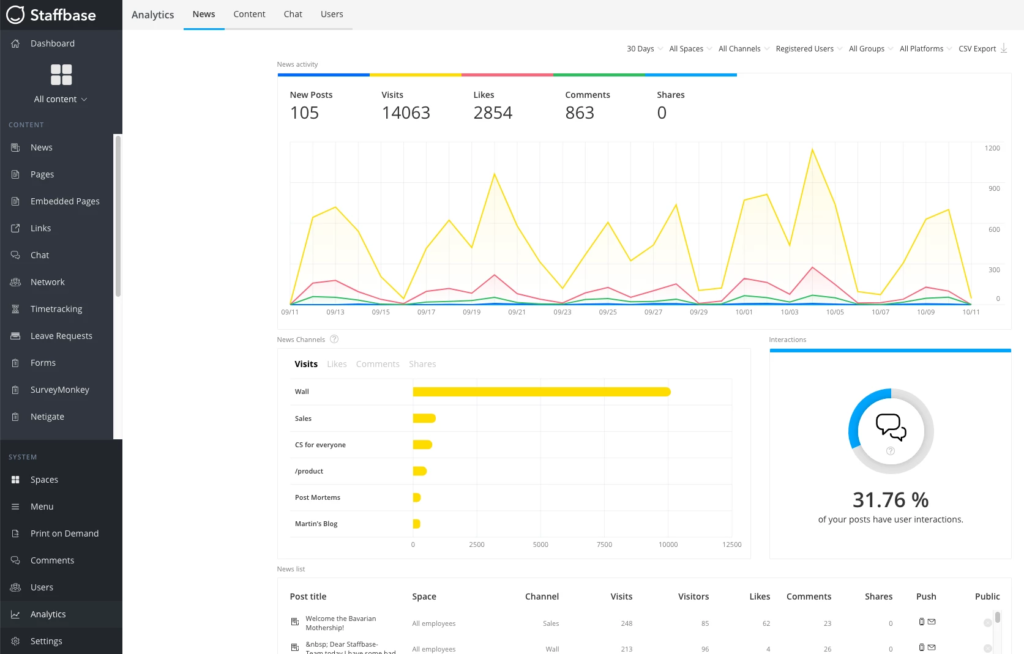 Staffbase App Analytics Dashboard
About Staffbase
Staffbase is the world's leading provider of employee apps for improving business and internal communication in large companies. The mobile-first platform provides a secure channel for communication professionals who wish to foster alignment, engagement, and relevance to their global workforces and connect them with easy access to corporate information and workplace tools, including existing intranets. Headquartered in New York City and Chemnitz, Germany, Staffbase makes the difference for hundreds of enterprise customers such as Adidas, Audi, Brinks, Rio Tinto, Siemens, and UC Health. Learn more at staffbase.com.
Press contact
Staffbase Inc.
Dr. Juliane Kiesenbauer, Head of PR & Events
401 Broadway, Suite 808
New York, NY 10013
United States
Phone: +1 929-900-1500
E-mail: juliane@staffbase.com