Employee Surveys — Get Useful Feedback with an Employee App
Overview
A survey is a great way to gather data about a specific topic. Conducting surveys in the workplace can help measure employee attitudes and perceptions about everything from leadership styles and business practices to an individual's satisfaction with compensation and benefits.
Create surveys within your employee app via forms and receive unfiltered, anonymous feedback from your workers. Frequently-conducted surveys will give you a broader picture of what your employees feel and think. Being able to participate in a survey anonymously at any time and from anywhere via mobile devices is sure to attract submissions.
You can also give surveys with SurveyMonkey or Netigate.
Want to take a quick pulse survey for special topics? Learn more in Pulse Survey.
How do Employee Surveys look to users?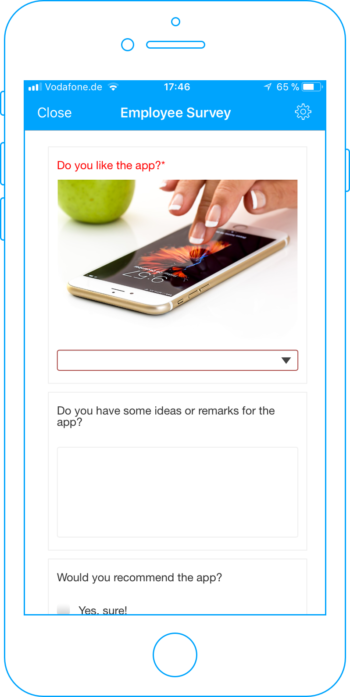 Mobile view of an Employee Survey.
Use the Employee Survey plugin for collecting short feedback regarding certain questions and topics. Learn more in Pulse Survey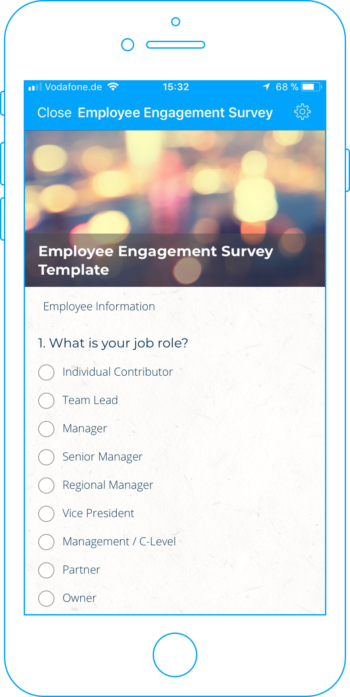 User view of a survey from SurveyMonkey. Use SurveyMonkey templates or create your own.
How does an Employee Survey look for admins and editors?
Create and edit a survey on a PC. Get feedback and export CSV lists showing the results.
Mobile admin view — you can view the submissions and export CSV lists.
Enable anonymous submissions, restrict user to a single submission, or include submission content in your internal notification emails. You can also show custom messages after submission.
Take a survey with your SurveyMonkey account. Create your survey on surveymonky.com and add the URL of the survey in the app. Use existing templates or create your own.
Add a Netigate form to the app. Simply copy and paste Netigate's collector weblink from Netigate.net.
See an Example Here!

Your Opinion Counts: Homag Turns Its Employee App into a Global Communication Platform and Feedback Tool
Read more here!