Onboarding Content — Integrate New Employees with Your Employee App
Overview
Onboarding is the structured introduction of a new employee to his or her area of responsibility within the company. Integration takes place with the help of targeted measures aimed at making it easier for employees to find their way around their new working environment. With the app, training and integrating processes can be clearly organized. During the onboarding stage, help can be offered by providing useful lists, links, and guides. Easy access to such tools guarantees that new staff members will be involved and informed from day one.
There are many ways to onboard employees with an employee app:
Create an onboarding page where employees can find all the information necessary for getting started.
Onboarding can be accomplished with a survey that acts like checklist. See if employees can answer all the questions for completing the onboarding process. Find more details in Employee Survey.
Provide an onboarding chat where employees can ask a buddy for specific onboarding tips.
A separate onboarding channel pushes the exchange between employees starting at the same time. See more in Local News.
Offer onboarding workshops for new employees and manage participants with an event registration in the app.
Onboarding Page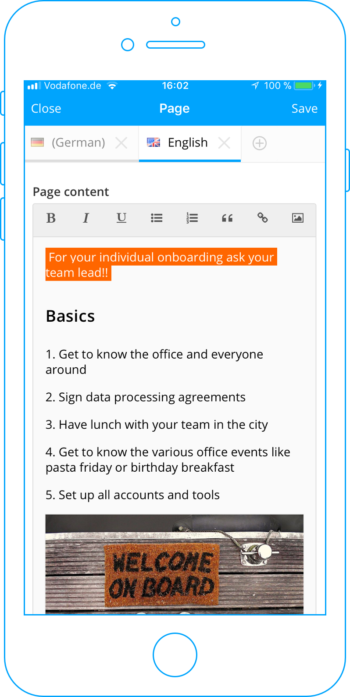 Onboarding Survey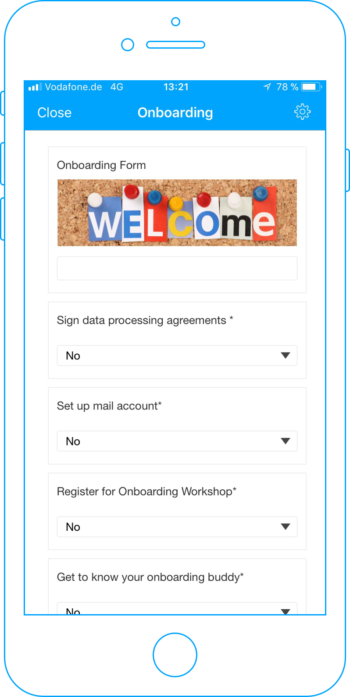 Onboarding Chat
Onboarding Community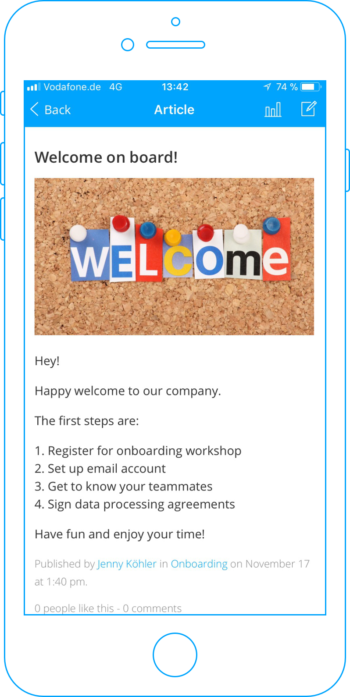 Event Registration for Onboarding Workshops