The room is buzzing with conversation and laughter. You walk in, worried that your social skills are a tad rusty (because of, well, a pandemic and all). 
But then, it hits you. An energy that you've been missing for the last two-and-a-half years. 
You feel inspired. 
A whole community of internal communicators felt just that at VOICES NYC, traveling from across North America for two days to hear from the biggest names in IC and some very special guests — like Tarana Burke, founder of the 'me too.' Movement, and W. Kamau Bell, comedian, author, and the host and executive producer of the Emmy Award-winning CNN docuseries, United Shades of America with W. Kamau Bell.
On top of incredible speakers, there was the priceless opportunity to connect with fellow IC pros in real life. Nothing beats in-person conversations paired with delicious food and drink (oh, and against the backdrop of a live band and DJ? No big deal).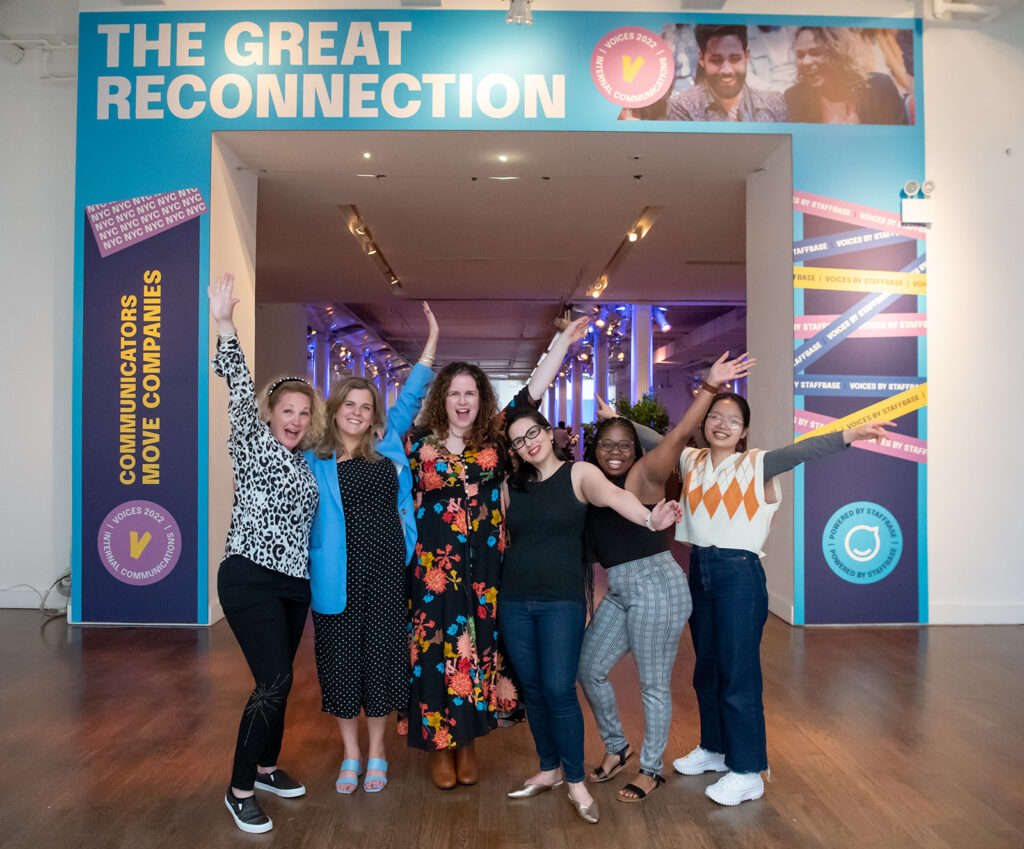 All in all, VOICES NYC reminded me why we need community more than ever. And while there were countless "a-ha" moments, we've rounded up four inspiring takeaways that we can't stop thinking about:
1. To connect with others, listen first
The last two-and-a-half years have presented communicators with many challenges — navigating the pandemic, global unrest, and social justice movements (just to name a few). 
Unfortunately, internal comms can sometimes feel like a constant stream of information instead of a dialogue with employees. And that makes it challenging to connect with employees who are equally anxious, isolated, and/or burned out. 
So how can you connect with others in uncertain times?
W. Kamau Bell is no stranger to difficult conversations. His approach: listen first. 
When asked about how he approaches interviews on United Shades, where he meets with Americans from all walks of life to discuss timely and challenging topics, W. Kamau Bell told us:
"The more I stopped talking, the better I became at storytelling. 

I always try to connect to the humanity and connect to the person. I try to find a way to get through to the person and not the issue. This is how you talk to someone you disagree with."
This advice is just as relevant for internal communicators. 
Listen first. Be human. 
You'll produce more empathetic communications — and your employees will feel more connected to your organization as a result.
2. The rise of the authentic workplace
Internal communicators are constantly adapting to changes in the workforce. 
It's something we've seen with "the Great Resignation," which is more than just a trendy buzz phrase. A Pew Research Center survey finds that:
As of November 2021, the U.S. labor market experienced a 20-year "quit-rate high" of employee turnover. 
Employees' main reasons for this mass resignation were: low pay, no career advancement, and feeling disrespected at work. 
And as for those who quit and are now employed elsewhere, they are more likely than not to say their current job has better pay, more opportunities, and more work-life balance and flexibility. 
While this major shift in the workforce can seem alarming, it's also an opportunity to rethink your internal comms strategy.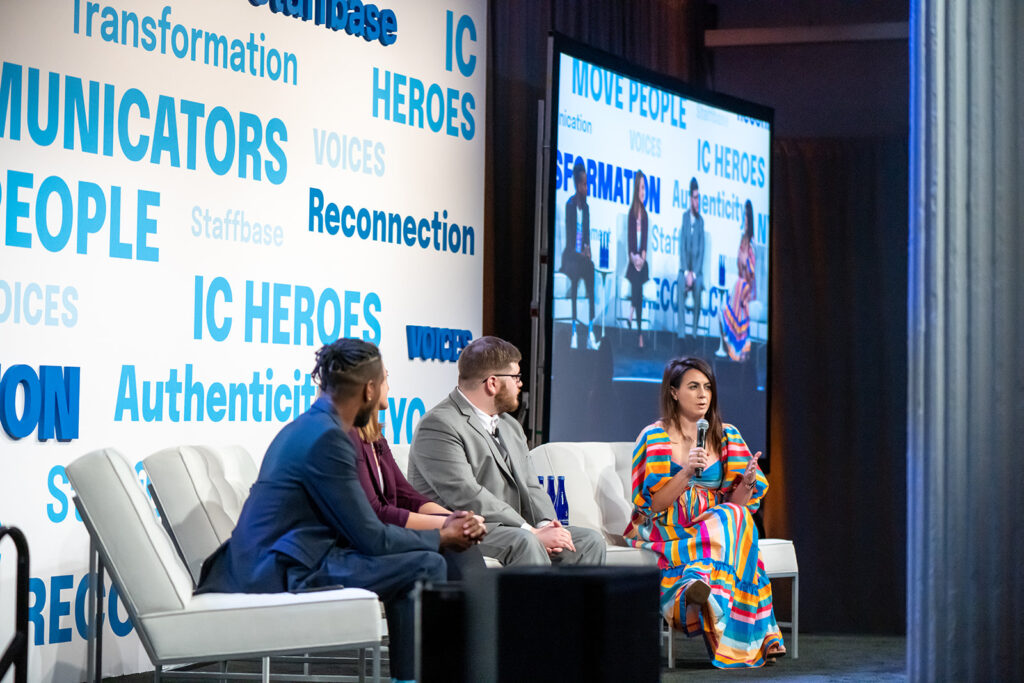 In our panel discussion on employee engagement in times of change, Adrienne Hoyt, Vice President of Internal Communications at CNN, stressed the importance of an authentic workplace:
"Employees now want to come to work as their whole selves. They want to feel compelled to go to work because they believe in the work they're doing every day."
Fellow panelist Lindsay Theile, Senior Director of Global Internal Communications at Walgreens Boots Alliance, echoed Adrienne's sentiments:
"One of the things we're doing more of is looking at the uniqueness of our team and how that makes us stronger as a team. That celebration of personal identity combined with the company identity is super powerful."
Bret Roberts, Internal Communications Coordinator at EDA Contractors, agreed with his panelists:
"By serving the needs of the employees, we're serving the needs of the company."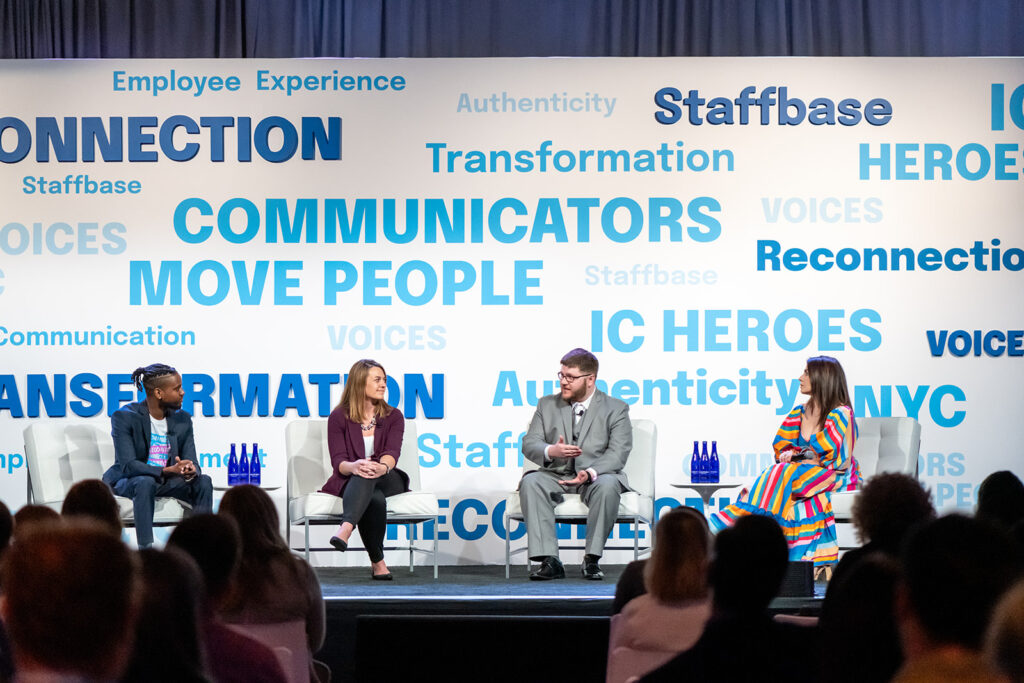 But how do you create an authentic workplace? 
In her talk, Wema Hoover, former Global Head of Diversity, Equity & Inclusion at Google, highlighted how internal communicators can make sure that employees feel valued and respected with inclusive communication:
Inclusive communication is all about creating a psychologically safe workplace where everyone can feel like they belong.

It's essential in our workplaces to create messages where people are seen, heard, and valued.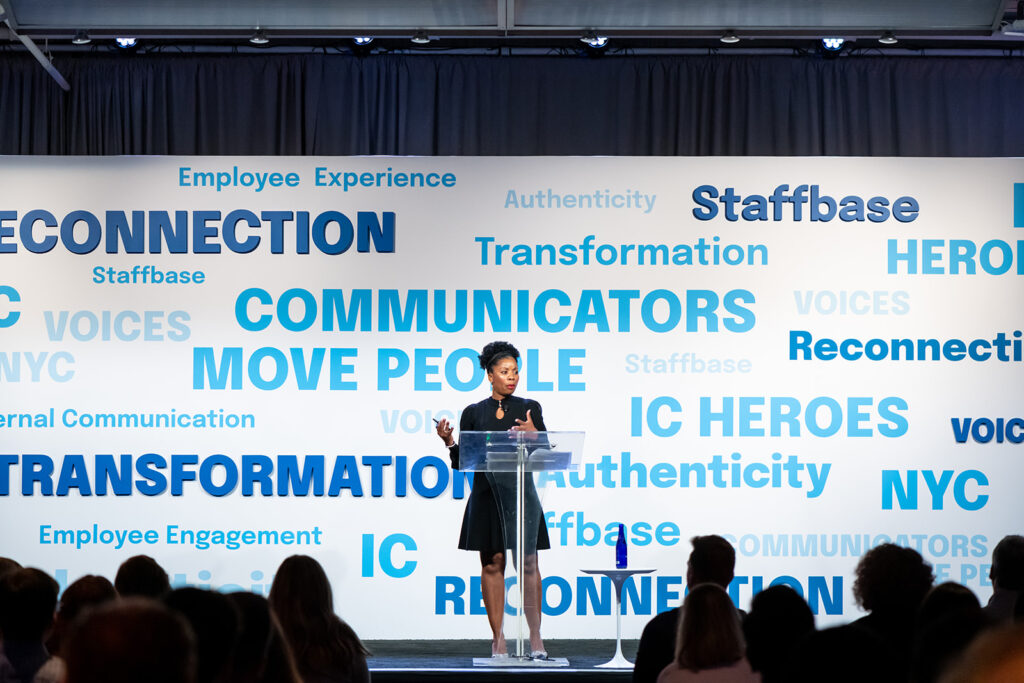 As an internal communicator, the words you use matter. 
Words are powerful tools to build a safe and inclusive workplace where employees can be 100% their authentic selves — no matter their background. 
3. You can start a movement
One of the biggest takeaways from VOICES NYC was that effective communication can build a movement. 
And as an internal communicator, you can start your own movement.
Tarana Burke drove home this message at the end of the day. And what a note to end on. 
She talked about her experience starting the 'me too.' Movement, the importance of mental health, and all the ways internal communicators play a key role in connecting employees within an organization.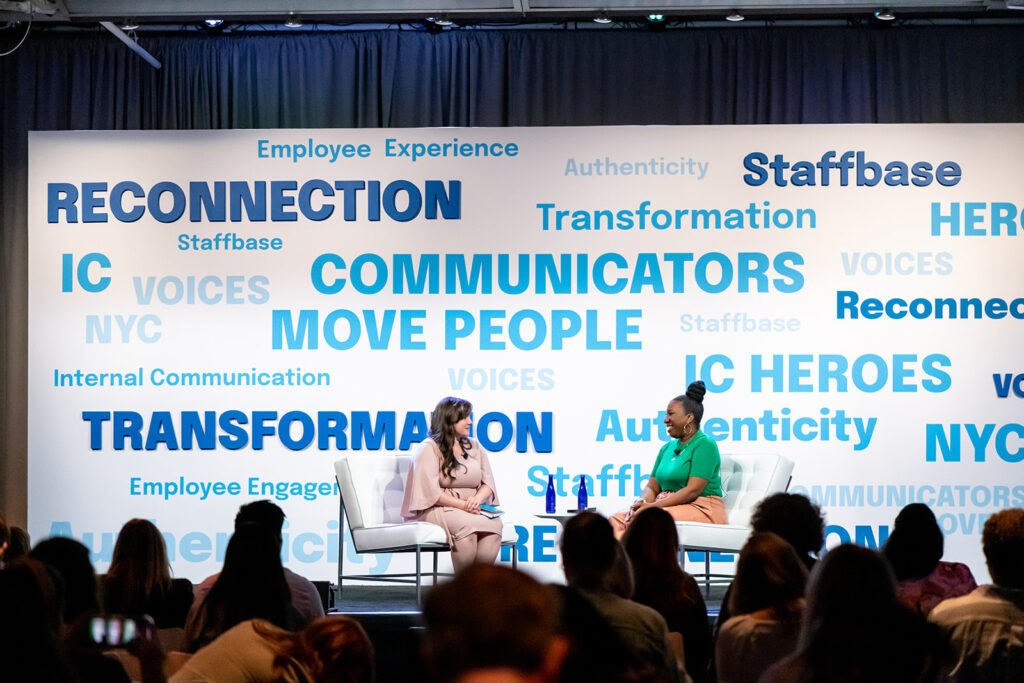 There were tons of inspirational gems to unpack, so I asked my colleague Kyla Sims, Principal Audience Engagement Manager at Staffbase, to sum up the biggest lessons from Tarana's talk. 
Here's what Kyla had to say:
Take care of yourself first
IC pros are being asked to craft messages for some of the most traumatic and important events in our lifetimes.
If you're not taking care of yourself and dealing with the impact of these events on your own mental health first, your messages won't resonate and could alienate your audience.
Tell the truth
When you don't know what to say, say that. When you're still processing, say that. Employees don't expect you to make them feel better — but they do expect humanity. 
Reach for the stars
Tarana was reaching out to celebrities to promote 'me too.' decades before it ever became a hashtag on Twitter.
When 'me too.' started trending, they remembered her and felt compelled to help. Even if your work isn't paying off yet, that doesn't mean it won't. Aim high!
Find others who are doing the work
Finding other people who were doing similar work was a gamechanger for the 'me too.' movement. By finding collaborators, they were able to pool resources and build momentum sustainably. 
You frame the narrative
The five-year anniversary of the #metoo campaign is this year and Tarana encouraged us to reject the "yes or no" narrative in the media as to whether the movement failed or succeeded. 
When you're changing lives and building a movement, the scoreboard doesn't matter and the goalposts will always keep moving. Press onward and make sure to reflect on how far you've come.
4. You definitely have to attend VOICES NYC in 2023…
So, I'm being not very covert here. Sorry (said in my Canadian accent). 😅
But, in all seriousness, in-person events are crucial. 
There was nothing like experiencing the energy of a full room, trading stories of pandemic pivots, and enjoying all that the Big Apple has to offer. 
That's why I really hope you'll join us for more internal comms magic at VOICES NYC 2023!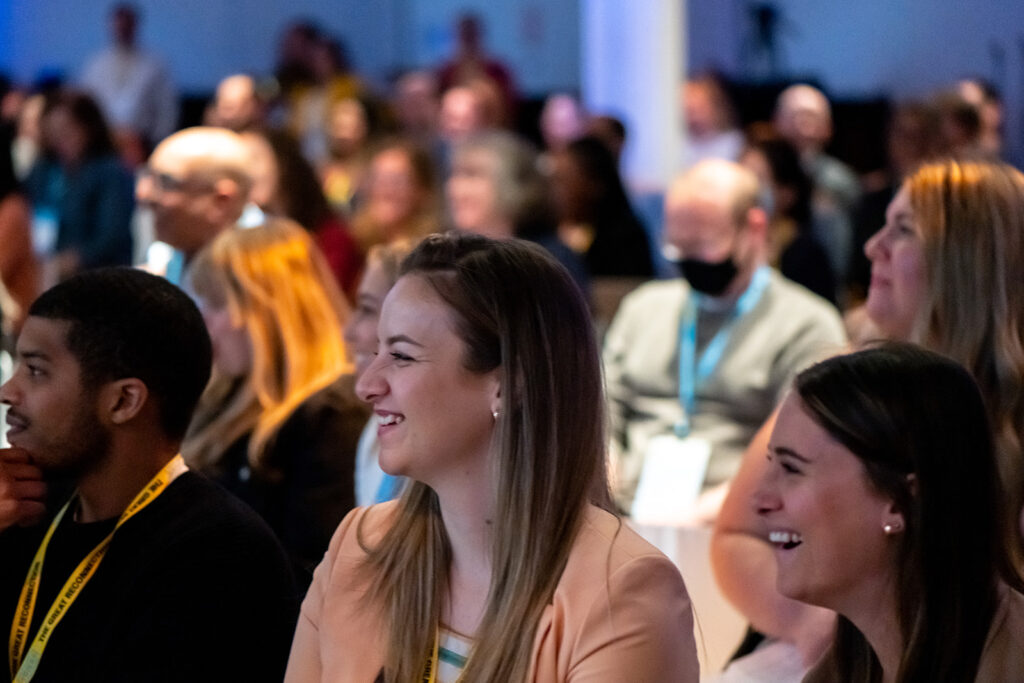 Even more ways to experience VOICES
This post only covered a handful of our incredible speakers. If you want to dive deeper into all things VOICES NYC, check out the recorded talks. 
And if you want to reminisce about all of the inspiring moments of #VOICES22 and network some more, join Comms-unity — our Slack community for IC pros around the world. 
That's all for now. See you at VOICES NYC 2023! 🗽