It's a serious problem years in the making, brought to a breaking point by Covid-19: the workforce crisis and increased employee burnout in healthcare. Doctors, nurses, and healthcare professionals around the world have been facing a host of troubling issues making it increasingly difficult to provide top care for their patients.
From nurses wearing trash bags in lieu of personal protective equipment to ambulances backed up outside ERs, the coronavirus pandemic exposed how ill-equipped and disconnected medical centers around the world were for such a massive crisis.
But despite the near-universal agreement that the healthcare industry must never again be so unprepared, there's growing concern that the sense of urgency is waning before any steps to improve the system's frontline medical response have been taken.
Undoubtedly, the consequences have taken their toll on the healthcare industry.
There's no denying that healthcare professionals are dedicated, hard-working individuals, all doing their best under often extraordinary conditions.
Reaching these busy workers with timely, relevant, and critical information via their mobile devices is perhaps the greatest first step toward addressing many of the dire issues afflicting their ranks.
With that in mind, here are the top three reasons your healthcare workforce should be trying to optimize healthcare comms by communicating on an employee communications management platform.
1. Healthcare workers experience information overload.
The problem:
Data overload plagues many healthcare organizations. From new protocols to updated employee benefits, healthcare workers are bombarded with information. Instead of facilitating informed decision-making, this overabundance of data actually impedes managers from distributing information effectively.
Consider that the average worker spends 28% of the workweek managing email and nearly 20% in search of internal information. Nevertheless, 74% of employees still report feeling like they're missing out on company news.
With numbers like these, it's no surprise that 44% of employees want a wider adoption of internal communication tools.
Imagine the time an enterprise-wide internal communications strategy could save these organizations. A strategy that's designed to optimize healthcare comms and get healthcare workers the right information with the right analyses at the right time for them to put it into action.
The solution:
A wide variety of professionals make up healthcare organizations. Not only do they differ in their roles, but also in their backgrounds, cultures, age groups, tech savviness, etc.
Accordingly, uch a diverse group of employees is equally diverse in their information needs. This poses a challenge for internal communicators.
By splitting your internal audience into sub-audiences, you can meet this challenge. This is called audience segmentation. But to do it well, it's essential that you understand your internal audience.
We've created a Masterclass on "Understanding Your Internal Audience" to help you out.
Consider that 72% of companies saw increased productivity by prioritizing communication to their frontline workers.
Likewise, companies have raised the productivity of knowledge workers by 20% to 25% by using social technologies. 
2. Internal comms are fragmented in the healthcare industry. 
The problem:
One definition of healthcare fragmentation is when there are multiple decision makers responsible for a set of healthcare decisions that could be better made with a unified decision-making process.
Lacking the required data, individual decision makers responsible for only one fragment of a set of healthcare decisions often fail to understand the big picture.
Sometimes there is little coordination among the many doctors who treat individual patients. Often, these doctors might even lack access to a common set of medical records.
Eventually, these problems of fragmentation can of course lead to bad healthcare decisions.
Fragmentation is a symptom of inefficient methods of communication and information sharing. Healthcare workers reportedly waste more than 45 minutes per day as a result of inefficient communication systems.
And this seems true of frontline workers in general. 86% of the respondents in an HBR study said frontline workers need better technology.
In a crisis, these issues were only magnified. Forbes reports that only 39% of North American respondents reported having a crisis management plan in place that they found "very relevant" during the pandemic.  
The solution:
If healthcare professionals are working at cross purposes, the most obvious solution is better communication. They need to find ways to optimize healthcare comms with tools that will enable a cooperative care approach.
More efficient forms of digital communication give caregivers access to shareable information and allow them to communicate in real time. Instead of relying on email or pagers, quick and dependable text alerts sent via a secure and easily accessible employee app bring strengthened capabilities to healthcare comms.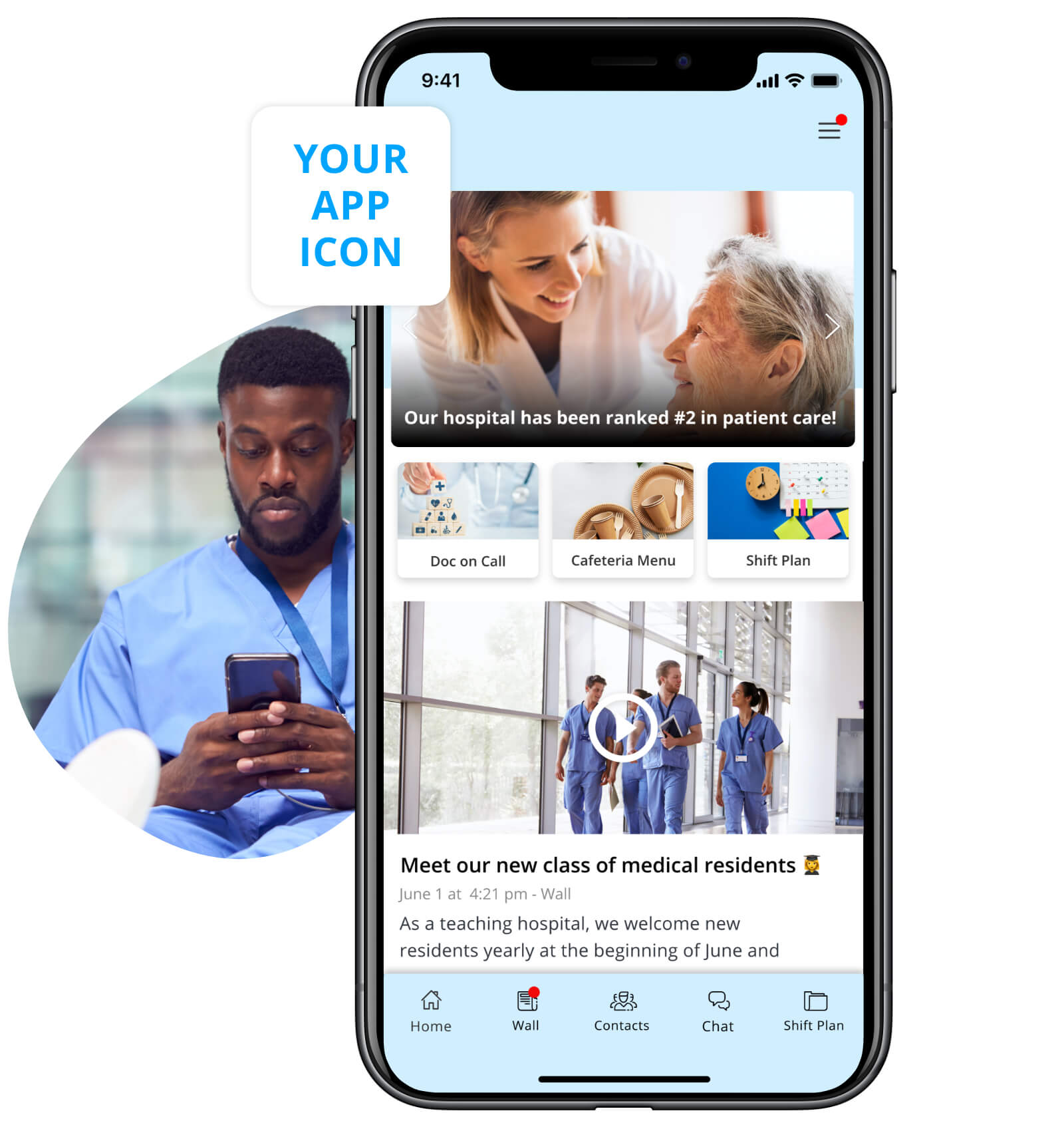 Moreover, a communications management platform can give caregivers crucial access to shared Electronic Patient Records (EHR) which include information about a patient's medical history, preferences, and needs.
Additionally, healthcare providers in the US can be assured that internal communication management platforms like Staffbase meet HIPAA requirements. This compliance means that they are safe for sharing Protected Health Information ("PHI"). 
You can find more information in this downloadable PDF:
As for crisis communication, as any healthcare provider will tell you, every day brings new crises. But digital comms tools can decrease the likelihood of employees feeling unprepared for the inevitable, allowing them to act quickly and effectively.
Push notifications let you break through the noise and quickly get emergency information to your employees. 
75% of respondents in a Hubspot survey reported that technology has facilitated the coordination of their organization's crisis response team. 
And access to information has all sorts of additional benefits. A study by Trade Press Services shows that 85% of employees claim to be most motivated when regularly updated about company news and information.
3. Burnout is real. 
The problem:
By now we've all heard about the Great Resignation. The exceptionally high turnover rates of the last few years have been the result of multiple factors. And they have affected industries across the board.
The boom in remote work gave workers an eye-opening new perspective on how work looks. Firstly, it emboldened employees to leverage their newfound freedom to work from anywhere. Simultaneously, it opened up the job market to widespread opportunities.
Employers unprepared to adjust to this transformation have been confronted by unsatisfied workers more than willing to call their bluff.
But the crisis in healthcare goes even deeper than these issues. Medical workers cited Covid-19, poor pay, and burnout as prime reasons for resignations.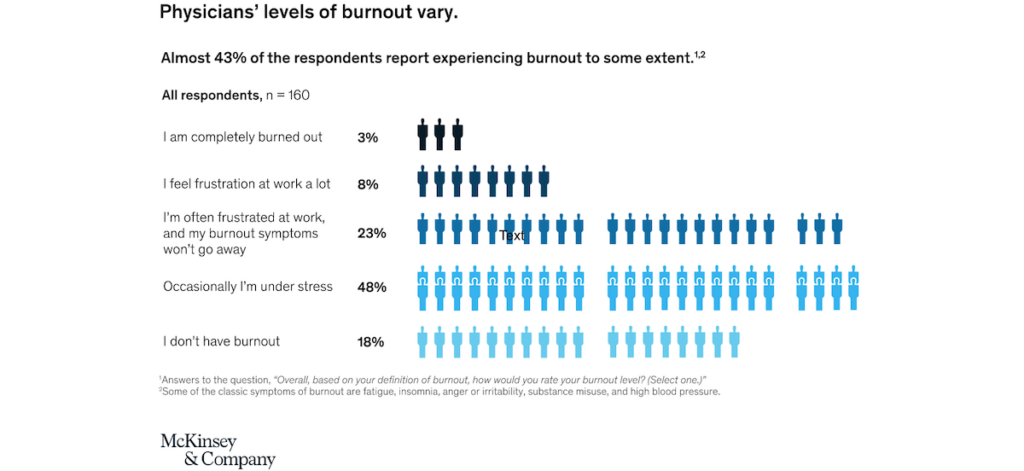 Burnout is the number one challenge healthcare workers face. One of its key symptoms is depletion, characterized by feeling physically and emotionally drained. Such feelings aren't surprising, given that healthcare workers face demanding work schedules and crippling staff shortages.
According to U.S. News, "60% to 75% of clinicians [report] symptoms of exhaustion, depression, sleep disorders, and PTSD."
Even before the pandemic, burnout among healthcare workers was a perennial issue. The pandemic turned it into a crisis. Worker burnout costs the US $4.6 billion annually.
The solution:
Through a variety of approaches, healthcare leaders have the power to restore their workers' physical and emotional reserves, sense of self-worth, and trust in their organizations.
Being a reliable advocate and leading with kindness are two human ways to restore depleted healthcare workers' emotional well-being. But ultimately, these steps depend on robust and tangible support from employers.
This means healthcare organizations need to make an institutional commitment to protecting the physical safety and economic security of their staff. Finding ways to optimize healthcare comms and providing a forum for shared best practices and actionable feedback is one way to get the ball rolling.
While 74% of employed adults agreed that employers should offer their employees resources and access to mental health services, only 35% of employed adults felt comfortable discussing mental health with a colleague.
Digital communication platforms can broadcast mental health best practices and encourage employees to put them into play. They can help foster a corporate culture that genuinely believes in putting the mental wellbeing of its workers first.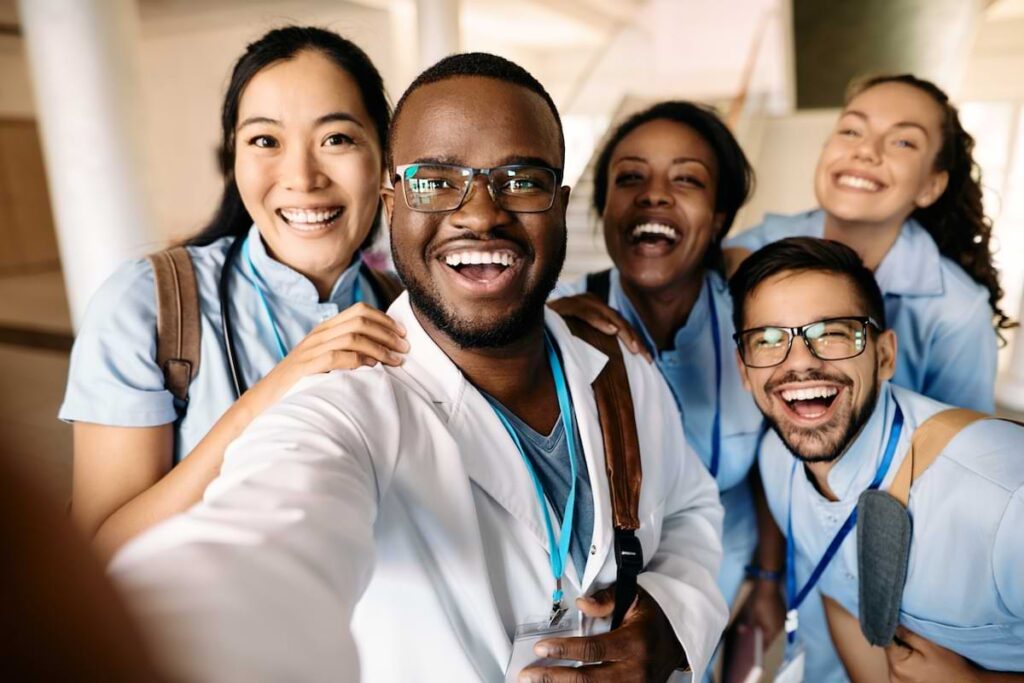 Significantly, an employee communications management platform encourages real feedback, recognition, and personal connection and makes it visible organization-wide. By communicating proper ethics and values that match those of their employees, organizations can boost employee satisfaction and engagement.
Through proactive steps to optimize healthcare comms that connect with every member of their dispersed workforces, healthcare organizations can create greater alignment, alleviate information overload, solidify fragmented communication, reduce burnout and turnover, and finally, improve patient care.