Today, I am thrilled to announce the most exciting milestone in our journey so far. Staffbase is joining forces with internal communications tech company Bananatag to form the first end-to-end platform for uniting companies through communications. Together, we are now the largest internal communications company in the world.
When Staffbase was founded six years ago, we wanted to help disconnected non-desk workers stay up to date with what was happening at their companies. We invented the employee app, the first digital communications channel able to reach all employees in industries like healthcare, logistics, production, and retail.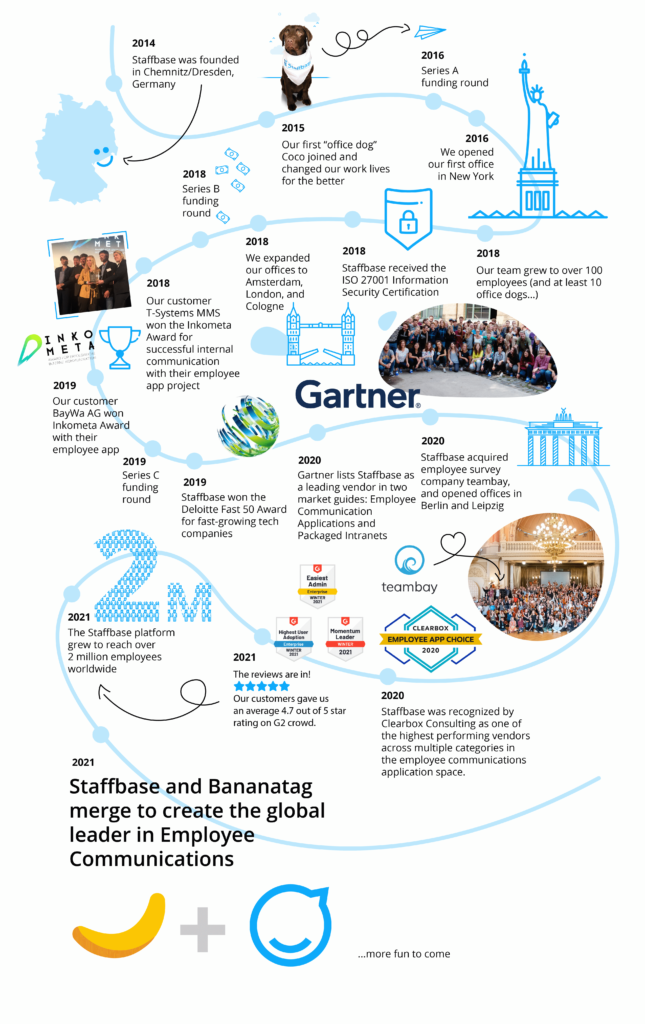 We saw and continue to see overwhelming demand, especially from large companies. Our customers' communicators and leaders report unprecedented engagement rates and a new culture of "togetherness" at their organizations. I have visited many of our customers to learn more about the impact of our platform on their companies. I quickly came to realize that we are more to them than just a new communications channel. 
In the same way as society at large, the companies we work with are facing increasing division, contradicting opinions, declining trust in authority, and a diminishing common denominator. These companies need unity now more than ever in the midst of radical transformation and global uncertainty. Change is everywhere and it's happening fast.
Employee communications is no longer just a feature in another tool. It is a top strategic priority that requires a purpose-built solution. 
The number-one leadership task in organizations today is to find a common goal and to get people excited about it. Given the diverse audience they are tasked with uniting, this is a gigantic task. It requires visionary leadership and forward-thinking communications teams. Staffbase has the privilege of working with some of the most pioneering employee communications teams in the world. We provide them with the foundational technology to reach and unite their companies. 
Modern communications teams need more than just a banner on their intranet start page or a poster on the wall. They need to reach people through the channel which suits them best, with messages that resonate best, and with the authority of a source they trust. Decentralized comms, persona-based targeting, employee journeys, true mobile-first branding, employee feedback loops, and data-driven insights. These are just some of the innovations we've developed with our customers. Together, we have unlocked the power of internal communications. 
Our joining forces with Bananatag is by far the most exciting milestone in our journey so far.
Together, we are truly an end-to-end platform for uniting companies through communications. For the first time, business leaders and communicators have access to a complete solution for reaching their entire workforce with one unified message via mobile app, email, and intranet.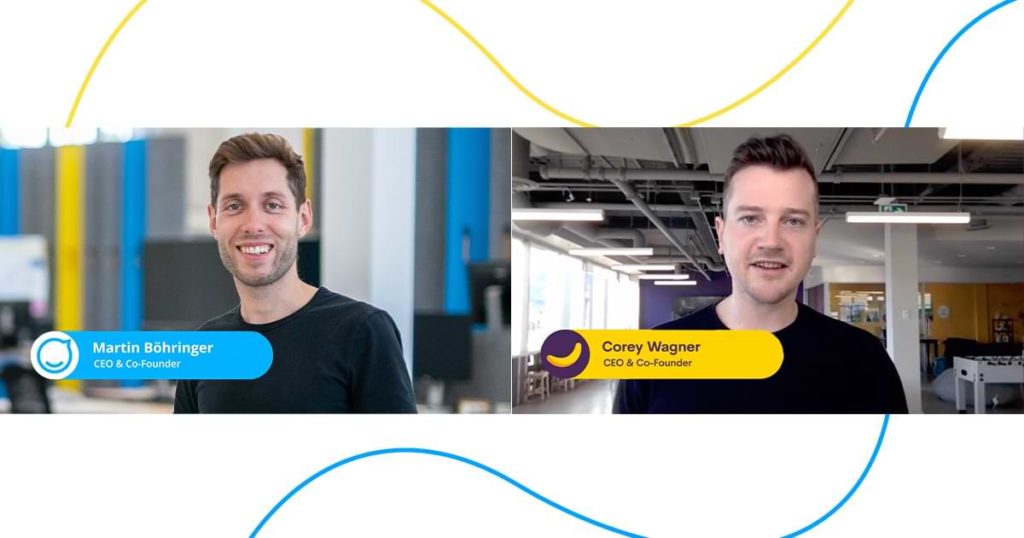 Today's announcement is a game-changer, not just for Staffbase and Bananatag, but for hundreds of millions of people working at large and distributed companies. I'm so excited that Chris, Corey, and Isaac, the Bananatag co-founders, have decided to team up with us. The "Bananas" and the "Staffpranos" are united by the shared goal of fixing communication in companies. What a privilege it is for us all to begin working together to unite companies.
Read more: the announcement blog post from Bananatag