I've been working in the intranet space for more than 15 years. What fascinates me is that the concept of intranets is constantly evolving. Intranets have always adapted and reacted to what's happening around them. This includes changes in the key challenges organizations face, or as new tools and capabilities become available. 
For us at Staffbase, this process became elevated when we acquired Valo, one of the iconic intranet add-ons for Microsoft SharePoint. There is no way to talk about intranets and the digital workplace without having a deep understanding of Microsoft's strategy and way of looking forward. Theirs is the dominant adjacent ecosystem to most intranets in the market. 
Staffbase, on the other hand, was founded in 2014 and grew to become the first unicorn in the employee communications space. This was because of our disruptive approach to reaching employees with the new concept of an employee app. Over time, this app also evolved into a new philosophy about how to make intranet platforms more accessible, user-friendly, and much easier to maintain.
So, as you can imagine, we get the question quite a lot: How do you want to bring all of this together and where do you see the future of these tools for a modern intranet strategy that aligns well with Microsoft?
I want this article to explain our thinking and how it shapes our product strategy for 2023. I will provide three "big picture" perspectives. And I will discuss how they shape our view of the market and our strategic thinking. 
The big picture, Part 1: Where intranets are going
The last big intranet concept was the social intranet. It started around 2010 and was inspired by external social media tools like Facebook and Yammer. The main two innovations were to bring team collaboration into intranets and add interactive features such as comments or likes to the intranet content. 
In the foreword to my 2011 book about Social Intranets, I described the concept as follows:
"The Social Intranet sees itself as a company-wide platform for a broad variety of communication and collaboration applications that better inform, motivate, and help employees work together." 
It was the big portal that wanted to unite these three major use cases on one platform: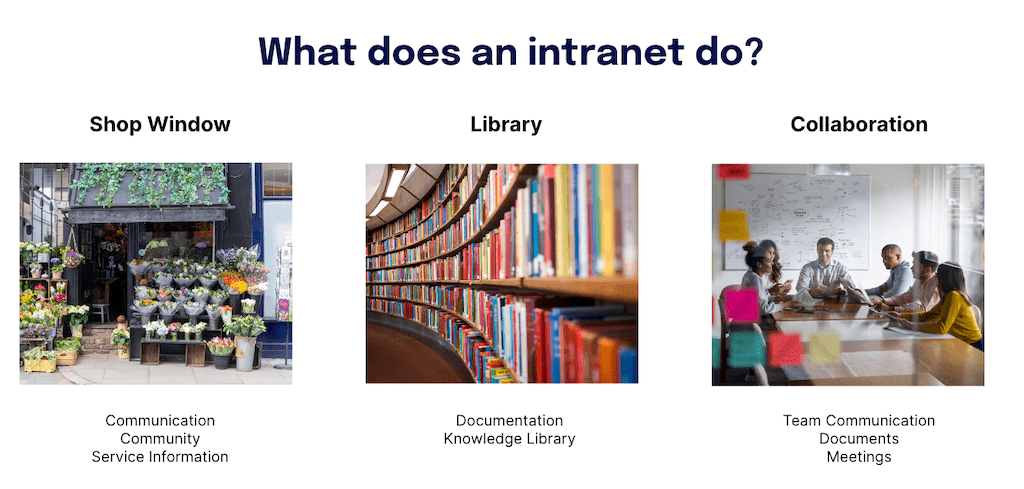 Many companies adopted this approach and we still see requests for proposals for intranets that have this vision. Before founding Staffbase, I also implemented a couple of these intranets. I quickly learned one thing: doing many things with one platform requires compromises. 
These intranets ended up being highly complex, with limited reach. This was because their mobile support was insufficient and their use was not allowed on personal devices.  
Collaboration never really worked because team rooms became a place to store documents, not a place to work with others. Finally, the library part created a lot of content that was hard to maintain and govern. It cluttered the shop window part of the intranet. And still, there would be many other libraries in companies that couldn't really be united. (Just ask SharePoint and Confluence enthusiasts if they could ever agree on one tool for storing their knowledge.)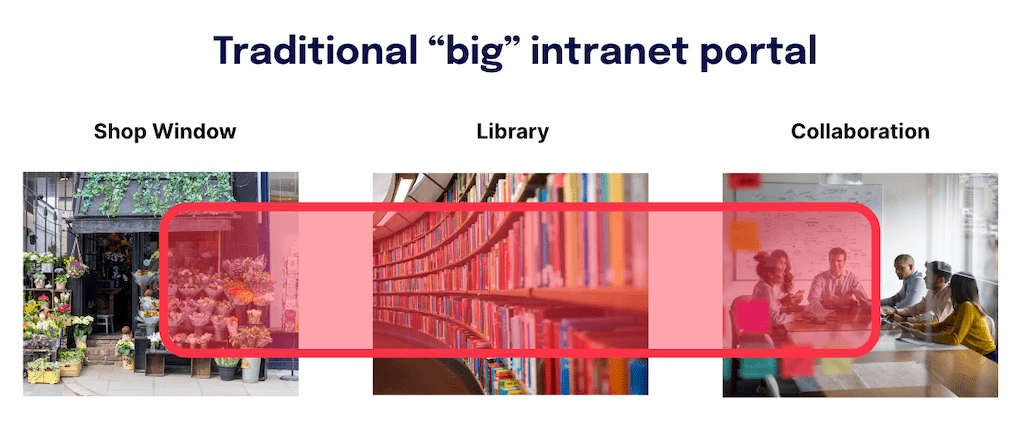 Solutions that don't work well invite innovation. In this case, it came from two sides: Communications solutions like employee apps were growing fast. Top technology analysts like Gartner first mentioned the "Employee Communication Applications" space in 2018. The collaboration side has seen drastic innovations by tools like Slack and Teams. Today, nobody would ever claim that collaboration should still be part of an intranet approach. 
So, we see a specialization of the original intranet use cases: 
Gartner has recognized this trend for a while now in their intranet trend reports, with statements like: "A modern intranet must offer a primary front door and many side doors for entry" and "Coordinated hubs, pervasive services, and immersive experiences — rather than a single identifiable intranet site or homepage — will address future intranet purposes."
Staffbase has developed its own very successful Front Door Intranet platform. We used an approach that is unique in the market. We extended from the mobile employee app approach into a full desktop intranet — and not the other way around. This includes a lot of thinking around app branding and distribution, personalization, reducing complexity for users, tight governance for push notifications (as their over- or under-usage can make or break a successful intranet), and a very easy setup of local content creation and curation.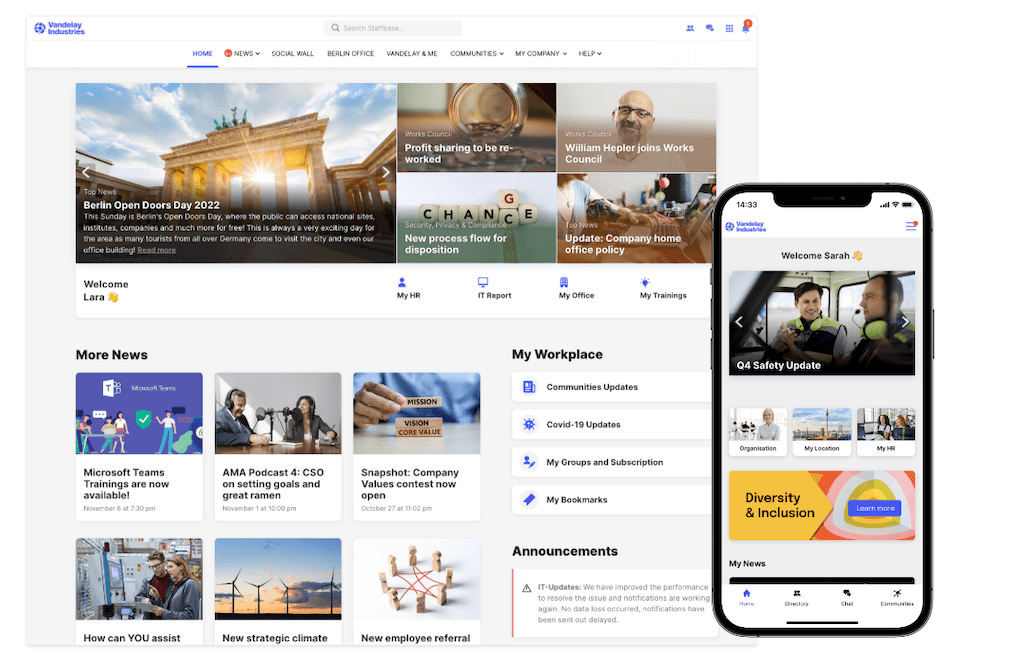 We believe in the specialization trend of intranets. And not just because analysts are saying it and it feels like the logical reaction to current technology and market trends. What's most convincing are the results that we see from our Front Door Intranet customers like Deutsche Post DHL, MAN, or Geberit. By fully focusing on their front-door use case, these intranets reduce the amount of content they hold by an average of 80%. 
Another major milestone is that we see the average mobile use of these intranets at about 50%. This boosts the overall reach of intranets and makes them even more accessible for frontline employees. They provide an easy option to "put the company in the pocket."
Besides the high focus on mobile capabilities, there is one other emerging aspect of front door intranets: They are increasingly expected to become omnichannel communication platforms. 
Gartner predicts that "by 2025, 25% of employees at large enterprises won't be able to identify a single intranet homepage for their company." As much as these intranets provide their own channel for a communications team, they also orchestrate touchpoints into tools like email, Teams, or even onto screens in the company cafeteria.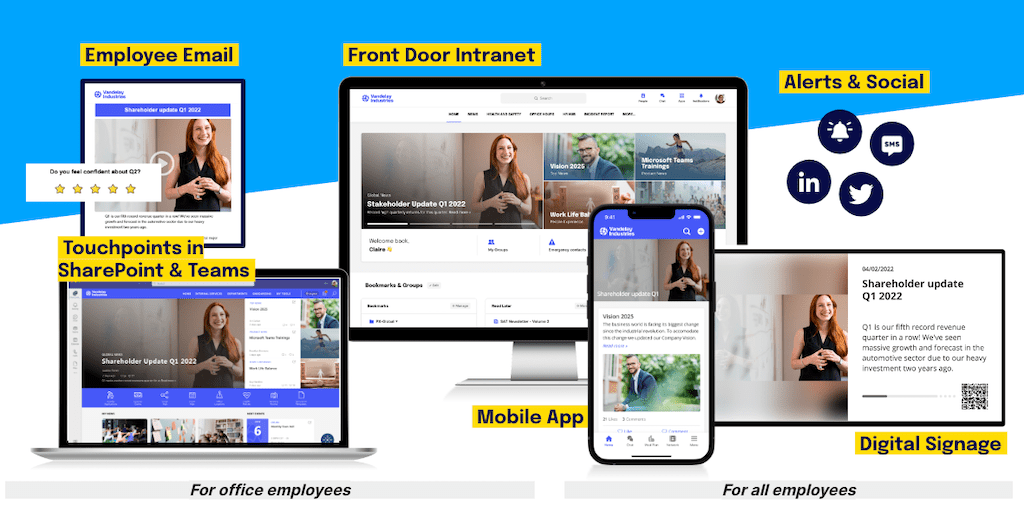 Beyond the analysts and our own experience, one of the key proof points of this strategy is the product strategy of the largest intranet player in the market: Microsoft
The big picture, Part 2: Where Microsoft is going
Microsoft never presented itself as a core intranet vendor despite clearly being number one in this market for many years with its SharePoint technology. Myriad add-on vendors allowed IT teams to easily upgrade the SharePoint platform to an out-of-the-box intranet. UK analysts from Clearbox, who have been watching this market for many years, once had more than 70 in-a-box vendors in their annual report. 
With the rise of Teams, Microsoft is not just clearly moving collaboration from SharePoint to Teams (even though SharePoint remains the tech basis for a lot of features in Teams). It's also repositioning Teams as the central digital workplace hub. Microsoft Viva was introduced as a family of ready-to-go tools that work as an app concept inside of Teams.
This evolution actually marks a fundamental shift of Microsoft's strategy. It is moving from a highly customizable platform approach to a much more standard product approach.
The Valo team's deep experience in the Microsoft technology ecosystem has allowed us to witness these developments firsthand. There are clearly fewer ways to customize Teams versus SharePoint. And there are even fewer once we look at individual Viva apps like Connections. 
Is this good news or bad news? It depends on what you want to achieve. 
Microsoft 365 becomes much more feasible and ready-to-go for small- and mid-sized companies. This is because they often never had the resources to customize in the first place. A pure Microsoft front-door intranet now lives inside of Teams on desktop and mobile. It's likely to consist of Viva apps like Connections and Amplify at the core, and potentially more, such as Engage (formerly Yammer), Topics, or Insights. 
SharePoint will stop being the place to create news content as this job moves to Viva Amplify. It also won't be the solution to address mobile requirements as everything is now happening inside the Teams mobile app. SharePoint will no longer be the front door, with Viva Home seemingly becoming the home page inside of Teams.
For some mid-sized and most large or enterprise companies, this creates a challenge. Until now, you could invest time and money to customize SharePoint as an enterprise portal that fits perfectly on the desktop to what the organization needs. This is still possible. But it clearly moves against something that many CIOs and digital workplace strategists we talk to care deeply about. They prefer to keep things close to the standard, aligning their own roadmaps to those of their strategic software vendors. 
All of these developments have led us to think about the best strategy for moving forward with our intranet products and how to best align and integrate them from our unique perspective with the Microsoft ecosystem. 
The big picture, Part 3: Where Staffbase is going
Microsoft will remain the most important ecosystem for Staffbase. We are fully committed to this ecosystem, and not just with the further development of our intranet products.
We're also a 100% Microsoft  Azure customer. Staffbase now runs globally on Azure. We believe that the Microsoft ecosystem will remain very attractive for individual software providers (ICP). But the focus will shift from application-level add-on solutions to line of business applications that run on Azure, utilizing the flexibility and openness of the Power Platform and connecting to Microsoft 365.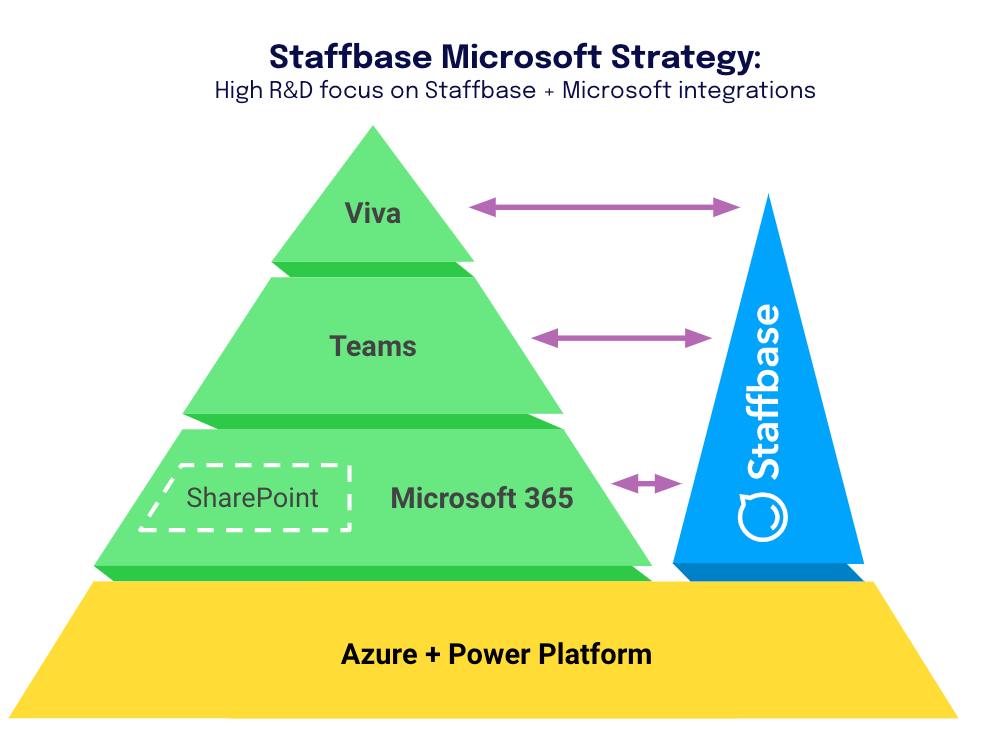 The Staffbase Front Door Intranet today powers large organizations with up to 500,000 users. We see a very good opportunity in the market to serve mid-sized to large organizations with a Front Door Intranet. An intranet that not only adapts to their needs but also integrates into their Microsoft digital workplace and combines this with the established strengths of the Staffbase product family.