Summary
The world at large is already experiencing the undeniable harbingers of climate change. Meanwhile in the corporate world, the list of trendy buzzwords around sustainable environmental strategies grows ever longer: Corporate Ethics, Green Bonds, Corporate Social Responsibility, Global Citizenship. Imagine if those words signified real actions. 
The time is now to start true climate action for businesses. With Staffbase Zero, we're actively building a climate-friendly community, setting new standards for the digital industry, and multiplying our positive impact. The following article will tell you more about our action items and how your company can also tackle urgent climate-related challenges.
Why Corporate Social Responsibility (CSR) Is Important
No matter the particular industry, how your company handles today's social challenges will impact your business outcomes of tomorrow. CSR is no longer just window-dressing for improved public perception, nor is it only for certain industries. Today, it's about everyone in every field. As the practice progressively gains acceptance, it is transforming the outlook of businesses towards society worldwide.
CSR is built on the Triple-Bottom-Line-Approach: profit, people, and planet. Finding a balance between those arguably inverse elements is certainly a challenge. Maximizing revenue and profits while being sustainable and environmentally friendly isn't easy. However, the idea of running a business that not only aims for exponential growth, but also for the greater good, will logically pay off in the long run. CSR is a marathon, not a sprint. 
Brands that prioritize social responsibility can make a real difference. And already, there are an impressive number of companies putting the topic at the heart of their organization. For example, Patagonia has donated over $185 million to NGOs since the company was founded in 1973. CSR is deeply rooted in their DNA. Still, they are highly profitable, with annual sales of more than $1 billion. Another example is TOMS. Founded in 2006, the company mission is to match every pair of shoes purchased with the donation of a pair of new shoes for a child in need. The brand invests one-third of their profits in grassroots efforts to mobilize communities. In 2018, TOMS sold over 86 million pairs of shoes. 
CSR Matters For Talent Attraction and Retention
The post-pandemic hiring market is proving to be highly competitive. Qualified candidates have found themselves able to choose from an array of different job roles and benefit packages. Committing to a solid CSR strategy can make the difference in talent acquisition. 
This is especially true for millennials. According to a PwC survey, 88% of Gen Y employees are looking for job opportunities with companies that match their values and social beliefs. Along with Gen Z, younger employees now make up a majority of the workforce and are looking for socially responsible employers. Organizations with a purpose beyond profit is a key employee engagement driver.
CSR also has a positive effect on talent retention. Working at a purpose-driven company gives employees a sense of belonging and empowerment regarding social responsibility. According to the Deloitte Insights 2020 Global Marketing Trends Report, companies with a genuine CSR strategy have a 40% higher level of engagement and employee retention than their competitors. This is just one sign of the tangible benefits CSR has on employee engagement. 
Interplay Between ESG (environment, social, and governance) and CSR
Developing a corporate social responsibility is more about creating an ongoing attitude than an occasional business practice. If done for show, deserved accusations of corporate posturing or "greenwashing" will certainly follow.
Recent years have seen an exponential increase in so-called "impact investing," also known as "ESG investing." This means investors are looking for business models that generate an ethical impact alongside a financial return. When it comes to taking truly authentic measures, this topic is of crucial importance. 
The definition of ESG was originally established in 2004 by former UN Secretary-General Kofi Annan. In the context of ESG, the word "environment" includes issues such as the climate action or the carbon footprint of a company. The social aspect covers all employee-related questions. Governance is about corporate transparency as well as diversity, equity, and inclusion topics.
So, what's the difference between CSR and ESG? Both are concerned with a company's social and environmental impact. The major difference is the perspective: CSR is a business model that is applied individually at companies and follows a true intrinsic motivation; ESG is an external criterion for investors.  
As mentioned above, Gen Y is entering the market with full force. At the same time, 49% of millennial millionaires are making their investments based on social factors. And the trend is turning upward. In order to remain attractive as a brand and an employer by showing that you're serious about making a difference, it's imperative for companies to invest in developing an ESG framework. 
Past, Present, Future: Measuring Our Carbon Footprint
CSR, ESG, climate action: these are complex concepts. You may wonder: how can I get started with effective initiatives for my own organization without dedicating huge amounts of money and human resources? We wonder the same. 
Bringing change into an organization requires rethinking and an adjustment of personal actions. The continuous circle of action at Staffbase follows the pattern of engaging, learning, and acting.  
As a global company operating in five countries on opposite sides of the Atlantic, our opportunity to make an impact on the earth's health is growing as quickly as we do. We proudly and publicly wear the badge of a "hyper-growth" SaaS company. And while this growth has been uplifting on many levels, it also comes with demands: more office space to accommodate employees, more frequent travel, and increased energy consumption. 
Science shows that one of the primary drivers of climate change is carbon dioxide emissions. And our business has a widening carbon footprint. So, here we are, facing an inconvenient truth: in terms of sustainability — especially regarding CO2 emissions — we have our work cut out for us. 
Understanding Our Carbon Emissions
In order to understand the current situation, we needed to analyze our carbon footprint. This might sound simple; however, it has turned out to be a complex undertaking. To help us in this task, we enlisted the expertise of Leaders for Climate Action (LFCA). This nonprofit is home to companies that are committed to not only operating in a climate-neutral way but also using their specialized experience to support others in becoming climate-neutral or even climate-positive. They supported our Staffbase Zero initiative by calculating our current carbon footprint and estimating our expected footprint for 2022.
Together with LFCA we identified traveling as one of our main emission drivers. This wasn't a big surprise, as we have globally dispersed teams that used to meet in person on a regular basis. Due to the global pandemic in 2020/21, we saw a significant decrease in travel. Hence, our calculated footprint for this time period needs to be taken with a grain of salt. 
For 2021, our anticipated amount of emissions is 453 tons. For 2022, we expect an increased amount of traveling, which is directly reflected in our higher estimated emissions.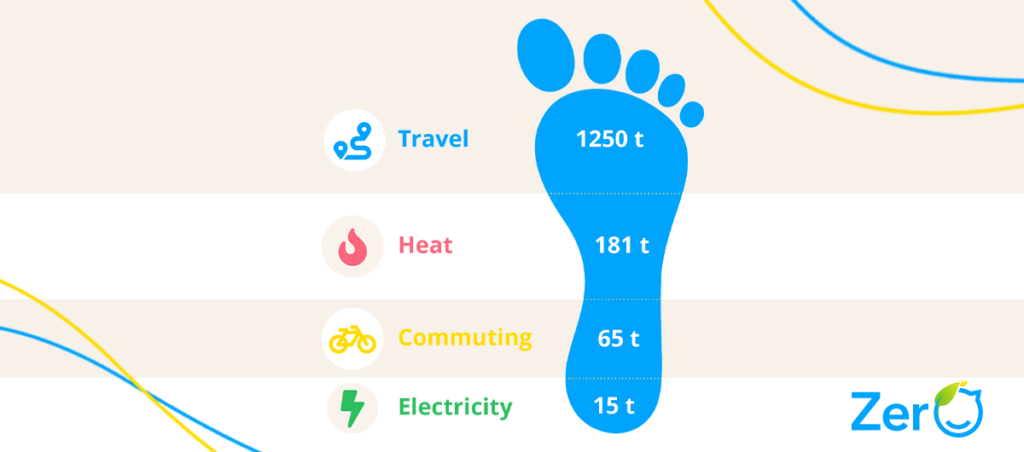 The Staffbase Zero Compensation Approach
By measuring and compensating for our carbon footprint at Staffbase, we are helping to decrease the damage our emissions are causing. However, we're aware that we won't be able to reduce our emissions completely. That's why we approach our climate action from two ends: Avoiding emissions as much as possible and making up for what we cannot avoid. 
A combination of prevention and active counter-steering powers our reduction program. All our servers run on renewable energy resources. Additionally, we teamed up with a partner who supports us in sustainable reforestation with a social impact. Together with Forstfreunde, we are promoting local forestry to capture CO2 and help the planet breathe better. 
Part of this cooperation supports reforestation efforts in British Columbia and Germany's "Bergisches Land." This area in Germany has been extremely affected by the bark beetle. Due to rising temperatures, the insects are expanding into new territory and reproducing more frequently. Beetle epidemics threaten forests and therefore carbon sequestration. The initiative in British Columbia aims at restoring the natural balance of the region's complex ecosystem following a rash of devastating wildfires.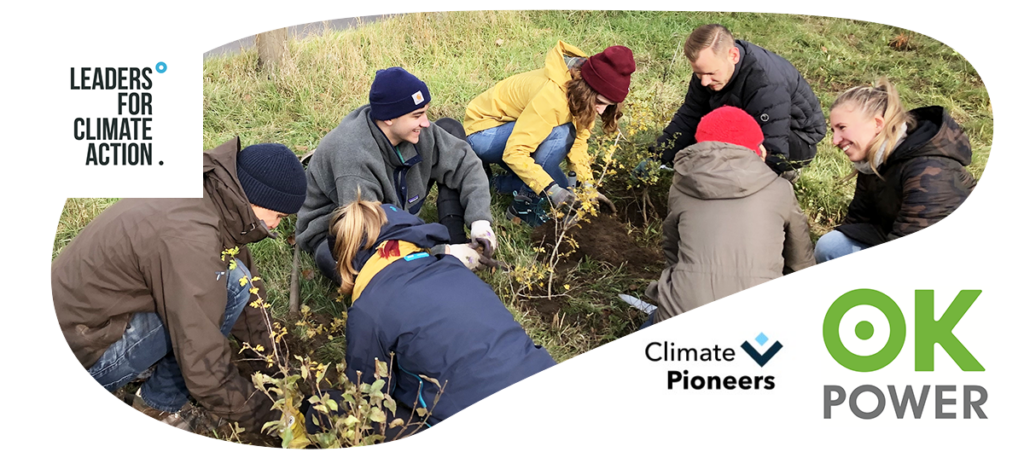 Working Toward a More Sustainable Future
With Staffbase Zero, we have set a direction towards a more sustainable future. All of the initiatives discussed here are parts of the bigger picture of climate neutrality. Instead of implementing strict policies, we believe in trusting our employees to take reasonable action. We encourage our people to favor the greener way whenever possible. The continued support of LFCA is enabling us to plan and prioritize our ongoing climate actions. 
Climate change is a global problem that will only be solved collectively. We realize that our grassroots activities are far from perfect and have only just begun. But by stating our direction and sharing our experiences, we hope to inspire other organizations, industries, and communities to take action. By setting ambitious targets together, we can multiply our impact and build a more sustainable future.