In 2019, Staffbase debuted VOICES, a two-day conference dedicated to exploring the world of internal communications and employee experience. While the COVID-19 crisis forced this year's conference to go virtual, it was no less special. In fact, the crisis gave it new urgency and relevance.
Opening Keynote with Martin Böhringer, Staffbase CEO
Voices 2020 kicked off with a keynote from Staffbase CEO and co-founder, Dr. Martin Böhringer. Setting the tone for the conference, Dr. Böhringer asked, "What better time has there been to be a communicator? Our profession has become essential."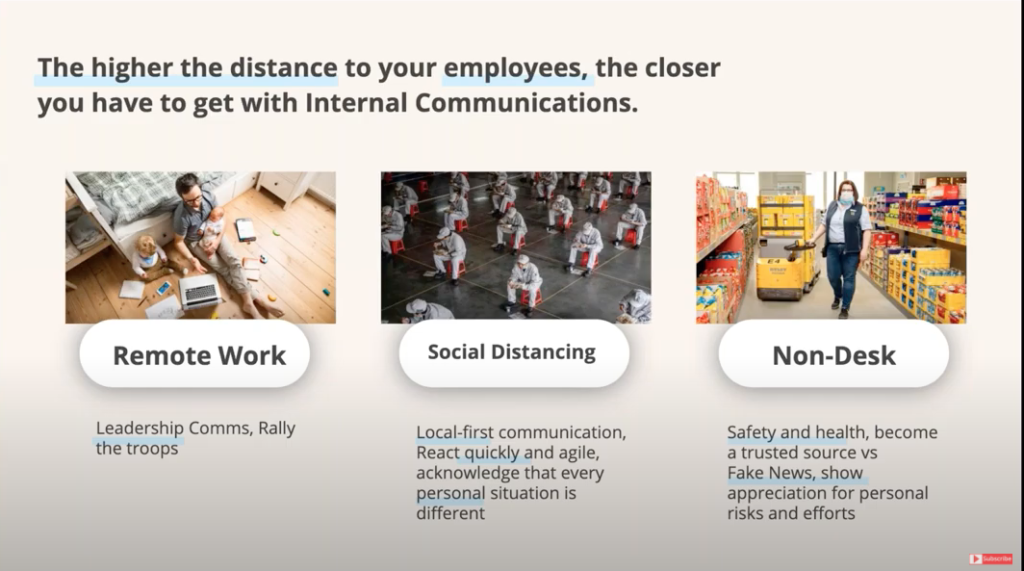 Touching on the pressure that internal communicators currently face during the COVID-19 crisis, Böhringer advised: "You need to create relevance. There's been a huge adoption of internal comms, and people are desperate for updates. But don't just add a tool for immediate needs-think long-term."
Communicating in Crisis: Proven Strategies to Communicate During Quarantine
In the first session of the day, Frank Wolf, president and co-founder at Staffbase, was joined by Moustapha Benhaddou, performance improvement manager at VodafoneZiggo, for a keynote that highlighted the role an employee app plays in a crisis comms use case.
Reporting an 80% increase in the usage of VodafoneZiggo's app, called Coco, Benhaddou made it clear that frequently updated, easily-accessible, accurate content is key to managing crises with assurance.
According to Benhaddou, "We already anticipated corona in January, and we created a dedicated news channel, 'Corona News,' to address the concerns of our field workers. They were understandably insecure, but they were happy to be able to ask questions and get answers in the app."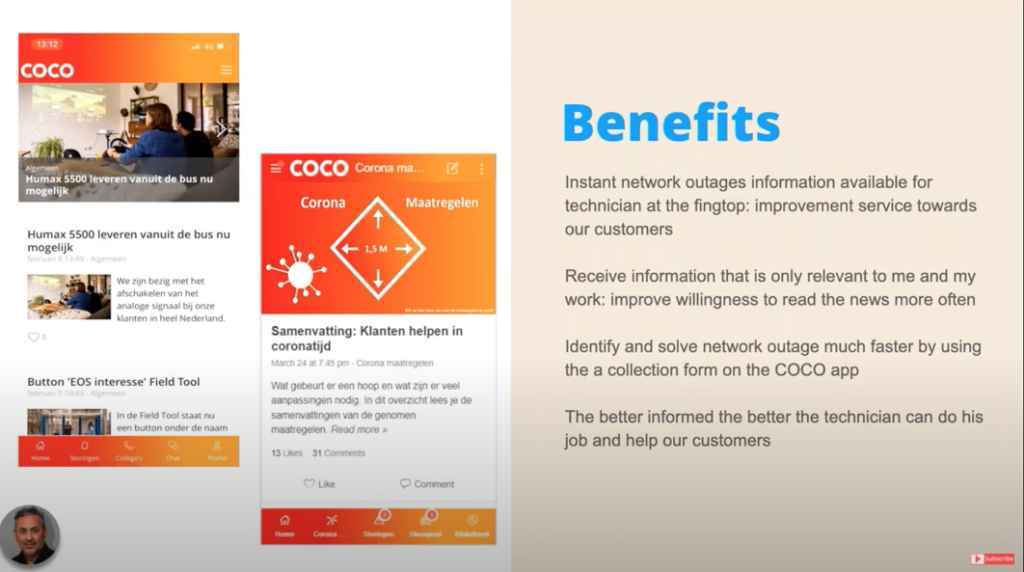 The two concluded that these days, creating engagement is all about providing reassurance, sharing information, and listening. 
Get Your CEO On Board! 6 Ways to Get Internal Buy-In & Sign-Off for Your Comms Project
The second session brought together the powerhouse trio of Katie Macaulay, managing director at AB Comms and host of The Internal Comms Podcast, Emma Bridger, managing director at People Lab, and Priya Bates, president of Inner Strength Communications Inc.
Comms Matter Now More than Ever
Comms has never been needed more than now. (Priya)
Now is the time to get the tech you wanted put in place. (Emma)
We know communicators are the enablers of business success - now is the time to prove it! (Priya)
On the topic of getting leadership on board for improved comms strategies, Bridger summed things up perfectly: "Come to your CEO with a solution, clarify the business problem, and show how internal comms can deliver tangible benefits. Comms have had their eyes and ears to the ground, so be brave and say what you know is accurate."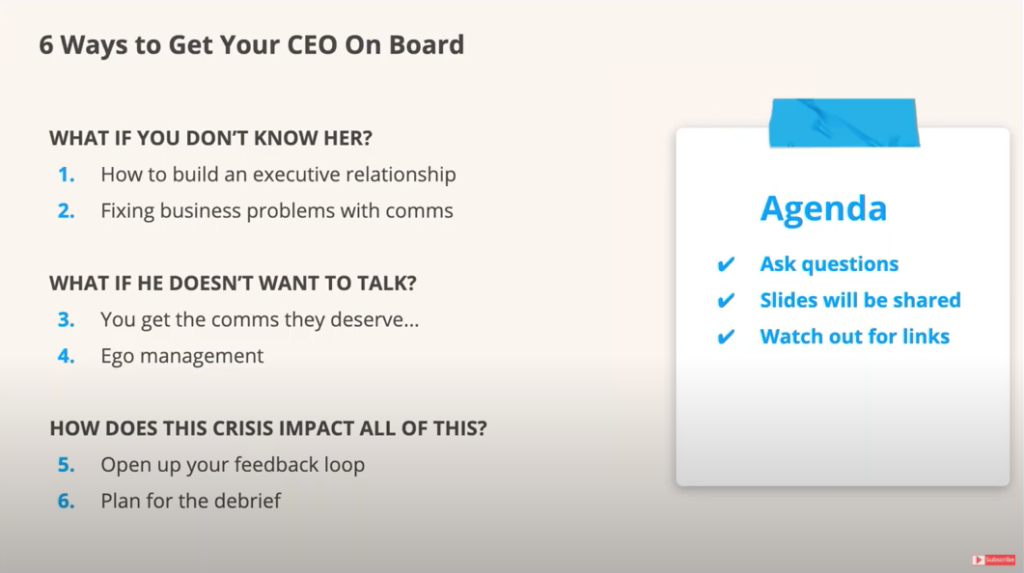 The trio concluded that this is the time for Internal Communications to really start moving value to where it should be: to engage and empower employees. Now is an opportunity for comms to lead. Their advice? Believe in your value.
Does it Really Take a Village? How Internal Comms Teams of One Can Succeed
The day's third panel asked the question: "Does It Really Take a Village? How Internal Comms Teams of One Can Succeed." The speakers were Tiffany Elle, head of global communications at Versum Materials; Debbie Aurelius, director at Peppermint Fish Limited; "Engagement Mastermind and Dynamic Presenter" Kristin Hancock, and Advita Patel, the director of Comms Rebel. The group was posed several questions, including: 
How did you meet responsibility with limited resources? 
How do you get front-line managers engaged and involved with comms?
Why do you think so many organizations choose to start with a small comms team?
How do you delegate in a team of one?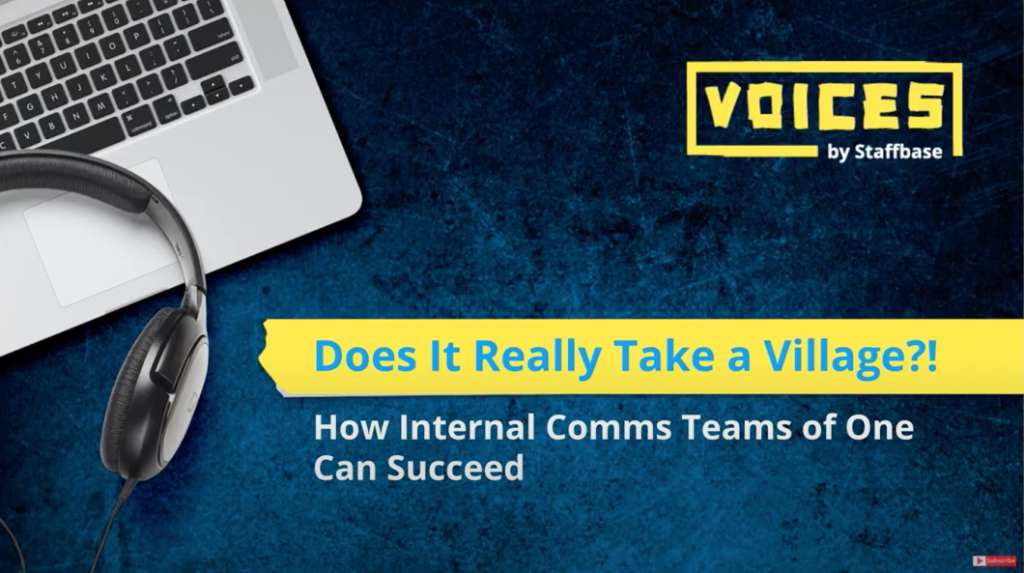 The four women talked about the challenges and the opportunities that come from working in a small team. They discussed the need for relationship building, creative thinking, and really understanding the needs of the employees. All agreed that today's communicators should see themselves as "the person who holds the pen" in a company, asking honest questions and sharing the positives of your organization.
The conclusion? Understanding what matters to people and knowing how best to communicate it is the key to success in comms, no matter the size of your team.  
Internal Communication: The Foundation of the Shift to (Remote) Employee Experience
The final presentation of the day came from Mark Levy, whose trailblazing work at Airbnb spearheaded the company's shift from HR to Employee Experience, resulting in significant changes to the way organizations globally are expanding the HR function to optimize every significant touchpoint in the employee journey. 
Mark's presentation was titled, "The Shift from HR to EX: The Role Internal Comms Plays in Creating Engaged and Productive Employees." He began by pointing out how the employee experience has never been more important than now.
Outlining how he shifted the HR function at Airbnb to focus on the value of belonging, he pointed out how achieving this goal is a challenge in the time of coronavirus, when it's even more difficult to create a sense of connection with employees suddenly working remotely. But still, he highlighted his mantra that the employee experience is always about talking with your employees rather than to them. 
Levy discussed how a company's mission and values need to be consistent and repeatedly communicated both internally and externally. And he concluded by pointing out the same message that began the day: "Your jobs as communicators have never been more important." Employees trust their leadership, who therefore have a responsibility to be honest and truthful, focusing on the importance of putting people first.
This crucial "people first" message was the perfect note on which to end the day. VOICES 2020 confirmed that while everyone is currently working in ways that they probably never could have imagined just a few short months ago, the importance of creating human connections will always be at the forefront of every successful organization.