Gallup, the research consultancy, revealed that nearly 70% of US workers are not engaged at work. The level of disengaged workers is clearly of major concern to employers — poor engagement results in high staff turnover (and expensive replacement costs), low productivity, and poor customer satisfaction. So, how can companies reverse this slump? An effective internal communications strategy is a good place to start.
In a study on the impact of different kinds of internal communications software, McKinsey, the business consultancy, revealed that improved communications can contribute to improving productivity by as much as 35%.
By developing an effective internal communications strategy, you can start to revitalize employee engagement and build a stronger, more productive workforce.
The following ten steps will show you how it's done.
1. Assess your internal communications strategy right now
The first step in this process is to review where you are right now: what are the communications channels you utilize? How are they accessed? Who is responsible for them and do employees actually engage with them?
Whether your current internal communications efforts are virtually non-existent or your internal communications strategy simply isn't cutting the mustard, this stage will give you a benchmark for where you need to improve.
2. Set a vision for where you want to be
Of course, your goals may evolve over time, but without a clear idea of where you want to be, you can't know whether your internal communications strategy is moving in that direction.
3. Decide how to measure your efforts
Define how you will measure the success of your internal communications strategy. This could be as simple as a higher rate of email opens. Or it could be more "likes" on your social networking platform. Maybe it's a higher NPS or employee surveys to help you find out what your people know about latest company news.
Whatever you choose to measure, define it in relation to your goals and set two or three different benchmarks to consistently test against over time.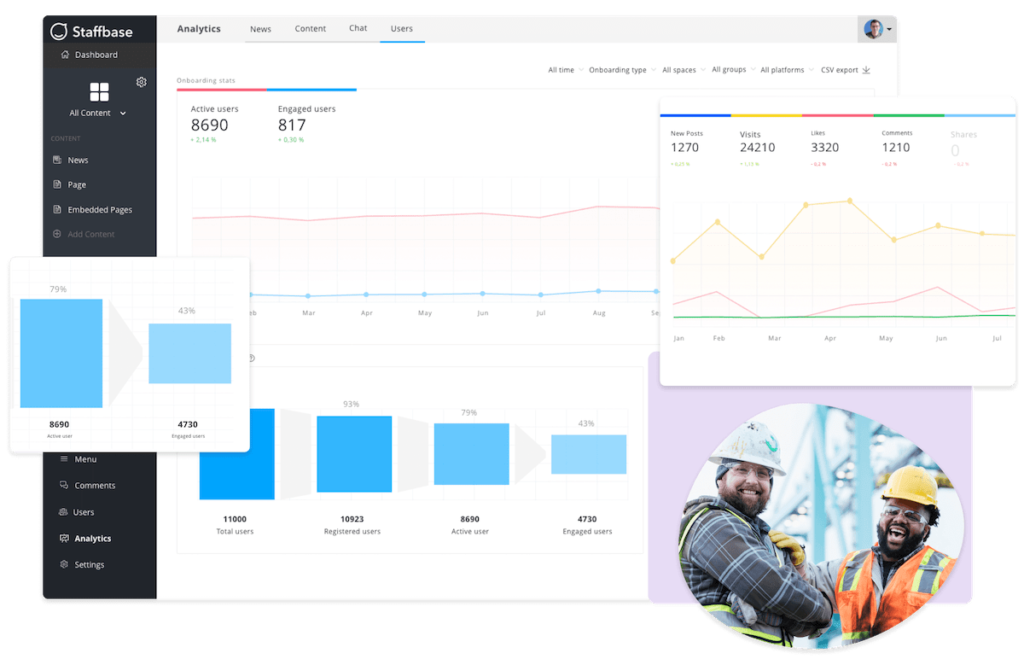 4. Do some audience research before you begin
Whether it's interviews, a survey, or focus groups, it's wise to carry out some research with colleagues. How else will you find out what they actually expect from internal communications. Simply finding out what they'd like to know about the company and in what channel they'd like that information to be shared will provide many useful insights. This knowledge will certainly influence your strategy. It also makes sense to seek out these kinds of insights on the regular — say annually at least.
5. Define a clear tone of voice and style
Do you want to create a witty weekly email? Want to motivate natural interactions between employees and senior management? Want a slick, corporate tone? Every organization is different and will value a style that fits their culture. Nonetheless, you should define this style and tone in advance and make it part of your internal communications strategy. And then stick to it. Consistency is key.
6. Use video
There is a huge wealth of evidence that shows just how engaging video can be. As a means of conveying messages and capturing audience attention, there perhaps no better current medium. Ensure your internal communication strategy supports video in some form — whether that's adding videos of team activity days on the intranet or check-ins with the CEO about your company's vision. It's easier than ever to store video in modern intranets and this feature should be used to full effect wherever and whenever possible.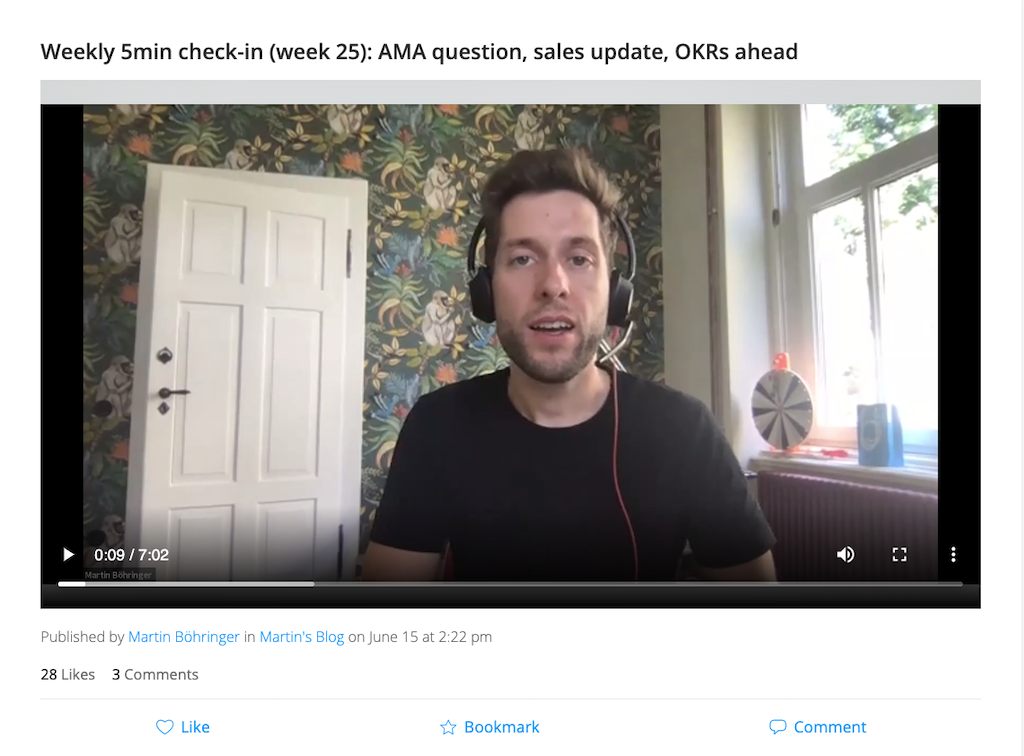 7. Ensure your communications are mobile-friendly
Employees increasingly expect to access company content portals via their mobile devices. Even if you have the most inspiring and regularly updated company intranet homepage, if it doesn't support mobile, it won't matter. Many companies still only provide company news that can be viewed on a desktop computer. Make sure you provide colleagues with mobile access so that they can connect from anywhere. This will also help you engage with employees who rarely work at a desk.
8. Define a budget
A successful internal communications strategy will require investment. If you want decent quality videos, inspiring photos, and employee stories, these will all be time and cost intensive. Having a budget and being able to show how money was spent and the impact it made will prove the value of what you're doing. Here are some tips on how to get the budget you need for tour internal comms.
9. Allow for feedback channels
In addition to doing some basic audience research when initially laying out your strategy, allow for feedback throughout. Make it clear that you are open to hearing new ideas about what the internal communications strategy should be and how it can serve your company and its culture. This will also give you exciting new ideas and help keep your content relevant.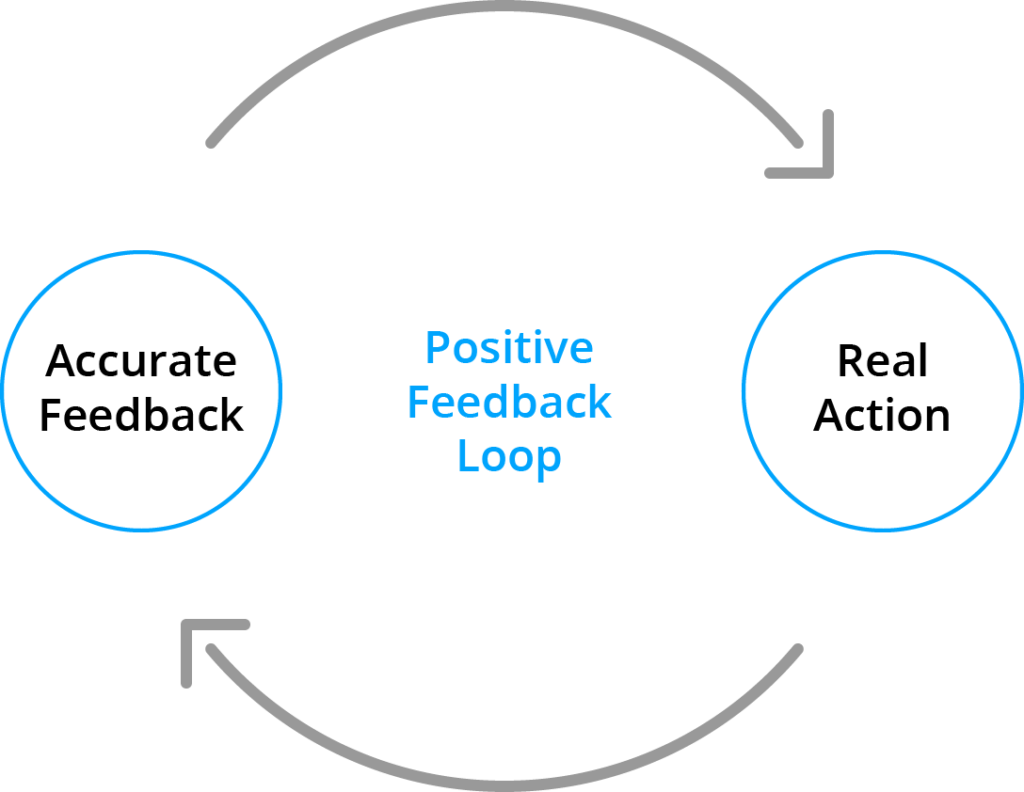 10. Make your internal comms social and interactive
Employee experience intranets are a powerful means of boosting employee engagement. Indeed, the McKinsey Global Institute report found social technologies can "raise the productivity of workers by 20 to 25%." So make sure you use social features to their fullest. These should include:
Internal communication focus
Comprehensive community building and interaction tools (e.g. pulse surveys)
Structured knowledge and simple learning contents
Services that are personal (e.g., a colleague directory) as well as practical (e.g. shift schedule) that can assist employees in their everyday work.
A modern intranet from Staffbase provides your company with a center for all its communication and collaboration needs. Staffbase is purpose-built to support an effective internal communications strategy.