Do you know the feeling? You're planning a major purchase (a TV, winter jacket, stroller, car, smartphone, or yes, intranet software) and you think it's going to be easy. You'll go to the store or get online, read some reviews, and make a decision.
What happens next — at least with me 😉 — is always the same. You dive into the subject and suddenly a whole new world opens before your eyes. The more you learn, the more options seem to present themselves. And what began as a simple desire to buy something turns into a complicated project in no time.
The good news is that this selection phase isn't wasted time and energy. In fact, it helps a great deal in forming your opinions. When it comes to buying company intranet software, if you delegate this process completely or make it too impersonal with a standardized tendering process, you'll miss out on a lot of opportunities for learning. Many organizations are required to tender offers. But even this presents a chance to talk directly with vendors in advance and get a better market overview.
What Is a Modern Intranet?
Intranets have been around since 1996, and since then the answer to this question has continued to change. That's why if you want to evaluate and select intranet software, you shouldn't start with a list of features on an Excel sheet. Instead, the first step is to understand the goals and tasks you want an intranet to meet and manage and consider the other developments that will influence your intranet strategy.
Want an example? You only need to look at the last 10 years to observe three developments that have influenced our image of modern intranets today compared to a decade ago.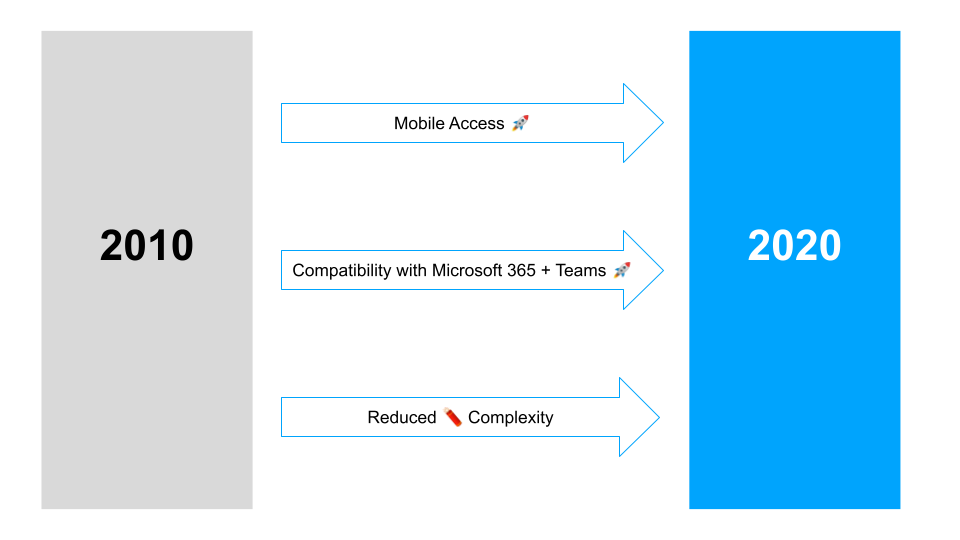 These 3 trends currently exist independently of intranets. But they have a big impact on our idea of what a modern intranet should do:
Mobile Access
Mobile access has been inexorably working its way up feature lists in recent years. At the latest with the Covid-19 crisis, very good mobile availability of intranets—even on private devices—has become a top requirement.
A benchmarking study on excellent internal communication, conducted in 2020 by the University of Leipzig, showed that 71.3% of organizations see employee accessibility as a top challenge. This is all the more remarkable given that this study was conducted just a few weeks before the outbreak of the coronavirus pandemic.

Likewise, the Gatehouse State of the Sector 2020 report, the definitive global survey of the internal communication landscape, rated hard-to-reach employees as the top two challenges faced by IC teams in the UK and North America.
Today, modern intranets offer native apps with custom branding that provide employees with crucial real-time information in a personalized manner. Even more, the platform treats the mobile channel as the primary mode of access. We call this a mobile-first approach.
In marketing, of course, every vendor is now talking about mobile first. An easy way to verify this statement is through references. Don't just ask to see the logos, talk to the companies. An important question to ask is: "How many users really use your mobile channel?"
Collaborate with Microsoft 365 and Teams
Teams has become the central platform for collaboration in almost every company during the Covid-19 pandemic. This has accelerated a trend that was already there. Collaboration in projects and teams has increasingly migrated from traditional platforms like SharePoint or email to message-based tools like Slack or Teams. This has a particular effect on intranets, as a top intranet trend since 2010 has been about social intranets, which claim to provide exactly this type of collaboration. I described this trend away from social intranets in detail in this space more than two years ago.
A modern intranet will therefore no longer prioritize this type of team space and document-based collaboration as a central task and goal.
Reduce Complexity
There are several reasons for the need to reduce complexity:
Social intranet software has relied heavily on the active selection-sorting and filtering capabilities of its users. This has led to intranets that are far too complicated, confusing, and irrelevant for the general user.

With the mobile channel, new user groups have access, such as employees in the field or on the production floor, for whom extensive training isn't possible for reasons of expense. (Mobile) intranets must therefore function intuitively even without training.

The number of tools in the digital workplace has increased further. The role of the intranet as a digital entry and orientation point thus becomes even more important.
Intranet Software Selection: The Most Important Criteria and Requirements
The basis for your selection should be more than purely functional criteria, but also take into account the necessary service and support you're bound to want during implementation and ongoing operation.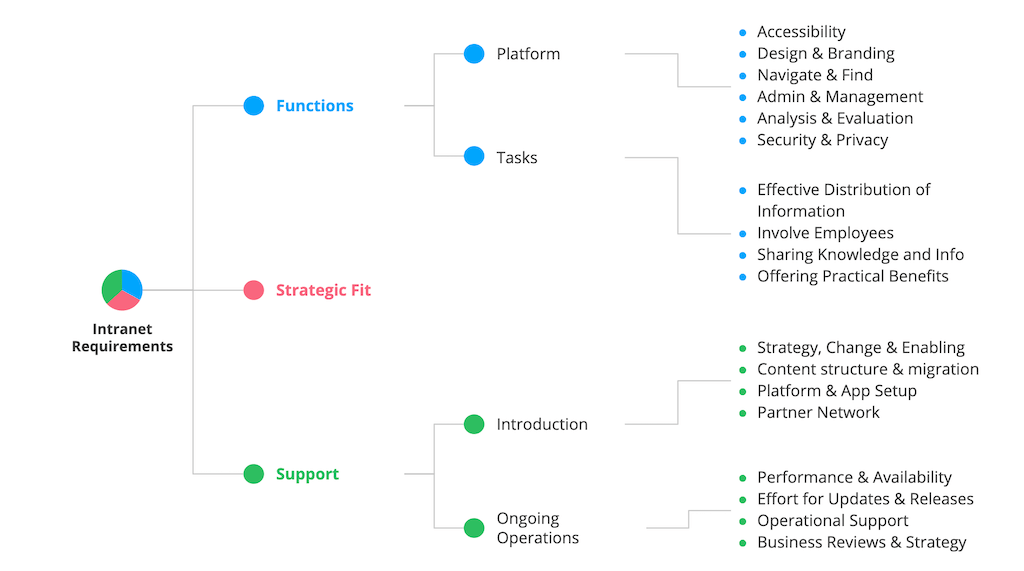 You can break down each item on the far right to their individual requirements, providing a good way to structure intranet ideas and your list of needs. Collaboration has been deliberately omitted from the Tasks. As described above, this feature is much less likely to be provided by modern intranets.
STRATEGY/FIT:
Very flatly, one could also ask the question here, "How does our intranet worldview fit with that of the intranet provider?" You buy an intranet for use over a number of years. Over time, future priorities and the speed of innovations and continuous improvements play a much greater role than individual features. Therefore, the focus should be on the opening question posed by this article: "What is a modern intranet?" (And how will it evolve over the next few years?)
FUNCTIONS:
A major focus when selecting intranet software is usually on the functions and features themselves. At this point (at the latest) you should have a clear understanding of your goals and the value you want your intranet to provide. The reason why is that different software vendors focus on different features. The added value of intranets is discussed in great detail in this article. Feel free to use the insights presented here as a starting point for answering this question.
SUPPORT:
What support in the introduction and ongoing operation will the vendor or partner offer, in addition to the technical platform? This includes, for example, topics such as intranet navigation and information architecture, intranet branding, or the concept and implementation of a means to measure the success of the intranet and your internal communication.
The 4 Main Types of Intranet Software
Just as different generations of intranets have emerged over the years, so have the software categories for the technical basis of intranets.
The four generations at a glance:
The internal website (from 1996)

The employee portal (from 2000)

The Social Intranet (from 2010)

The Front Door / Employee Experience Intranet (from 2019).
Anyone currently planning a new intranet or an intranet relaunch will usually end up discussing the last two generations. However, many existing intranets are still from the first or second generations.
Is Microsoft Teams an Intranet?
Before we start: There is another category that some companies are currently considering. If employees are currently collaborating at their desks in Microsoft Teams anyway, why not make it an intranet? For small companies with up to several hundred employees, this option is definitely a functional possibility. For larger organizations, however, Teams reaches its limits for various reasons. We have described those reasons in detail here.
The Intranet Based on a Content Management System (CMS)
CMS systems for websites or intranets also go by the acronym WCMs (Web Content Management). Many companies used to hire their internet agency to build their intranet as well, resulting in an internal website as intranet.
The main CMS intranet software solutions are:
Typo3 — Open Source CMS

Drupal — Open Source CMS

Adobe Experience Manager (AEM)

First Spirit

Wordpress — Open Source CMS (for small businesses)
What these systems have in common is that they are built for all types of websites, with no focus on intranets. For this reason, these tools are now only in use by small businesses with simple intranets. Another application is very static platforms for large organizations, but they cannot keep up with modern requirements. 
The Employee Portal Based on Portal Software
The use of portal software is still in widespread use today, but often alongside an intranet as an integration platform. The implementation of all-new intranets on this basis is increasingly rare. The reasons for this have more to do with existing competencies and free capacities in IT, rather than with real functional considerations or cost advantages.
Examples of portal solutions are:
Liferay — open source or as a paid option

IBM Websphere

SAP NetWeaver
A strong integration focus was the primary goal of portal software. It does not consider user experience and content management. Modern intranet applications no longer present companies with this choice, but instead combine simple integrations with employee services such as vacation requests, time cards, or shift schedules, with excellent content creation and management features.
Social Intranet Software
Social intranets were the first software platforms developed specifically for intranets. The starting point of these solutions were mostly virtual community or team rooms. These were then gradually extended with further intranet functionalities.
Examples of social intranet providers are:
SharePoint 2019 installed locally (on premise)

SharePoint Online as part of Microsoft 365

Bitrix24

Unily

Jive

LumApps
As described earlier, the top trends in recent years have tended to lead away from this intranet concept. Social intranets have the merit of introducing dialog-oriented formats to the intranet. This strength will not be lost in the next generation, but will continue to be an important component of modern intranet concepts. But the claim of social intranet software to be the one, all-encompassing digital workplace has proven impossible to realize.
Front Door Intranet / Employee Experience Intranet
This new generation of intranets is best defined by its target group: For the first time, all employees can be reached. Therefore, these intranets have a very clear focus on the mobile channel, consistent branding across all channels, and a transparent structure with automatically personalized content.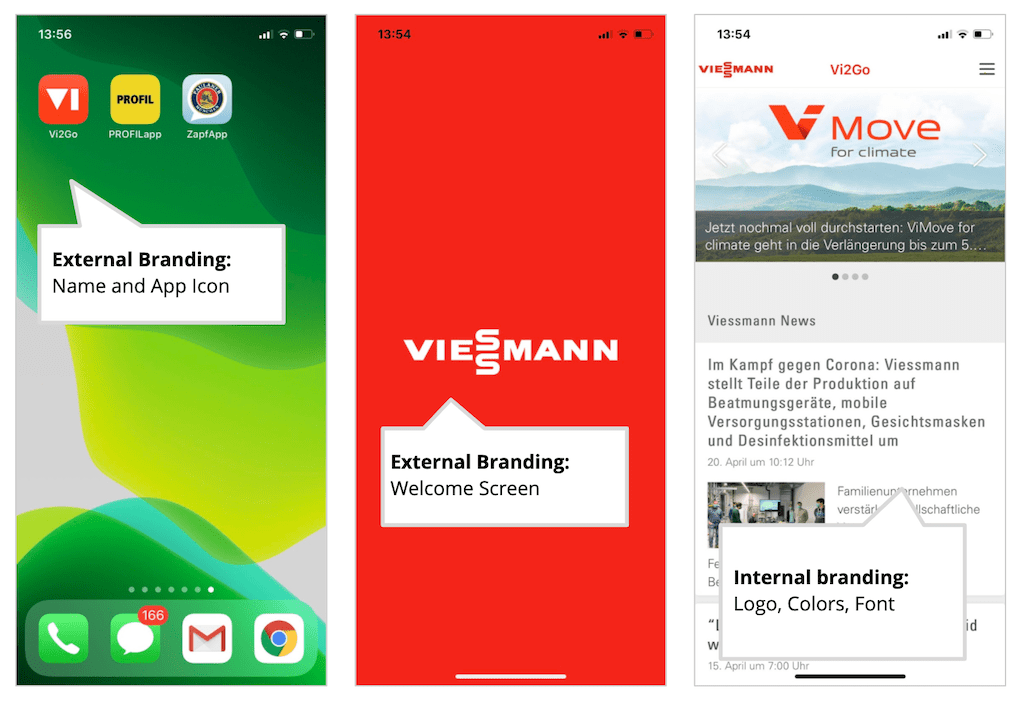 Collaboration on projects and documents is deliberately out of the scope of these intranets. Specialized solutions like Slack and Microsoft Teams are now where collaboration happens.
The list of vendors in this modern category is short. In fact, it is limited to the Staffbase Employee Experience Intranet. It will be exciting to see when and how existing employee app or social intranet solutions evolve into this category.
Conclusion
This post is my personal perspective on the intranet software market, which I have followed for 20 years as an intranet manager, consultant, author, and founder of an intranet software company. Get more opinions, preferably from those who actively use intranet platforms. And don't just ask the ten power users who are usually at the table for the intranet relaunch project. Instead, actively think about your largest groups of employee personas and what their day-to-day work looks like. Especially in the aftermath of the coronavirus pandemic, we need intranets more than ever to act as a "virtual campfire" for all employees.
Read more about modern intranets: