We know your employee newsletter is a key part of your communications. And we know you've secretly (or openly) always wished it could be better. So we've created ten stylish and functional newsletter templates that are designed for more engaging employee comms in Outlook.
Before designing these templates, our team looked at hundreds of email newsletters, both internal and external. We started with the email newsletters we love to receive ourselves, talked to our customers, and also found inspiration in some unexpected places.
Turns out that relaunching your employee newsletter doesn't have to take weeks!
These fresh templates — plus your content and unique voice — are all you need. The five templates below will be available inside Staffbase's employee newsletter designer.
Why use templates for your employee newsletter? 
A lot of internal emails we come across lack the fundamentals of clarity, consistency, and a mobile-friendly approach — and that's a problem. 
But we get it. You're busy and Outlook was never designed to send internal emails for the breadth of information you need to communicate. 
Using standardized employee email templates will not only help your message be understood,  but it will also make sending internal emails easier. 
We'll be going over the ten core email templates every internal communicator should have in their comms toolbox to help you communicate in a clear, impactful, and efficient way.
Our criteria for these templates:
Must compete for attention with all other messages employees receive
Communicate the intent, relevance, and urgency of each message
Maintain a cohesive design (feel like they originated from the same sender)
Work across a range of mobile devices employees are using
By adding your own brand colors and logo to these templates, you'll see how easily they can work for your organization.
The 10 Employee Newsletter Templates
1. The Employee Newsletter
Internal email newsletters cover the broadest content and are the most flexible type of emails.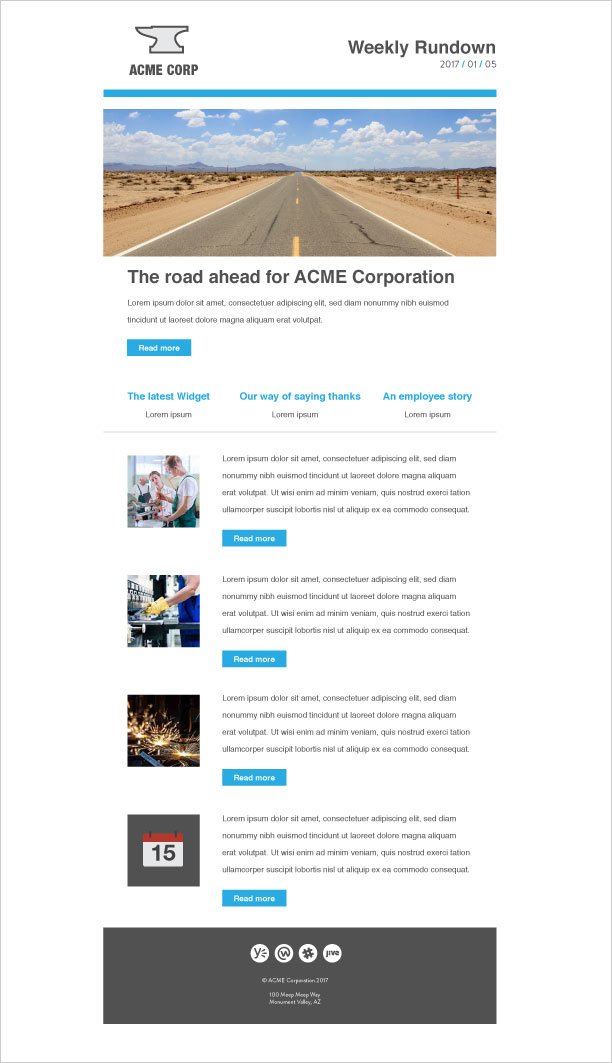 Purpose: Newsletters provide a roundup of the news and inner happenings at your organization. Generally, this information doesn't include pressing news that employees need to act on immediately. This email template is meant to inform, entertain, and recap.
Why we're excited about it: Depending on how employees access your stories, you can include as much or as little of the actual written content in this design as you want. The feature image and story grab attention and the organized blocks keep eyes moving down the page.
Key elements: Feature image, main story, image, and a call to action for each article.
2. The Video Employee Newsletter 
Use your awesome internal video content to dazzle and engage employees.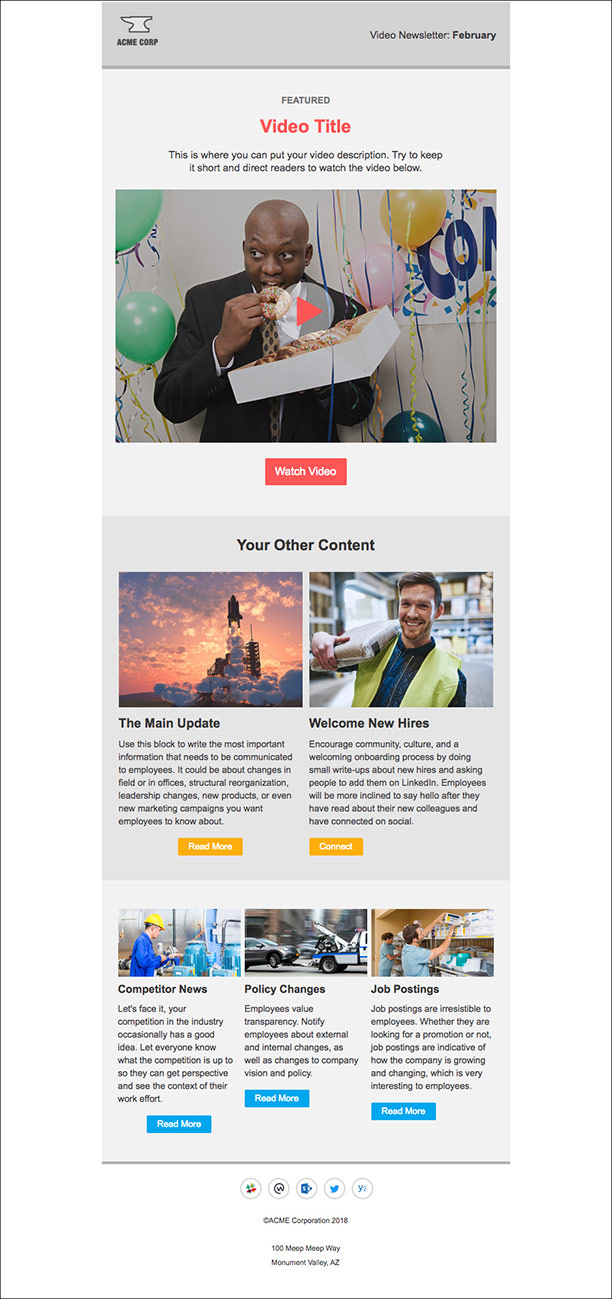 Purpose: To give your internal video content the attention it deserves.
Why we're excited about it: Formatting your video content with this type of template is the most straightforward way to encourage employees to engage with your video.
Key elements: Video header block with customizable play button overlay.
3. The Typographic Employee Newsletter
A beautiful text-focused, image-free design to engage employees.

Purpose: To make text-based content more exciting when images aren't necessary,  available, or are technically difficult.
Why we're excited about it: Despite being text-only, this template is easy on the eyes, functional and straightforward. It proves that an email doesn't need images to look great.
Key elements: Various formatted title blocks, spacers, and content dividers.
4. The Story Cards Employee Newsletter
A clean and easy-to-read design that can support long-form newsletters and loads of content.

Purpose: To cohesively curate a large number of stories and a variety of content types.
Why we're excited about it: This template allows for one, two, or three-column sections without feeling visually cluttered. It's also easy to number and color-code sections, create hierarchy, and standardize recurring types of content.
Key elements: Multi-column layout, content dividers that can be organized by color, and formatted title blocks.
5. The Newsfeed Employee Newsletter
A design that mimics the most engaging features of Instagram and looks great on all devices. 

Purpose: To focus your audience on one story at a time, to allow for longer written content, and to create a similar reading experience on desktop and mobile devices.
Why we're excited about it: This template mimics a social feed and allows for sharing a practically infinite amount of content in a way that's highly scrollable and equally appealing for users on every type of device.
Key elements: Square images (preferred for consistency), a continuous stream of similarly formatted text, optional button blocks, and a dark background (for contrast).
6. The Top 10 Employee Newsletter
Snackable content blocks for easy scanning and links to your external content.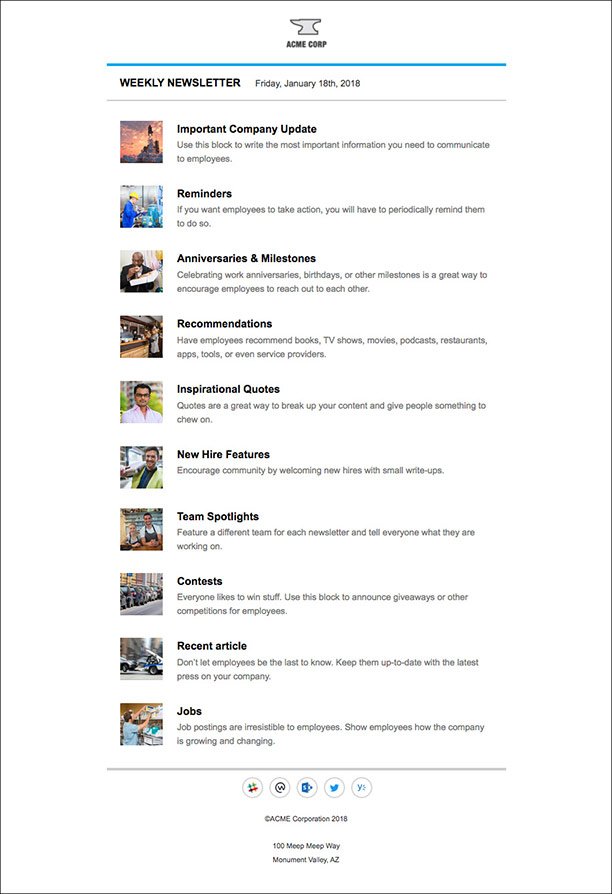 Purpose: To summarize a long list of articles in a format that's easy to scan with minimal scrolling and intranet links to the full articles.
Why we're excited about it: Similar to a Top 10 article or listicle, this template allows you to keep more stories visible without scrolling.
Key elements: Small, square images, headlines, and very short summaries.
7. The Internal Email Alert 
Alerts are one-off messages sent to communicate a single piece of pertinent information quickly.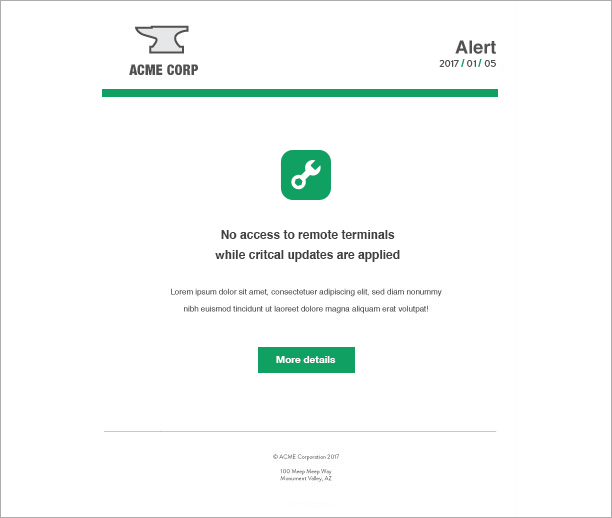 Purpose: This email communicates important information in the clearest way possible (like safety alerts, IT issues, one-off messages with an immediate action required). 
Why we're excited about it: This format is clean, straight to the point, and communicates an important message quickly. With the help of bold color, white space, a headline, and consistent iconography, it's the kind of email that projects a sense of urgency.
Key elements: Consistent icons, bold color, concise headline.
8. The Organizational Change Update
Organizational announcements communicate information that is important enough to be separated from your newsletter, but isn't critical enough for an alert.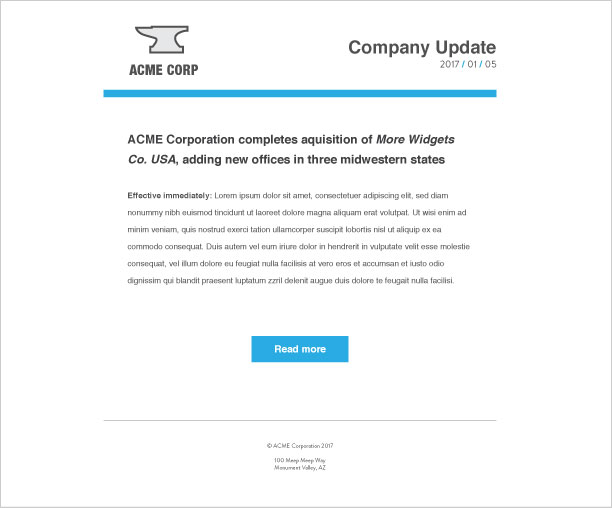 Purpose: This email template is well suited for complex and important topics that your organization communicates, and messages that need to come from the organization rather than an individual, like policy updates and crisis communications.
Why we're excited about it: This template provides a vessel for more complex, non-immediate messages (whether positive or negative) that need to be communicated in a way that doesn't compete with any other headlines or information.
Key elements: Informative title, concise summary, and call-to-action.
9. The Leadership Announcement
The leadership announcement template is tailored for updates coming from a specific individual in your organization.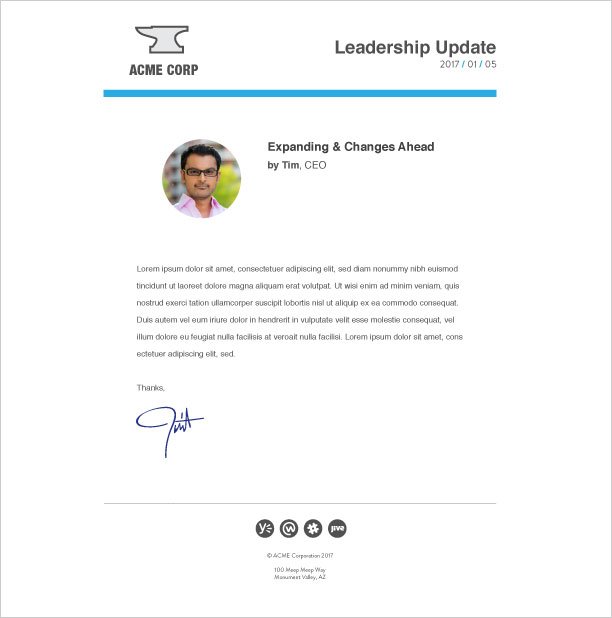 Purpose: This format borrows elements from the organizational update, differentiating itself by attaching a face and a name to the content and omitting the call-to-action.
Why we're excited about it: This template leverages the advantages of getting personal and humanizing your leaders by adding elements that make it feel like a one-to-one letter.
Key elements: Photo of the individual sending the update (executive, leader, CEO, manager, stakeholder), blockquote from the message, name of the individual, and signature.
10. The Company Event Invitation 
Event invitations need to be both exciting and informative — our template accomplishes both.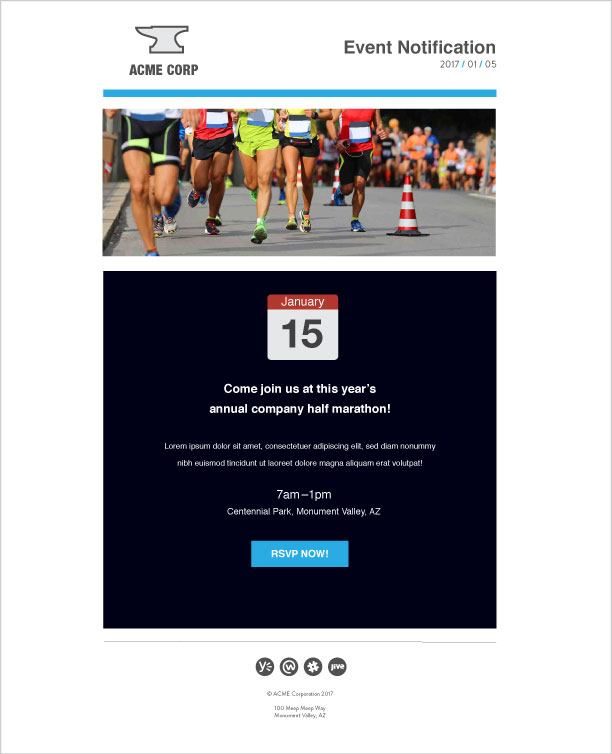 Purpose: To generate excitement and communicate details of an upcoming event at your organization.
Why we're excited about it: This template works to get the message across in an aesthetically pleasing way that also stands out from other corporate messages.
Key elements: Calendar icon with month and date, a brief description of the event, specific details, RSVP/add to calendar button, stand-out feature image.
How to send your employee newsletters
Staffbase makes it easy to design and send beautiful, responsive emails to your employees. Save time with our set of professionally designed employee newsletter templates that you can use immediately or adapt to your brand.
To see how these great employee email templates can benefit your organization while taking all of your comms channels to the next level, why not try a free demo?