So you're looking to spice up your internal emails with a fancy new email design.
Or maybe you've finally got approval to research an internal email tracking tool so you can start measuring your engagement.
The good news: the world is your oyster. 
There are more email platforms than ever, and they are getting more and more sophisticated and user-friendly.
The bad news: most of the email tools out there aren't designed for internal comms.
That's because internal communicators have unique needs, security considerations, and workflows that don't usually work smoothly with an external-facing platform (like Mailchimp, Constant Contact, MyEmma, etc).
Internal communication professionals need purpose-built internal email tools that will help make your job easier—not harder. 
How do we know that?
Well, a lot of our customers migrate from external email marketing tools to Staffbase after realizing the limitations of these external platforms.
And we want to save you time and frustration in finding the best internal email tool for your needs.
Let's dive in.
Here are five reasons why internal communicators choose Staffbase over external email platforms like Mailchimp:
Disclaimer: Obviously we have some inherent bias, but we do love Mailchimp and think what they do is brilliant. We are comparing our product to theirs because a) they are the industry standard in email tracking and templates for marketers and small businesses, and b) they are externally focused, and therefore markedly different in important ways from our product.
The following comparison also applies to most external email marketing tools like Campaign Monitor, MyEmma, Constant Contact, and others. 
Reason #1: Staffbase Email is built for internal communicators, not marketers
Unlike email marketing tools, Staffbase's email newsletter designer is, well, designed for you.
Our features are created specifically for internal communications, helping you reach employees in the most effective way possible.
Because we're in the industry, you can rest assured that we are plugged in and understand industry best practices. We work with thousands of employee communication professionals and are always improving our product based on their feedback.
Here are just some features we've purpose-built for the internal comms community, that you won't find with external marketing tools:
1. Pulse Surveys - Create two-way communication
While Mailchimp recently started offering basic polling capabilities, we've optimized our embedded pulse surveys to easily collect feedback directly from employees on anything from content, to organizational changes, policy updates, and more.
You can keep things light with our popular Social Reactions, or use industry-standard style surveys like Employee Net Promoter Score (eNPS).
The surveys are embedded right into the email so employees can respond with a single click directly from their inbox.
That means you don't need to commission a huge survey to check in with employees—just add a survey question to your email and start collecting.
You can also give employees the opportunity to submit written feedback following any pulse survey question, turning your internal email into a two-way communication channel.
The Bottom Line: We've optimized our employee pulse surveys to increase employee engagement and turn your communications into a two-way conversation.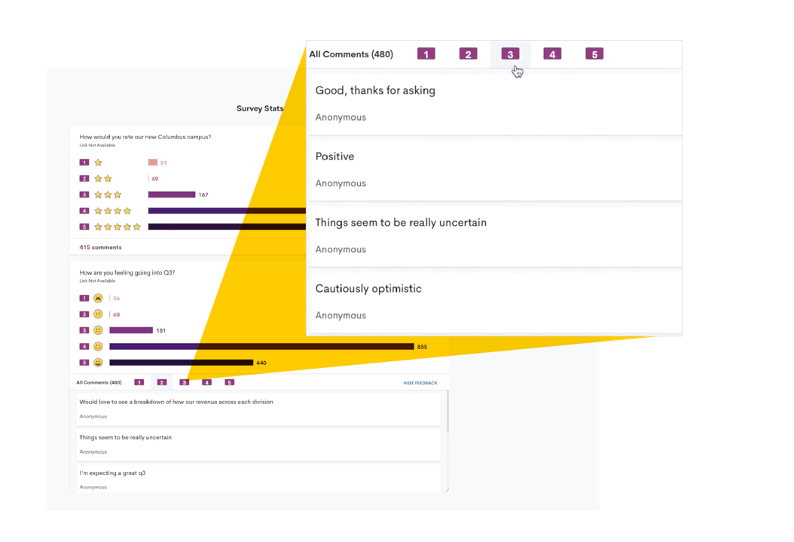 2. Custom Distribution Lists – Sync with your system
Custom distribution lists help you target employees by attributes like job title, location, and more, with only the communications that are relevant to them. This helps to reduce email-related stress, increase engagement, and create a better employee experience overall.
And because Staffbase Email syncs directly with employee data sources—like Azure Active Directory and Workday—your distribution lists are always up-to-date.  
Custom distribution lists not only help you send more targeted communications, but they also provide advanced measurement and insights based on those lists and the employee segments you've defined.
One of the biggest drawbacks of Mailchimp and other external email marketing tools (for internal communicators at least) is their list management systems.
Because they are externally focused, there are a couple of speed bumps when it comes to maintaining lists for internal comms. First, you have to upload all of your contacts to their platform via CSV. This can be a dealbreaker for companies with strict security and data requirements.
And whenever you need to add new employees or remove folks who have left, you have to update your list manually. This means before you send an email, you have to get an updated list from IT, and make sure it's uploaded and syncs properly.
With Staffbase Email, there's no extra work. You can integrate with the tools your organization already uses to pull your employee data into the employee newsletter designer safely and securely.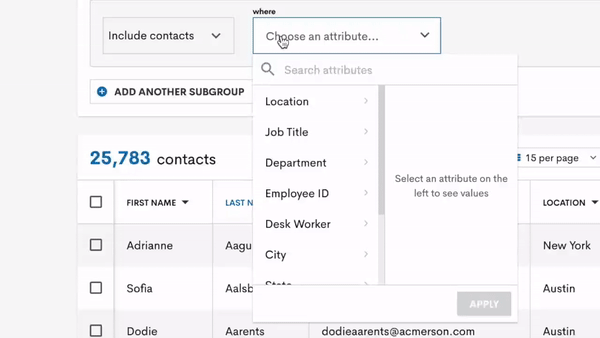 3. Advanced Employee Email Analytics – Measure what matters
Here's where Staffbase and Mailchimp do have a lot of similarities.
So let's break it down.
What's similar:
Both Staffbase Email and Mailchimp will report on how many recipients opened each email, as well as how many times each link was clicked. You can also view data on the location recipients were in when they opened their email as well as what type of device was used.
Both platforms allow you to download reports and see graphs populated with your metrics over time. This enables you to see how quickly messages were received, opens over time, and when the activity and engagement dips.
What's different:
Mailchimp also has metrics focused on revenue, conversion rates, and unsubscribes. Again, these are externally focused metrics for marketing and sales, which are unnecessary and not particularly meaningful if you are sending to employees.
And while Mailchimp enables you to tag and segment your recipients, only Staffbase Email enables you to easily break down your metrics by department, job title, tenure, or any other attribute stored in your employee data source. This makes it easy to identify under-engaged segments of your employees, learn what's working and what's missing the mark.
Reason #2: Seamless collaboration across teams and departments
When you're building emails on tight timelines and across different teams, departments, and time zones, it can be tricky. You have to navigate competing schedules, complicated timelines, and leadership approval—which can, unfortunately, lead to a lot of issues.
Email marketing platforms like Mailchimp, at best, only offer limited collaboration features. Some have commenting features in their email builder. Some allow contributors. (Though the number of users is often capped and requires all sorts of verification and approval.)
Unfortunately, with Mailchimp specifically, the email will be refreshed every time a contributor makes an edit, leading to version control issues.
That means more back-and-forth to clarify and confirm edits, adding even more work to your plate, which often becomes more effort than it's worth.
Staffbase Email, on the other hand, lets you collaborate in real-time.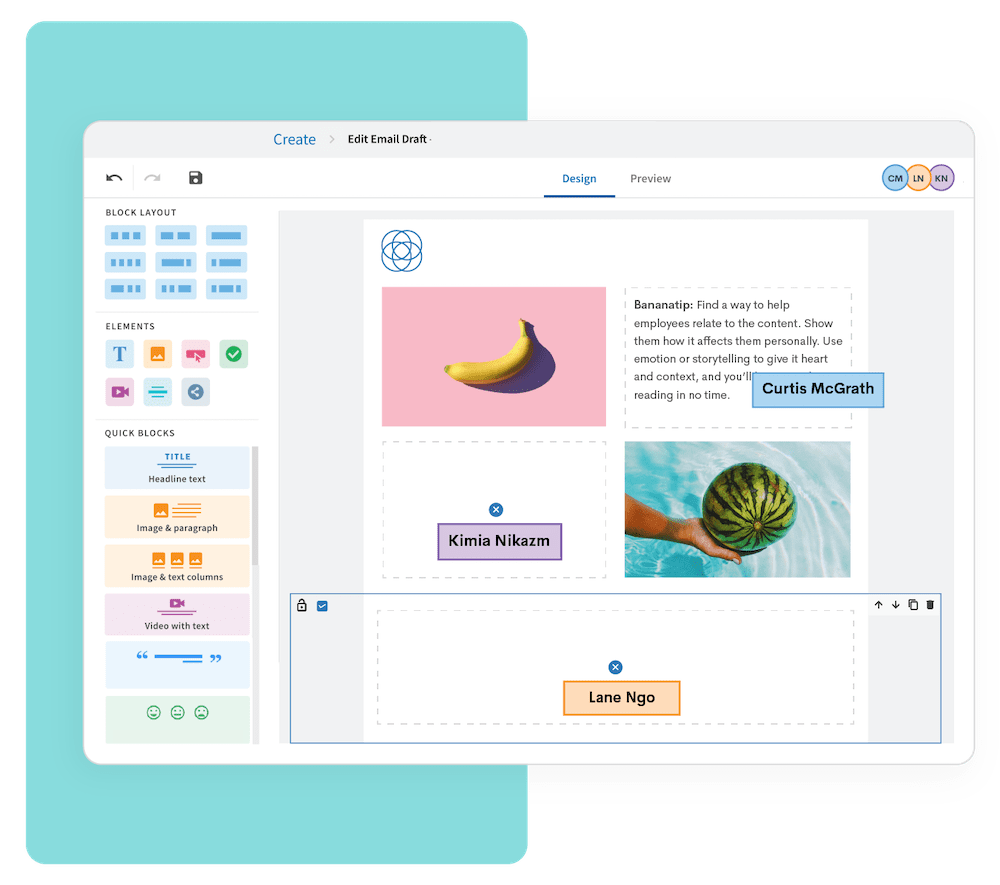 Our employee newsletter designer empowers multiple users and collaborators for seamless editing (in a way that is very similar to how users can collaborate in Google Docs).
You can invite anyone in your organization to view and collaborate on your email content or design, right from the designer.
And when you're working with multiple contributors, you can see exactly who is editing what in real-time, so you can avoid double-work.
Want to see the progress and changes made by your teammates? Did someone make an update that just isn't going to work? No problem. Just revert back to a previous version of your email—without deleting your most recent work.
You can also set and lock brand settings, like color and font, to make sure your colleagues don't go rogue and stay on-brand.
Reason #3: Emails sent with Staffbase don't end up in spam folders
A lot of customers that have moved to Staffbase after using Mailchimp said that their emails were being blocked by IT or ending up in spam folders.
This happens for two reasons:
Emails sent from Mailchimp come from outside of your organization, so your employee's email clients don't recognize the sender addresses as safe.
Mailchimp emails are sent directly from their servers, which are the same servers that send a lot of the world's marketing emails. Chances are that your spam filters have likely been trained to flag them.
Unfortunately, that means your employees could completely miss your emails.
Yikes. 
But with Staffbase, you don't have to worry about your emails getting lost in the ether.
That's because Staffbase sends emails directly from your domain.
Emails you send with Staffbase are delivered as if you were sending through Outlook or Gmail, which means no issues with spam, marketing servers, or IT.
Reason #4: Employees can't unsubscribe
As an external marketing platform, Mailchimp has to allow email recipients to unsubscribe.
But this is bad news if you're using Mailchimp internally… because your employees can hit 'unsubscribe' on your internal emails.
Unlike Mailchimp, Staffbase doesn't give employees the ability to unsubscribe.
That's because you already have an employment agreement with your senders, which allows you to contact employees via internal email, avoiding all the spam laws external email marketing platforms are beholden to.
And although we can't guarantee that this means more employees will read your emails, at least you'll know they won't be able to unsubscribe.
Reason #5: Access to experts and support
This may be the simplest reason that internal communication professionals choose Staffbase over Mailchimp and other external email marketing platforms, but if you ever get a chance to talk to our customers (or heck, become one!) you'll understand immediately how crucial this really is.
Like we mentioned earlier, we work with thousands of internal comms pros and hundreds of large organizations.
So we know a thing or two about internal comms. 
That means when you're stuck, need guidance, or just need someone to walk you through things, we understand exactly what you're going through, understand your goals and constraints, and can actually help you.
We've truly seen it all.
When you become a customer, not only do you get your own account manager and dedicated support team that are always there when you need them, you get access to an impressive community of leaders and resources that can really help you elevate your internal comms.
Why? Because we want to make you look like a rockstar in your organization.
And why is that? Because your success is our success. 
The Bottom Line: Staffbase Email is built for internal communications. Mailchimp and other external email marketing platforms are not.
Don't get us wrong. Mailchimp and its competitors are great for external communications.
But with issues around contact maintenance, spam, support, and collaboration, Mailchimp and other external marketing tools are not the best choice for internal communications.
You deserve a tool that's built for you.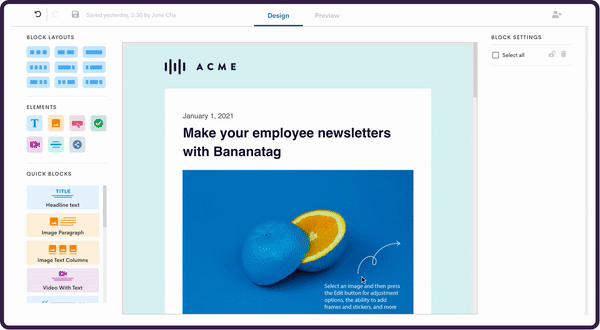 All of Staffbase's email features are designed for your needs: to promote employee feedback, streamline your workflow, and measure and optimize employee engagement.
Still not convinced?
Book a demo with our team and see the difference for yourself.