After an extensive review of more than 20 employee communication software vendors, ClearBox Consulting has released its winners for best employee apps in 2021. Great news for our customers: Staffbase is the top global choice!
With so many employee communication apps to choose from, it can be tough to make a well-informed decision. The ClearBox Consulting Employee Apps Report V1.1 is a detailed guide to 20+ employee communication apps, with ratings based on ability to provide value in various scenarios, real customer feedback, cost-effectiveness, and more.
Based on the results of the report, ClearBox has recently announced a list of their Employee App Choices for 2021, highlighting high-performing products that stand out from the rest. Staffbase is pleased to have been awarded the Global Employee App Choice badge, emerging as the only vendor awarded in the global category. The global badge represents our strong global customer base, high scores in key product scenarios, an ambitious roadmap, and proven value for the money.
For those currently evaluating Staffbase as a potential solution, we're excited to share this news and assure not only the promise of an independently validated high-value product, but also confidence in the global leader in internal communications as a partner for your business.
When we created the Staffbase employee app in 2014, the goal was to address the problem that internal communicators face in communicating, engaging, and getting information to all employees and to provide them with the tools they need to finally reach everyone. Since then, our platform has pushed the boundaries for how internal communications teams work, and enabled them to become champions of their company mission and digital transformation. ClearBox Consulting chose Staffbase as a standout employee app solution for exactly these reasons. 
The report
The Employee Apps Report from ClearBox was created for companies looking to explore their options for an employee app, and ultimately make the best choice for their business. The 400+ page report provides an extensive review of more than 20 vendors, complete with ratings for key product areas and advice on how to choose the right app.
In a short and succinct review of Staffbase, ClearBox writes:
"Staffbase is one of the top scoring products this year and has a good price-to-capability ratio. The experience for all users, including admins, is excellent. Communication is a strength, from chat to formalised news, and the analytics are some of the best we've seen across any platform."
ClearBox notes that a company's choice for an employee app is critical to their internal communication strategy: "This isn't just a way for centralized messages to be pushed out to colleagues," they report. Each product was evaluated on key features, as well as positioned depending on its focus on four essential businesses areas:
Communications
Operations
HR & People
Digital Workplace
The Staffbase employee app was shown as one of the most well-rounded product offerings, with features purposefully built to support teams across all topics. Organizations that invest in Staffbase can be confident that their app can serve as a cornerstone tool to support strategy company-wide across departments, teams, and business initiatives.
High performance in multiple categories
Employee apps are now being viewed as a key strategic element for helping internal communicators prove the value of their work and finally be seen as champions of company mission and transformation. The ClearBox report calls out a number of categories where Staffbase truly shines, both for the comms teams managing the platform and the employees using it:
User Experience
Publish & Admin Experience
Company Communications
Analytics
Benefits compared to other platforms
Buyers looking into employee apps can benefit from comprehensive comparative information in the Employee Apps Report V1.1. While other vendors share accolades for their regional presence, Staffbase was the only vendor awarded globally.
Beyond their dominance in the category, CleaBox pointed out a number of Staffbase's additional comparative advantages, including:
Outstanding content management
Communicators can't be at their most effective if they have to spend hours working around a clumsy CMS or repeatedly publishing the same content across multiple systems. That's why ClearBox applauds Staffbase's powerful, streamlined editorial experience as a true value-creator for comms teams. Highlighting timesaving features like out-of-the-box templates and layouts, scheduling and drafting options, and a dashboard view of campaigns and individual content, Staffbase's focus on supporting every step of an internal communicator's work shines with "features rivalling dedicated intranet products."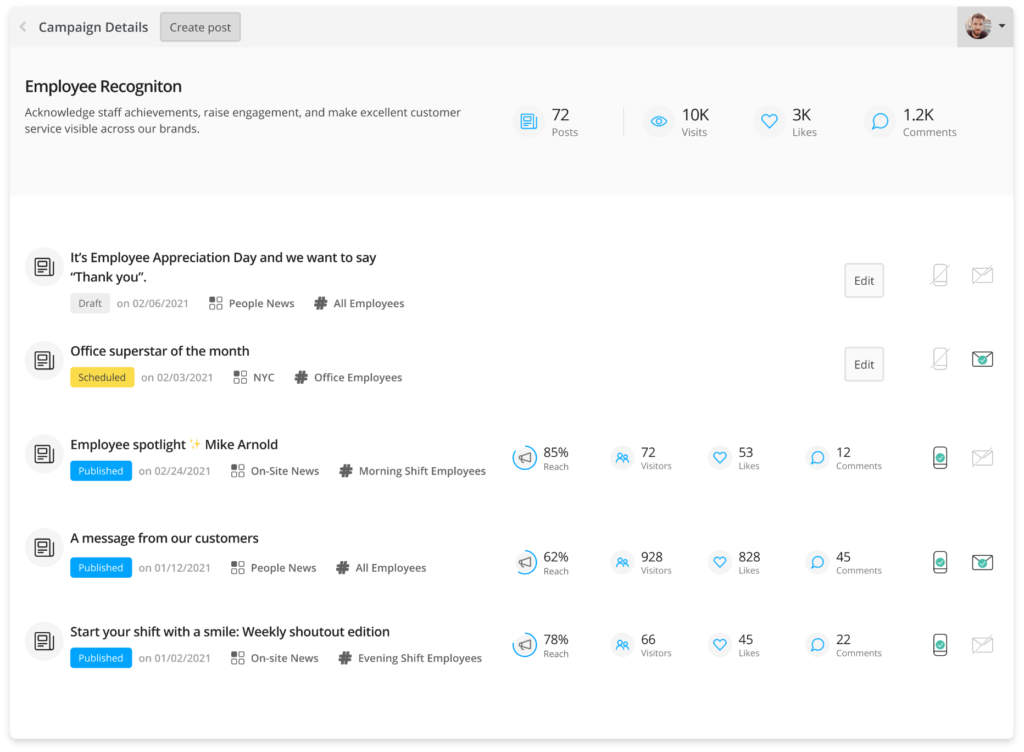 Brand support
ClearBox pointed out that brand support from Staffbase is particularly far-reaching compared to other employee apps. Staffbase recognizes that branding goes beyond colors, fonts, and app icons to create an experience that employees recognize and trust from day one. ClearBox seconds this view, saying "brand support in Staffbase is extensive, from the name and logo on the app employees download from the app store, through to the experience and content itself."
By investing in an app that fully reflects their corporate identity, organizations are ensuring maximum user adoption and return on investment for the tool. ClearBox also highlights the availability of branded apps via app store download as an important factor for organizations that want a branded app without having to contend with mobile device management for deskless workers. Staffbase has successfully delivered 400+ branded apps to the app store, with a 100% success rate over the past year. 
Best-in-class experience on desktop and mobile 
For communications teams to truly work more efficiently and create widespread change in their companies, their platform has to support their entire workforce. ClearBox noted that one of Staffbase's particular strengths is the ability to provide non-desk employees and desktop workers alike with a first-class communications experience.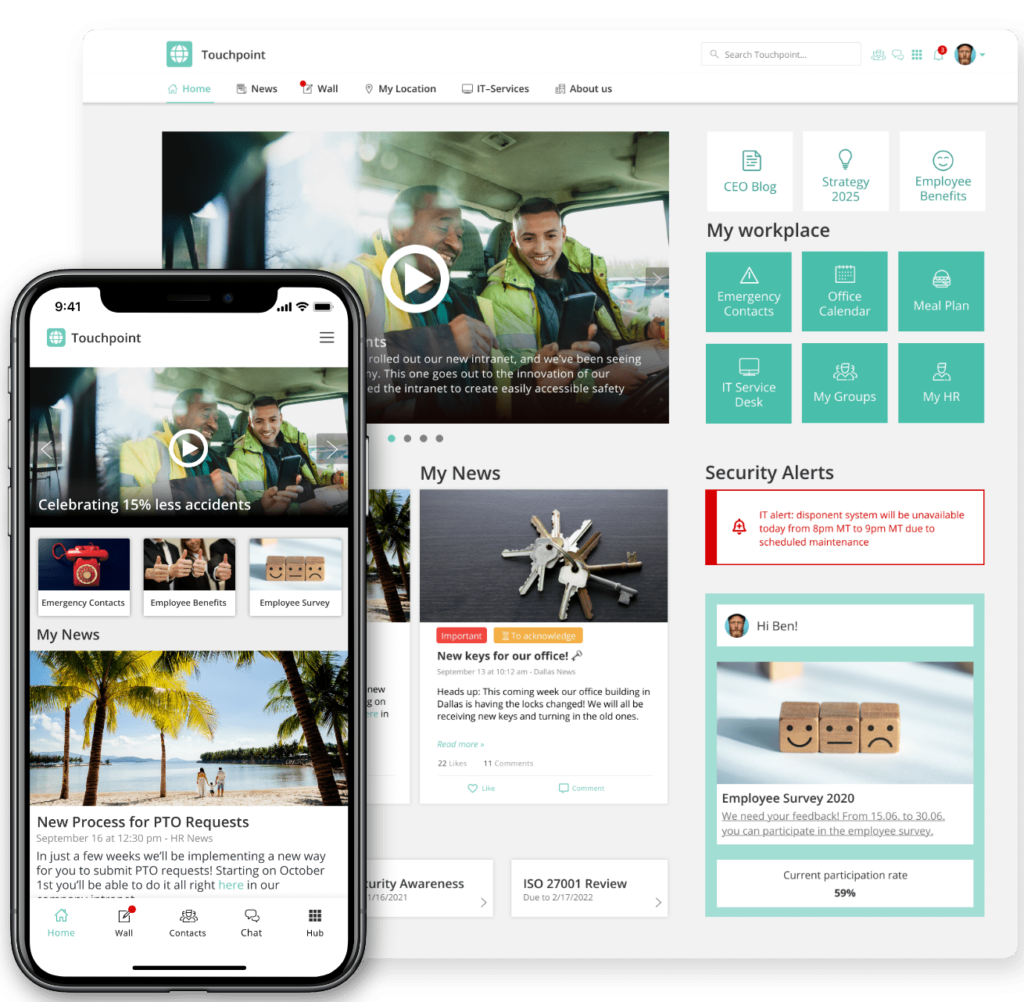 Looking ahead
Employee apps have become increasingly popular investments for businesses looking to create community and share information with employees; however, ClearBox mentions that there are still some gaps in functionality. They hope to see developments such as an improved publisher and admin experience, better search, and deeper digital workplace integrations from vendors. 
In the coming months, Staffbase will push their top-rated editorial experience even further, launching their first employee newsletter feature. This will be the first step in an ongoing integration with the leading email newsletter provider, Bananatag, to create the most powerful and comprehensive platform for internal communications on the market. Upcoming releases will also focus on creating an even smoother in-app search experience and adding more connectivity with their partner, Microsoft. 
Want to see Staffbase's innovative platform in action? Experience for yourself what makes it the leading global employee app on the market.
Read more about employee communication apps: