Real engagement can't exist without effective communication. That's a fact in any relationship, including the one between an employee and his or her place of work. With that thought in mind, we've come up with 16 employee engagement ideas for using comms to improve workplace engagement.
15 is no small number, so, in the interest of speeding things up (see point #10), let's get down to business.
1. Let your people keep working from home (at least more than you did before Covid).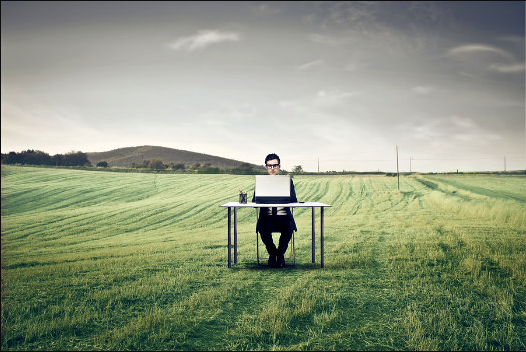 According to a 2020 Gallup study, 51% of US employees were working remotely at the height of the coronavirus pandemic. Remote work was growing in popularity before the crisis. But it's now safe to say that its massive increase represents a trend that is now a transformation. This is good news considering that independent workers are typically more engaged, autonomous, and collaborative.
Now that remote work is here to stay, it's important to acknowledge the different needs of a deskless workforce. Companies should make efforts to engage their employees no matter where they are. Mobile communication tools — including employee apps, push notifications, and mobile-first intranets — enable you to connect freelancers and non-desk workers across departments and locations.
Supporting employees on their mobile devices will generate greater connectivity when it comes to employee engagement and productivity. This includes online meetings, training, and video learning.
Furthermore, enabling your workforce to engage with people and information wherever they are and whenever they choose is a difference-maker for attracting the talent necessary for your business to thrive.
2. Use internal influencers to build authentic employee engagement.
One key to many of these employee engagement ideas is that the most effective messages have the power of authenticity.
Always try to find the best person to deliver important information. For example, a crucial safety announcement is best delivered by a worker who was actually affected by an incident or a near miss. Let proven internal influencers tell their stories and use them to dispatch your culture and key values. Build up a network of internal influencers from across your organization.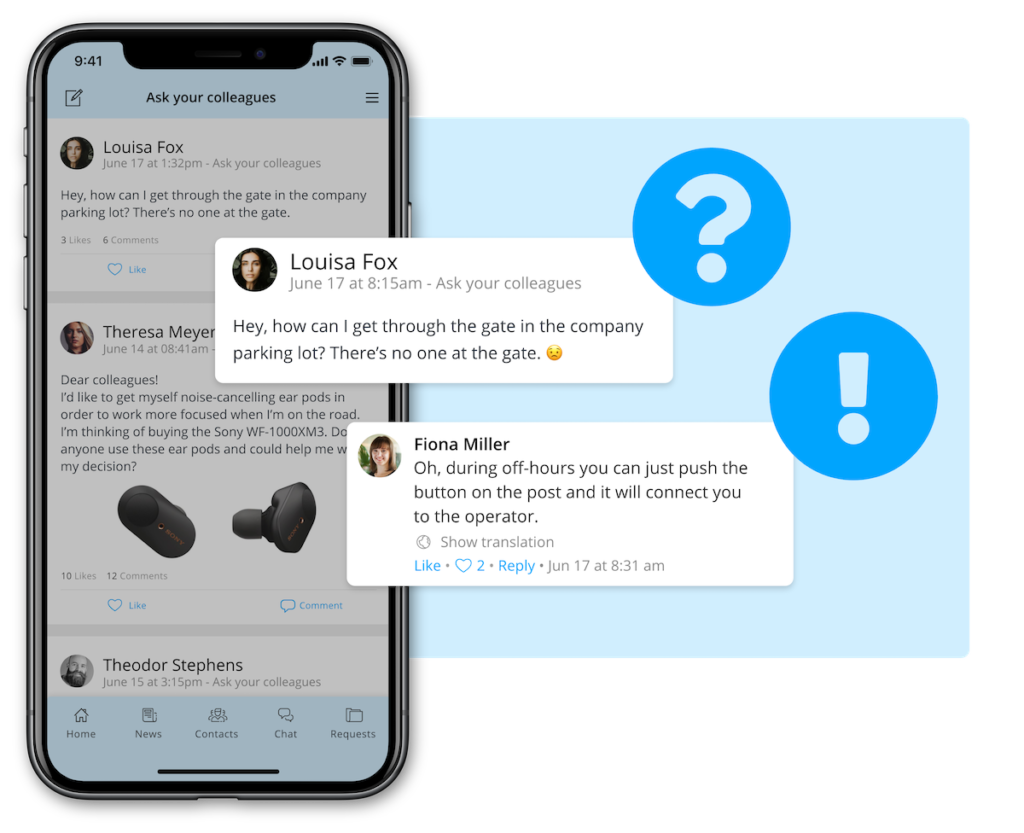 A dedicated "Ask Your Colleagues" channel can allow your employees to get advice and exchange ideas while on the go. Whether it's a quick tip about a new tool, lunch recommendations, or where to find the updated WiFi password, employees won't have to wonder who to ask or how to get in touch quickly and easily. 
4. Measure and optimize your internal comms channels.
Communicators write, create, and speak for a living. But for an organization's leaders, it's numbers that do the talking. To prove the value of your communication, increase budgets, and show results, you need data to make your case. Luckily, there are internal communications tools that make collecting that data easier than ever before.
Built-in analytics tools for communications can now gather and display detailed metrics for multiple channels on a single dashboard. This includes basic measurements for the interactions we all know and love from our non-working lives: likes, shares, and comments.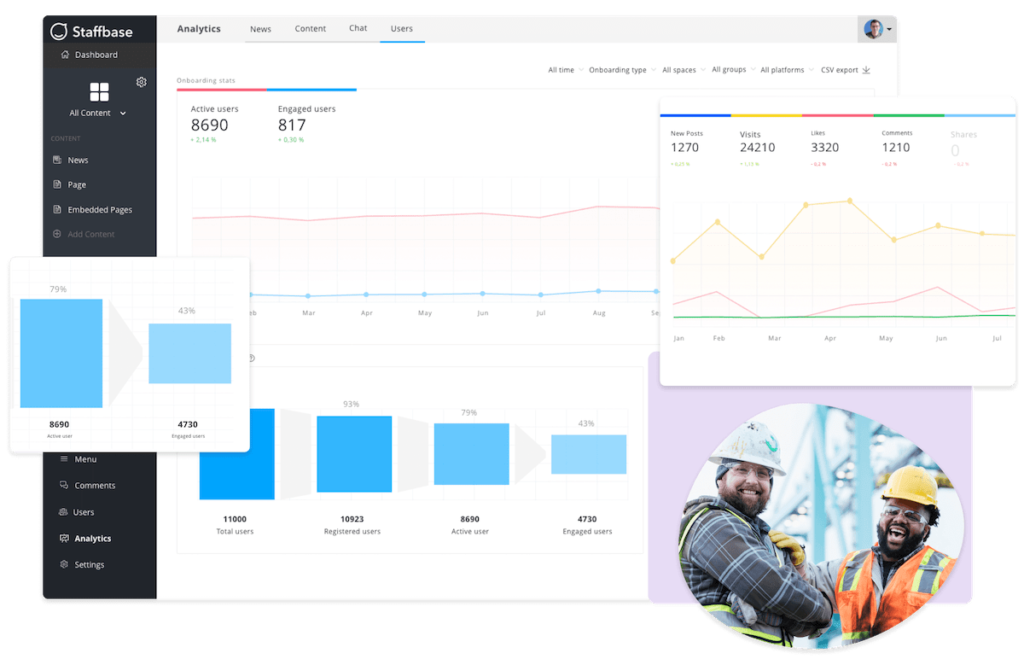 Such information will enable you to focus your efforts and discern where improvements need to be made. Analytics allow you to identify the most relevant articles and content and discover which communication channel is the most engaging.
Through continuous monitoring and assessment of metrics over time, you will be able to observe changes in employee behavior. Ultimately, you will better understand the value of your internal communications strategy.
4. Empower local leaders and communicators.
First used in the context of addressing environmental challenges, the phrase "think globally, act locally" has taken on new meaning in a variety of fields. With many of today's leading companies dispersed internationally, effective internal communication must reflect location-specific concerns. Firsthand observations are often the best way to address such issues.
Local topics are generally more relevant to your employees. The insights of a local plant manager as opposed to a CEO can be a great way to promote culture, strategy, and employee engagement. Think about preparing a playbook for local communications. And help your local leaders and communicators learn best practices that embrace the specific needs and concerns of their particular location.
Find a good balance between centrally-created content and local workplace communication, freely told with limited regulation (see point #16).
5. Experiment with your employee engagement ideas — and don't be afraid to fail.
Large organizations aren't very good at experimentation because they have less tolerance for failure. But the reality is that the world's most admired companies are learning faster because they understand how to fail better.
So here's an idea: if you want to try something new, don't call it a project or a plan — define a clear hypothesis and consider it an experiment. That's a great way to manage expectations because failure becomes an inherent possibility.
For instance, suppose you had the idea that cutting the text of your CEO's New Year's message by 50% and including a short video instead would generate 25% more views. It's worth a try, right? Now imagine committing to one experiment per month. Think of how much you could learn if you weren't afraid of being wrong some of the time.
6. Take gamification seriously.
Employees don't turn into robots the moment they walk through your organization's doors. Gamification and opportunities for having fun are great for making people feel welcome and allowing them to express their individuality. Such efforts can also help them get to know their colleagues. Giving your people the power to establish feelings of belonging will boost employee engagement and improve retention.
One great example of this kind of initiative comes from Allegiant Air, a low-cost airline headquartered outside of Las Vegas, Nevada. They hold a monthly "Cutest Pet" contest (picture below) in which employees use their company app to submit photos of their pets. Employees are always eager to enter the contest. Every month, the twelve submissions fill up quickly—without any internal advertising.
According to NICE Systems, only 31% of companies are exploring or using some form of digital rewards or gaming mechanics. But it's a great way to encourage employee interaction, as well as an effective means for getting people to adopt a company app.
7. Activate your aging workforce.
Older workers — those who are at or approaching the traditional retirement age of 65 ­— are the fastest-growing segment of the workforce. It's therefore no surprise that a recent survey by the Society for Human Resource Management, conducted in partnership with the AARP, found that nearly half of all employers think the loss of older workers over the coming decade will be a problem. 
Older workers have a wealth of knowledge that's often critical to an organization's daily operations. And many companies have begun instituting mentorship programs that encourage younger employees to learn from their older peers. Research also suggests that putting old and young workers together boosts the performance of both groups. Their matching interests — which include work being a source of social interaction — make them good allies. And because they're at different life stages, they tend to work well together and be less competitive with one another.
A further benefit of the older generation is their relatively stable work habits in comparison to millennials. More than 90% of millennials expect jobs to last less than three years. Such mercenary attitudes make long-term employees even more valuable. Try to find ways to communicate and embrace the beneficial relationship between aging workers, millennials, and employers.
8. Cultivate your comms channels.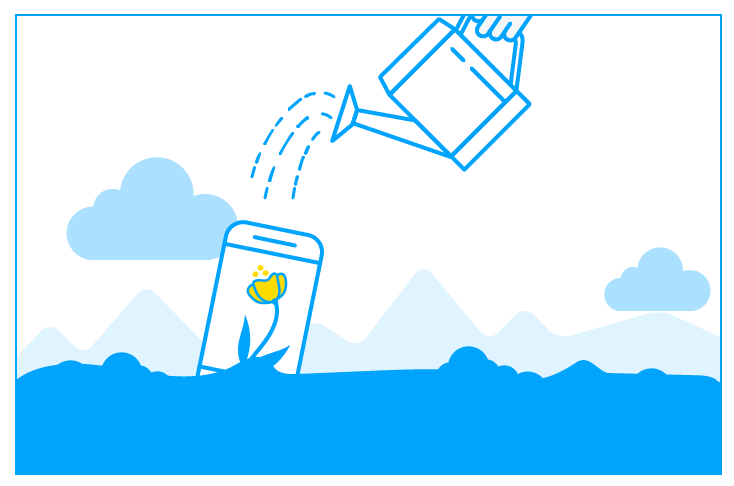 Making relevant information available to all of your employees is an ongoing struggle for internal communications. That's especially true these days, with so many workers sitting at home with limited access to corporate email or the company intranet. 
Not only is there an access barrier to contend with, but there's also the matter of time. Workdays are often jam-packed, especially for service or field-sales workers. And during the pandemic, there are also family obligations that demand attention. There's not a lot of time remaining for collecting information, let alone effectively communicating it. 
Now more than ever, successful channels need to challenge these barriers and do a better job of reaching all employees at the right time and with the right message and content. That includes taking advantage of rich media and tools for sharing real-time information that encourages employee feedback.
Based on these requirements, here's our ranking of the top eight channels for employee communication. Better yet, give your organization a free communications audit and get a real sense of what's working and what's not.
9. Create a digital workplace strategy focused on the employee experience.
With so many companies thinking about a mobile channel for their employee communication, a great deal of interest has arisen around how an employee app can fit with an organization's intranet and digital workplace strategy.
To improve the employee experience of all your people — the drivers, the factory workers, and the frontline staff — access to certain resources must be available on personal devices, too. This Bring Your Own Device (BYOD) requirement fundamentally changes how we need to plan a digital workplace strategy.
A second step is to look at the main employee target groups within an organization. Knowledge workers are typically seen as the major users of a digital workplace, but in many companies, a majority of desk-bound employees are process workers who do jobs like accounting, HR, operations, or purchasing.
Non-desk workers make up a third major group, and until the advent of mobile technology, they would have been left out of a digital workplace strategy. Now that everyone owns a mobile device it's possible to reach these people and give them access to benefits such as communications, knowledge, and self-service processes. 
10. Accelerate your comms.
Email is still very much a part of many organizations' comms strategy, but gone are the days when it was the primary channel for sharing information. The decrease in email usage has been met with an increase in communication apps. According to a study by the Pew Research Center, 67% of all downloaded apps are intended for communication. The study also showed that people under the age of 35 feel a "need for instant gratification and a loss of patience" when that need is not met.
As Internet speeds increase, people are less willing to wait for websites to load, videos to buffer, and colleagues to respond to their messages. In order to connect and reach a workforce that consists primarily of millennials and Generation Z-ers, messages need to be brief, precise, and ideally sent via a channel other than email.
Getting faster means that more and better targeted communication can be instantly shared among numerous recipients — even those who aren't sitting at a desk.

11. Try different media formats for your employee engagement ideas.
Podcasts
Since they first emerged in the mid-2000s, podcasts have become a highly popular medium for consuming audio content. In 2020, 55% (155 million) of the US population listened to a podcast — up from 51% in 2019. That same year, 24% of Americans (68 million) listened to podcasts weekly — up from 22% in 2019.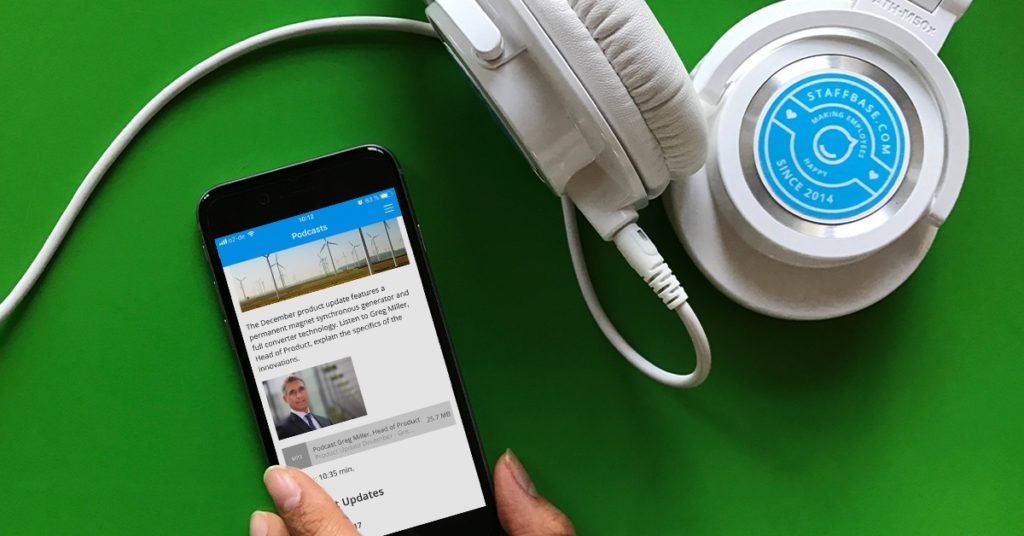 More and more leading internal communications teams are utilizing podcasts to deliver important internal corporate messages, engage employees, and align teams. Podcasts can make shared information more engaging. They're also a great way to give your non-desk employees access to important content. The same principle applies to sales and service teams who constantly travel. Podcasts allow these employees to take advantage of features like offline listening to consume important content while in transit.
Deutsche Telekom, for instance, uses podcasts to share information with their technicians that can be conveniently consumed while on the road. Live content can be made available on demand immediately. And no matter where they are in the world, your remote workers can pick the best time to engage with the message you're sharing.
The informal nature of podcasts also makes them easy to produce, greatly increasing the number of employees who might be willing to share their experiences and expertise. 
GIFs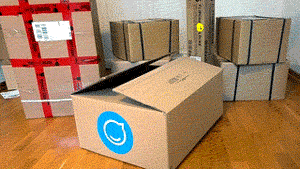 GIFs, which look like photographs alive with movement (just like the ones in the Harry Potter movies), are more popular than ever. They represent just one of the ways corporate communications are becoming increasingly visual. That said, many communicators still find it hard to take animated GIFs seriously.
In fact, there are several reasons to use the format: They're more visually engaging and memorable than static images; they're mobile-friendly and work on a variety of platforms; and they're faster and cheaper than video. Animated GIFs can bring numbers to life, and they're especially great for simplifying complicated ideas.
Just as people use GIFs to communicate their reactions to something, so too can companies. Messaging platforms are making it easy for employees to use GIFs to communicate with fellow team members. When Microsoft partnered with GIPHY—the world's largest source of animated GIFs — it was clear that the format was here to stay. The technology giant has made GIFs an integral part of its enterprise messaging offerings.
12. Let video star in your employee engagement strategy.
If a picture is worth a thousand words, how many words must a video be worth?
These days, with a portable video studio in nearly every pocket, you don't have to be Steven Spielberg to be good at using video to tell a story. Anyone who's ever posted a video to YouTube knows that producing, consuming, and distributing moving images is simple and easy. Why should it be any different in the workplace? 
Making sure that you have an IC channel capable of sharing and interacting with video will be a great step toward strengthening employee connections and bringing internal messages to life.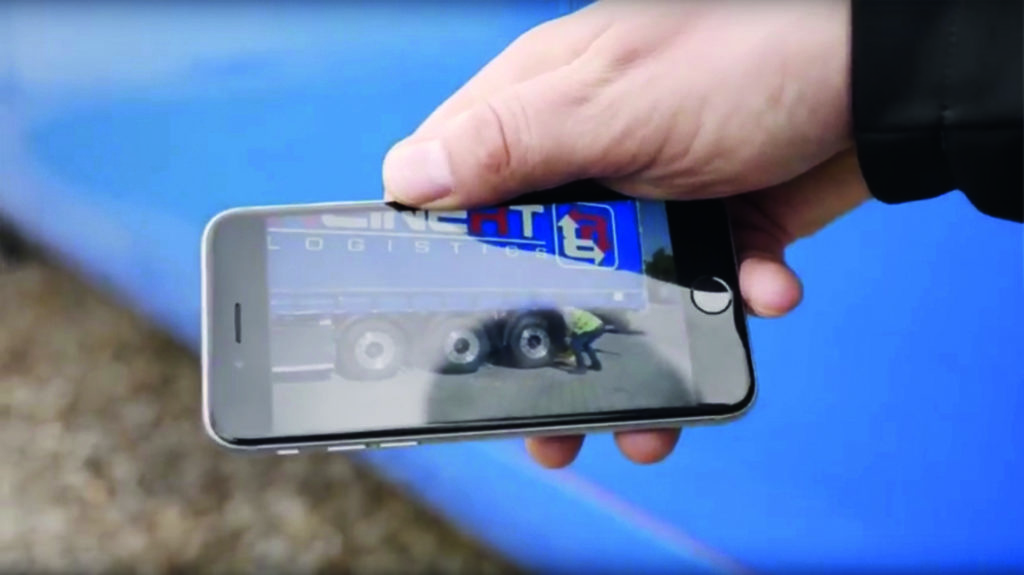 Watching a video to digest information is fast, interactive, and entertaining. The format can project emotion and tell a story more vibrantly than words on a page, making it easier for your employees to relate to what you're trying to tell them.
As the shift to the digital workplace continues, video will be a versatile tool and one of the best employee engagement ideas for helping you accomplish your communications goals. So go ahead — lights, camera, action!
13. Support your crucial frontline workers.
None of the employee engagement ideas we've discussed can be completely effective unless they reach your frontline workers. Supporting mobile users needs to be part of any successful digital workplace strategy. This is especially true in large, dispersed organizations, allowing for greater connectivity in regard to employee communication and productivity — including mobile online meetings, online training, video learning, and more.
Making use cases truly useful for mobile takes more than just making your website responsive. It requires a mobile intranet app. Attempting to provide functionality with a responsive intranet isn't going to cut it. Forcing users to type a URL into a web browser on their private device, while having to log in every time they need to access information, isn't a viable option.
Making functionality easily available on personal mobile devices means an employee app that can meet several specific requirements:
Employee apps should be native — widely distributed and easy installed.
Your native app should be branded. Branded apps create more trust, better onboarding numbers, and higher employee engagement.
Users shouldn't be required to authenticate with every login — after an initial login their app should work just like all the others on their device.
The app should include use cases that employees find truly practical.
Content should be automatically personalized based on the individual user profile (location, business unit, job description, etc.).
Your app should feature push notifications, a necessity for enabling real-time communication and cutting through the noise. Employers have seen a level of activation 3x greater when news is "pushed."
14. When it comes to employee engagement, understand the limitations of Microsoft Teams and Slack.
Technology enables the digital workplace. But depending on your industry and business needs, the tools needed to support it will vary. The key is to adopt the right tools that enable your employees to do their work.
Organizations often question why they can't use platforms like Slack or Yammer as their internal communications tool. The answer is that teams, communities, and targeted or company-wide audiences have entirely different communication needs as a result of their varying sizes.
Group chat applications like Slack and Teams are great tools for collaborative groups. But they weren't designed for communicating with a company-wide or targeted audience.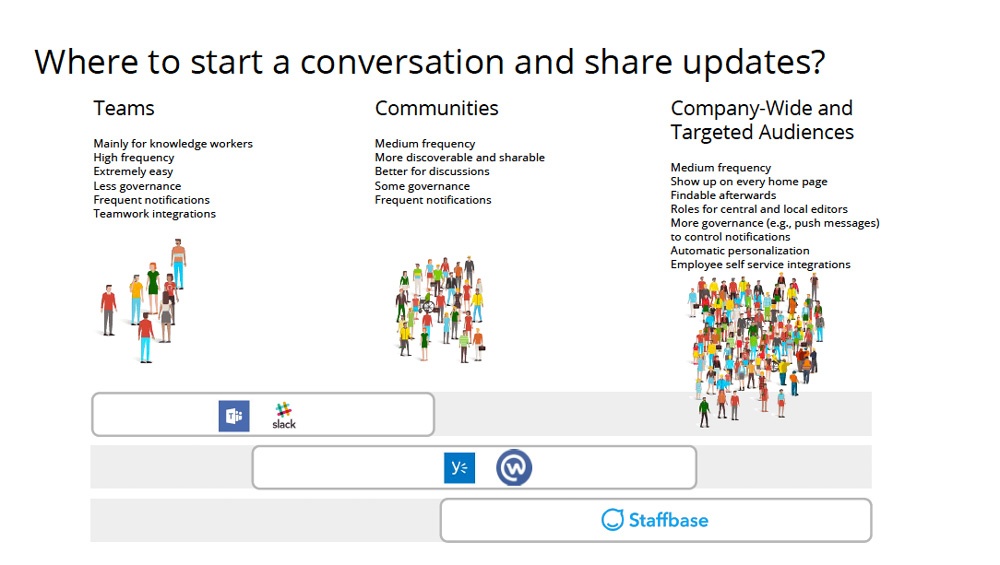 One reason why is that for these larger use cases, there's generally more governance involved. For example, you wouldn't want to send ten push notifications out to a large audience every day. There are rules regarding such matters (see point #18). It's also the case that important communications generally must remain visible for longer than the few minutes they would appear with Slack or Yammer before being replaced by newer messages.
It's unrealistic to expect that all users will actively subscribe to every communication channel and manage their notification settings — up to 80% never will. The point is, it's important to give a great deal of thought to who you want to reach, and to choose the tools that are most likely to engage those audiences.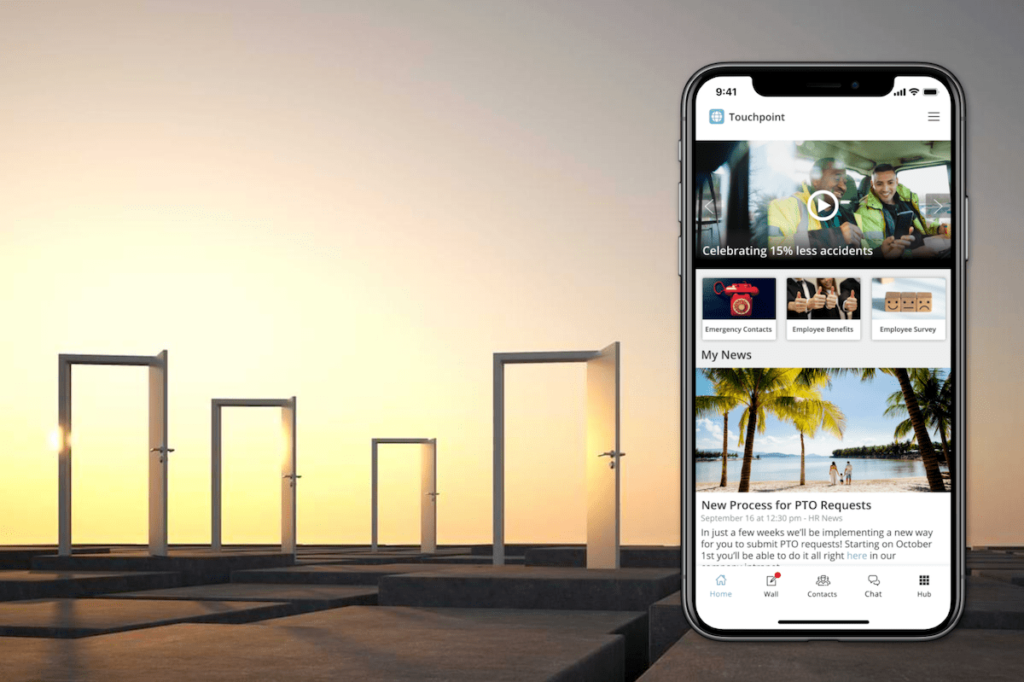 As digital workplaces gain traction, the question often arises as to whether intranets are still a necessity. While we believe that the role and shape of intranets need to undergo some substantial changes, the concept itself is still an important part of the digital workplace.
One main goal of a modern intranet is to provide a front door through which an employee can easily find the various tools and services of the digital workplace. This front door needs to be easily accessible on all devices. To be totally trusted it should be branded and personalized. And it should function as a multi-channel communication hub that will find employees where they're most likely to be working in the digital workplace.
Sounds a lot like the list from point #14, right? That's why an employee app can and should be a lot more than "just an app." It needs to be both a communication hub and a multi-channel intranet — one that's mobile but also works on desktop. Such a platform can act as a front door to an Office 365 environment, for example, integrating tools like SharePoint, Yammer, or Teams, alongside a dedicated communications platform.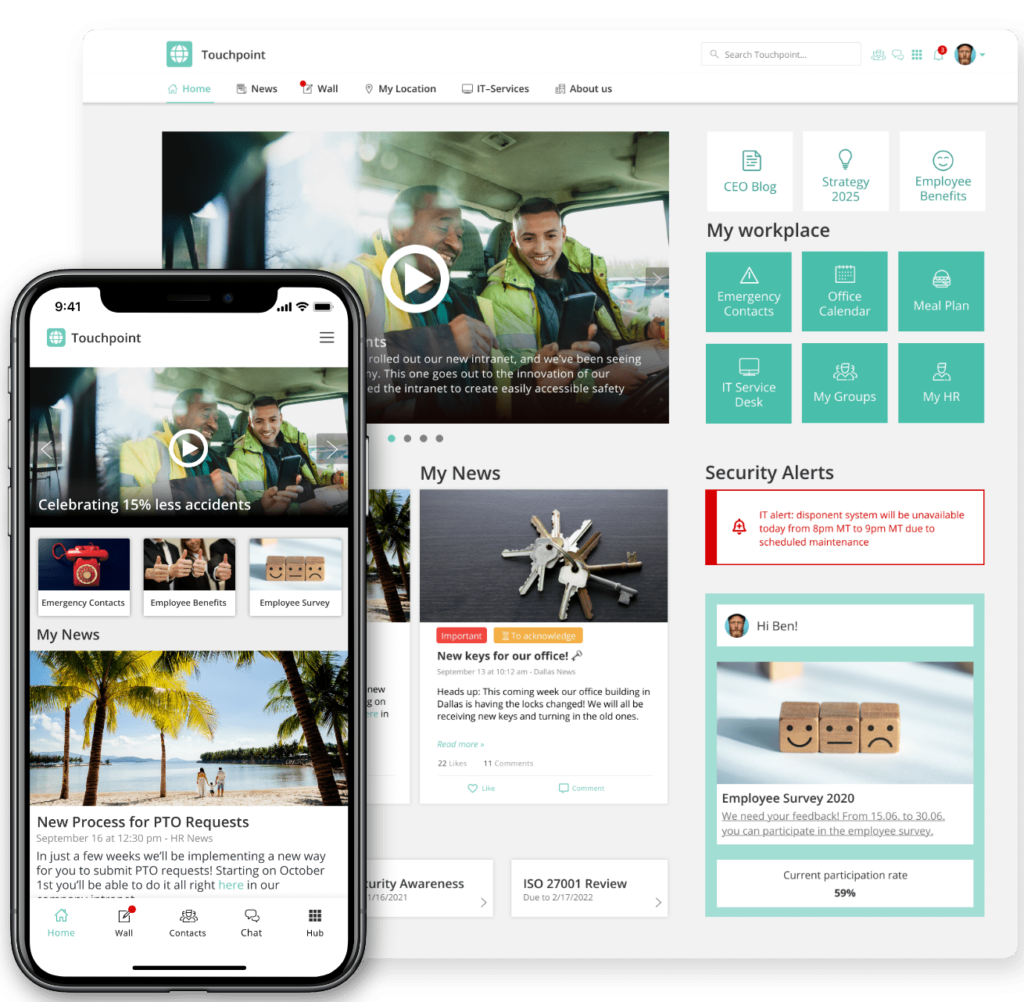 Read more about employee engagement ideas and best practices: