Do you want to get your employees more involved in decision-making and give them a voice in 2022? Great, because if so you'll be right on trend. Employee surveys have long been an important topic, but this year in particular they are crucial to the success of companies.
But where's the best place to start? And what's most important for a successful employee survey? You'll find the answers to these questions in this article. Not only have we summarized the most important types of employee surveys, but we've also created a guide for conducting them. And we've even collected some sample questions for you.
Employee surveys: What's the status quo?
The trend is moving away from a static process toward a continuous dialogue between employees and management. A few years ago, annual company-wide surveys were the norm, but thanks to the possibilities of digitalization, a new feedback culture has been established.
So-called pulse checks or pulse surveys allow regular feedback on important topics or measure general employee satisfaction. At the same time, shorter and more timely surveys make it possible to work in real time with the data received. They can also easily address operational topics (e.g., change management). But depending on the company and industry, this dialogue requires a different design and can take various forms.
The 5 most important types of employee survey
In recent years, a variety of types, systems, and formats of employee surveys have emerged. Some models have stood the test of time and remain in use in many companies today:
Annual surveys . . . 
obtain the current mood and opinion of employees.
identify factors that make employees satisfied or dissatisfied in the long term. 
identify major issues concerning employees.
Survey topics must be clear well in advance. For larger formats, data must be set up cleanly, surveys must be designed sensibly, and communication and follow-up processes must be planned precisely.
Thematic surveys . . . 
can take place over the entire year.
obtain deep insights into specific problem areas when divided into thematic blocks.
can provide annual feedback on each theme despite shorter design.
are often a follow-up to large employee surveys.
Pulse surveys . . . 
usually contain recurring questions.
allow the quick identification of changes.
give the opportunity to detect current topics.
enable improved reactions to problem areas.
Mood barometers . . .
can be conducted weekly or bi-weekly.
give a current picture of mood and topics.
give employees the opportunity to address problems.
solicit ideas in the form of feedback.
help to quickly identify current problems with short-term feedback.
have simple designs (e.g. 5-star ratings) that simplify responses.
Instant feedback . . .
is often used in conferences or meetings as so-called live feedback. 
helps to check functionality of processes quickly.
enables short-term responses to topics, in order to act immediately if necessary.
addresses topics outside the usual scope of action.
is used in times of change (e.g. a pandemic), because often quick and spontaneous decisions must be made.
Guide for conducting employee surveys: What's the best way to go about it?
Which of these survey types seem most appropriate can vary depending on the company, its goals, and its ways of working. When implementing regular employee surveys, you should carefully plan the process you want to use. There are several factors you should consider here:
Who are my stakeholders?
Who should be involved or informed? Which groups will be affected or benefit if you decide to conduct interviews? Before choosing a process, you need to consider the relevant stakeholders: The employees, the managers, the works council, the HR department, the management, data protection officers, and the company itself.
It must be worked out what is most important to all these parties. For example, how can employee surveys help both executives and middle management to move the company forward? However, the focus of an employee survey should be on the employees and how their satisfaction can be ensured. 
What are my goals?
Next, it's important to determine your goals. Why are you conducting a survey? What do you want to achieve with it? Is it to understand current issues in the company? Do you need feedback on specific areas, projects, or changes? Do you want a continuous exchange with employees and constant change based on the feedback? Or do you want to measure KPIs and evaluate certain topics?
Here it is important to keep everything in context, because topics have to be relevant to the employees in order to arouse their interest. Generally, company-specific topics can be found quickly, as they are based on current challenges.
What moves your company, your customers, your processes? These topics must be given the space they need to be addressed in a broader context. Only in this way can problematic topics be clearly defined and questions sensibly selected.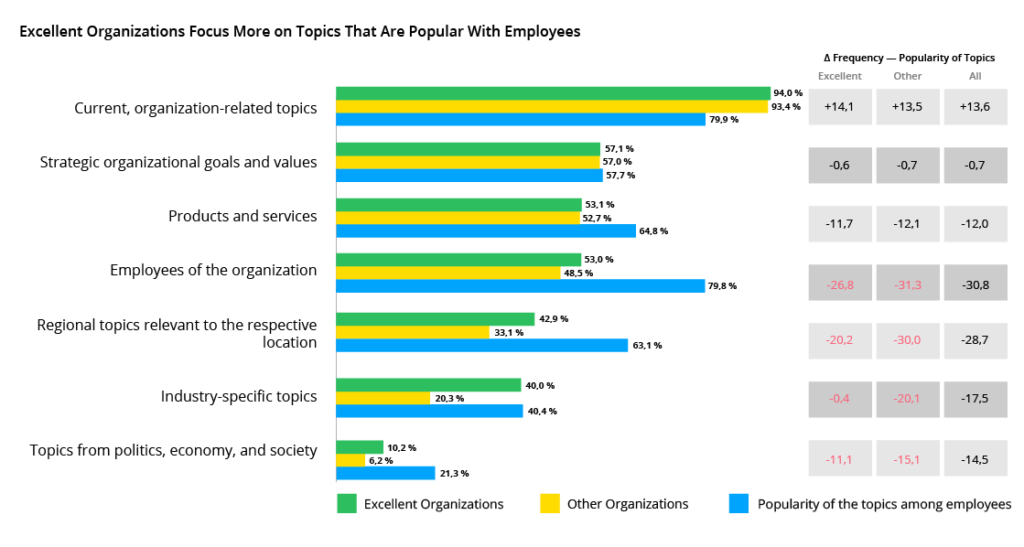 Which format is the right one?
As seen above, there are different survey formats that have advantages and disadvantages depending on your goals. On the one hand, you should make sure that the survey type fits the set timeframe of your chosen objectives. On the other hand, you should determine whether only a mood barometer will help here or whether you're trying to assess content-related topics.
Do you need answers to specific questions or will an open-ended survey be more useful? Do you want the survey to be short and concise or more detailed? If you see a concrete problem but have no solution, a collection of ideas can help instead of a survey. Here, too, goals and stakeholders determine the appropriate implementation.
The most important thing remains ease of use: To encourage employees to respond, the survey tool must remain accessible. This is especially true for colleagues far away from their desks. But the quality of answers may also depend on the right employee survey response scales.
How should results be communicated?
In order to ensure that continuous surveys do not come to nothing, but instead lead to effective results, you must also communicate them accordingly. Only by correctly handling processes and results can employees see and understand the changes that have been brought about.
You don't have to present your employees with a perfect evaluation immediately after completing a survey. Often this isn't even possible. For now, it's enough to share an overview with basic information (e.g. general and past participation numbers) to spark interest and encourage motivation.
Results should be broken into departments and communicated to the respective team leads so they can respond accordingly. Putting data from different teams into a company-wide context helps to better identify problem areas. Likewise, recognize and share strengths and positive developments.

Creating a questionnaire: Sample questions for successful employee surveys
As indicated above, questions should vary depending on the objective and the company. Therefore, there is no universal sample solution for the choice of questions. Moreover, this remains dependent on the format of the survey chosen. However, there are some consistent topics, regardless of industry and company. These generally concern areas of employee satisfaction.
Leadership: Do you think that your leader gives you good instructions for your work?
Team: The last time you had difficulties with a task, did you ask a colleague for help?
Work/life balance: Can you manage both your job and your personal life?
Identification with the company: How likely is it that you would recommend your company as an employer to friends or acquaintances?
Communication: Do you feel sufficiently informed about changes in the company that affect you and your work?
Especially in the regular pulse survey, it helps to mix operational questions and meta-questions, i.e. those questions that relate to current issues in the company and those on the topic of recurring KPIs. In this way, you can create a balance when working out current and long-term topics. In addition, take care to strike the right tone. Surveys need wording with which your employees can identify. This can also vary from company to company.
Employee surveys and the works council
Depending on your country of employment, your organization may or may not have a works council. According to Wikipedia, a works council is "a shop-floor organization representing workers that functions as a local/firm-level complement to trade unions but is independent of these at least in some countries."
Employees are the central stakeholder in the employee survey process. The goal of a survey is to give them a voice. The works council therefore plays an important role, especially when tackling deeper issues and problems. Involving the works council at an early stage and working together proactively helps to simplify the process of tackling measures and establishing a feedback culture. It also helps to establish trust, as many employees have always trusted the works council more than the management. It is advisable to clarify issues of data protection and functionality with the works council so that it can answer questions posed by employees on such topics.
Central to any employee survey: Data protection and anonymity
Data Privacy in Employee Surveys
You should not take the issue of data protection in employee surveys lightly. For any type of digital survey that includes a feedback system, data protection must be guaranteed. Especially those formats that allow for the processing of your employees' data. Therefore, the first thing to check is whether a provider is DSGVO-compliant.
Since 2018, the EU General Data Protection Regulation specifies how data can be handled. These regulations relate in particular to data security, transparency, and procedural documentation. Despite these requirements, you should integrate the topic into the conception, the selection of the tool, and the process for surveys at an early stage. ISO 27001 certification can also tell you whether a provider has been trained to handle sensitive data and actually implements any data security standards.
You should be clear about the following questions: 
Will data be stored for the purpose of conducting the surveys?
Is this data stored temporarily or permanently?
Where is the data located?
How will this data be processed?
Who has access to the results?
Anonymity in employee surveys
Whether anonymization is advisable or not also depends on the type of survey. In the case of a more in-depth opinion poll or a desired text feedback, it is important that employees know that answers will not reflect negatively on them. To allow participants to share concerns as well as openly address uncomfortable topics, you need to create a safe space. The option of an anonymous or confidential survey can help ease employees' fears. 
But even this functionality has its advantages and disadvantages. If the goal of a survey is to obtain a direct and above all honest opinion, it makes sense to go for anonymity ("true anonymity"). However, in a mood survey or when dealing with specific topics (e.g. concerning processes or products), open answers are helpful. Especially when generating ideas, it is advisable to suspend anonymity or to give the option to stand for the ideas with your own name.
True anonymity is often promised, but is rarely given. In most cases, providers of employee surveys do not use true anonymity, but rather confidentiality. Names and information of respondents are not displayed, but can theoretically be tracked.
Remain flexible: The employee survey is an ongoing process 
In the end, however, no amount of planning can accommodate every change. Employee surveys always remain an agile process — especially over a long time frame. Current topics and follow-up questions are dependent on results obtained and answers given. Therefore, you need to constantly adjust to these and continuously adapt the process. 
For now, your goal should be to motivate employees to respond, wait to see what happens, and ultimately adjust processes, results, and outcomes over time. Across all areas, sharing remains the most important thing. Especially in difficult times, it is advisable to share information, solicit feedback, and give employees a voice.
Read more about employee surveys:
Or check out our webinar on pulse surveys with Sarah Manes: