For years now, the importance of strong internal communication has been increasing heralded as essential to business success. And then came a global pandemic, scattering workforces and isolating employees. Companies saw firsthand how a focused internal communication strategy and new digital tools could enable them to reach their people with vital information under extraordinary conditions. Doing so could be a literal matter of survival — for the business and its employees alike.
Today, following an acceleration of the adoption of the digital workplace, many employees are continuing to work from beyond the traditional office space.
Under these conditions, it's clear that the main function of internal communications — to engage employees, share information, create culture, and instill purpose — has never been more important. But these new conditions call for a new and better internal comms plan.
If your internal communication strategy looks like every other year, it will fail.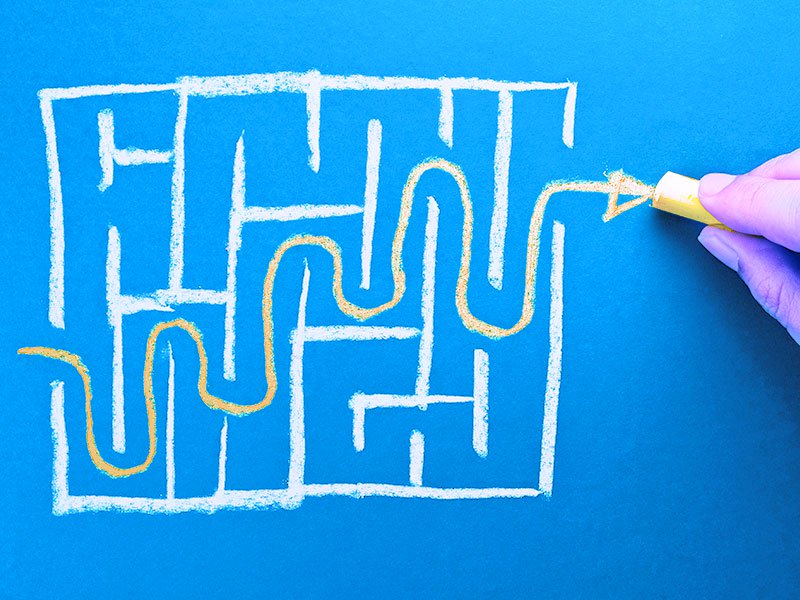 Today, news and information that affects your employees is breaking non-stop. This is just one reason why clear, practical internal communication needs to cut through the noise to be heard by all of your people.
This article explores how the role and means of internal communication have changed. It collects some of our best thinking on the subject of internal comms, and it gives hands-on advice to internal communicators whose roles have never been more critical to business success.
1. Why Is Internal Communications Especially Important Right Now?
The digital innovations of the 21st century have enabled new work methods and practices that would have been impossible before the worldwide proliferation of mobile technology.
Although these revolutionary technological developments were slow to gain traction, their benefits have never been more clear than they are today. Post-pandemic working has made sharing information with a suddenly more remote workforce a matter of business survival. 
The digital workplace and agile work are no longer being seen as long-term business goals, but rather as immediate necessities.
As Josh Bersin writes in his article, The Big Reset, now is the time "to make digital work thrive: we have no choice. New tools, rules, and norms will be established, and these will be with us for decades." 
So, has the purpose of internal communications changed?
Internal communications has always meant different things to different companies, from producing and delivering top-down news and messages on behalf of management, to encouraging company-wide dialogue and enabling easy two-way communication among an organization's employees via the channels — digital and physical — most relevant to them. 
But while internal communication methods have become increasingly digital, its long-standing purpose — to make certain that employees are fully engaged and aware of company strategy and their role in carrying it out — remains the same.
That being said, the post-coronavirus world isn't shaping up to look like the world that came before. Now is a time of great change, and it is the job of internal communicators to find the best ways to help employees navigate unfamiliar ground. But it won't be easy. Individual employees will follow their own individual paths on the journey to the so-called new normal.
As Marc Wright says in his article, When Organizational Communication Goes Bad, "Unless we engage with colleagues at the point where they are on the change curve, they just will not hear us." 
2. How Did a Pandemic Change Internal Communications?
Work From Home
"Work is changing," is something you probably heard before 2020, and maybe it was true for you and your organization. But the fact is, prior to the coronavirus crisis only 8% of all wage and salaried employees worked from home at least one day per week, according to the Bureau of Labor Statistics. Even fewer (2%) worked from home full time. 
In 2020, those numbers changed literally overnight. Today, it's almost certain that the way you work is different that it was pre-pandemic. How much of an effect depends on your specific industry, but there's little doubt that your job looks different that it did in, say, December of 2019.
And for many companies, there's no looking back.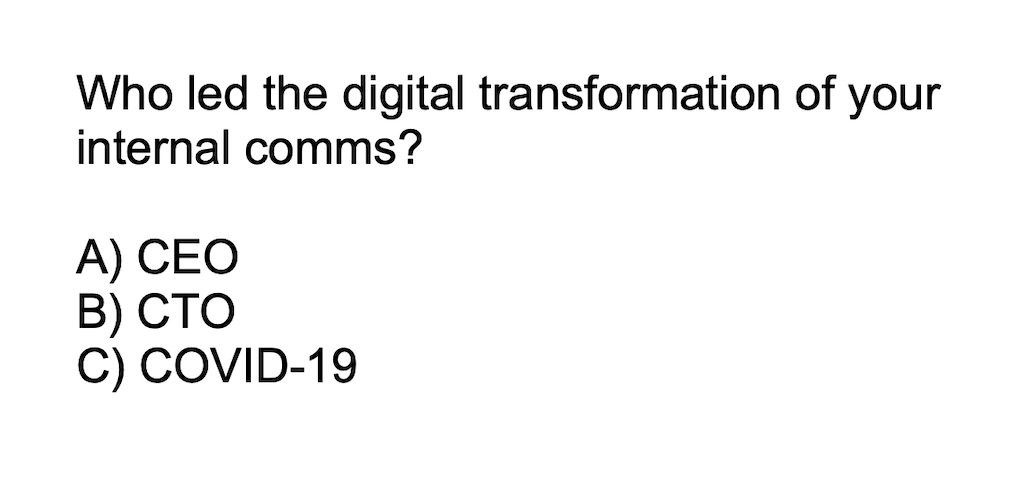 Gartner, the research and consulting firm, reports that its clients — mostly large firms with little direct public interaction — expected 82% of their employees to continue to work from home at least part time.
Such a large shift will have implications on office culture and corporate profits. For instance, companies will potentially be able to draw on an unlimited pool of talented workers who won't need to live near headquarters. And for better or worse, the boundaries between work and home will become increasingly blurred.
"There are real cost benefits to [having more remote workers], and companies are in a period where cost matters a lot," says Gartner vice president Brian Kropp. "Even if employees who are working remotely are 5% less productive, companies can save 20% on real estate and end up with a higher return."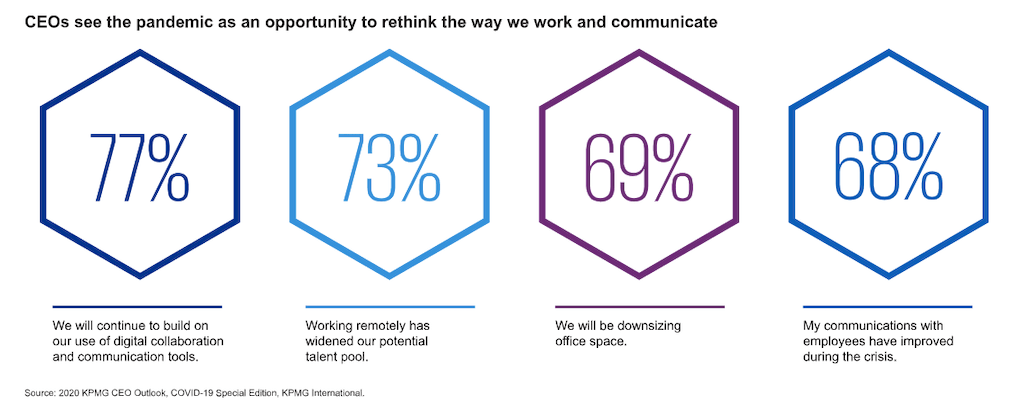 Remote Control: Rethinking the Way We Work and Communicate
Companies also face risks in a remote or hybrid environment. Employee loyalty could become tenuous, making qualities such as engagement and retention more difficult to maintain. The job of managing a remote workforce is also likely to be more complicated.
If companies switch to 50% remote work, they risk losing 50% of their corporate culture investment. If they don't fill this gap with effective internal comms, then they will be taking a step back. They will realize, 'Our culture is suffering.' They will have issues keeping their employees engaged, and eventually they will decide: No more home office."

Martin Böhringer, CEO, Staffbase
All of this provides a good reason for companies facing rapid transformation to look to examples set by organizations with traditionally remote workforces. They will see that when it comes to providing essential work-related information, not to mention keeping employees engaged and motivated, internal communicators are leading the way. And they're doing so with tools like an employee app or employee experience intranet.
The bottom line is that in an environment of remote work, the methods and purpose of internal communications will become more important than ever before. And they will depend greatly on the role played by software and technology. 
Whatever the future holds, it presents an opportunity for internal communicators. Why? Because in times of change, employees crave information: 63% want to be informed at least daily, and 20% even want notifications several times a day. 
3. What Are the Greatest Internal Communications Challenges?
No matter where your employees sit, effective communication is increasingly important to a company's success. It affects employee engagement, customer satisfaction, and the overall public perception of an organization.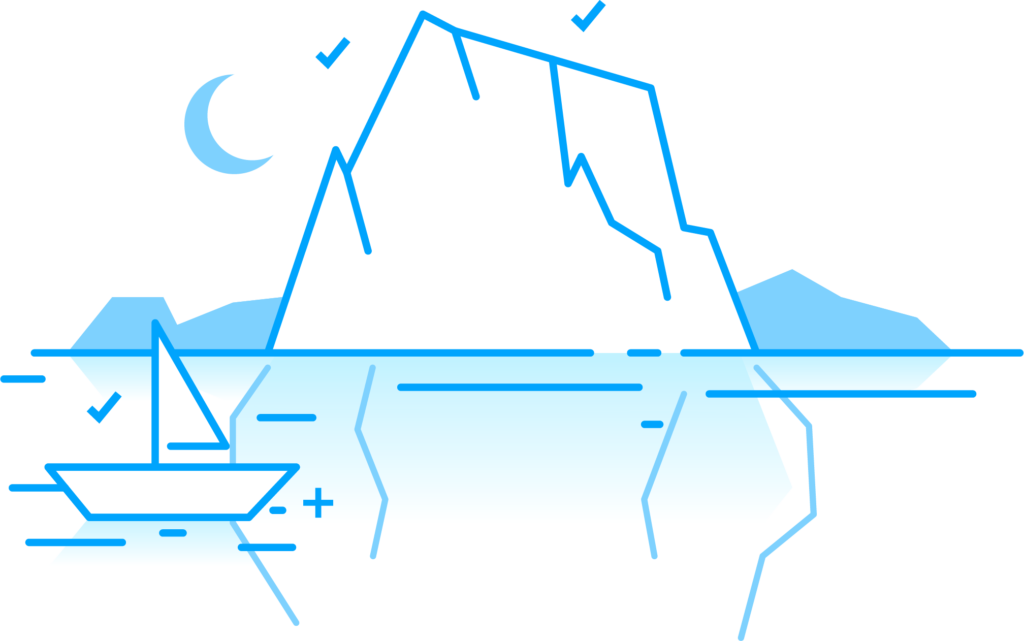 Fortunately, internal communications software like an employee app can help you to safely navigate around dangerous miscommunication icebergs.
Here are our top ten communication challenges, which you can read more about here:
A Lack of Feedback
Email Overload
Overall Lack of Communication
Device Chaos
Language Barriers
Balancing Internal and External News
An Overload of Irrelevance
A Lack of Mutual Respect
Budget Constraints
4. How Can I Gain Insights Into My Company's Current Internal Comms?
The simple answer? Start with an internal communications audit.
Done properly, audits are great for generating insights that can lead to improved business outcomes. They also carry the benefit of strengthening strategic thinking and communications management skills. 
Audits make you better informed, and they will put you in a better position to make strategic messaging decisions. And they will open your eyes to opportunities that can unlock truly meaningful — and sustainable — communication success.
Here are the five steps, which you can read more about in the free ebook, Your Internal Communications Audit: 5 Steps to Getting It Right.
Determine the Scope
Conduct Executive Interviews
Ask Your Employees
Audit Your Existing Communication Channels 
Consolidate Findings and Create Recommended Actions
5. What Are the Top Internal Communication Trends for 2022?
Storytelling, employee-centric content, video, multi-channel intranets, culture boarding, agile work, impact measurement — keeping up with trends in internal communication is important. So what are the trends that can help you prove your value as an internal communications specialist in 2022?
Let's look at a few:
Remote work is here to stay: Organizations that facilitate remote work and combine it with accessible corporate messaging will do a better job of keeping employees focused and productive. 
Employees want transparency and clear, trusted guidance: Trusted, accurate information puts people at ease and allows them to turn their attention and skills toward the future. Rather than living with false confidence that all is well, leaders and employees alike can get started on working through real problems.
Organizations are increasingly dependent on the digital workplace: Rapid workplace evolution is necessitating the implementation of modern tools that can effectively keep all employees fully informed as more of them move out from under a single corporate roof.
Internal comms is gaining bottom-line relevance: The strengthened contribution of internal comms from commercial, operational, and organizational perspectives has been evidenced by its starring role in crisis management. The proven value provided by modern communication tools has also helped to back up the relevance of internal communications efforts.
6. What Are Today's Internal Communication Best Practices?
Improving the Employee Experience
Employee Experience (EX) has become a strategic priority. And internal communications has a massive influence on EX. That's why recent years have seen a huge rise in the number of employee experience professionals. These people are broadening the scope of HR to encompass all of the touchpoints that workers have with their organization throughout the employee journey.
Their goal is to make employee relations as enriching as possible in order to engage talented workers, keep them around for longer than the US national average of just 4.2 years, and turn them into loyal employer brand ambassadors.
EX professionals are responsible for mapping their organizations' strategies for undertaking this journey. They communicate with various departments, including IT, finance, and marketing, and apply design thinking in the development of compelling people programs.
Employee Engagement Starts on Day 1
As a result, recruitment strategies and onboarding processes are being tied to learning and development initiatives, which in turn can form part of a meaningful recognition and rewards culture.
Employee Experience is still a new field, so it should be no surprise that current EX professionals have held their positions for an average of only two years. What's interesting in this regard is that their roles are being adopted at different management levels — from manager to director to chief.
In some organizations, Employee Experience pros are reporting to the Chief Human Resources or Chief People Officer. In others, these people are part of C-level leadership, where a Chief Employee Experience Officer might be charged with aligning talent acquisition and employee retention with overall business goals. But no matter their exact place on the org chart, they all face similar challenges.
The EX discipline requires an array of skills, including the use of modern business analytics and communications methods. The focus is to create dialogue and build engagement with a changing, multi-generational workforce that's more dispersed, mobile, and tech-savvy than ever before.
But it also requires good old-fashioned empathy and emotional intelligence. It's about talking "with" people, as opposed to talking "to" them.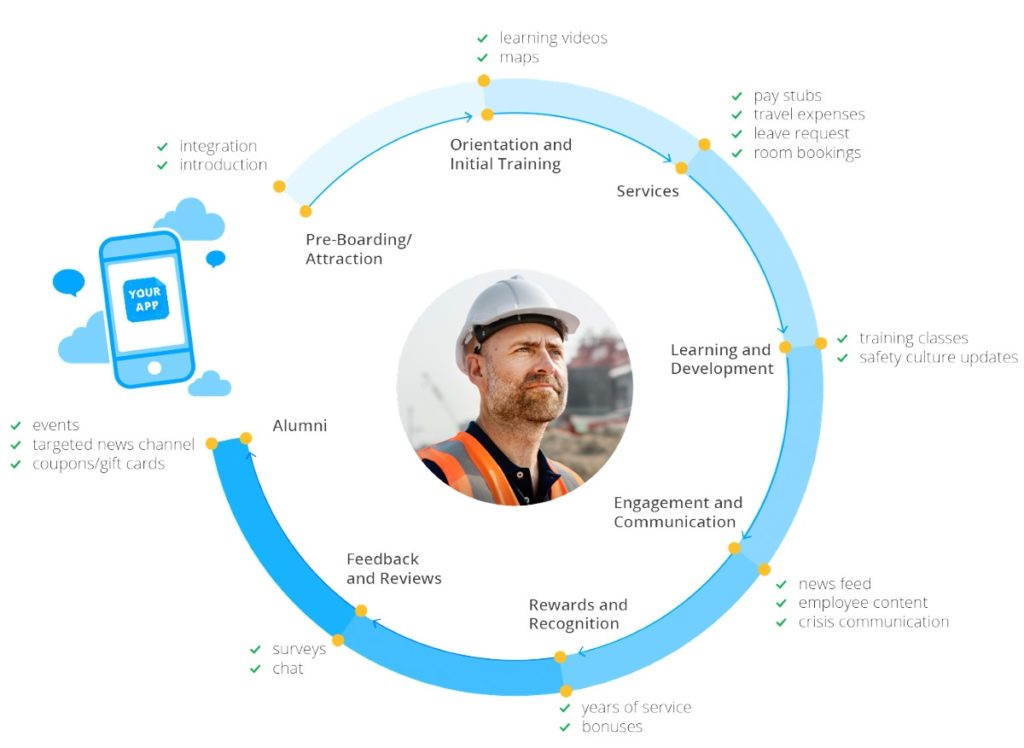 Communicating Internally with Purpose
The goal of investing in any communications and engagement technology is obviously to communicate better and increase engagement. But organizations should understand that any platform, no matter how advanced, will only be as meaningful as the content it shares.
That's why the one quality all successful best practices in Internal Comms have in common is to put real purpose at the heart of every message they share, a key step in improving the employee experience.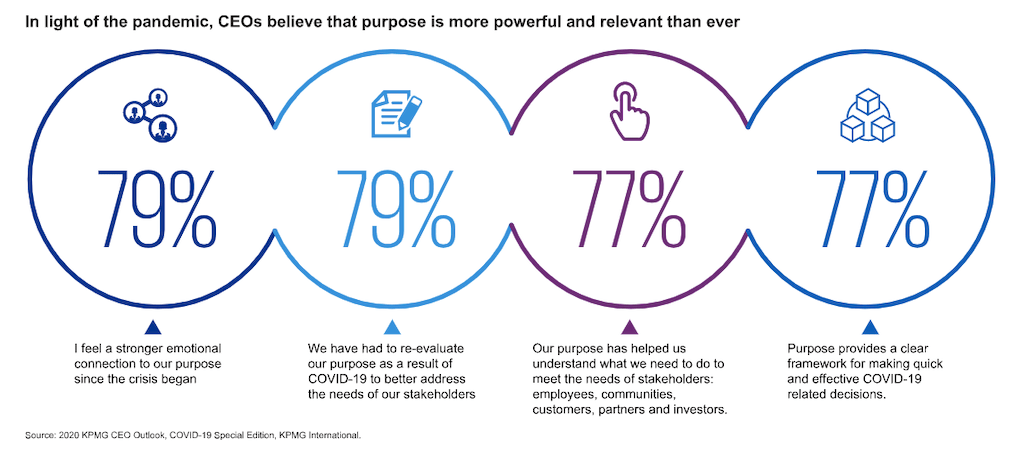 If you're not clear about what you're trying to say, you can't possibly expect your people to understand you. That means it's up to you to initiate the conversation about who you are as an organization — and who you would like to become. If the two aren't one and the same, then you have your work cut out for you.
But don't despair. Your organization definitely has a purpose, and once you establish it, creating purposeful communication is well within your grasp.
Measuring Business Outcomes
You can't manage what you can't measure. That's why communications analytics have become a best practice in recent years. Or have they?
In fact, a recent survey from Ragan Communications revealed that in post-pandemic 2020, measurement remains a pain point among communicators. Only 24% of their respondents report measuring the top three channels used; 42% measure just one or two of their primary channels; and 34% don't measure at all. 
Could it be that communicators and leaders believe that they're wasting their time measuring the consumption of content when desired business outcomes are really the goal?
If internal communicators want a seat at the table, they need to prove that their work drives behaviors that lead to bottom-line results. These include improved sales, increased productivity, opening the doors to new hires, and strengthening employee retention.
Tying comms performance more directly to business outcomes makes the function more strategic. It encourages additional investment, rather than constant belt-tightening. And it keeps comms professionals relevant.
7. What Are Some of the Best Ideas to Improve Internal Communication?
In times of change or crisis, Internal Communication is the glue that holds companies together. So it's no wonder that in 2021, IC continues to grow in both relevance and business-critical necessity.
Here are some ideas about how your organization can rethink the way it communicates. You can find even more in our blog article, 11 Ideas How to Rethink Internal Communications and Boost Your Employee Engagement.
Use Communication to Create Culture, Even If It's Virtual
Embrace the Power of Video Platforms
Let Your Employees Be the Voice of Your Brand
Welcome Working from Home — Because It's Here to Stay
8. What Are the Most Effective Internal Communication Tools, Systems, and Software?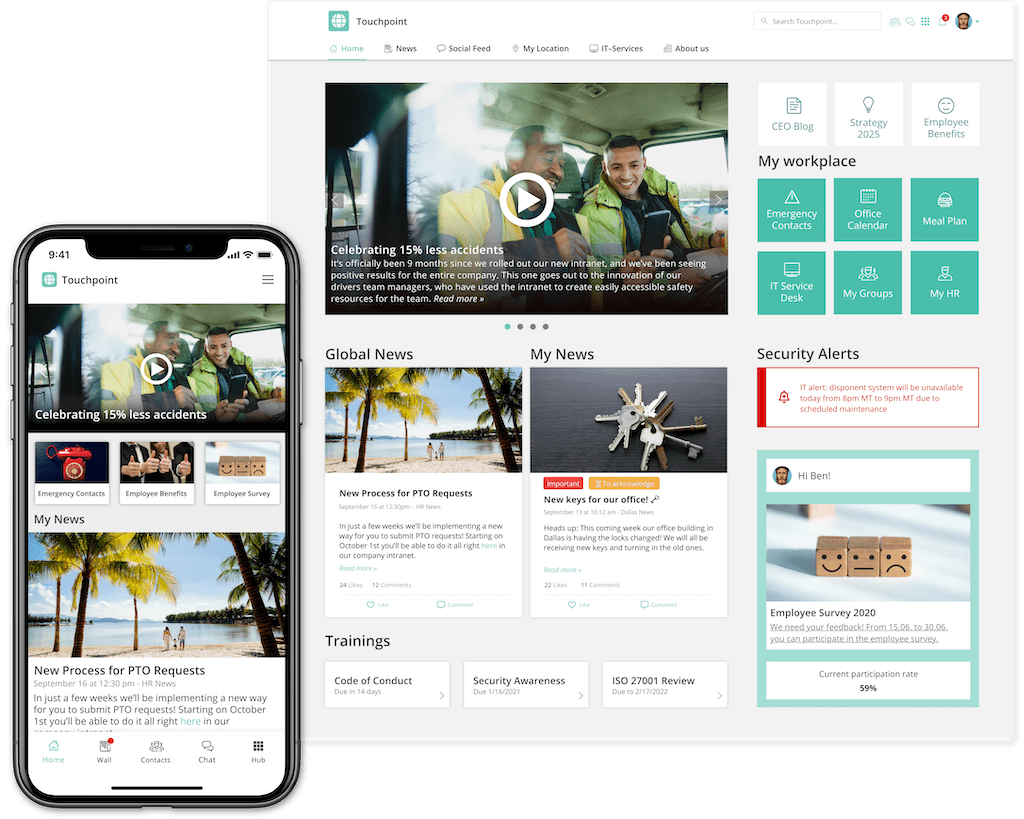 Today's internal communications software generally serves as the core communication system within an organization. These tools help businesses and their employees share information and files. And they're designed to connect and engage a workforce through various digital channels, including, but not limited to:
Chat Services and Forums
Podcasting Tools
Video Communications
Collaboration Platforms
Video Conferencing
The best of these internal communication tools are intuitive and easy to use, making it simple and more convenient for a company's employees or specific team members to interact — both with leaders and peers — in real time.
And they focus on four key areas: communication, contribution, empowerment, and learning.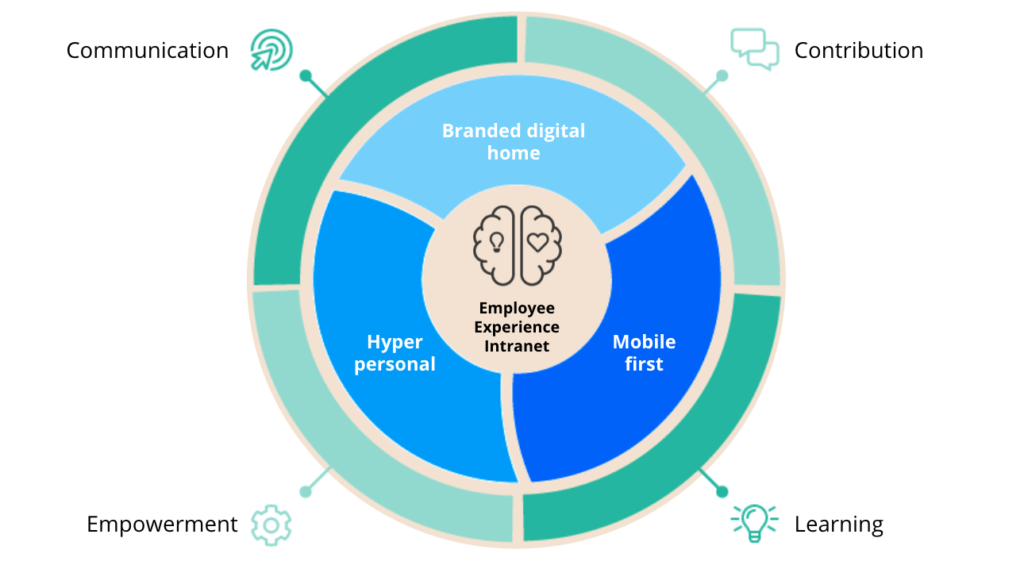 While all of these tools are designed to facilitate communication, the focus of some is aimed at collaboration-based use cases, while others are more about sharing internal news — both top-down and peer-to-peer.
Internal communications software for collaboration has pretty much taken the emphasis away from email and made teamwork among coworkers — sharing links, documents, and files — as easy as social media and private messaging services such as WhatsApp or Facebook Messenger have made personal communication.
Like these private communications tools, the best internal comms software lets users interact the way they do when they're not at work, including the use of emojis and GIFs, making workplace interactions more fun and dynamic.
9. Are Some Internal Comms Channels Better Than Others?
In order to be successful, internal communication channels need to to reach all employees at the right time and with the right message and content. But some channels are better suited to this task than others. We've examined eight common channels for employee communication and ranked them from the best to the worst here.
Email came in at number 3 on our list, but honestly, it could have been number 1. Gartner's post-pandemic survey revealed that of the top four channels currently used by communicators, email remains firmly at the top (93%). It is followed by virtual and video meetings (83%); the intranet (41%); and internal social networking, chat, and real-time messaging tools (34%).
Common to all of these channels was their post-coronavirus usage, which jumped dramatically. And as you might have guessed, in-person meetings and print publications are being used far less.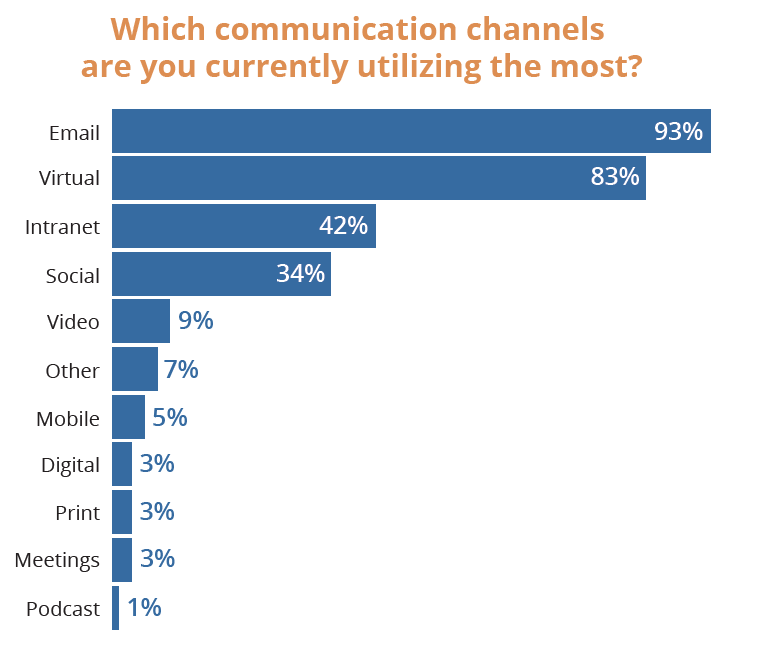 Four Reasons Mobile-First Stands Out
Unlimited Reach
Real-Time Communication
Reduced Complexity
A Single Touchpoint for All Employees
A mobile employee app is a powerful tool. In addition to being the most robust communications channel available, an employee app supports all of your employee touch points, such as HR processes, knowledge management, and employee self-services. And they're receiving increased praise from the savviest of today's companies.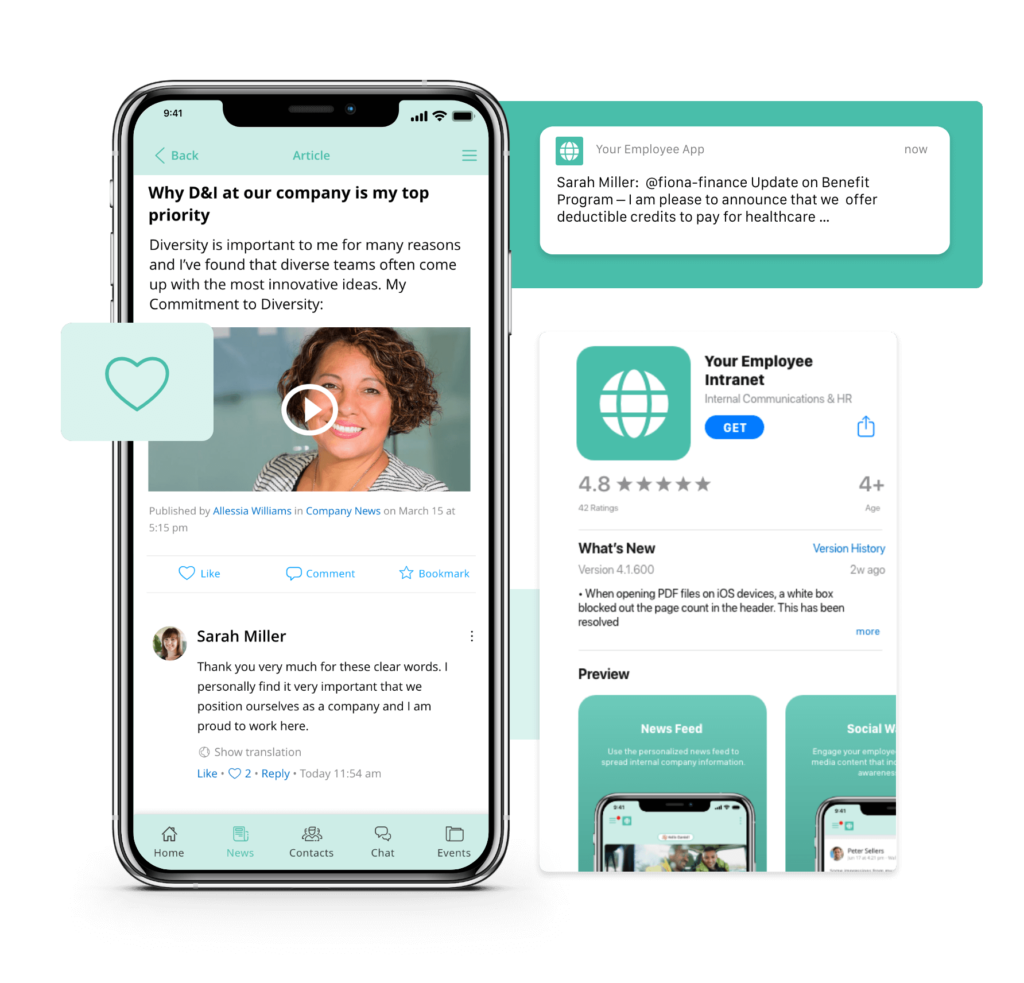 Highly regarded for being streamlined and convenient, their functions are being developed to meet the most essential organizational needs, and they can be quickly implemented, especially compared to the large and cumbersome IT projects of the past.
Given these developments, it shouldn't be surprising that employee apps are now a hot topic among internal communications specialists.
10. So, How Do I Plan My Internal Communication Strategy?
Effectively meeting the unique challenges of the changing workplace will require companies to plan bold new strategies for internal communication. Will doing so finally give communicators a seat at the table?
We think it will.
But getting your people the news they need will be a matter of calm and strategic planning, concrete recommendations for action, and big-hearted efforts aimed at uniting your organization emotionally. 
Staffbase wants to support you in this critical phase. We've developed a basic strategy template to help internal communicators plan for the days ahead. The template is described here in full detail and is also available for download.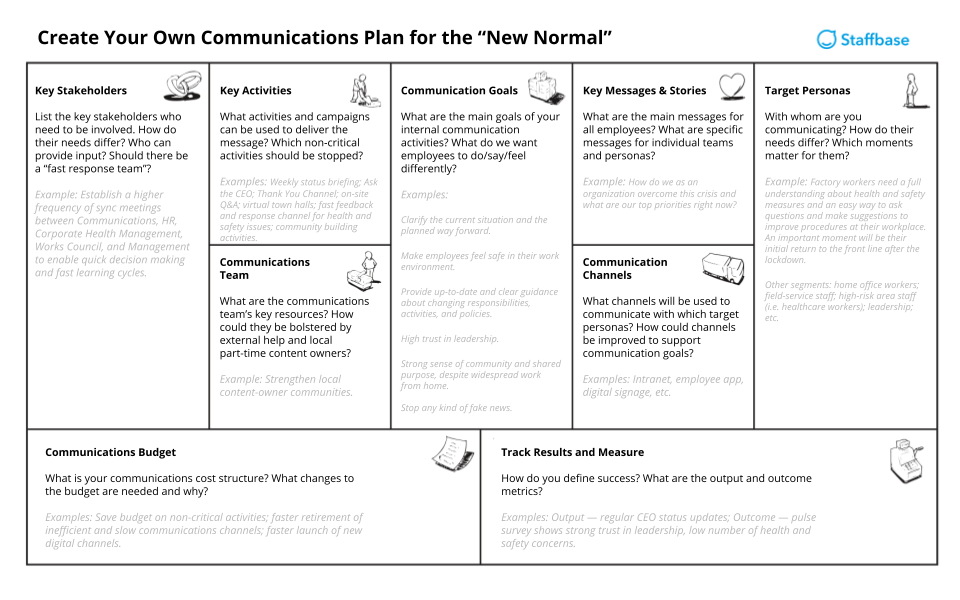 Read more about employee communication best practices: