Creating an effective modern intranet that will engage and connect every employee of an organization is the goal of intranet managers everywhere. But whether you're replacing an existing intranet or starting from scratch, there are some important considerations to make as you begin searching for intranet software tools.
Today's enterprise companies need to ensure that no matter where their employees work, be it under the roof of their corporate HQ or remotely (which is very likely these days), an employee experience intranet will assist them in their daily activities. An advanced intranet will reflect their company culture and ultimately help them to do their jobs better than ever before.
That being said, the abundance of available choices (the latest ClearBox buyer's guide to intranet and employee experience platforms reviews more than 30 products) when it comes to intranet software tools — in regard to features, functionality, and approaches — makes even knowing where to begin a complicated decision. 
But whether you're an intranet novice or an old pro trying to overhaul an existing legacy intranet, the best advice we can offer is to start with the basics.
1. Define the business vision and the strategic goals you want your intranet software tools to meet
Just as every company in a given industry has its own specific culture and challenges, every intranet will have its own unique purpose and objectives. An intranet is ideally designed to meet the specific needs of the people who'll be using it. That being said, there are certain business goals that are universal.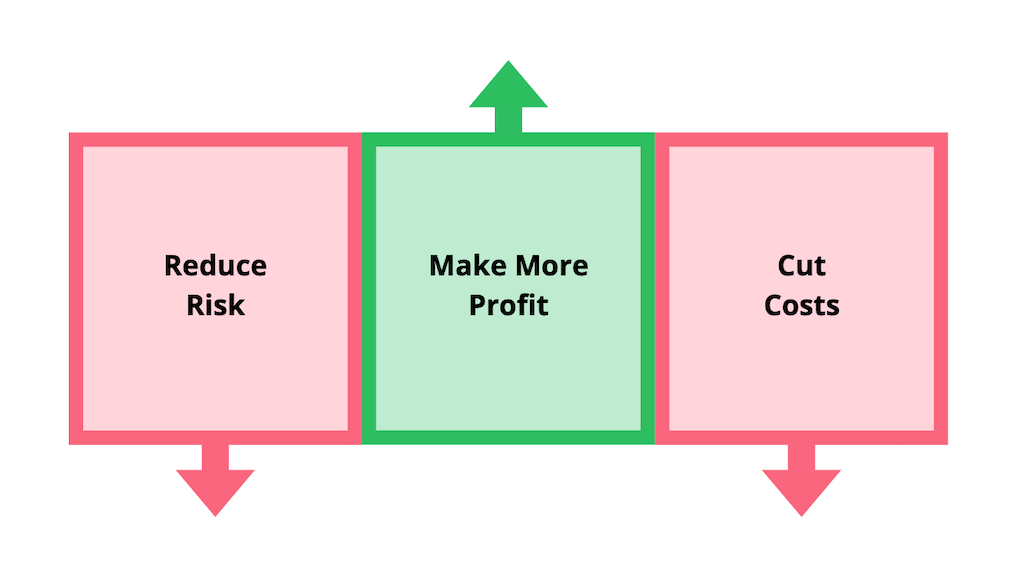 When considering what your business wants from a modern intranet, it's not a bad idea to start with the outcomes that you'd like to achieve and work backwards from there.
Even if it's just a simple list, set out the business vision and goals for your intranet and picture how you envision it improving the way your employees work. Talking to an array of potential users will give you some practical insights into the features that are most important.
Intranet costs can vary greatly, so having a rough sense of the possible benefits will help as you estimate a realistic budget (more on that later).
If you already have an intranet in place, coming up with a list of "must-haves" for your intranet software tools will probably be easier. After all, you'll likely have a pretty good idea of what's working and what isn't. And knowing what you don't want isn't a bad place to start.  
It's also not a bad idea to audit the digital workplace systems you already have in place. Given that the best modern intranet software is ideally focused on communications, we advise you to run a communications audit fairly early on in the decision-making process.
You can find our guidelines for such an audit here.
The Employee Experience Framework
As soon as you start thinking about intranet software, you have begun what will be an ongoing, evolving process. We've designed an Employee Experience Framework (see illustration below) that shows the basic stages of this process. It starts with your strategy considerations and continues through your intranet setup and rollout, carrying on through the continuous improvement you'll want to see over the lifetime of your intranet.
We've split these stages into three areas of consideration. Once you've defined your vision and goals, you can begin analyzing your content and its structure. The final step is to plot how all of these elements will fit into the technical platform you ultimately choose.
2. Decide whether to make or buy your intranet software solution
The question of whether to make or buy an intranet comes up more than you might imagine. But if you're really thinking of building your own intranet, you'll need to have a ton of faith in your IT department and a lot of time on your hands. And a big budget, too. 
You're going to need all of these things and more in order to get your intranet off the ground, but also to perform regular maintenance, fix inevitable bugs, and help your intranet platform grow with your business.
In our experience with hundreds of intranet and employee app customers—especially considering today's common need for an additional mobile channel—the effort required to "do it yourself" will be quite high.  
All of this is to say that we're not big fans of the build option. When it comes to intranet software, especially in our Cloud-based SaaS world, buying is almost always the better decision.
Buying your intranet software means you can:
Launch your intranet quickly and with minimal interruptions.
Delegate intranet tasks to non-technical users, saving lots of time in the process.  
Put the growth and evolution of your intranet into expert outside hands (instead of modifying code internally).
Spend less money. Building an intranet is an expensive proposition. Throw in the inevitable consultation fees and the hidden costs of ongoing maintenance, and you're looking at an initial spend that will snowball over the years.
Still not convinced? Here's an even more in-depth look at the "make or buy" argument.   
3. Define your employee personas and establish their most pressing intranet needs
Whether or not you already have a technical platform in place, another major area of consideration covers the people you want to get the most from the intranet software you choose: your employees. 
An employee-first mindset will give you great insights into what your intranet software needs to do. What you're sure to find is that different employee personas will have different needs. 
Perhaps they're looking for a better way to collaborate and communicate online. Or maybe they'd benefit from a modern intranet that lets them manage their working lives through a digital front door rather than having to log into multiple sites. 
Maybe they're working remotely and need a mobile solution to communicate and engage with their colleagues. 
The point is that before you start to narrow down your intranet software options, it's up to you to fully evaluate the pain points of as many of your employees — in as many different roles and departments — as possible. Only then can you prioritize the specific requirements you'll need to create an intranet that's accessible and useful to everyone.
Creating employee personas will also help you down the road as you tailor content to the specific needs of your individual employees and share it with them in the moments that matter along their employee journey.
There are a variety of tools available for creating your employee personas, some of which can even be integrated into your intranet.
 What makes an employee persona? Here are some common characteristics:
Specific title and job role
Location (mobile or desk-bound)
Age group, education, and tenure
Years of experience
Career progression
Career goals
Specific workplace challenges
Feedback (from engagement surveys, etc.)
4. Identify the intranet software functions that are business-critical to your organization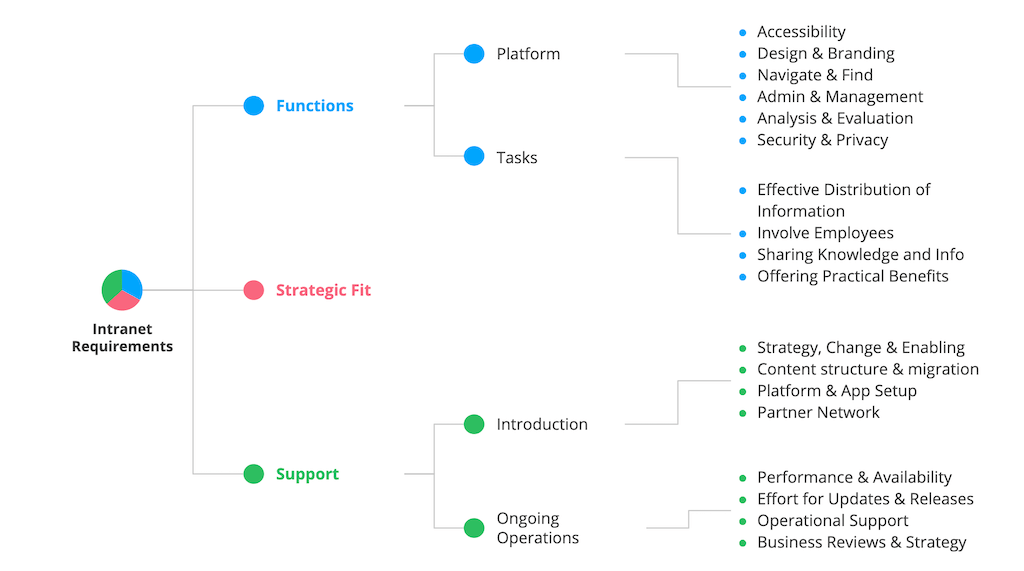 It's very likely that the intranet features you find you need the most will also be the ones that best foster adoption and engagement by providing practical value.
As we've noted, every organization will have its specific needs. Nonetheless, here are some modern intranet functions that are popular with most companies:
Platform
Mobile First
Branded
Strong Search Capabilities
Internal Communication Focus
Ease of use for Admins and Employees
Personalized Content
Security
Tasks
News Feed
Employee Directory/Org Chart
Comprehensive Community-Building and Interaction Tools
Instant Messaging
File Management
Structured Educational Content 
External Services (shift scheduling and other practical use cases) 
Analytics
5. Understand your technical support requirements and how they will affect your setup strategy
Can the intranet software you're considering integrate with your current digital workplace tools? Be sure your software choice isn't hampered by IT factors, such as compatibility with other systems.
In the above intranet requirements chart above, look at the items in green. These questions about the introduction of your intranet software and its ongoing support should be answered as early as possible in your decision-making process. Consult with your IT experts here.
Cloud-based software has been a game-changer when it comes to how modern intranets work. Nonetheless, and especially depending on your business, you should still consider the differences between on-premise and Cloud software:
On-Premise or Cloud?
An intranet is only possible with servers and network connections. Your intranet will depend on how it has been set up and maintained. You really have just two options:
On-premise: Some organizations prefer on-premise servers. Generally, this choice is backed by the belief that it will keep data more secure.  But just as enterprise companies invest a lot in security, so do large Cloud providers. "Whether it's more secure or less secure," says John Treadway, senior vice president at Cloud Technology Partners, "the Cloud is at least as secure as most enterprise environments." And just as with the "make or buy" question, organizations with an on-premise solution will need IT to set up, maintain, and secure their intranet. Even then, it's almost certain that they won't come close to the security that a Cloud provider will guarantee.
Cloud: Cloud solutions are hosted on an offsite server that your organization connects to via the internet. They have many advantages, including ample storage; regular, automatic data backups; and guaranteed security. Technical management will be your intranet provider's responsibility, leaving your IT department time to focus on other technical needs. Cloud intranets are usually sold through a Software-as-a-Service (SaaS) subscription. You'll pay a monthly price depending on the number of users.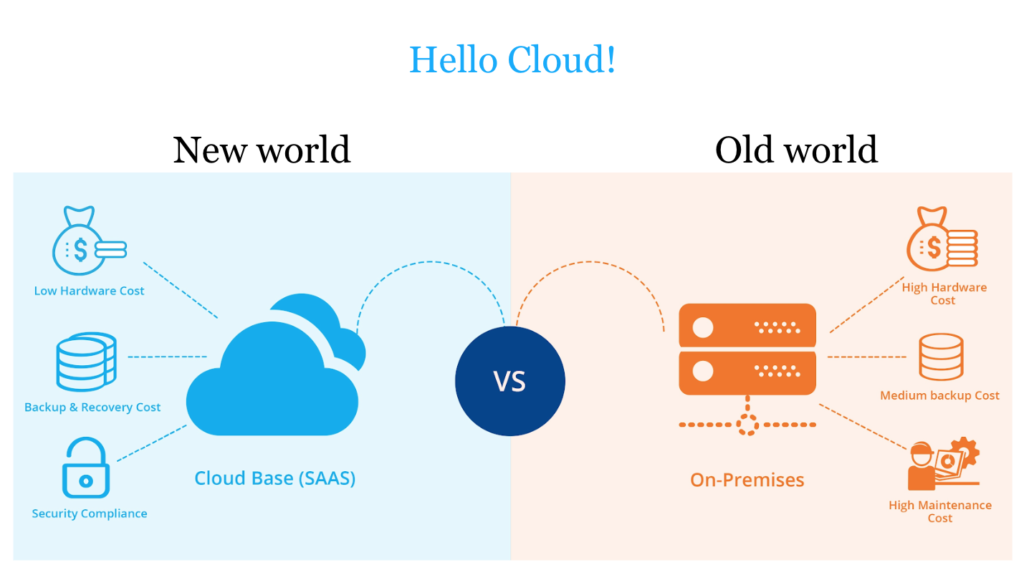 6. Make sure your team can support the intranet solution you choose
Traditionally, the job of purchasing, managing, and maintaining business software has been left to IT. The problem is that these people aren't usually employee engagement or communication experts.
In oder for your intranet to be its most effective, it needs to be a tool that all employees and departments can use. That's why the intranet software you choose has to be easy to support by the people actually using it—which ideally is everyone.
By choosing intranet software with built-in, easy-to-use delegation tools, you can give admin rights to anyone you choose, assured that they can carry out their responsibilities with little to no training.
7. Calculate your intranet software budget
Choosing an intranet software platform often comes down to evaluating its likely costs versus its bottom-line value. Budgeting for your ultimate choice will greatly depend on the following criteria:
Cost (both initial and ongoing)
Your expected ROI
The time necessary to implement and manage your choice
Figuring out these numbers and estimating your overall costs is complicated. Your total outlay is almost certain to be more than the initial purchase price of your intranet software. This is especially true when factoring in the the cost of ongoing support, future development, and the time and effort required to maintain your intranet platform. 
We've developed a Communication Strategy Template based on our customer experience and the widely used Business Model Canvas, initially developed to describe business models as simply but comprehensively as possible.
You'll see some of the other considerations we've mentioned throughout this article, but of particular interest to the point being discussed here is the "Communications Budget" section in the bottom left-hand corner.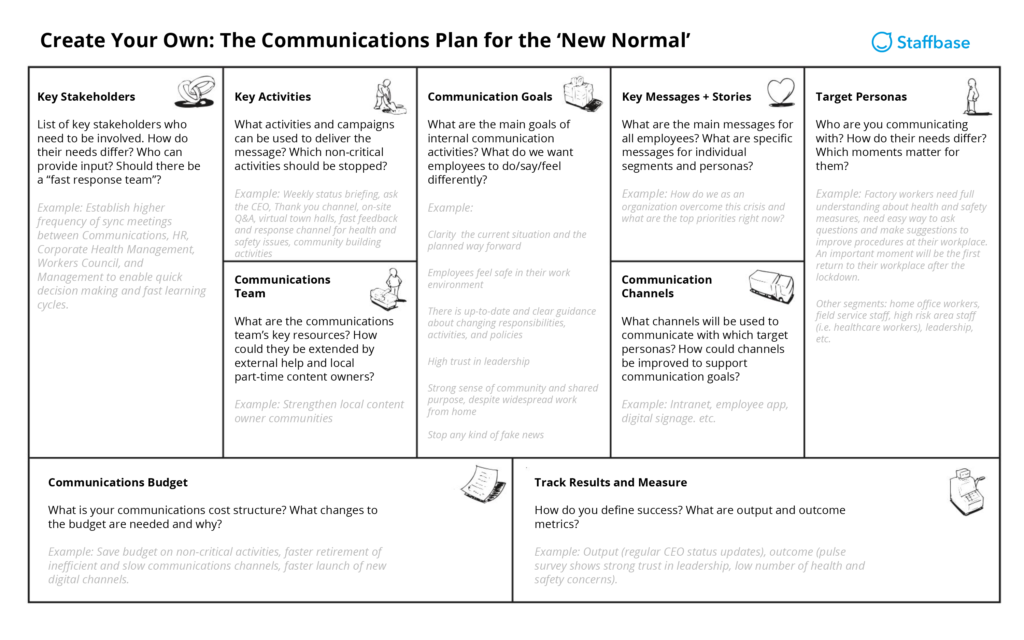 This template will allow you to visualize the customers you serve, the value propositions offered by the various channels, and how your company makes money.
The biggest takeaway is that there's way more to consider than the initial price of the software. Choosing a SaaS provider will allow you to draw on their experience when it comes to factoring in the long-term costs associated with modern intranet software.
Only once you begin compiling your particular business specifications and getting quotes from different intranet vendors will you really start start to get a sense of how much money you'll need to fulfill the goals you've set for your intranet.
8. Get yourself an intranet software demo
Once you come up with a shortlist of candidates, you'll want to schedule demos for some hands-on experience with the products.
Establishing a direct rapport with your possible vendors will also give you a good sense of the kind of customer service you can expect down the road.
Your intranet demo as a great opportunity to kick the tires. Get an array of your stakeholders involved in the demo process and encourage them to play around with the product and get all of their questions answered up front.
9. Create a vendor shortlist and have a deep dive with your top contenders
Once you're ready to request a formal proposal, take the time to explain your desired business outcomes. Think back to step one of this process and share some scenarios of how you envision your employees using the intranet.
Knowing the goals of your ideal intranet will give the vendors on your shortlist greater context than a list of features. It may also help them to come up with different solutions that you might not have considered.
Basically, these people are the experts. You're going to want to trust them, so take advantage of their knowledge and ask questions. 
10. Make your intranet software decision with confidence
Choosing intranet software that's easy to maintain and scale is a crucial to its ultimate success. But remember that a lot is also riding on the content that you make available via your intranet.
Getting the right intranet features is key, but so is finding a platform that allows you to reduce the complexity of the information you'll be sharing.
The best intranet software tools are more than a matter of plug and play. We hope you make the choice that's right for you, but your journey won't end there. The success of your intranet will depend just as much on you as it does on the software you choose.