Staffbase is heading into Q2 with a bang, thanks to a range of new features and upgrades and the much-anticipated launch of Staffbase Campus. We're excited to get into the details, so why wait? Here's what's new in a nutshell.
Our latest release includes:
Email Personalization
Email Contact API
Chat Reactions
News Channel Overview
Resource Center
Showing Selected User Groups In the Network Plug-In
Video Insights
Staffbase & Microsoft Integrations
Let's get to work
In this video, we'll introduce you to the latest updates from Staffbase in just a few minutes. Press play to see new Staffbase releases in action!
Email Updates
Email Personalization
We've added the ability to personalize emails by employee's first and/or last names. This is a great way to get reader attention and improve employee engagement with your content. Watch this space for more personalized email fields coming soon.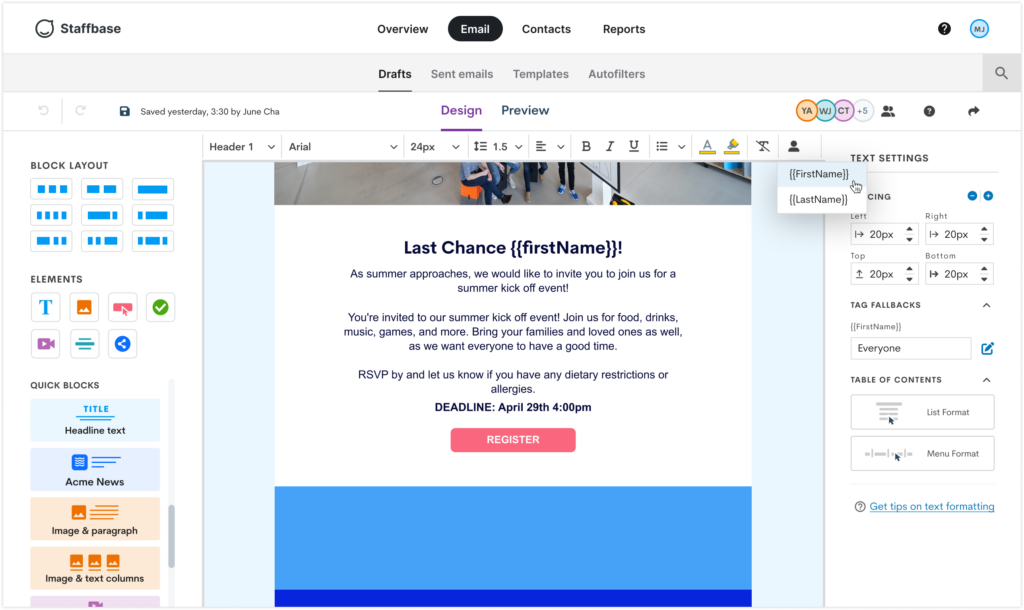 Contact API for Email
Our new Contact API allows you to pull your employee email addresses and attributes from any third-party human resources system directly into Staffbase Email for creating custom distribution lists.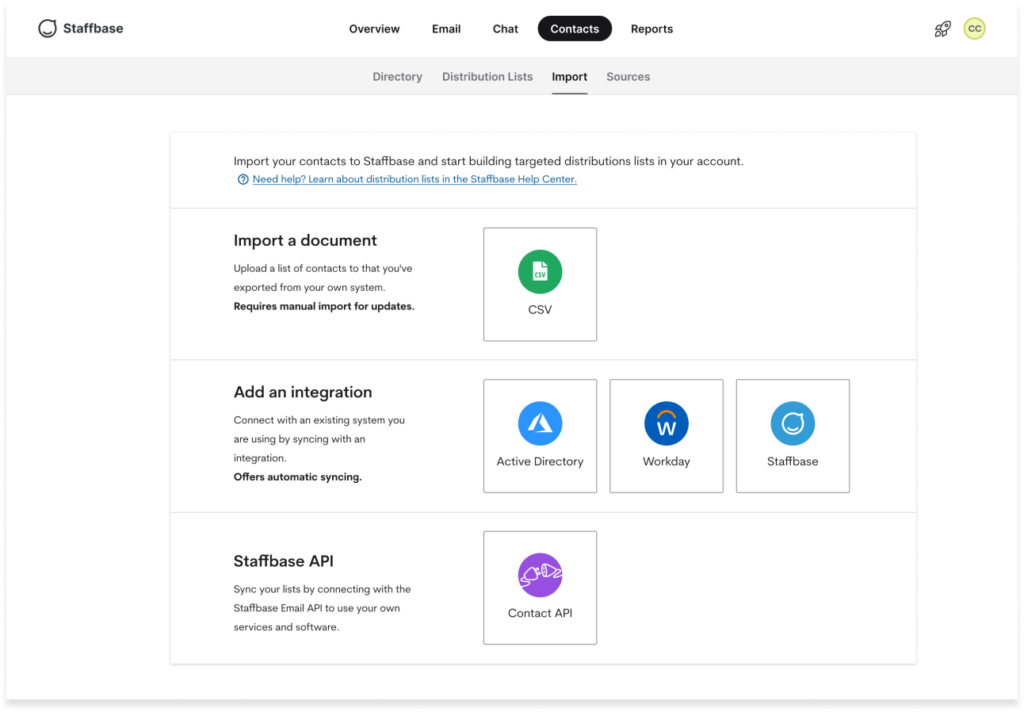 Chat Reactions
Moving to our employee app and intranet: Staffbase Chat now includes Reactions to help users acknowledge a message or show support without writing a detailed response. Plus, they add a fun and social way for teams to interact. There are currently 6 different reactions to choose from.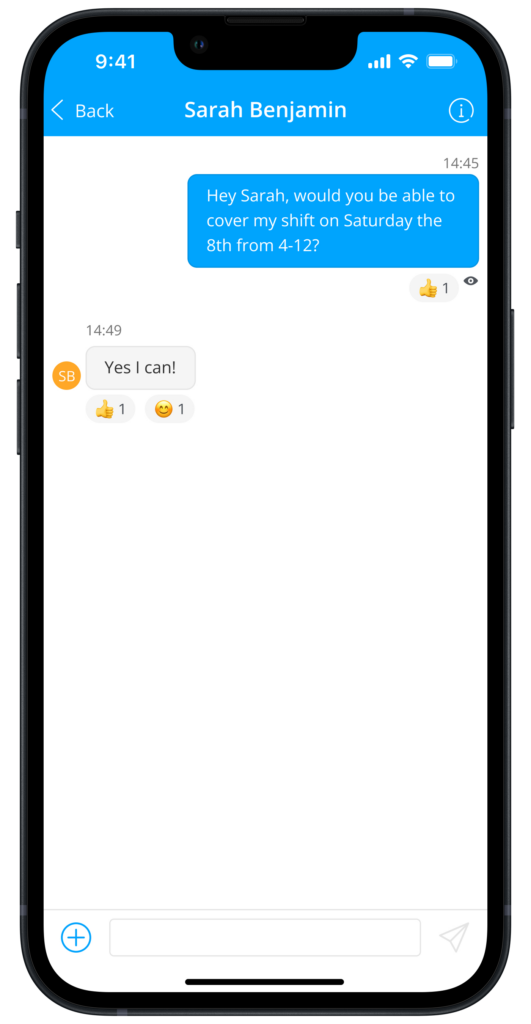 News Channel Overview
We've just launched our latest news channel overview with an improved and more intuitive structure along with enhanced search capabilities. This makes it easier for editors and admins to efficiently manage and create posts for their various channels.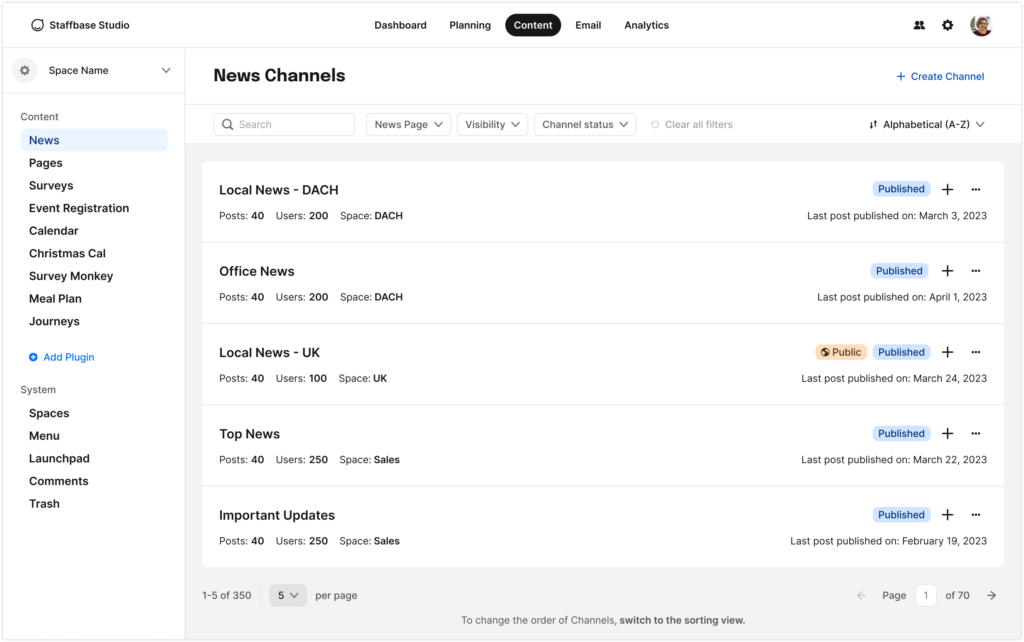 Resource Center
Our new Resource Center allows all admins and editors to access the latest information about product releases, Staffbase resources, support articles, and more - from one convenient location. It's already available to all admins and editors in Staffbase Studio from the top nav.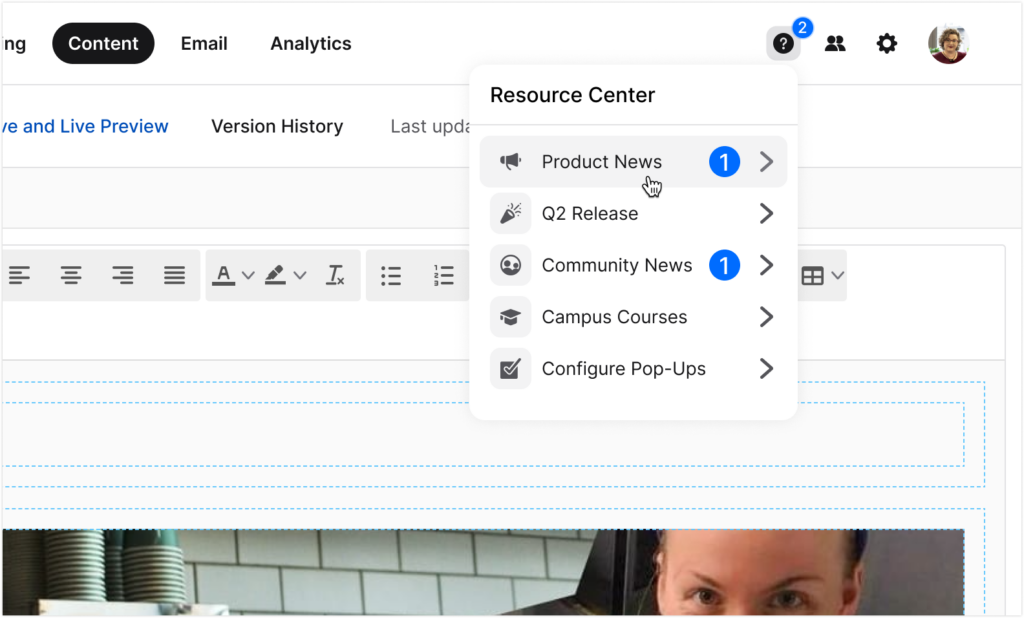 Show selected user groups in the network plugin
We're also adding the ability to control which user groups your employees are able to see in your employee directory. This allows you to limit available contacts by an attribute, like division or operating company, or to remove other contacts like contractors or external partners that you don't want to be visible.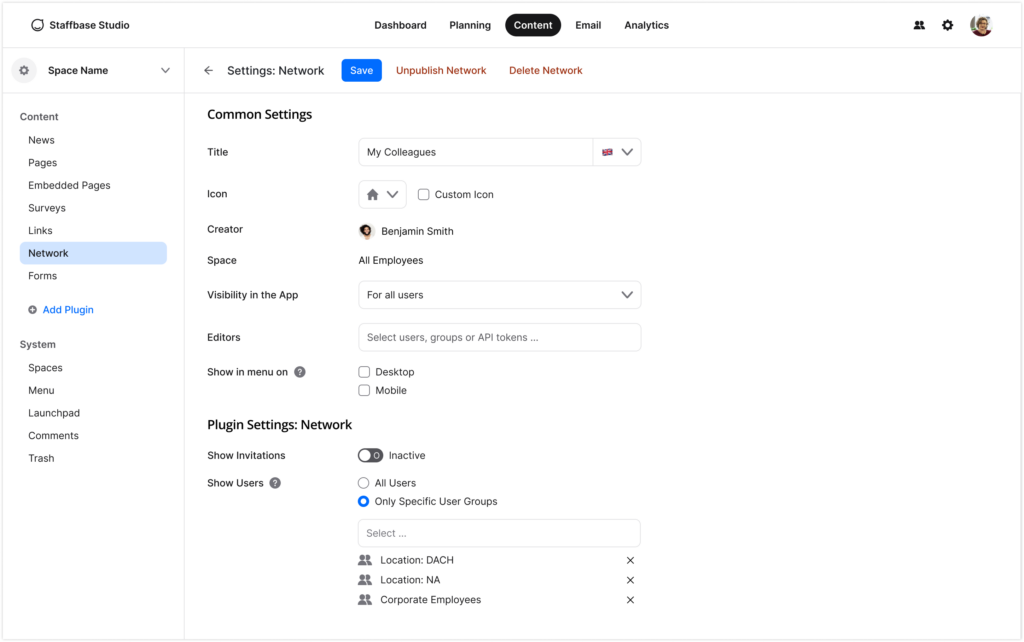 Video Insights
Our highly requested video insights feature allows you to better understand employee engagement with your video content. You'll have all of the information you need to build on your video strategy or to justify further investment in video comms.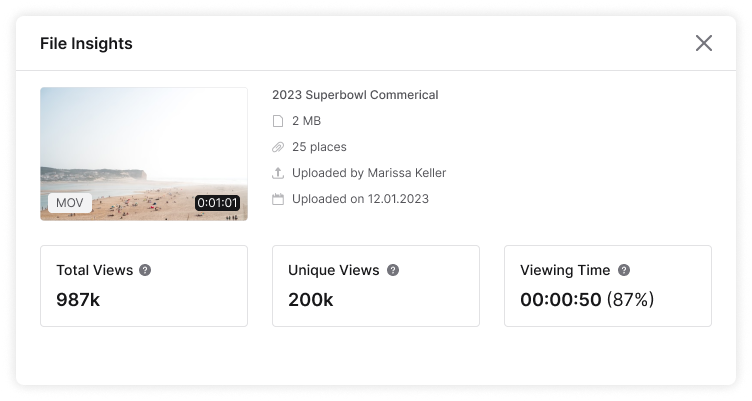 New Microsoft Integrations
News Central for SharePoint 2.0
We're excited to announce a range of new integrations for seamless and complimentary workflows between Staffbase and SharePoint. First, we've improved News Central for SharePoint and added the ability to create or edit SharePoint posts using the Staffbase Studio at the click of a button.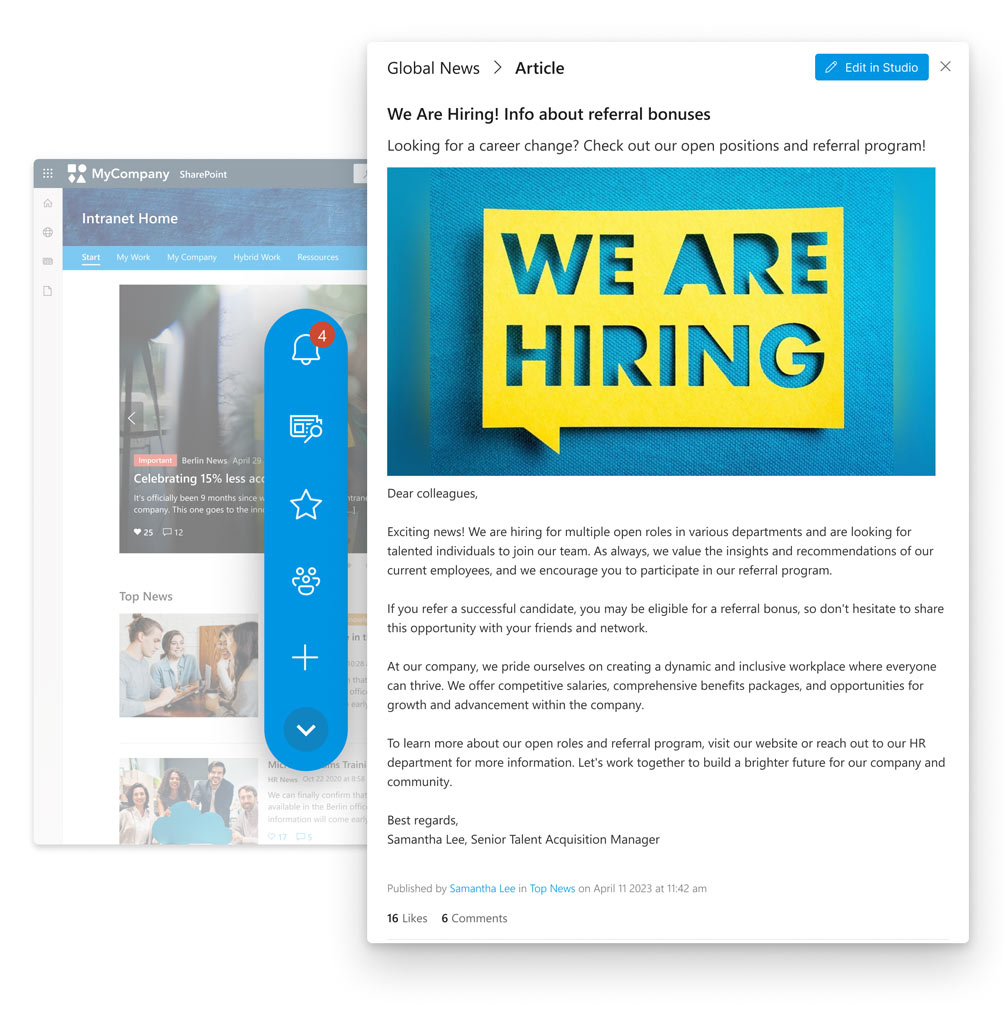 PnP Modern Search Web Part
Thinking of creating a search hub or simply want to extend the reach of your company news? Now users can search for Staffbase news directly from SharePoint via the PnP Modern Search Web Part.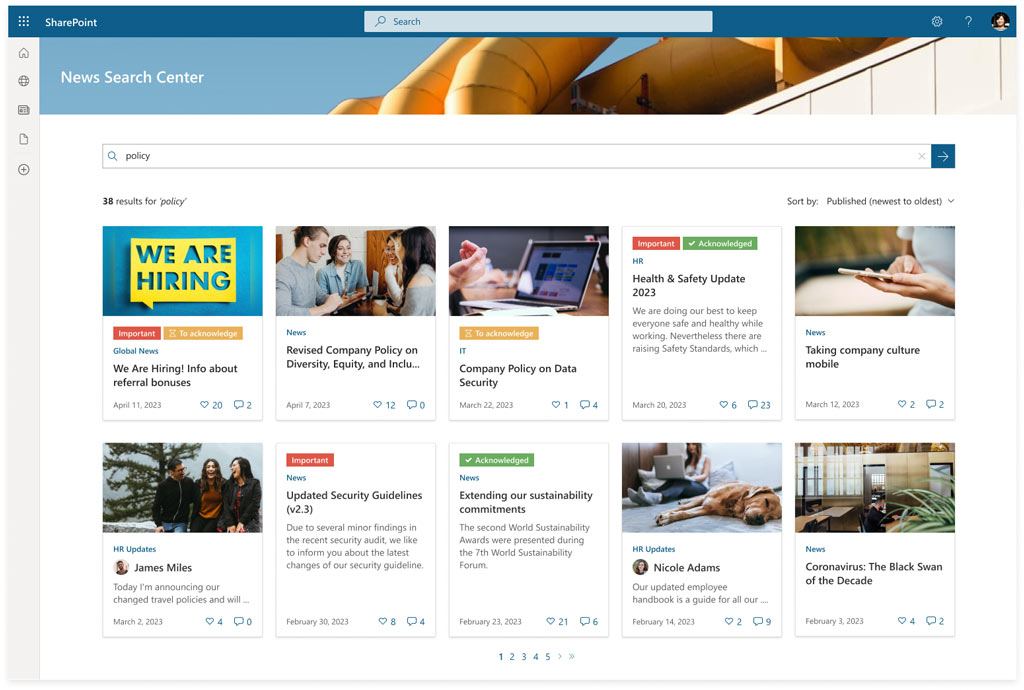 Power Automate News Sync
Automatically sync news and news updates from SharePoint to your Staffbase platform with a new Power Automate template. This is an ideal workflow for those using a Staffbase employee app alongside a SharePoint based intranet solution, creating a single source of truth that updates from SharePoint to Staffbase.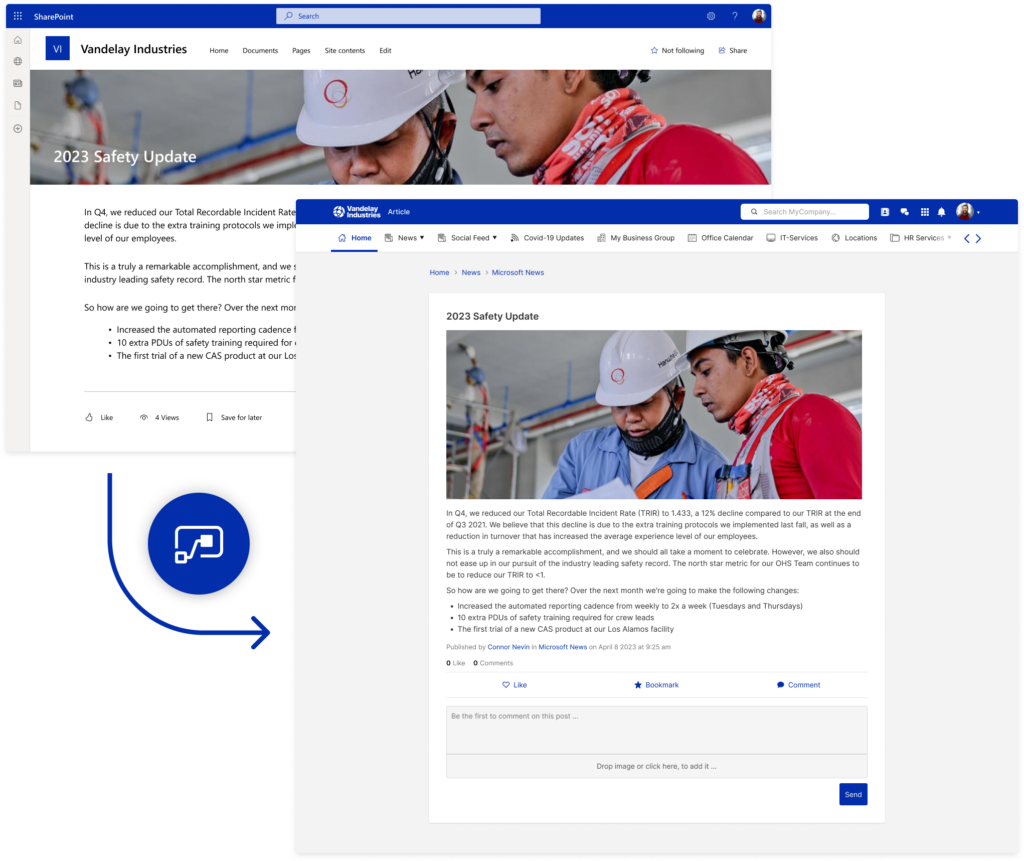 Staffbase Campus
If you haven't heard the exciting news, we've officially launched Staffbase Campus. Campus is our open-access, on-demand learning platform for levelling up your IC skills and contributing clarity, culture and communication to your org. Learn from real-world expertise, gain insight into our Internal Comms Maturity Model, and explore everything from Comms 101 to our Expert Series. Sign up at campus.staffbase.com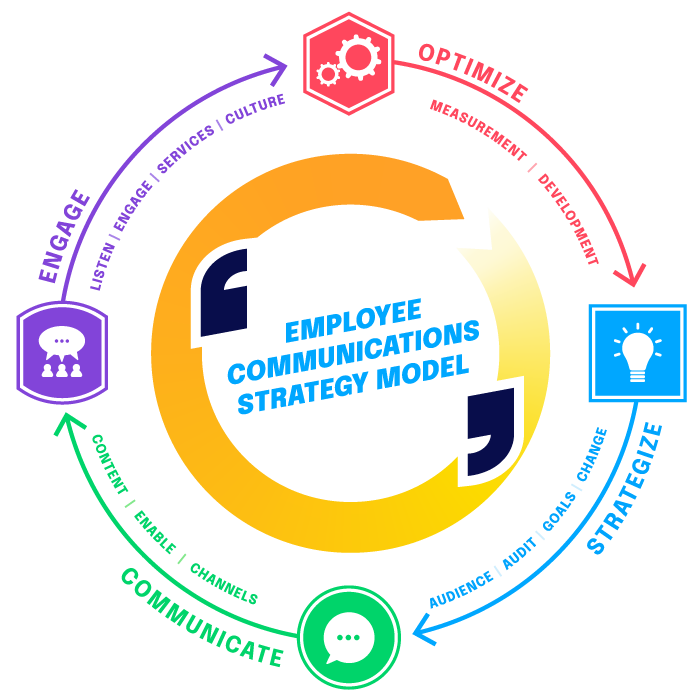 New quarter, new capabilities
Our team is already working on new updates and features to help you build on your internal comms setup. Chat with your Customer Success Manager or check out the latest Q2 2023 Release Notes for more detail.
Not a Staffbase customer yet? We'd be happy to show you how these features could work for your organization. Find out how we can help you design better employee experiences and get more from your internal comms with a demo.