Tyrion Lannister got it right in that last "Game of Thrones" episode: "What unites people? Armies? Gold? Flags? Stories. There's nothing in the world more powerful than a good story. Nothing can stop it. No enemy can defeat it." 
Or, if you're more into Greek philosophy than a television series, let's go with Aristotle, who described humans as "social animals." We define ourselves through the groups to which we belong, where working together in teams unlocks the power of people.
Today, it has never been more difficult to bring people together behind ideas that serve the common good. The next polarizing view of the world is just one WhatsApp or Facebook group away. That's a big obstacle in every situation where people want to join together to achieve something positive.
For companies, this is a fundamental threat, and the timing couldn't be worse. They are simultaneously faced with the challenge of transforming their culture (because of the new demands of younger generations), their products (because of the need to become carbon neutral), their way of working together (because of hybrid work), or even their entire business model (because of digital transformation).
A recent McKinsey report has unveiled that a "sense of belonging" is one of the top three reasons why people stay at a company (or to leave it, if belonging is absent). Ironically, the same study shows that many companies are still failing to understand this crucial fact. They underestimate the importance of creating shared purpose through internal storytelling. In doing so, they risk losing their people (who either quit or just no longer give a damn). And without people, there can be no transformation. People form companies and therefore only people can change them.
Staffbase + Valo = A New Level of Employee Communication
This is the background for the exciting news we're sharing today: Staffbase has acquired Valo, the leading provider of internal communication solutions for Microsoft Teams and Microsoft SharePoint. What we're able to achieve together now is groundbreaking. It is a giant step for employee communication teams and leaders who understand the need to provide shared purpose and direction to everyone in their organizations.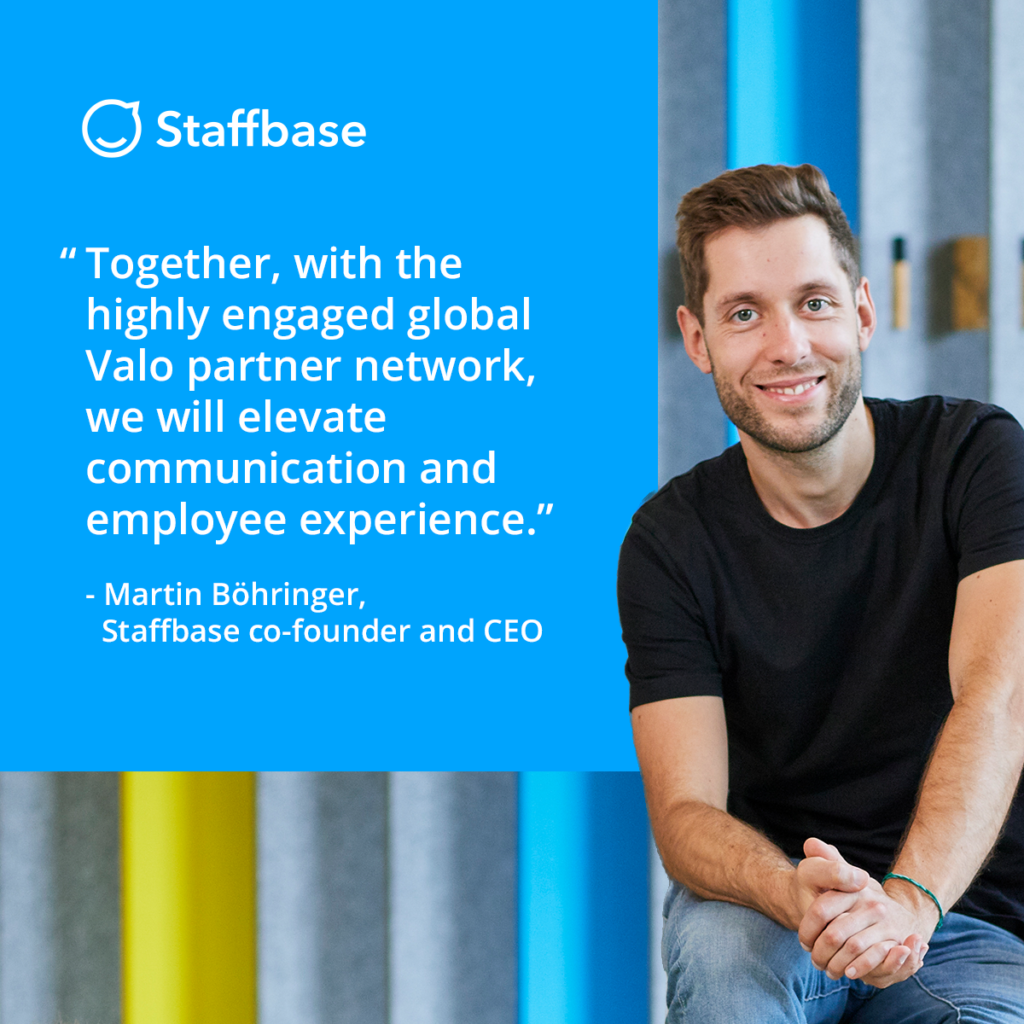 Because of its urgency, the internal communications discipline is thriving. Staffbase has more than doubled its revenue in 2021. More than 500 team members are now working with 2,000+ customers to improve the work lives of more than 10 million people globally. Together with the amazing team at Bananatag, with whom we merged half a year ago, we've built the most comprehensive solution for communicators, removing their technical barriers and letting them and their messages reach people's hearts and minds via the Staffbase Employee App, Staffbase Email, and the Staffbase Intranet.
Leveraging Microsoft Teams and SharePoint for Internal Communicators
Together with Valo, we now extend the Staffbase Internal Communication Platform into the world of Microsoft Teams and Microsoft SharePoint, two tools used daily by a majority of employees worldwide. Staffbase has always integrated with Microsoft. But together with Valo, we can elevate the internal communication experience to a completely new level across the workforce. Depending on whether you're a factory worker on the shop floor or a busy project manager in the office, the best way for shared stories to reach you — from which source, at what time, in which channel, and in what language — is often completely different. Yet it's the same story connecting every employee.
We're aware that companies can't change overnight. That's why it's our mission to support employee communication teams step by step, starting with their most urgent challenges. With the Staffbase App, Staffbase Email, and Staffbase Valo, we now offer three separate entry points, each of them the market leader in their respective category (according to G2). Together, they form the leading Employee Communication Platform.
Staffbase and Valo will enable companies to reach people's hearts and minds, creating shared purpose and uniting their teams behind common goals. Because it's true, there's nothing in the world more powerful than a good story.
Learn more about Staffbase: