Think of your company as a ship. As captain, the Chief Executive Officer (CEO) is responsible for the entire vessel, sets the destination of the voyage, and determines the direction to be taken. The primary goal is to keep the ship on course. On the one hand, success depends on the captain making important, critical decisions.
On the other hand, communication internally with the crew and externally with other ships and ports plays a role that's just as crucial. If it is neither clear nor consistent, the ship can easily veer off course. To prevent this, effective communication that builds trust and loyalty among the crew and the outside world alike is essential.
In this important task, the captain is supported by crew members who are experts in communication — the communicators. Often they even provide a compass in the form of a communication strategy that helps to maintain or restore the course. The North Star is the corporate narrative that should be used as a guide at all times. 🧭
This metaphor hopefully shows how significant CEO communication is for a company and the role CEOs themselves play in it. It can be described as the supreme discipline of corporate communications, since the prominence of CEOs has a certain amplifying effect. CEO communication therefore requires a great deal of tact and sensitivity, which is a challenging task for many communicators and is often reserved for only a select circle.
Let's delve a little deeper and find out how both CEOs and communicators can approach this supreme discipline and make it a success.
The importance of CEO communication
CEOs act as central identification figures of an organization — both internally and externally. They communicate with their employees as well as with the general public. In doing so, they often drive social dialogue and act as a driving force for certain topics. 
According to the Edelman Trust Barometer 2023, when it comes to trust, the company's own CEO ranks third among many other institutions. This illustrates the great responsibility that goes hand in hand with their communication.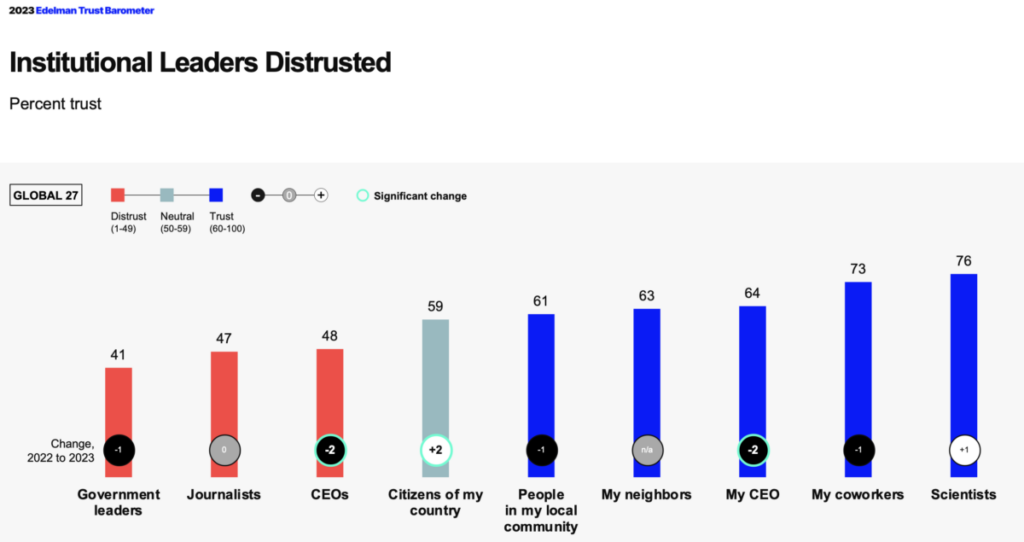 The fact that CEOs no longer act solely as managing directors, but also address social issues, has been increasingly seen for some years now on social media platforms such as LinkedIn.
You may be familiar with one prime example of this trend: the former CEO of Volkswagen AG, Herbert Diess. He went down in the history of CEO communications with his regular LinkedIn updates. When he left the company, VW lost a channel with enormous reach: Diess has over 300,000 followers on LinkedIn, while his successor Oliver Blume doesn't even have an account on the business network.
Faced with huge responsibilities, busy schedules, and often lacking a CEO communications strategy, the following questions arise for both CEOs themselves and those responsible for communications. We will answer these questions in the course of this article:
How do internal and external CEO communications differ? 
How do you find your role in communications as a CEO?
What topics do you talk about?
Which channels and formats are suitable?
What is the role of the communications department?
We explain in three steps how you can develop a sustainable CEO communication strategy and provide valuable tips for CEOs and communicators at the end. Click here to read them right now.
Internal and external CEO communication — what are the differences?
Internal CEO communication
As part of internal communications, CEOs have a major responsibility to communicate the vision, corporate goals, and values to the entire workforce. They should therefore always communicate comprehensible, clear, and consistent messages. As the top executive, they must be able to break down complex information and relationships so that everyone in the company has the same understanding and is working toward the same goals.
In addition, visibility and authenticity play an important role in building loyalty, credibility, and trust within the workforce and creating a sustainable corporate culture. This is not least related to how openly and transparently the CEO communicates. Especially in difficult times, employees want honest communication about current challenges and planned next steps.
Also keep in mind, internal communication from the top executive shouldn't only be one-sided. Feedback opportunities for employees to actively engage in dialogue are just as important as top-down communication from a head manager. On the one hand, feedback helps the manager to get a feel for the mood in the company and to actively respond to it in their own words. On the other hand, it gives employees the opportunity to actively participate and be heard. 
External CEO communication
Just as important as the top executive's internal communication is their external appearance. As already mentioned, CEOs represent their company to the general public. This includes customers, investors, potential employees, politicians, the media, and other interested parties. 
External CEO communication is all about building a positive brand perception — both of the company's brand and of the CEO's personal brand. Well-considered messages help strengthen the company's image. In addition, CEOs gradually gain the trust of external stakeholders. This also increases the credibility of the organization.
It is not uncommon for CEOs to act as spokespersons in the course of interviews, public appearances, or participation in events, and represent their company to the outside world. As social CEOs, they are also increasingly becoming mouthpieces on social media. CEOs use these channels in particular to interact with stakeholders, provide insights, and spread the company's messages. This can be a great advantage for building their company's reach, as brands often can't do it on their own:
It's almost impossible to achieve great reach without a spokesperson. Simply getting through with the product is increasingly difficult."

Michael Manske, Head of Communications and Marketing CARIAD (former Head of CEO Communication at Volkswagen AG)
A final important aspect of external CEO communication is its role in public crisis communication. The top executive has the responsibility to respond to critical situations quickly, transparently, and appropriately, both communicatively and with appropriate measures. In crisis situations, the most important thing is to maintain the trust of stakeholders in the corporate brand.
Let's now take a look at how CEOs and communicators can tackle this issue together.
Step 1: Defining the role of the CEO with the CEO Navigator
The first step on the road to successful CEO communication is to define the current and future role of the company's top management in internal and external communications. Jan Hiesserich's CEO Navigator model is suitable for this purpose. It consists of eight different role expectations on the basis of which a CEO communication strategy should be built.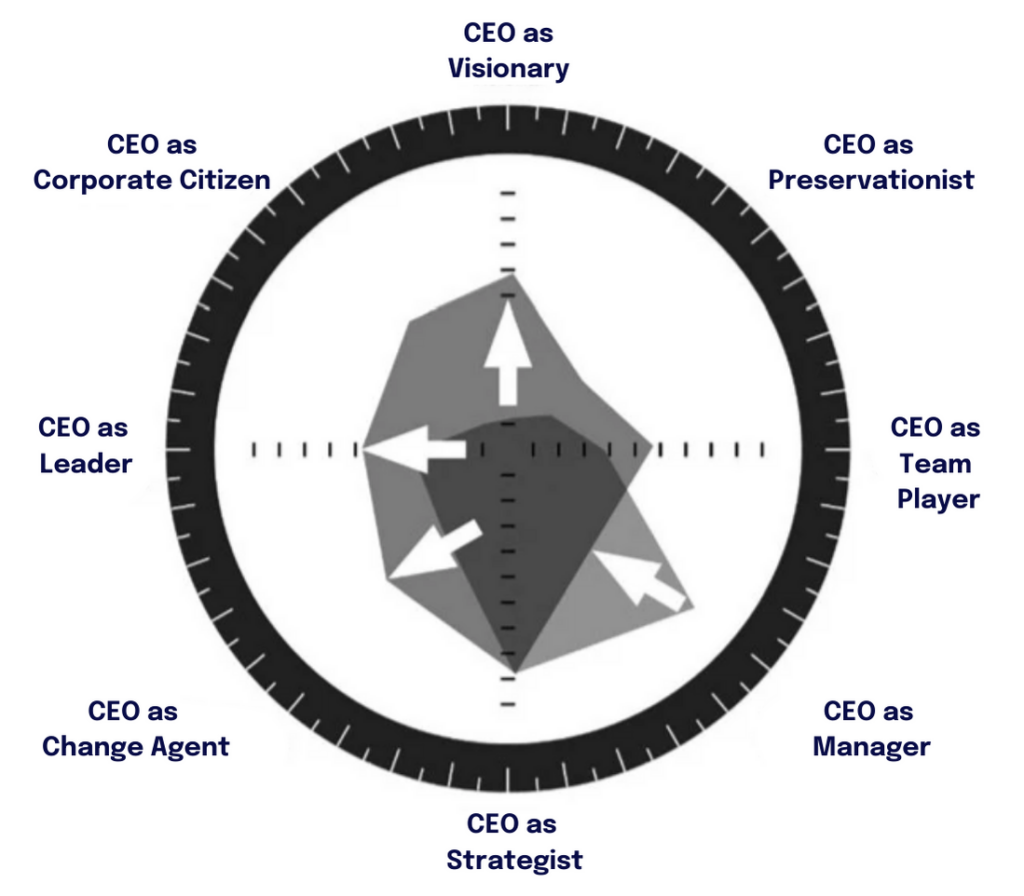 First of all, examine the current situation before you deal with the target positioning. How is the CEO currently perceived internally and externally? Does the top executive already have public visibility and what feedback do employees give on internal CEO communications? Only when this picture is clear should the target positioning be defined on this basis. The CEO Navigator can help to make the planned changes visible. 
Step 2: Topic planning in CEO communications
In the next step, you should plan and scrutinize the topics of your CEO communication. It is important that they support the planned target positioning from step one and fit their messages into the company's narrative.
Particularly common topics are:
Corporate strategy
Mission, vision, and corporate values
Current business developments
Growth opportunities in the market
Groundbreaking projects and products
Use of company capital
Thought leadership topics
Corporate responsibility
In addition, we have already established that CEOs, as impulse generators, frequently also shape social dialogue. To this end, the 2023 Edelman Trust Barometer examined which topics employees expect their CEOs to address in public communications. First place goes to the treatment of employees, closely followed by climate change and discrimination. The fifth and sixth places are occupied by the topics of unfair wealth distribution and immigration.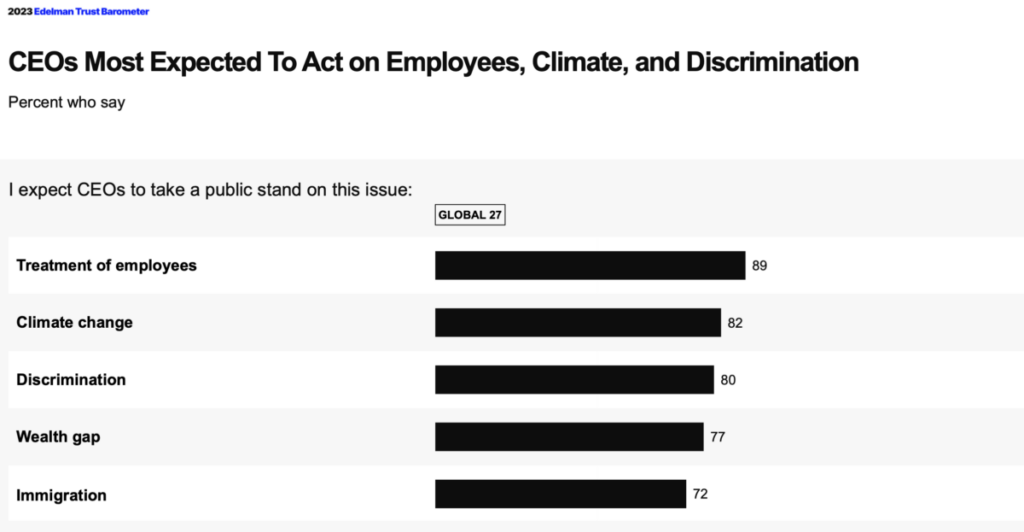 However, you should always keep one essential question in mind when planning external topics: Is the CEO the right person to bring the topic to the public, or might another, more specialized person be more appropriate? If so, it might be better to have that person speak about it.
Step 3: Choosing the right communication channels and formats
Effective CEO communication is characterized not only by HOW and WHAT is communicated, but also WHERE. The third and final step is therefore to choose the right communication channels and formats for CEO communication. This also raises the question of who belongs to the target group and where they travel. 
Internal and external communication channels
In principle, a wide range of communication channels can be considered. 
For internal communication, it is important to check which channels are currently in use and whether employees can be reached effectively through them. Does your company still use traditional print channels such as bulletin boards, an employee magazine and newsletters, or the live channel of face-to-face meetings? 
Or are digital technologies such as an intranet, employee app, email solution, or perhaps even an entire communications platform already in use? In addition, is there the possibility of regular virtual meetings?
However you answer these questions for yourself, be aware that the top executive has a primary responsibility for the use of modern communication technologies in the company and can actively work for faster and more efficient information distribution. 
External communication channels can be equally categorized as "live," "print," and "online." Print channels include newspaper and magazine articles, for example. Live channels include public speeches at events and appearances on TV and radio. Online channels for CEO communications are the corporate website, social media platforms (especially LinkedIn), and audio and video streaming platforms (e.g., Spotify for podcasts and YouTube for videos). 
In recent years, social media has become particularly important in the context of CEO communications, as illustrated by this study from 2022. The results show that in Germany, 60% of CEOs from the top 40 DAX companies are on social media — and the trend is rising. The LinkedIn platform in particular offers an excellent opportunity for CEO communication and personal branding.
Formats of internal and external CEO communication
The written contribution (including pictures)
... costs a lot of time and effort, but in our experience it is a frequently used format in internal CEO communication. Whether it's on the intranet, an employee app, a circular email, or the good old employee newspaper, employees will appreciate hearing the latest CEO news on a regular basis. Suitable images can visually spice up articles and thus, in the best case scenario, become eye-catchers for all employees.
Written contributions also play an important role in external communications. Examples are regular publications on the company website, the blog, public press releases, guest contributions, or text contributions on social media. Here, too, suitable images are beneficial in most cases, especially for social media contributions.
Speeches and interviews
... may not seem to cost as much time and effort as a written contribution at first glance, but a second shows that they need to be just as well prepared and thought through. 
The announcement of current news and challenges in internal town hall meetings requires especially precise planning about how a message is to be communicated and how it will ideally be received by the employees. 
This also applies to public speeches, such as lectures or discussion panels at events. An engaging presentation can also help reinforce the company's visual identity and make important messages even clearer.
Video
... is currently a very popular format, and not only in the context of CEO communication. Videos are easily processed by the brain, information stays longer in the memory, and the production of videos is now easier than ever. In addition, videos can now be easily embedded in almost all digital channels. 
Internally, video supports the authenticity of the CEO and gives employees the feeling of being close to the action. Our Staffbase CEO Martin Böhringer, for example, regularly appears in his "Minutes with Martin" and, within a short format, provides insights into economic and corporate developments as well as current topics that concern him as CEO.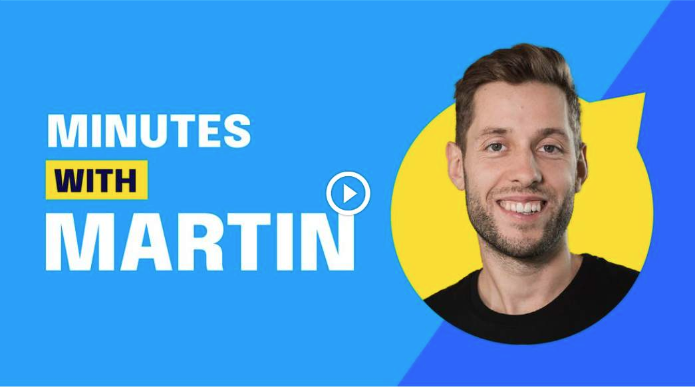 In external communications, too, videos help to make CEOs approachable and provide direct insights into their personalities — especially on social media platforms. However, publication is also possible on video streaming platforms such as YouTube. 
Note: It is important that your top executive feels comfortable in front of the camera. There is no point in standing in front of the lens and reciting a text by heart. That doesn't come across as authentic and, in the worst case, can have a negative impact on his or her reputation.
Podcast
... is another trendy format and perhaps offers an alternative to CEOs who like to communicate verbally but are camera shy. Audio tracks can also be embedded or shared internally as well as externally in many communication channels, such as intranets, employee apps, and social media, and offer similar benefits to video. It simply lacks the visual component.
Feedback
... can be solicited internally in employee meetings as well as through formats such as "Ask Me Anything." At Staffbase, the latter has proven to be a successful feedback tool: Employees send in questions that are answered either at the next town hall meeting, in writing, or via video.
Externally, social media platforms such as LinkedIn offer the opportunity to gather feedback. It's a good idea to take a look at the engagement of individual posts, read the comments, and respond to them.
The role of communicators in CEO communication
Social media posts, CEO newsletters, and the like — as the head of a company you're probably wondering how to manage all of that because the fact is: most CEOs have very little time. 
But the good news is: you are not alone. The communications department can (and should) support you in many ways. To return to our ship metaphor, comms should be your first mate. 
The communications strategy in particular should be developed in close collaboration between the CEO and the communications department. Communicators know exactly how to set communication goals, examine the target group, and formulate effective messages. In turn, the communications department can align the planned CEO communications messages with the corporate messages so that they are consistent and understandable. 
However, communicators are a great help to CEOs not only at the strategic level, but also at the operational level. Together, they can select topics, choose channels, and establish formats that fit the CEO's personality and target positioning. Whether it's a text article, a speech, a podcast, or a video — all of these formats are part of the communicator's area of expertise and can be implemented in no time with their help. What's more, they know how to increase the engagement of the target group. 
Of course you'll want to know if the messages you're sending are being well received. The communications department is the right contact here, too, because measuring success is also part of their job. 
Practical tips for communicators and CEOs
Tips for CEOs:
Recognize the value of your communication! Successful CEO communication needs your full commitment.
Authentic communication with clear messages is the key! Always keep a personal touch in your communication. 
A thought leader is also someone who can listen well! Don't just send messages. Pay attention to the responses you receive. 
Don't let anyone force anything on you. The important thing is that you feel comfortable with your communication.
Take a holistic view of your positioning. This is the only way to ensure consistent communication across all platforms.
Don't just do it your way, coordinate closely with the communications department.
Establish a realistic cost-benefit ratio together with the communications department. LinkedIn should not become your full-time job.
Regularity leads to success. Try to stick with it. 
Still have insecurities and want to work on them? Then try a communications or media training course. Above all, you should definitely master the "Language of Leadership."
Tips for communicators:
Is CEO communication not a top priority for your company's leaders? Then make it one!
Know your top executive, their personality, values compass, and background to maintain the personal brand in communications.
Don't let them "just do it," but sit down together and develop a strategy. Clarity in strategy leads to clarity in communication.
Set up regular meetings to coordinate and give honest feedback.  
Always ask yourself where the target audience gets their information. Don't just consider social media.
Align CEO communications messages with corporate messages. Make sure both build on the corporate narrative.
Make sure that CEO communications always add value.
Don't force anything on your boss! Instead, find out which topics, channels, and formats are a good fit for their personality. 
Don't ask for too much! CEOs are busy. Support wherever you can.
Measure the success of your CEO communications activities!
Offer communications or media training as needed.
As you can see, CEO communications is a complex task, both for the executive and for the communications department. We hope these tips will help you on your way!
Should you want to dive even deeper into the subject, check out the podcast "SPEAK LIKE A CEO" by Oliver Aust.
What experiences have you had with CEO communications? Feel free to tell us about it in our global Slack community for internal communication professionals. We're curious!