If you use Workday, Staffbase Email now makes it easy to send targeted emails that employees will actually read.
Is keeping distribution lists up-to-date a constant headache? 
Do you worry about sending too many all-staff emails? 
Do you wish you had the data needed to improve your communications strategy and prove that it's working? 
Do you want more control over internal email at your organization? 
When you sync your Workday people data with Staffbase Email you can:
Reduce email overload by building custom distribution lists and reducing the number of 'all-staff' emails
Increase employee engagement by tailoring content specifically to employees' department, role, or any other attribute 
Gather in-depth employee engagement analytics
Compare employee engagement by location, department, and more
Simplify your workflow by using a platform built for employee communicators
If you're thinking:
"IT won't let me do this"
Don't worry, they will. Syncing Staffbase Email and Workday requires minimal set-up time and IT will be relieved they don't have to continuously update your distribution lists anymore.  
"We don't use Workday"
Not a problem. If your organization doesn't use Workday, you can sync Staffbase Email with people data from either your Microsoft Active Directory or Azure Active Directory, or importCSVs from your people data system.
1. Reduce email overload with Custom Distribution Lists
Employees have more messaging competing for their attention than ever before. 
Not only is this email overload creating fatigue, but it's also reducing the number of hours a day employees are productive. 
In fact, the average person spends 28% of their workweek reading and responding to emails—and just 38% of these emails are relevant. 
Now imagine if all of the emails your employees received were actually relevant to them.
How much more engaged would they be? And how much more could they accomplish if they got their time and attention back? 
As a communicator, ensuring that employees are only receiving relevant information is one of the biggest impacts you can have on employee engagement and your organization's bottom line. 
Once you sync Staffbase Email with Workday, you can quickly create Custom Distribution Lists based on any employee attribute, without needing to call technical support or submit an IT request.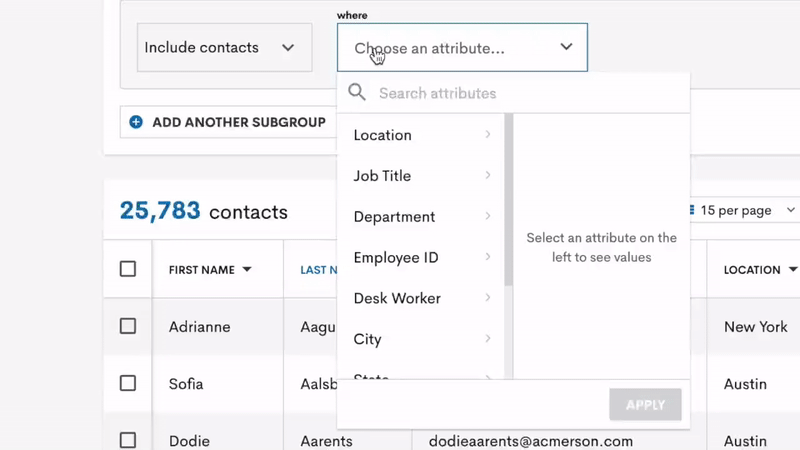 For example:
Need to reach London-based employees, but exclude non-desk workers? Done.
What about sending an email to all employees who are in onboarding or started in the last week? Easy.
Need a one-time list of employees who attended an event? No problem.
What's even cooler is that Staffbase Email and Workday sync every day, meaning that when employees join or change roles within your organization, they'll automatically be added or removed from the dynamic distribution lists you've created.
2. Follow up with employees who didn't open your email
Low open rates no longer mean that you have to spam your entire list again to make sure they got the message.
After you send an email to a Custom Distribution List, you can use the Follow Up feature to send a second email to only the employees who didn't open the first email.
With the click of a button, Staffbase Email instantly builds a Follow Up list, while maintaining employee privacy, to ensure your important messages get read. Using Follow Up lists also protects employees who have already read your message from email overload by keeping their inboxes clear.
3. Track individuals (not devices) to ensure you're getting the full picture
If your employees are accessing their email from multiple devices, it can be difficult to keep track of individual open rates. That's because with most email analytics providers, viewing an email on different devices is recorded as multiple opens. 
The recording of multiple opens for one person may inflate your open rates, and in turn, won't accurately represent how many individuals actually opened your email. 
On the flip side, if you have several employees accessing emails on a shared workstation, you'll likely see an artificially low open rate. 
That's because most vendors (and Outlook or Gmail plug-ins) rely on 'Aggregate Tracking' when you send internal emails to your existing distribution lists (including our Outlook and Gmail integrations).
Aggregate Tracking looks at the data coming in from your entire list, only differentiating by the device used to open the email, rather than tracking the individual recipients.
Aggregate Tracking is great for getting set up fast, ensuring employee privacy, and providing some insight on emails sent to your existing distribution lists. 
But when you send to a Custom Distribution List using Staffbase's Recipient Tracking feature, you get more powerful and accurate analytics because you're tracking individuals rather than devices, while still maintaining the privacy offered by Aggregate Tracking.
Unlike other internal email software that limits distribution list size and greatly reduces sending speeds when tracking individual recipients, Staffbase Email's Workday sync allows you to send to any list size at lightning-fast speeds.
4. Compare how different types of employees interact with your emails and see what's driving — or holding back — your email engagement numbers  
You've made your lists (without needing help from IT)!
You've segmented and targeted your emails (bye all-staff ).
You've followed up with those stubborn folks who didn't read it the first time. 
Now you want to know how it all resonated. 
Staffbase Email's Segmented Reporting feature makes it easy to go deeper and get the real story about how employees are engaging with your emails.
For example:
Want to see if employees from a specific office or region prefer to receive important messages through another channel? You can do that. 
Interested in knowing if your sales team is engaging with your emails more than your operations team? Easy.
Looking for insights into what content is most effective with remote employees? Sure thing.
Use insights like these and more to refine your communications strategy and provide valuable information about employee engagement to your organization's leadership. 
5. Professional communicators deserve professional tools
We've all been there. 
Outlook crashes and you lose your perfectly crafted email. 
You need to send a message from your CEO ASAP, but Outlook is stuck 'Processing…'
An update to Outlook renders it incompatible with one of the email plug-ins you rely on. 
When you connect Staffbase Email with Workday, you can send employee emails directly from our user-friendly Web App, instead of wrestling with Outlook.
With no local installation required, Staffbase Email is accessible from any desktop web browser, making it easy to get your entire team set up fast, without having to ask IT to install updates or resolve related issues. 
Emails sent from Staffbase Email also come directly from your email address (or any sending account you use, like internalcomms@acme.com or ceo@acme.com). This means they never end up in employees' spam or promotions folders or block them from downloading images. 
We've built Staffbase Email specifically for internal communicators and we're constantly improving it based on the feedback we receive from thousands of users just like you.
6. Get set up fast and make your IT team's day
Connecting Staffbase Email and Workday is a breeze. 
Your IT team can rest easy knowing they still have full control over which people data your organization syncs with your Staffbase Email account, while passing you the power to control your own distributions lists. 
After your initial set-up, Staffbase Email and Workday will continue to sync automatically, so you won't ever have to ask IT to update a list again. 
And since you'll be working from our Web App, you'll never need to ask IT to come install a software update or set up a new team member.
Staffbase Email does a whole lot more than make sending targeted emails easy
If you're not using Staffbase Email yet...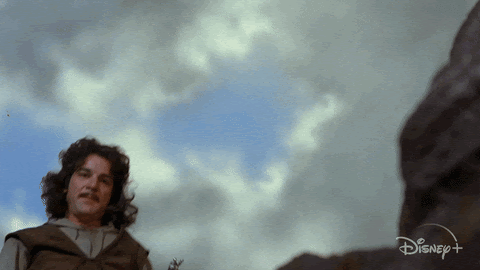 In addition to syncing with Workday to help you send more targeted communications, our employee Email Designer helps you build professional, on-brand communications with your team in real-time, so you can save time. 
You can also embed pulse surveys directly into your emails, send and schedule chat messages, and so much more. 
Get a personalized demo and we'll show you how we help thousands of communicators save time, increase employee engagement, and improve internal communications in their organizations. 
If you're already a Staffbase Email customer and want to sync with Workday, talk to your account manager today.