Remember hosting town hall or all-staff meetings in-person?
You could limit distractions and almost guarantee that everyone would be paying attention.
Ah, the good ol' days.  
Unfortunately, they're long gone. 
Now, employees are distributed and distracted, grappling with general uncertainty, work/home life balance, and current events. 
And to make it even more difficult, communications professionals are busier than ever and have to present more information than ever before.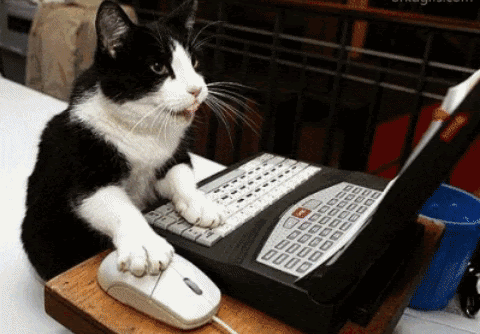 It's a lot. 
So how do you communicate effectively and keep everyone engaged during your virtual town halls?
Look no further than this Ultimate Guide to Virtual Town Halls!
Table of Contents
How Staffbase runs engaging virtual town halls
At Staffbase, our core belief is: 
Communication moves people, and people move companies.
And in 2020, that belief became more relevant than we could have imagined. 
With 100% of our team working from home, communicating internally was a bit challenging. It was challenging not only to get on the same page in terms of company and product direction, but also to make sure the incredible culture we'd built stayed strong. 
Like most organizations, organic, casual, face-to-face communication was a big driver of alignment and connection for us. 
We thrived in person. The energy, momentum, and productivity were contagious. Connections were made, problems were solved, and we had a lot of fun doing it. 
To be honest, we had concerns about how that would all translate in a virtual workspace. 
But I'm happy to report that although capturing that energy virtually has been hard, for the most part, we've pulled it off. 
One of the biggest drivers of that success has been our ability to pull off all-hand events like town halls, without losing the engagement or connection we had in-person. 
Click here to download our Virtual Town Hall template.
And we decided to share what we've learned and the tools we use to create these awesome virtual events—so that you can help get your employees on the same page too. 
What is a town hall?
Town halls have a very long history.
Before we were using them in corporate settings, they were used to open dialogue between citizens and government officials. Both officials and citizens would communicate about important issues, with the opportunity for questions and debate. 
Fun fact: The first town hall was in Dorchester, Massachusetts, in 1633.
Typically, a town hall was a rare opportunity for the average citizen to have a voice and speak directly to decision-makers about policy. 
It was also useful for officials who wanted to get citizens involved in initiatives, gauge sentiment on particular issues, and more deeply understand the needs of the people. 
Corporate town halls aren't so different. 
Instead of citizens, you have employees. Instead of government officials, you have executives and leadership. 
In theory, they work much in the same way, though you're unlikely to see debates spark up or emotions flare unabated in a corporate town hall. 
The emphasis in corporate town halls is more about getting people on the same page, information sharing, and initiating the two-way dialogue between groups that normally would not get the chance to speak to each other.
Usually, leaders treat town halls like a routine check-in, where they share updates about performance, change, and direction, and then turn it over to employees for questions.
Virtual town halls are basically the same, except they take place through video conferencing software like Zoom or Microsoft Teams. 
What are the benefits of running a town hall?
Whether they're in-person or virtual, town halls are a powerful tool for helping connect and align employees to your organization's big-picture vision.
When done well, town halls can boost team morale. They're an opportunity to reinforce your company's culture and values, as well as your quarterly and yearly goals. 
They're also a great opportunity to give employees a voice, address concerns, and give people the chance to connect with parts of the organization they may not usually get to. 
By focusing on transparency and open dialogue, you'll also reinforce empathy and a sense of community among colleagues. 
How often should I host town halls?
Town halls usually take place once a quarter and act as a regular check-in for your employees. 
But it's important to develop a rhythm that works for your organization.
We have town halls twice a quarter. The first town hall is at the beginning of the quarter, then we have a mid-quarter town hall to check in and see how things are going. 
Sometimes if there's been a big change (like a global pandemic, for example) we might add in some more, or tack on an extra one at the end of the year. 
What kind of content should I cover in a town hall?
This question comes up a lot in Comms-unity, a Slack group we run for communication professionals. 
Luckily, we've got incredible experts to help, like Jason Anthoine, managing founder of Audacity: Bold Thinking at Work. When posed this question, he suggested that internal communicators use employee feedback to shape their town hall content: 
Survey your employees and ask them what they want. Then, based on that feedback, reimagine the town hall itself. [If it] sounds like employees want more of a conversation than a presentation, confirm that and give them what they want."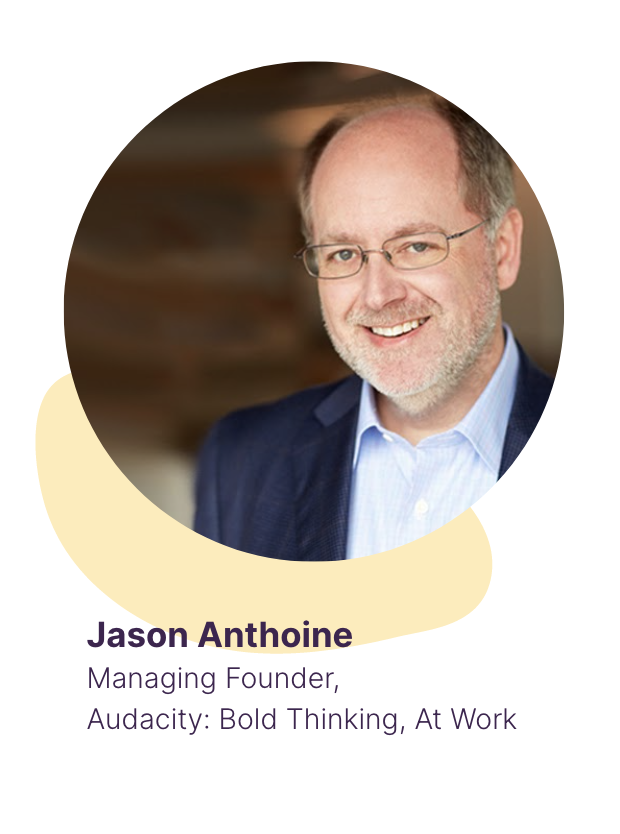 Jason also acknowledged that some of that feedback might indicate different avenues for conversation and engagement. If your employees want more discussion, he recommended putting together "junior town halls" that dive deeper into one specific topic. 
Another option is to host an "Ask Me Anything" (AMA) session from time to time that's just an open Q&A. If you end up receiving tons of employee questions, then an AMA is an excellent space to lean into more dialogue.  
Regardless of the format or avenue, employee feedback will help steer you in the right direction for the discussions that your organization needs to have. 
This feedback will also help you communicate priorities with your leadership team.
It's important to think of your town hall as a conversation instead of a one-way information dump. This is an opportunity to encourage lively discussion... not lecturing.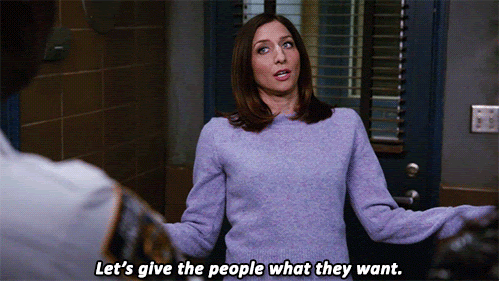 To encourage discussion, make sure you're thinking about what employees want and need every step of the way. Making your content both informative and interactive will help employees stay engaged and interested, but also will help them retain information, feel more connected, and be more open to asking questions. 
Your town hall should also have an overarching narrative that is easy to follow. 
Incorporating a story arc is a great way to make sure you've got your audience's attention. If you're thoughtful and deliberate with your agenda, it will help employees walk away feeling both informed and inspired.   
What's an example of a town hall agenda?
Here's an example of an effective town hall agenda:
1. The beginning
Start with your CEO/executive portion so you can set the tone for the Town Hall: inspiring, empathetic, and transparent. 
Remind employees why they are there. At Staffbase, we like to reiterate our core belief. For us, it provides good context for why we have town halls

—

they're an opportunity to get aligned so we can work and collaborate better together.
Welcome new members to the team! If new teammates are starting remotely, it makes all the difference to receive a warm welcome and see friendly faces. 
This is also a space where you can recognize employee anniversaries, birthdays, and wish departing employees well.
If you have any content that's particularly heavy or related to change, it's best to address the elephant in the room at the beginning, so it's not a distraction looming over the rest of the meeting. 
2. The middle
Feature a good balance of people speaking and interactive elements, like live polls and quizzes to keep people's interest. 
To help break up topics and build intrigue, use separate slides with just a few words on them. You can move through the slides quickly and have employees hanging on every word.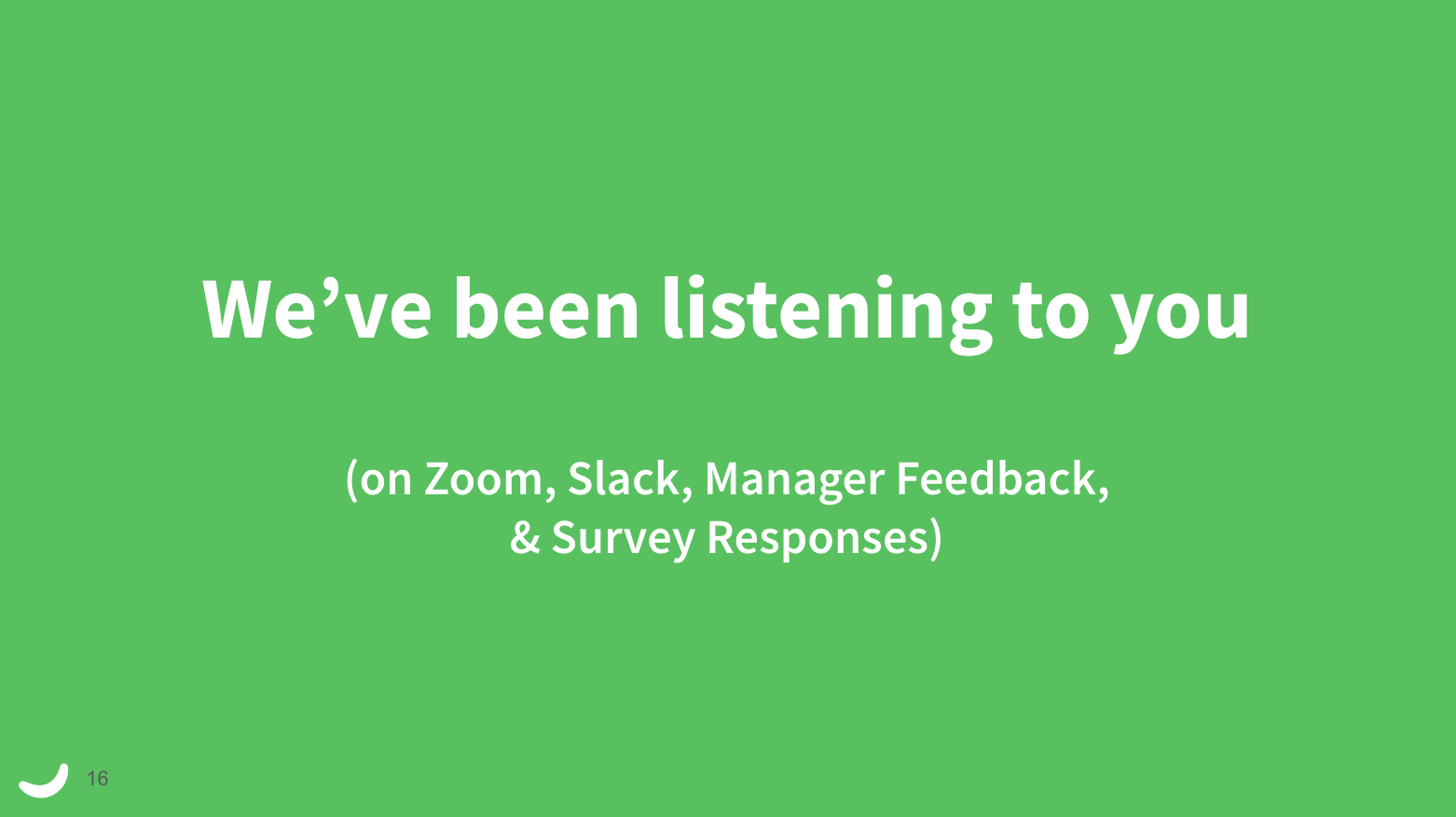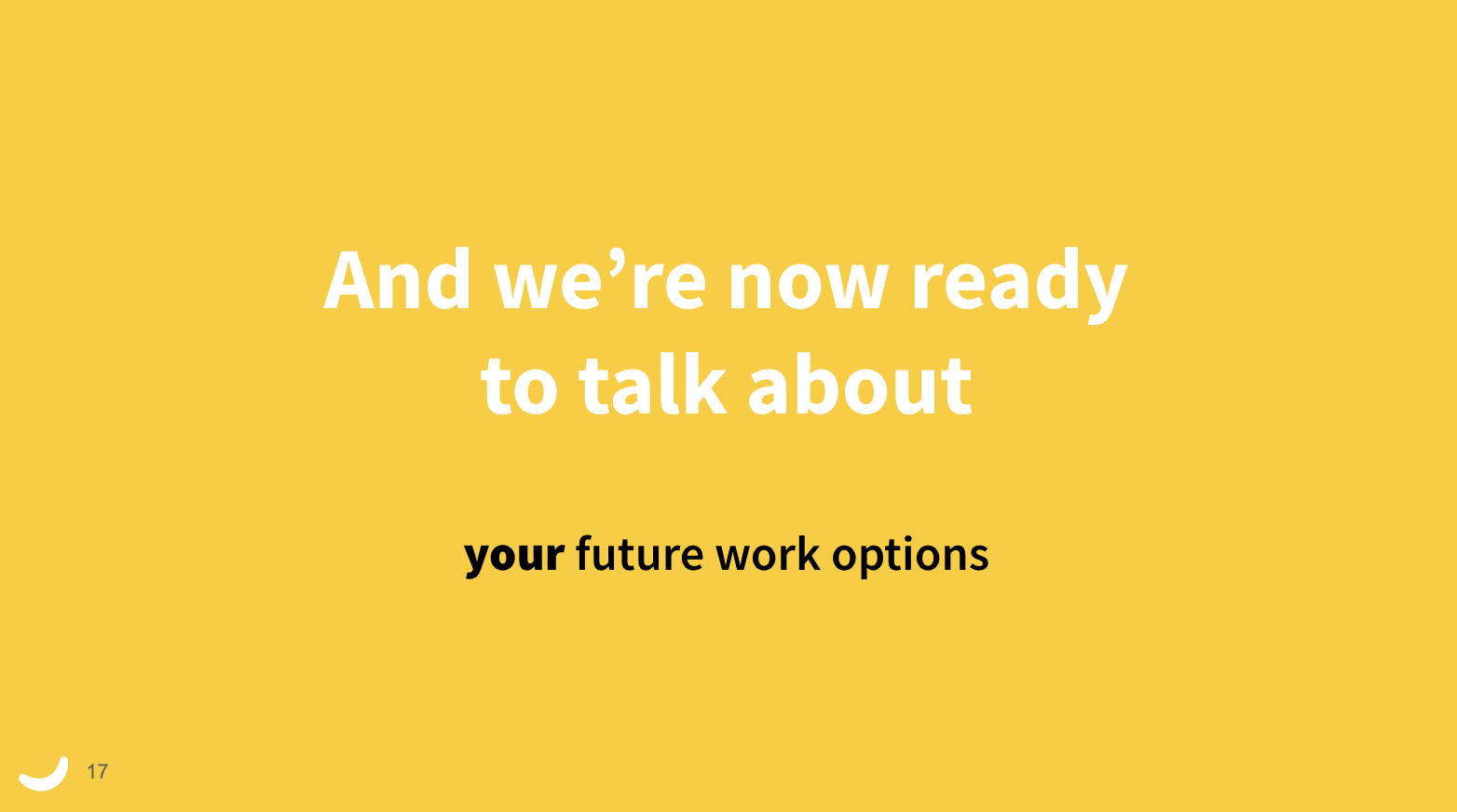 Adam's Virtual Town Hall Tips
Remind people to ask questions throughout.
On video platforms like Zoom, you can ask questions in real time. Have your moderator save the questions submitted in a doc, so you can revisit them at the end.
If an urgent question comes up related to whatever is being presented, answer those questions in the moment. And if you run out of time, you can publish an FAQ on your intranet.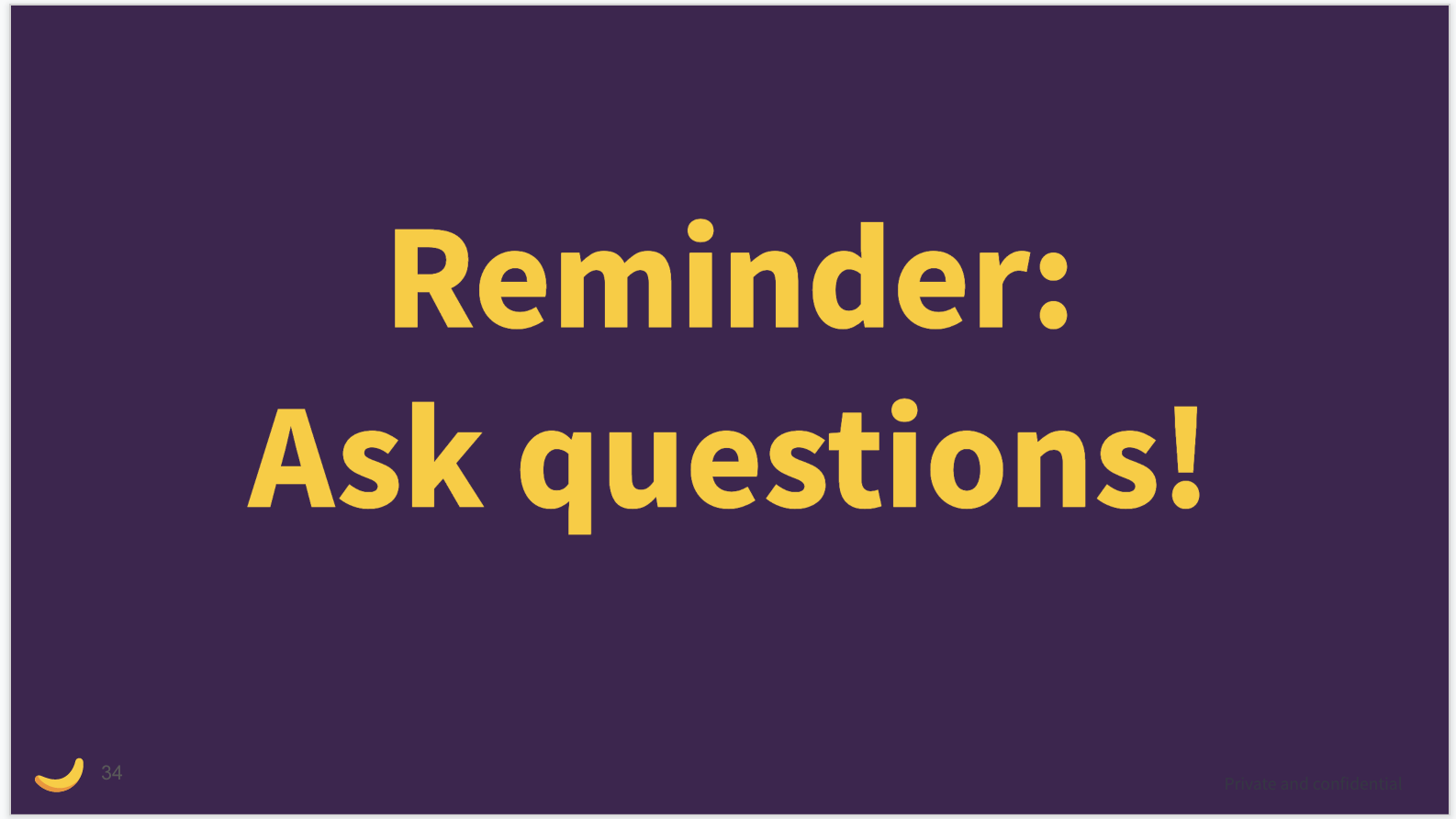 3. The end
End your town hall with a feel-good announcement! It's a perfect note to leave on and will positively impact your employees (i.e. Halloween party, day off for employees, any good news).
Then, you can move into live Q&A, featuring curated questions that your moderator compiled and any other questions that pop up.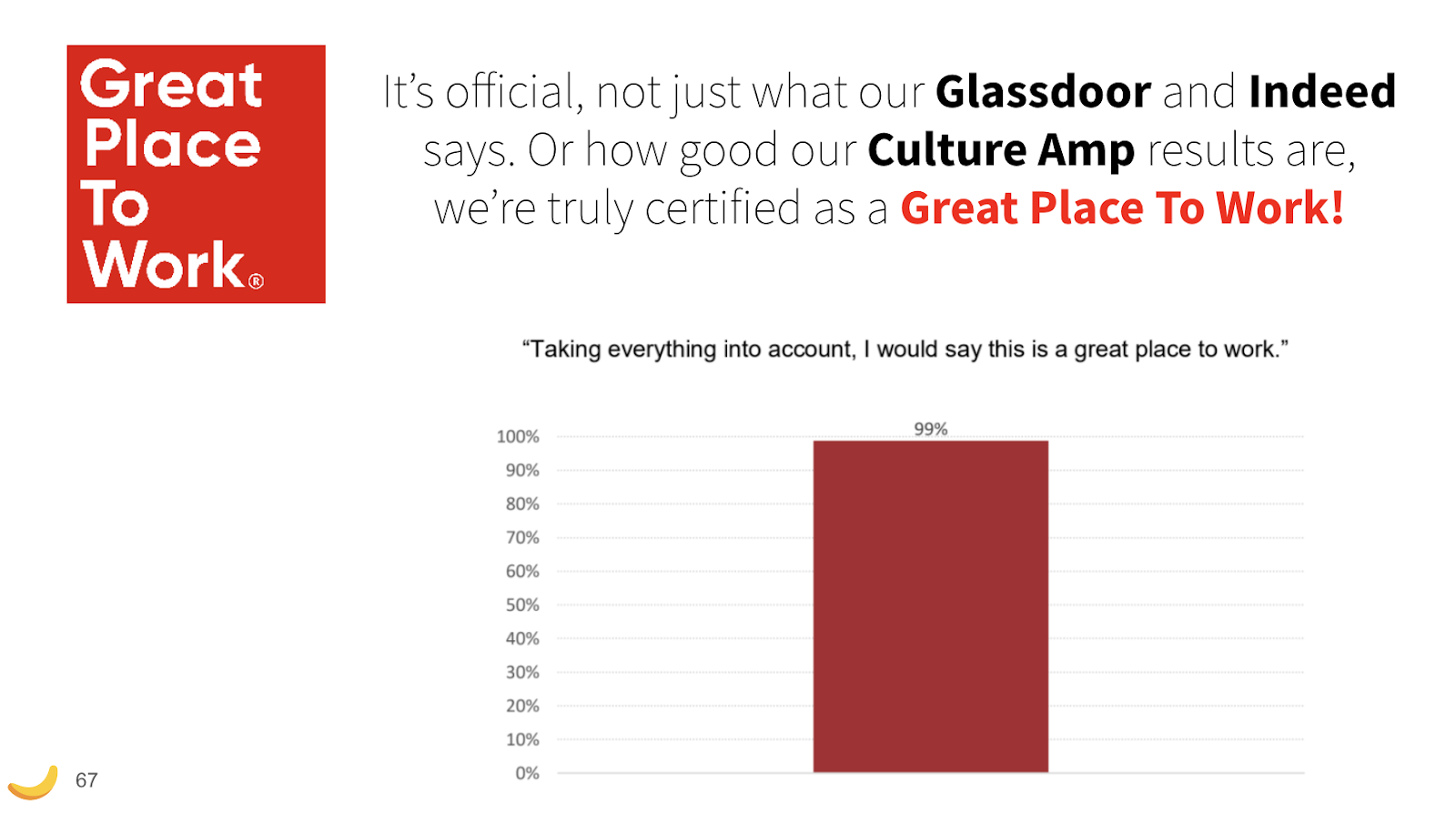 How do I prepare for a town hall?
Putting together a town hall is a lot of work. 
As you get closer to the big day, you're going to want to do some run-throughs to smooth out any final details and transitions. 
Think of it like a dress rehearsal for a play: you wouldn't go out and perform on opening night without rehearsing your lines and making sure that your tech crew knew their cues.  
Here's how you can prepare for a smooth virtual town hall experience:
1. Get all of your presenters on the same page. 
Always do at least a 30-minute prep session before your town hall. Get your leadership team and other speakers together so you can iron out cues and address any glaring issues.
Adam's Virtual Town Hall Tips
Set a time limit for each speaker.
If a speaker can't say what they need to say in eight minutes, maybe there's a better avenue to communicate that longer message. Consider the possibilities with your team.
David Purcell, Comms-unity member and Internal Communications & Media Executive at Travel Counsellors, echoed Jason's sentiment about surveying employees to inform content. David also shared some time limit tips: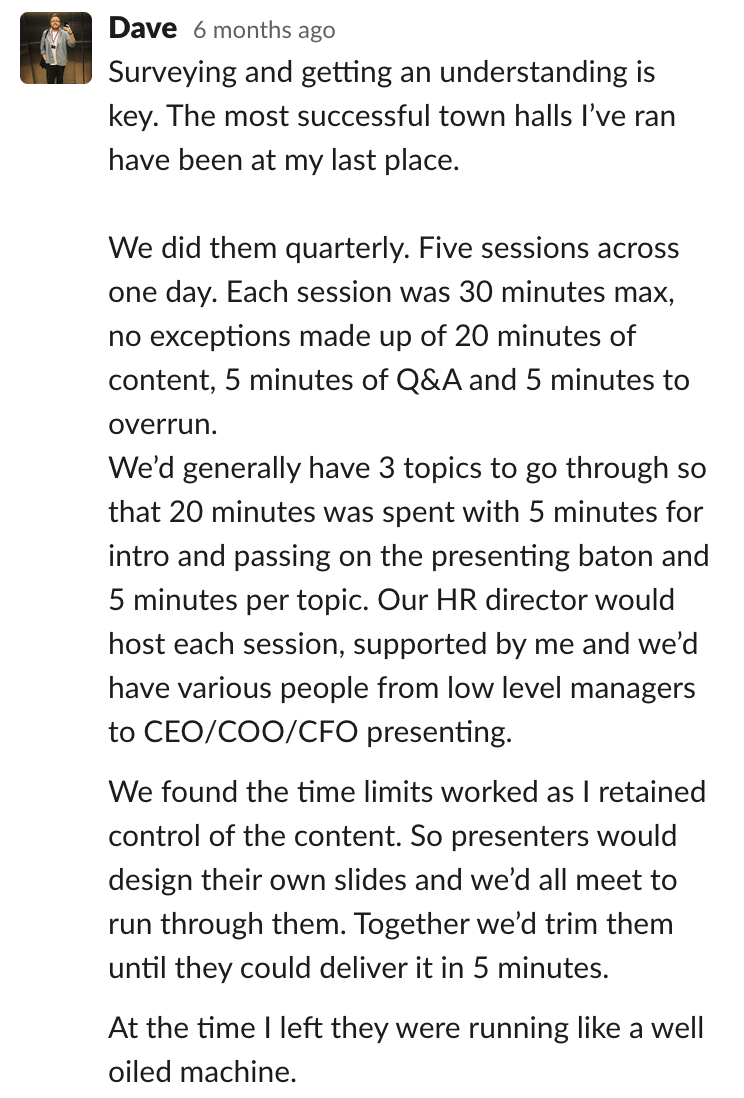 2. Prepare your leaders to receive tough questions
When you're fielding audience questions, you and your leadership team need to be prepared to receive anything and everything. We encourage a ground rule with our leaders that "any question goes" to encourage a culture of transparency and trust.
Adam's Virtual Town Hall Tips
If your leaders don't have an answer to a question at that exact moment, it's okay for them to say that they don't have an answer. But do let employees know when they can expect an answer.
3. Make sure your technology is good to go
First things first: make sure you send a calendar invite well in advance (we recommend sending it months ahead) so your employees can save the date. In that invite, include any relevant details, like how to join virtually with a video conferencing link and access code.
Tools like Zoom and MS Teams are now widely used to facilitate virtual town halls. While they tend to be super easy to use, when you have 100+ faces watching you, it's harder to troubleshoot when things go wrong. 
Adam's Virtual Town Hall Tips
Ask your speakers to use a hard-line internet connection.
Have a dedicated person running the meeting, and a second admin who can jump in if something goes wrong. 
Accept that something will go wrong and embrace the vulnerability. You can fix it for next time!
How do I promote a town hall?
Come one, come all! 
You can get the word out about your town hall through messaging apps like Slack or MS Teams, through your Intranet, or via email. 
We usually send a calendar invite to everyone and that does the trick. 
But if you want employees to do more than just attend, and also come with questions, you have to give them a heads-up. 
Send a friendly reminder the day before to introduce your town hall host, encourage your colleagues to prepare questions, and circulate the agenda. 

How do I keep my audience engaged?
Working remotely can be full of distractions. It's also difficult to make distributed offices feel connected to one another, whether that's a mix of WFH and in-office employees, or offices across different locations and time zones. 
Here are some of the strategies we use to keep our employees engaged during town halls: 
1. Introduce an MC to guide your town hall
About a year ago, we realized that no one was asking questions at our regular town halls. It made us think about why we do town halls in the first place, especially if they were shaping up to be more like a presentation than an open discussion. 
That realization was a signal that we needed to make the town hall experience more engaging and meaningful. 
Instead of having the senior leadership team host each town hall, we pick a different employee to MC. 
The MC acts as a moderator and common thread when we have multiple speakers. They also encourage people to submit questions in the chat and make sure that town hall segments are running on time.
Adam's Virtual Town Hall Tips
Your MC is a relatable face. They make asking questions less intimidating, encourage banter and commentary, and help employees feel more involved in the content.
After introducing the town hall MC concept, our engagement went through the roof! Now we've had to extend the meeting because we get so many questions.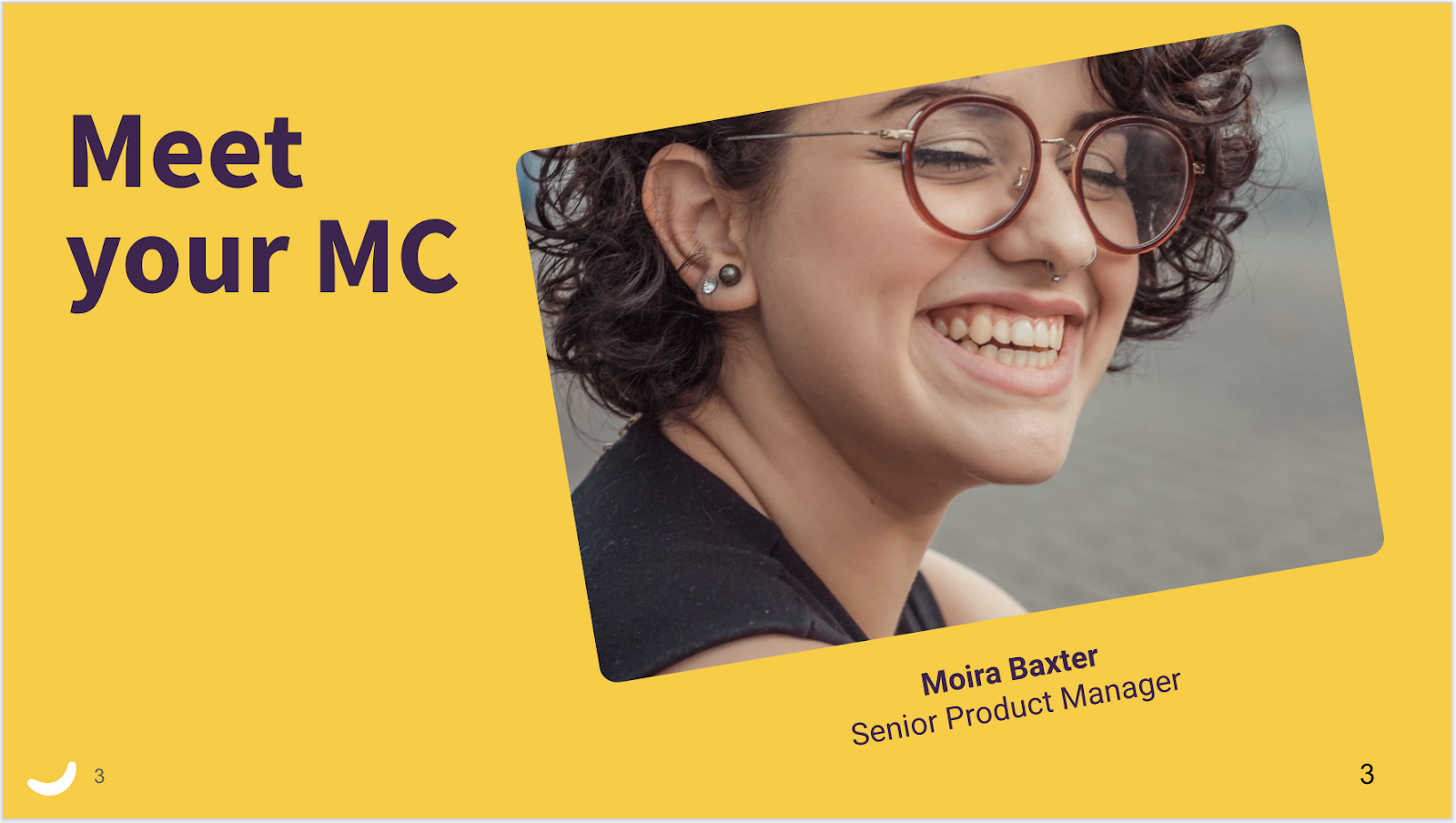 2. Use polls and games for an interactive experience
Video conferencing fatigue is real. When people are at home staring into a computer screen, your town halls aren't going to feel engaging or memorable. 
We recommend that you try to engage your audience with something interactive early on. By doing this, you increase the likelihood that they will remain engaged throughout the town hall. 
One way we do this is through interactive polls. Zoom's built-in poll feature is a great way to gauge employees' feelings on certain topics and get valuable feedback along the way. It also helps employees feel like they're involved in the content.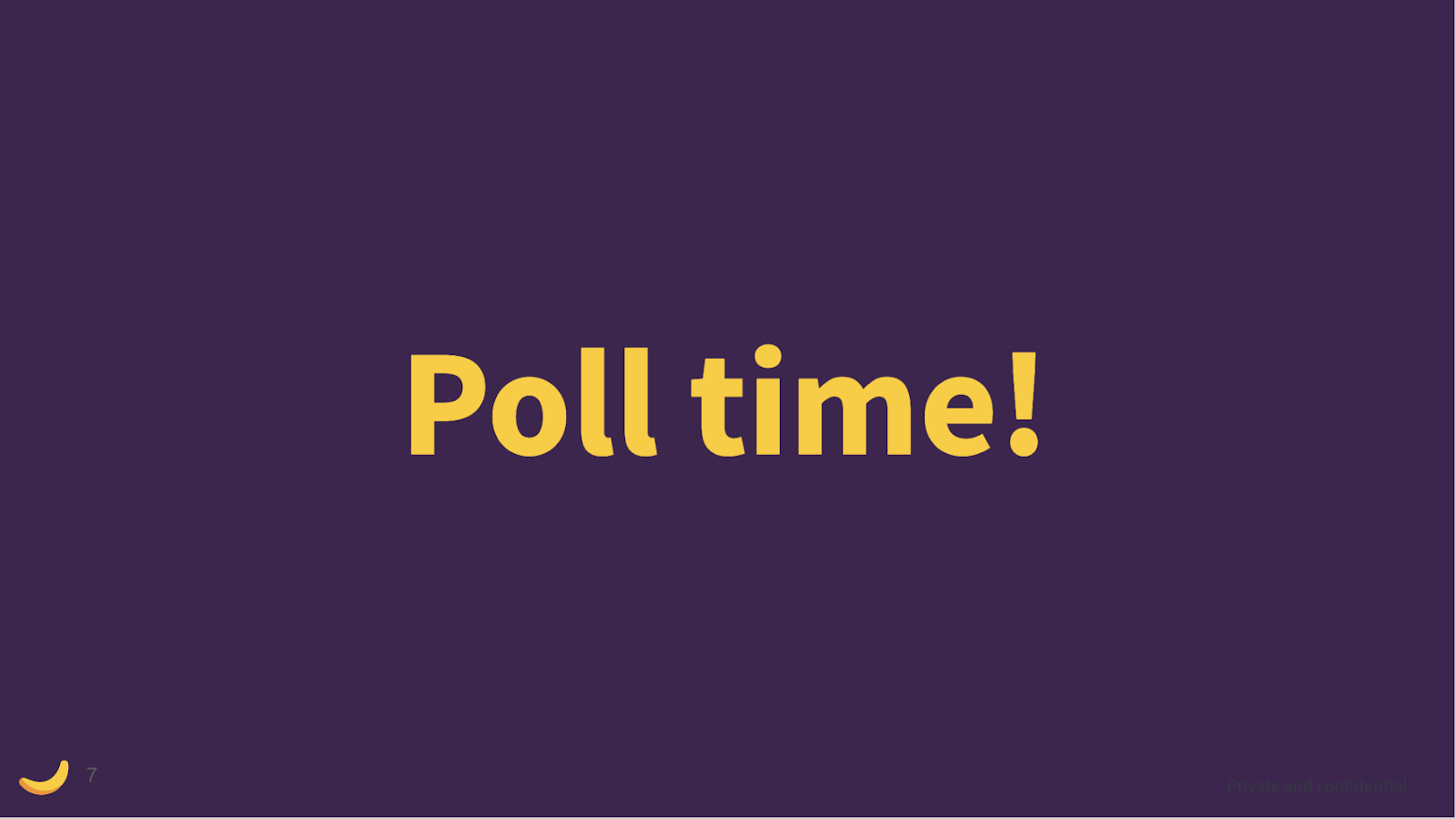 If you're feeling more experimental, you can use gamification software like Kahoot!
Live games not only encourage participation in your town hall, but they also connect employees to each other and the content. 
And that's especially important when you have remote or distributed teams. While virtual games can't replace face-to-face interactions, they're a great team-building alternative to bring everyone together.
Adam's Virtual Town Hall Tips
Create a quiz on any topic that you've covered in the town hall.
Games help bring your content to life in a fun, personal way… and they encourage a bit of friendly competition.
Incentivize participation with prizes.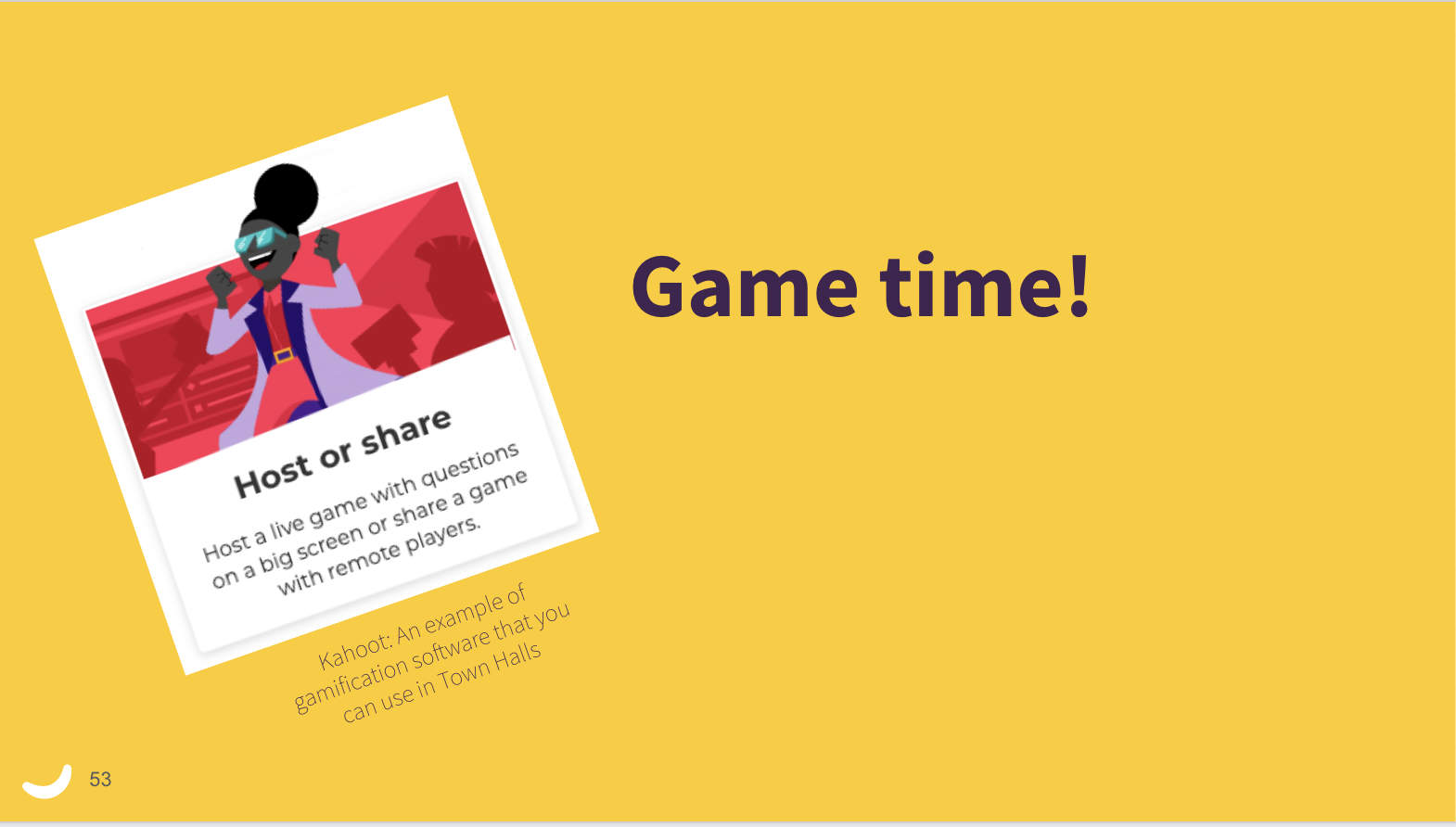 3. Build anticipation to maintain engagement
Take time to build anticipation with a little humor. You'll keep people engaged and grab their attention if they've drifted off. 
At Staffbase, we use a lot of fun gifs and visuals. Placing them between slides is an opportunity to share a laugh and build anticipation.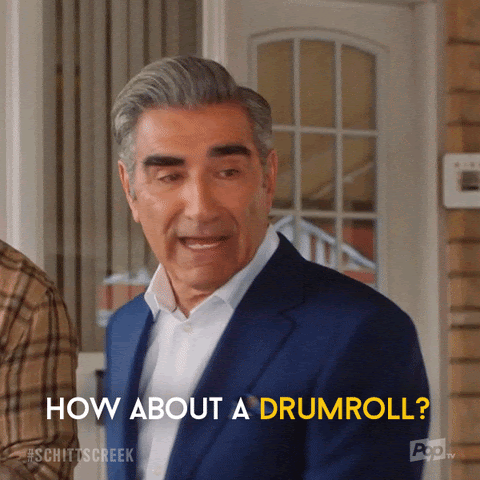 How do I know if my town hall was successful?
The best way to know if your town hall was a success is to ask your employees. 
After all, they are your audience.
Unfortunately, technology can't replace the in-person experience—reading people's reactions on Zoom is not the same as receiving instant feedback with in-person claps, laughs, or facial expressions. 
That's why it's even more important to follow up with your employees after your town hall. 
Asking employees for feedback can help you gauge their reactions and understanding, and help you make informed decisions about the content and structure for future town halls.
Some people take longer to process information than others. For employees who thought of questions after the town hall, asking for feedback afterward is a good way to make sure their voices are heard. 
To solicit this feedback and make the town hall recording accessible to those who may have missed it or want to rewatch, we send a follow-up email with an embedded pulse survey. 
Here's the template we use: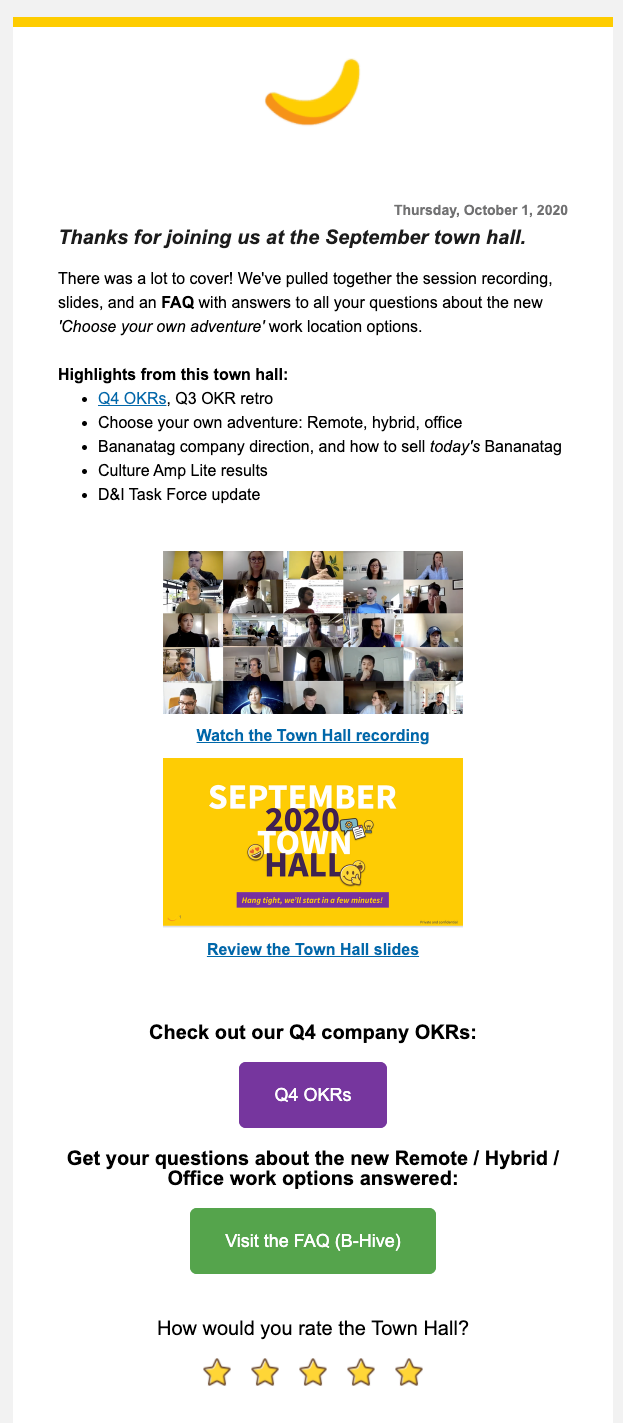 As you can see, first we thank our employees for attending, then provide a recap of the town hall—complete with links to the recording and the slides. 
We also include links to FAQs on the topics that were discussed. 
At the bottom of the email, you'll see the embedded pulse survey asking employees to rate the town hall. This is great for getting concrete feedback, but also allows users to submit anonymous questions and comments after they submit their rating.
This is how we find out if the town hall was a success. We can track the town hall rating over time and the employee feedback will give us insight into what worked and what didn't. 
And on our intranet, we recap the town hall in a bit more detail: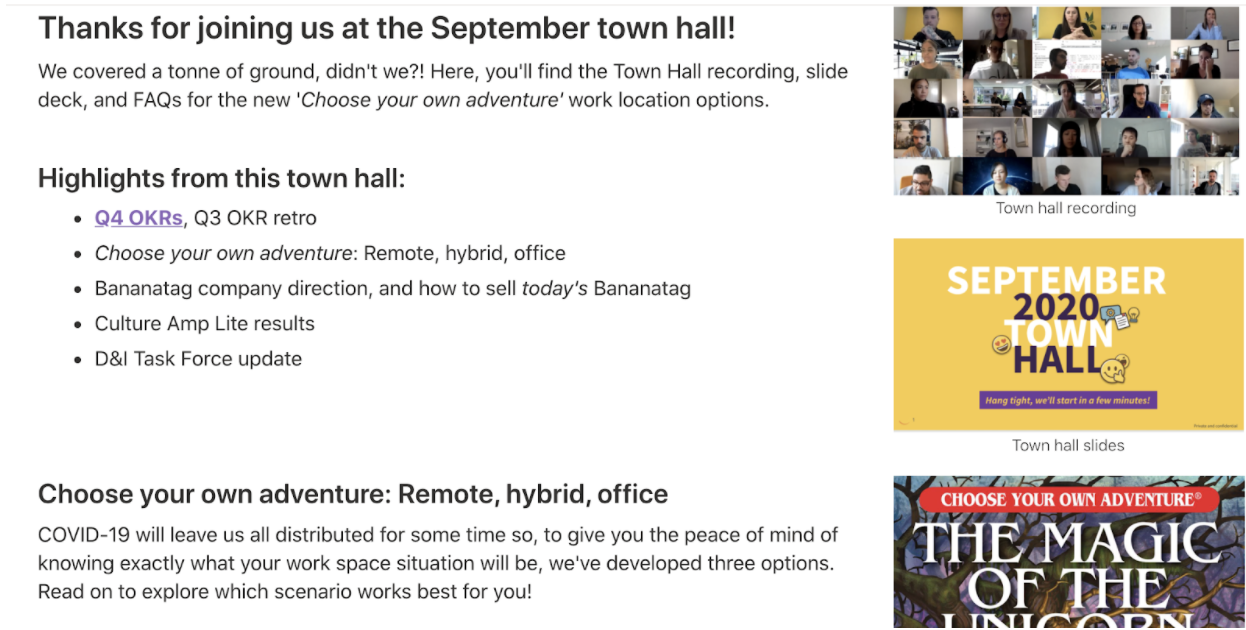 You can also use email to measure click-throughs to the intranet, the recording, and the FAQ to find out how interested employees are in revisiting the information and what is most valuable to them. 
What software should I use to stream or broadcast my town hall?
We use Zoom, but that doesn't mean that it's the best or the right fit for your organization. 
Other communication professionals presenting to large employee populations have suggested these tools that you may want to look into:
High-quality 1080p live video, interactive polling, live chat, and moderated Q&A
Private, branded video gallery for employees to access videos in one central place
Employees can easily and securely access from wherever they are 
Up-to 10,000 attendees
Live and on-demand events integrated with the Microsoft 365 suite 
Accessible on web and mobile apps
Interactive live sessions, contests, and virtual meetings
Breakout sessions, demo rooms, and exhibitor rooms/virtual booths 
Virtual networking lounge 
Up-to 40,000 attendees
Manage your content in catalogues and media libraries (video, audio, podcasts, blogs, webinars, PDFs, and more)
Produce and manage continuing education, certification, and compliance for your organization
Up-to 1000 attendees
Live stream integration for YouTube and Facebook Live
Employees can socialize with private video chats
Flexible platform for virtual, hybrid, and in-person events
Video session livestreams and video on demand
Features built-in polls and surveys, Q&A, gamification, and analytics
Build a virtual town hall where you can share event information and content
Live polls and chat
After your event, embed video replays (YouTube or Microsoft Stream), share the presentations, share links to resources and summarize questions and commentary
A solution for distributed teams who can't find a common time to meet
Pre-record and share short video updates with your team—teammates can contribute their own video on their own time 
Share video updates with your team on Slack or Microsoft Teams 
Engage with emoji reactions, feedback, and Q&A 
Measure engagement with analytics
Unlimited attendees and presenters
Live Q&A (with a moderated question cue) and polls
Integrate with Zoom or WebEx 
And that's just the beginning! There are a lot more options to check out:
What tools should I use to engage the audience during the town hall?
You don't need fancy tools to engage your audience if you're embracing storytelling in your presentation, but we know that some audiences are harder to engage than others.
Though we haven't had to use too many extra tools in our town halls to keep them engaging, our friends in Comms-unity had some great technology suggestions that you might want to try:
Track how your audience is engaging with the event, including which channels they're coming from and audience sentiment
Features audience chat, polling, breakout rooms, and emoji reactions
Crowdsource questions, brainstorm ideas, vote on decisions, and collect audience feedback with live Q&A, quizzes, surveys, and polls 
Integrates with other tools like Zoom, Cisco Webex, Microsoft Teams, and Brightcove
Host quiz competitions with a ticking clock, bonus points, leaderboard, and visual effects
Add polls, open-ended questions, word clouds, Q&A sessions, preformatted slides
Invite your audience to join your presentation with a customizable link or QR code 
Crowdsource questions from your audience, and feature live Q&A and polls 
Integrates with Zoom, Microsoft Teams, YouTube, Facebook Live, Google Slides, and PowerPoint
Live Q&A sessions, polling, and surveys
Create icebreaker games or offer rewards with quizzes and raffles
Live audience feedback and analytics 
After your meeting, automatically create reports with the details of what happened
A separate feedback channel that runs alongside video meetings 
React to presentations, big announcements, and wins with cheerful noises and floating emoji bubbles

 

Listen and watch to see which members of your team are engaged
Crowdsourced town hall inspiration
We've been floored by all of the innovative town hall ideas in Comms-unity. 
If you'd like to join in on the discussion and connect with other comms colleagues from around the world, apply to join Comms-unity here. 
For now, here are a few creative perspectives to inspire you.
Michelle Wagner, Employee Communications Manager at MidPen Housing, advocated for communicators to try a webinar-style town hall: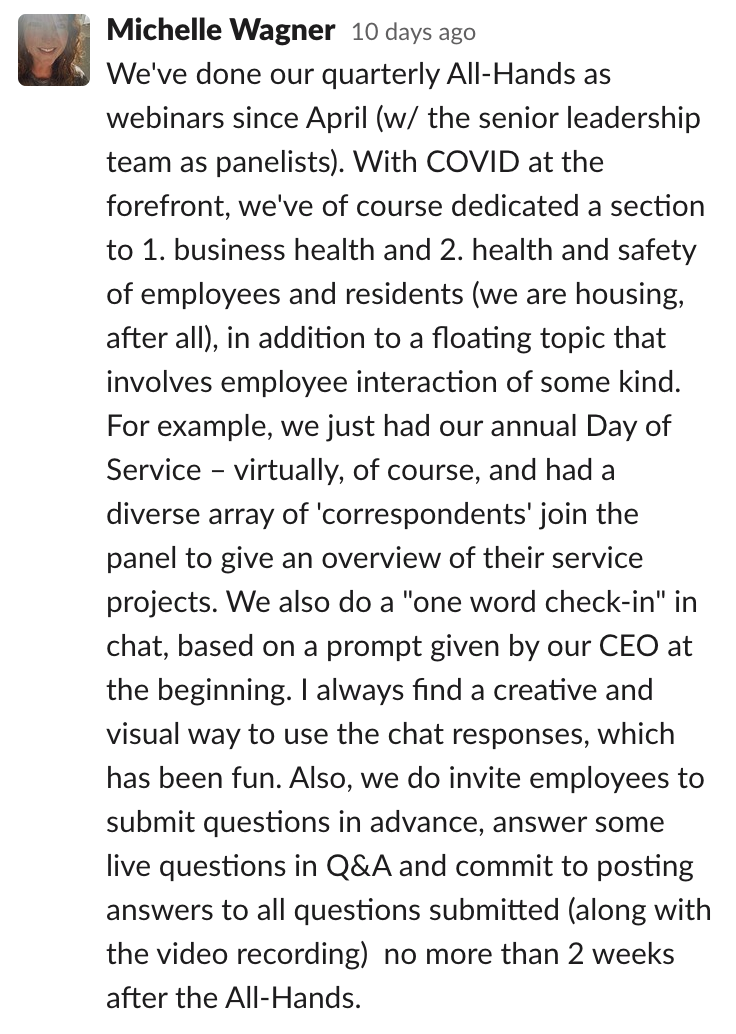 Gabriel Galdamez, Marketing Manager & Client Strategist at Brilliant Ink, suggested breakout rooms for a smaller group experience: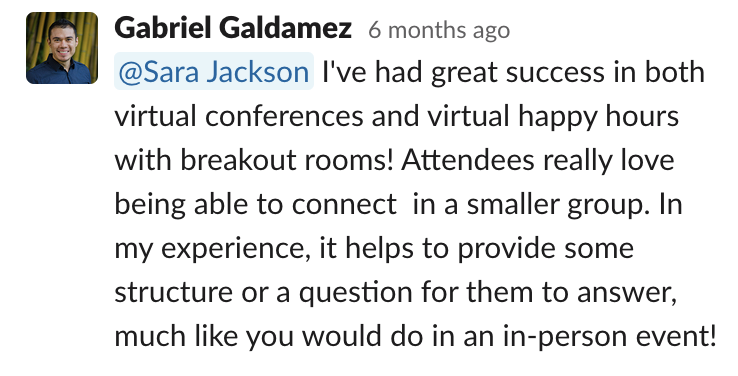 And Jason Anthoine has experimented with integrating employee-shot videos: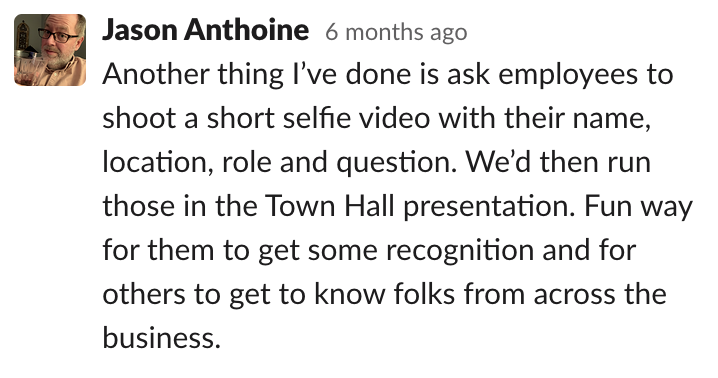 Now you've got what you need to create a great virtual town hall.
And it's time to get cracking! 
One thing we didn't have a chance to get into in this guide is how your presentation design can affect engagement with your content. And that is a rabbit hole... so why not just start with the template we use for our town halls? 
You can customize your branding and get a head start on putting your next town hall presentation together. 
Whether your team is remote, a hybrid of in-office and WFH, or you're looking at new options in 2021, remember that it is possible to put together an innovative and engaging town hall experience.
You can do it. 
And you know what? 
We're all figuring out this new work world together. 
Despite the challenges that lie ahead, you can bring your company together by listening to your employees, creating a virtual space for open discussion and dialogue, and having fun along the way.  
Whatever your next town hall looks like, we hope this guide helps you create the best experience for your team.