As an internal communicator, your working days rarely have enough hours to get through everything on your to-do list. At least that's the belief of Jenna, an IC professional at an enterprise industrial company. Her department consists of five people, one of whom is only working part time, and it has a budget that's always on the brink of being cut. Nevertheless, she needs to get things done in order to do her job: Engage every employee, get the company's goals across to everyone, and create a sense of community within her international organization. She achieves those things with the help of a few tools and methods that are designed to make her more effective in her job.
Let's look at a typical day in her life, and see where her little helpers play a big role throughout her day.
1. Spending the Commute to Work Wisely: With Blinkist 
After Jenna takes her two kids to school in the morning, she sets out on her half-hour commute to the office. Jenna loves to read good books that help her be more creative and come up with new ideas. But, and I'm sure you all know the feeling, she never has enough time to read everything on her list. When she complained to her colleagues about this dilemma, they suggested she try Blinkist, which can help her get great insights into two new books every day—and she can do it on her way to work!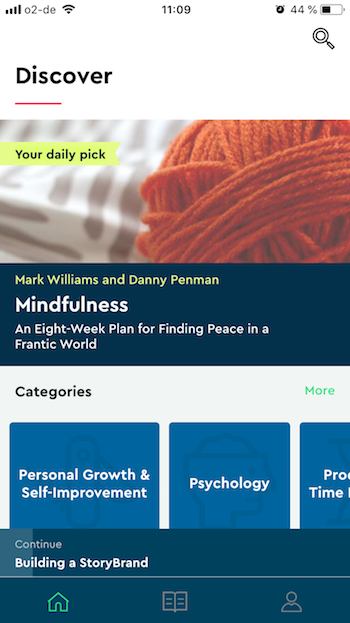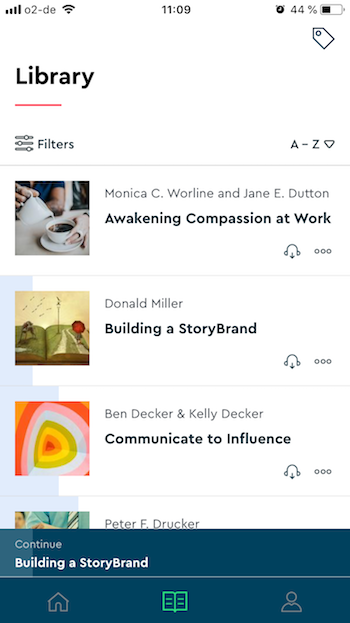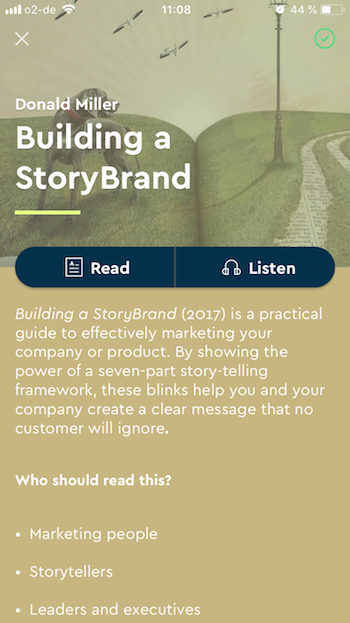 Blinkist is a service that provides 15-minute audio and text summaries of bestselling nonfiction books, divided into so-called Blinks. With the free app, Jenna can read or listen to the current Blinks, even without cell service. She started with the free 24-hour trial version, but she liked the service enough that she decided to subscribe to the $79.99 yearly plan. She now comes to work every day with new ideas and the feeling that she's already gotten things done. Within the app, she can select the categories that best fit her interests, and with the app's live search function, she's always able to find the title of that one book she can't quite ever remember.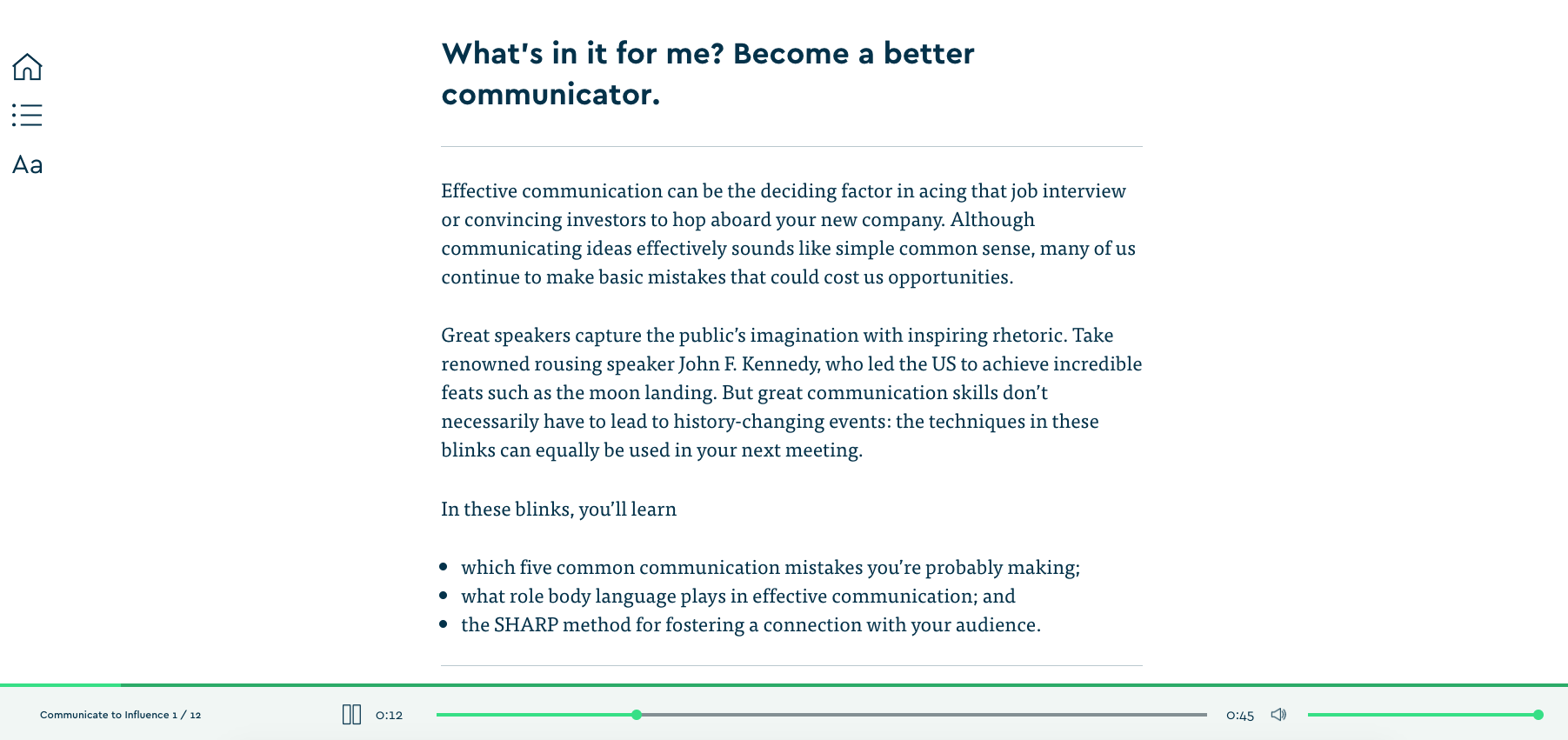 2. The Heart of Every Internal Comms Team: The Airtable Editorial Calendar
Jenna and her team have so many tasks that they're working on at the same time, so if not for their editorial calendar, they'd likely feel overwhelmed every morning the moment they open their laptops. That's why Jenna's first move when she enters the office (after checking her emails and getting a cup of coffee) is always to click on her Airtable Editorial Calendar.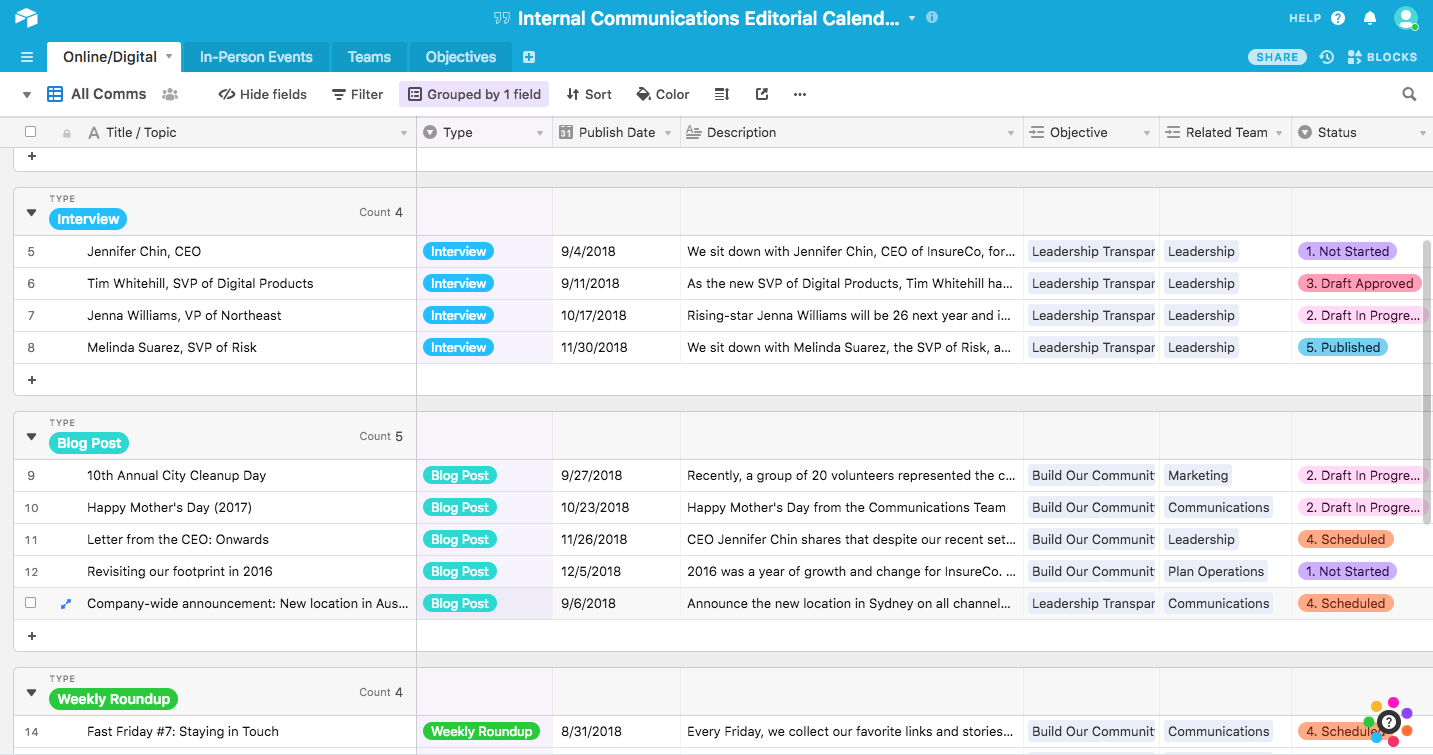 Airtable is a provider of spreadsheet templates that can be used in various ways. As an editorial calendar, it helps Jenna keep track of everything there is to do, reminding her of deadlines and functioning as a database for all her team's ideas, drafts, and files. With this calendar, Jenna has an overview of all projects and their owners, publishing dates, and project types, together with a description and the status of each project. As back and forth via email regarding the progress of an article was always tiresome and took up way too much time, she and her colleagues now use Airtable to communicate directly within a project frame and use @mentions to send notifications. With the mobile app, Jenna can also stay on top of her and her team's tasks when she's on her way to an interview or a conference. Airtable is a great alternative to other task management tools and has a free plan with all the essential features, but can also be upgraded with more advanced features and support, starting at only $10 per user per month.
Lauren Guess, Education Outreach Manager at a psychiatric hospital, can also recommend using Airtable for managing editorial calendars and content. As an internal communicator, she calls it an "excel spreadsheet on steroids." She explains that "the fact that the different tables communicate with each other significantly decreases email communication within the team and is part of what makes this tool so great for managing a workload that's often almost too much to handle."
Jenna wholeheartedly agrees with sentiments like Lauren's. Checking the calendar thoroughly this morning, she was able to see that the announcement for the new Australia location is supposed to be published in three days. As she was planning on drafting the article today, she'd already taken notes during the last board meeting, something she'd forgotten she'd done. But just as she was trying to remember what she wanted to put into the announcement, she received a push notification on her phone reminding her of her notes for the article.
3. Managing Ideas and Never Forgetting Anything Again: With
Evernote
Notebooks are a great invention and Jenna loves writing everything down. Which is to say she needs to write everything down. Otherwise, as she did with her notes about the new Australia location, she'll forget.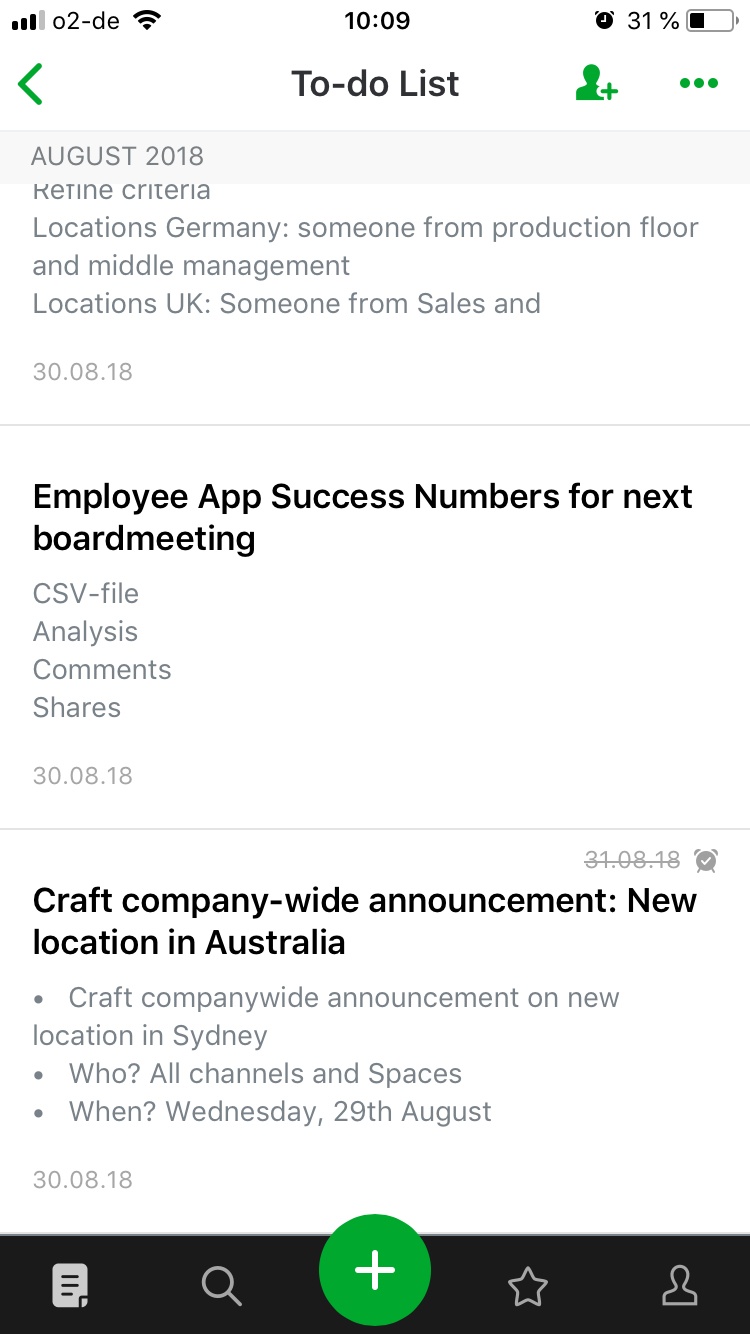 With Evernote, Jenna has a digital notebook with her wherever she goes, and it's synced on all her devices. Jenna puts all of her notes from important meetings in there, saving them for when she needs to write an announcement or perhaps an article about the company's newest CSR initiatives.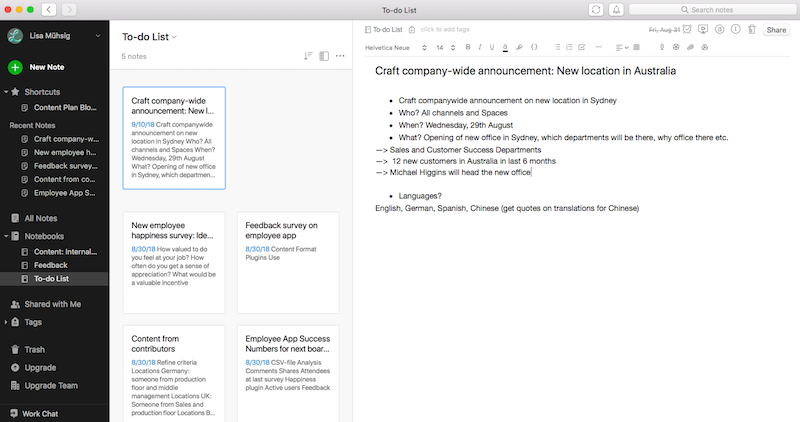 But Evernote is so much more than a notebook. Jenna's team also uses it to share their notes. So when a colleague is out sick, she's able to take over and write about that important interview with the new location manager, having all her teammate's memos at hand. And because she often needs to do a bit of research, she's able to clip relevant websites into her digital notebook with the browser extension: Evernote Web Clipper. That way, she has her important notes, ideas, and thoughts, as well as her valuable research, all in one place. And with the live search function, it's also easy to quickly find what she's looking for. 
Evernote has a great free plan that includes note-taking, push notification reminders, and notebook-sharing functions. The premium version with even more functionality (for example, Google Drive, Outlook, or Salesforce integrations), starts at $7.99 per user/month.
4. Being an IC Professional Means Writing like a Professional: With Grammarly 
Before drafting her announcement, Jenna needs another cup of coffee to focus. With the hot cup in her hand, she starts writing. Having all of her notes in front of her helps immensely, and the draft goes quickly. But even though she reads her text multiple times, mistakes always manage to creep in. Or at least they did before she began using Grammarly.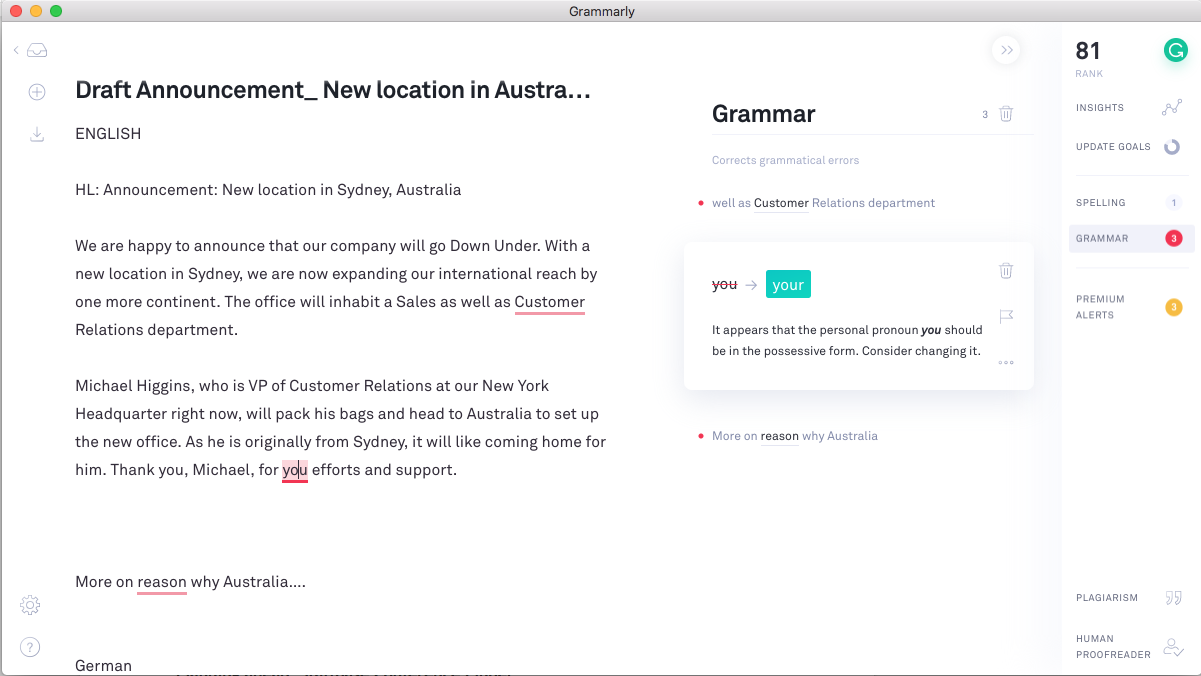 Grammarly is a writing tool that helps you to avoid grammar and spelling mistakes and can also assist you with style suggestions. Jenna uses the browser extension, so every time she writes an email or a text, Grammarly automatically scans through her words and underlines errors. With one click on the underlined word, it then presents her with context-specific suggestions that she can either accept or reject. There's also a free app with which you can import text files and work directly within the tool to get even more suggestions on how to optimize your article. Basically, Grammarly is free, but with the premium plan for $11.66 (billed annually), you get more functionality, such as vocabulary suggestions and sentence structure checks. The free version, however, already makes Jenna more effective, since now she no longer has to scan her texts for mistakes, making it less stressful to publish articles knowing they're the best that they can be.
5. Finally Cutting through the Noise and Reaching Everyone: With Staffbase
Now that Jenna has finished writing her announcement, her next step is to put it into the company's new mobile communication tool and schedule it for publication in the company news channel. And with her company's new employee app, she can finally reach the majority of her fellow employees with crucial information. That's one less thing on her to-do list for her to worry about.
Just the other day, Jenna's team received a request from the CEO to find out if employees on the production floor of the new Brazilian plant are happy with their equipment—or if there's anything that could make their working days more efficient. Instead of going to the plant manager and asking him to hand out forms, Jenna created a digital survey within the company's internal communications app and sent it out to all employees concerned. With Staffbase's Spaces function, she's able to dispatch notifications or articles to specific groups. And as her company has many different locations around the world, this function makes targeting content a whole lot easier.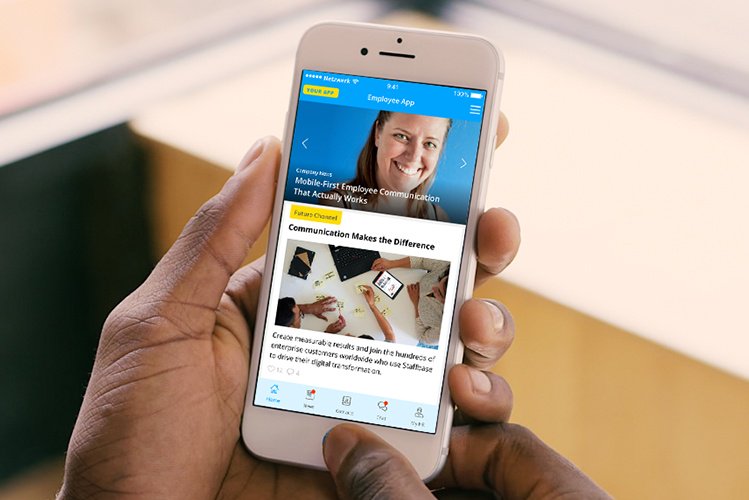 Jenna and her team use the app as a tool with which leadership can directly connect with all employees, be it through video messages, surveys, events, or polls. But what's most important in Jenna's view is that employees now have a chance to give direct feedback by liking, commenting, and sharing posts—in addition to being able to easily take surveys. They can also create content themselves and share it with colleagues. For Jenna personally, the app gives her a chance to combine all her communication efforts within one tool and target her content, in addition to finding out what's on her colleagues' minds. Having all of this capability in one place makes her efforts to involve everyone and align them behind their company's goals so much more efficient.
Staffbase is a basic employee app solution which can grow along with a company's communication efforts. Plugins and integration possibilities make it a robust mobile-first solution with myriad use cases. Their employee app makes Jenna's communication efforts more effective in ways she never would have imagined. She can now get more information into the hands of the right people, no longer overwhelming everyone with information they don't need. With push-notifications, she can deal almost immediately with any security alert or crisis situation that reaches her, making everyone's working days safer. But most importantly, she can now achieve her department's most vital goal: strengthening the connection between employees and company with better two-way-communication. The fact that the backend of the Staffbase app also provides analytics that count views, comments, likes, and shares of news and articles also helps her gather the kind of quantifiable evidence she needs in order to convince her bosses that internal communication does make the difference.
Do you want to make a difference with your work?
After scheduling her announcement with the app, Jenna has a meeting to plan the opening event for the new location. Lucky for her she put her ideas into her digital notebook yesterday. This afternoon, she'll prepare the numbers for the board meeting, in which they'll discuss how successful the first few months with the company's employee app have been. Jenna knows that this meeting could make or break further development of this crucial tool. To to sharpen her focus, she plans to take a few minutes after lunch to de-stress and clear her head.
6. Collecting Thoughts and Keeping a Clear Head: With
Headspace
With a crucial board meeting this afternoon, Jenna needs to be extra focused. If she's not, she won't be able to make a strong case for continuing with her department's plans for their employee app. With Headspace, a guided meditation tool, she can reduce her stress levels in just a few minutes. Since using the app, Jenna has become a lot more calm and productive, and she's no longer filled with anxiety when she looks at her to-do list every day. With 10–15 minutes of mindfulness every day, focusing on the job at hand without constantly being distracted has gotten much easier. And the reason why she switched from the free "Basics" pack to a paid subscription after just one month of having the tool is quite simple: She gets more done with her time.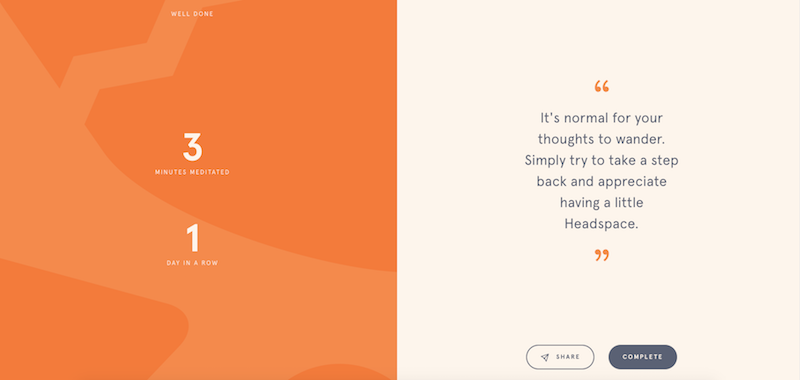 Subscribing to the whole Headspace library with the annual plan costs $7.99 per month. You get access to all of the "mini-meditations," one of which Jenna will use today before her board meeting. Also included are themed meditations and animated videos, as well as mindfulness exercises for various occasions. The mobile app is free and makes meditation possible wherever and whenever you need it. Because Jenna is really happy with Headspace and it has already helped her be more effective after just a few months, she told her colleagues about it, who then spread the word to other teams. The service has since become available for all employees at the company, turning it into an organization-wide productivity tool. And with the employee app in place, Jenna was able to organize get-togethers and meditation classes at every company location, bringing people together and turning the organization into one that values mindfulness as well as its employee's mental health.
The board meeting went well. So far, everyone's happy with the positive numbers and the success of the employee app. One point of the meeting's agenda was to plan the budget for the upcoming year, and Jenna was able to factor in two conferences she'll be able to attend. She knows that talking to other communicators and attending workshops will help her and her team put their own efforts into perspective as well as gather new ideas. It's also crucial to expanding her own network. Going to conferences helps Jenna find solutions for a number of problems, simply by talking to people who've experienced the same things. It was also at a conference where she first heard about another company's success using an employee app, which was the trigger for her own company's project.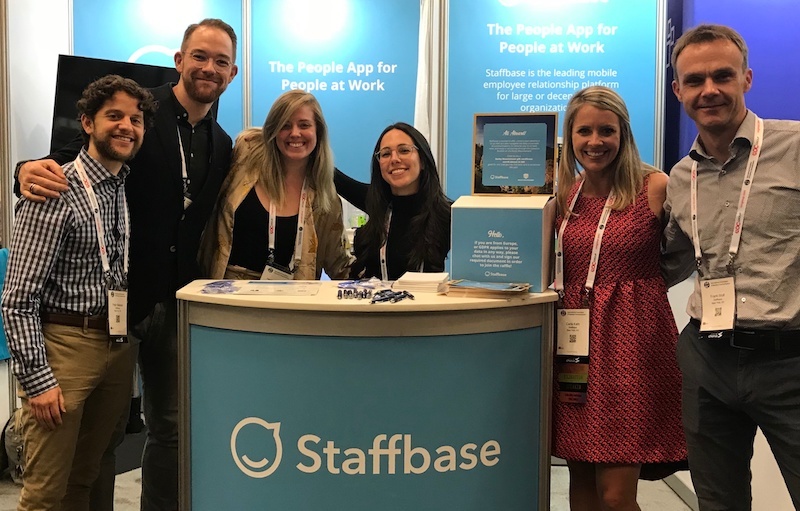 In the past, however, finding the conferences most relevant to her organization required quite a lot of research and reading through numerous websites. These days, she uses the free Staffbase Conference Guide, which not only gives her a list of selected communications meet-ups, but also provides her with argumentation points as to why attending certain conferences is a must. Now her selection process is quick and easy. She can even put in her travel expense requests early, crossing off yet another task from her ever more manageable to-do list.
Feeling satisfied, Jenna heads home. Even though her day was full of chores, meetings, and decision-making, she finished everything she set out to do. On her way out the door, her boss gives her a thumbs up, and Jenna thinks to herself how grateful she is to have found the tools that have helped make her more effective than ever before.
For further reading about how you can be more effective with your internal communication efforts, we invite you to check out the following blog pieces: