In April 2021, Staffbase returned with their fourth installment of Voices, the #1 Conference for Internal Communications & Employee Experience. Because this year's event was virtual, adhering to Covid-19 restrictions, we were able to speak with experts around the world. With Phoebe Dey, VP in Communications & Marketing at Alberta Cancer Foundation, at the helm, Staffbase shared their internal comms passion and expertise.
Metrics Matter: Building an IC Strategy that Delivers
Jeff Corbin, Staffbase's Strategic Internal Communications Consultant, kicked off the first session of the day. It featured a panel discussing why internal comms measurement is so important and how to overcome common measurement pitfalls. 
📊 Only 61.1% of the VOICES audience currently measure the impact of their internal comms strategy. 
Neil Griffiths, Head of Diversity, Equality & Inclusion at ERM, reiterated the importance of fully preparing yourself to measure success. That means understanding:
Audience: Who are you talking to?
Outcome: What do you want to achieve? 
Data positions you as an expert. Qualitative data is a diagnosis tool and quantitative data tells you why. They complement each other."

David Pitre, President at Davis & Company
Internal Comms professionals need to continually measure their strategy to understand what's working, what isn't, and how to make improvements. Measurement will help to identify the role of your internal comms team and the gap you're filling.
Priya Bates, President of Inner Strength Communications Inc., encouraged us to learn to brag. We need to take more credit for our achievements. And in some cases, share what our internal communications strategy avoided, e.g., if it limited disruption. 
Find out more by watching the On Demand session recording here. 
📚 Recommended read: Research by Sean Williams, VP Programs & Chapter President-Elect at PRSA NW Ohio Chapter
Brewed For Success: How BrewDog Connected a Global Workforce During the Pandemic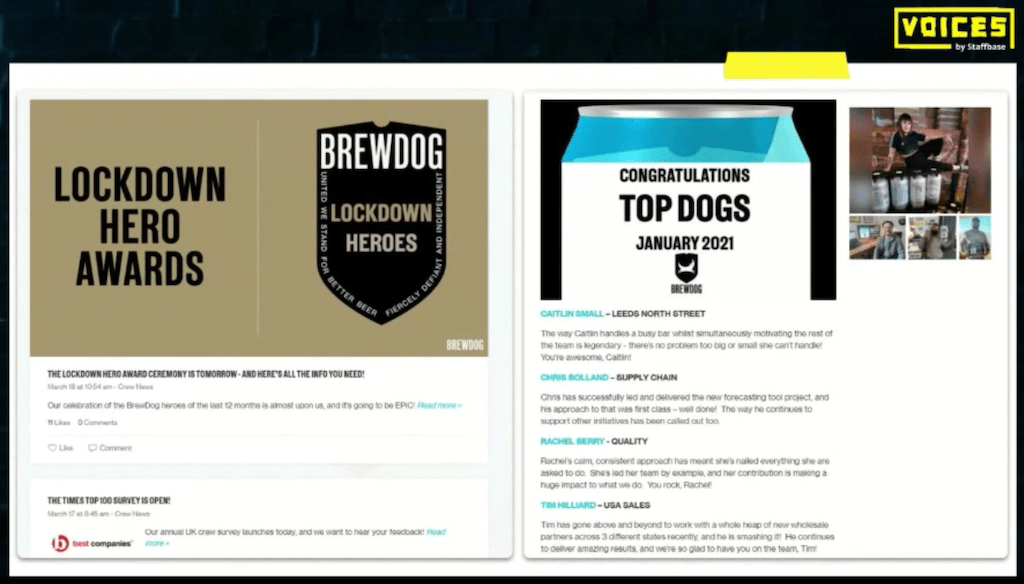 With a BrewDog in hand (non-alcoholic for a midday chat), Karen Bates, Group People Director, spoke with Staffbase's very own Alex Smith, Account Executive, about BrewDog's challenges with sharing employee communications across a diverse workforce and their onboarding experience with their employee app, Huddle.
Launched in September 2020, 80% of BrewDog employees have already downloaded and are using the app regularly. This allows the senior leadership team to share company messages in fun and interactive ways that align with their social media efforts. Employees can now audition for BrewDog's Got Talent, watch the Lockdown Hero Awards, and have their achievements recognized on Top Dogs. The list of dog-themed employee benefits goes on… 
Karen shared her tips for starting out with an employee app:
Get everyone onboard — even if that means offering the occasional free beer.
Ensure senior buy-in — let key decision makers know the benefits of the employee app and what changes you expect to see. 
Allow everyone to make their mark — provide a space for different departments to post content, therefore making it a more personalized experience. 
You don't need a huge team — Karen and her colleague Fiona Hunter are a small but mighty internal comms duo. 
Watch Karen and Alex's chat here.
Culture and Belonging in the Hybrid Workforce: Top Tips for Employee Engagement in 2021 and Beyond
Phoebe Dey hosted the session on the importance of identity in the workplace with expert insight from Trudy Lewis, Communications Consultant / Executive Coach and Advita Patel, Founder of Commes Rebe. 
They shared two key takeaways from the session:
1. To be a leader you don't need to be a stoic presence only focused on process and getting the job done. It's time for a change, and Covid-19 has only highlighted this fact. We need to have an open and honest conversation and encourage our leaders to be more transparent.
📚 Recommended read: Dare to Lead by Brene Brown 
🎧  Recommended listen: Power of Vulnerability by Brene Brown 
2. When ensuring all minority groups are included in their individual teams and the wider business, we need to ask what each individual employee needs in order to feel supported. As Advita Patel put it, "We should always lead by what our employees want." For example, creating a safe space is important, but sometimes overt attempts at including employees can make them feel "othered." 
Diversity isn't something that should be pushed aside — we need to actively find ways to ensure everyone is included.
Delve deeper into this discussion here. 
Sitting In The Middle Seat — How Digital Transformation Has Helped Denver Airport Deal with Turbulent Times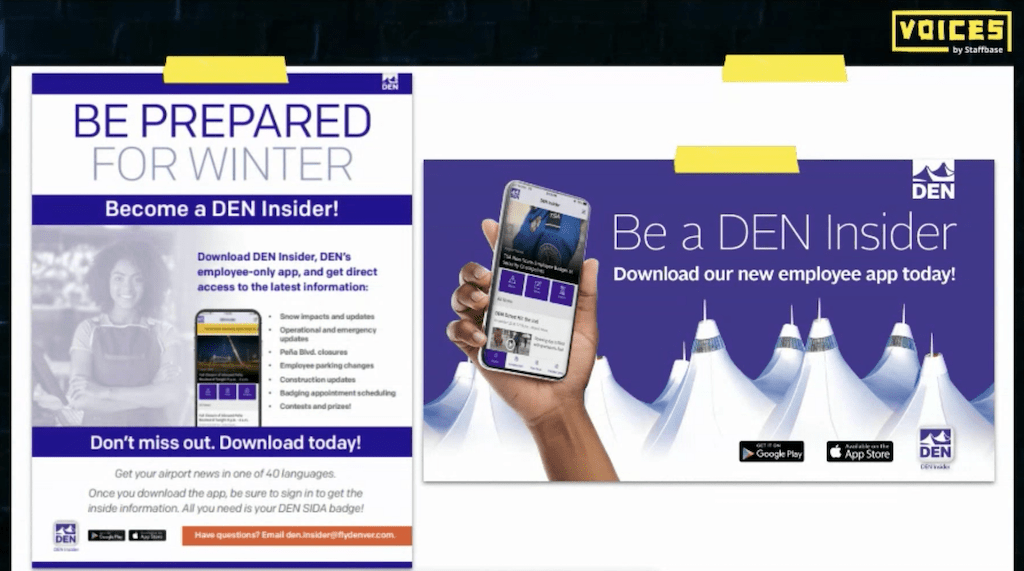 Mindy Crane, Senior Communications Director and Melissa LaRoe, Internal Communications Manager, shared how they created their DEN Insider employee app for Denver Airport. Before Den Insider was launched, they struggled to reach all their employees, with only 15% signed up to their newsletter and data challenges around collecting third-party employee information. 
The DEN Insider app was developed to create an employee community. It enables the business to share important updates to all employees, such as safety training during tornado season. But the app is more than just a news hub — it's a one-stop-shop for all employees, with access to car parking payment systems, food delivery functions, a translation functionality for non-English speakers, and much more.
Mindy and Melissa were keen to share the airport's personality too, and with nearly ten conspiracy theories linked to the airport, such as aliens living in their tunnels, this was a great place to start. 
Listen to Peter Mallozzi's interview with the internal comms team at Denver Airport here. 
2021 Mission: How to Create a Modern Internal Comms Strategy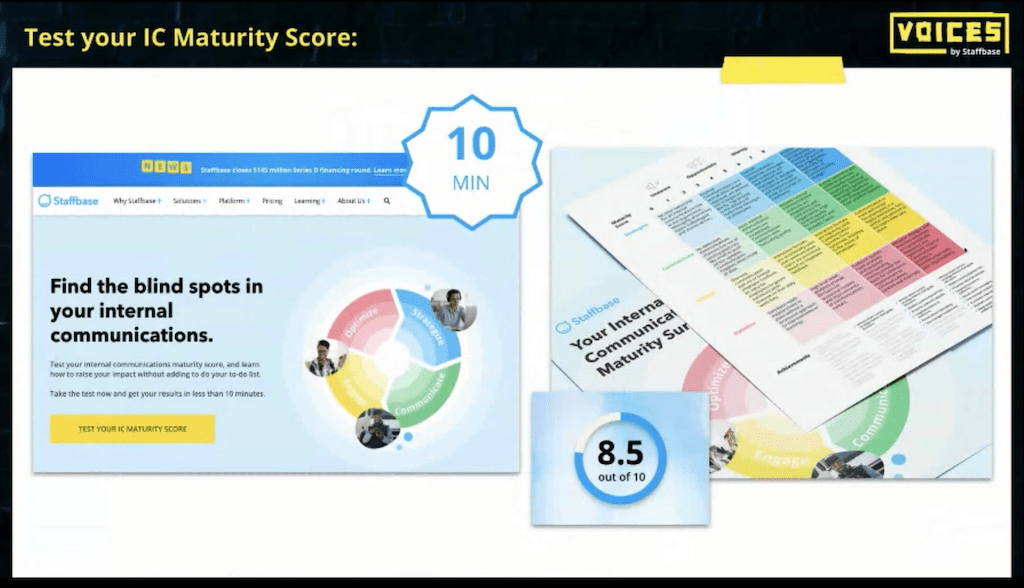 With the help of Jeff Corbin, Frank Wolf, Co-Founder and President at Staffbase, shared his insight on how the internal communications role has changed and why, more than ever, internal comms professionals need a communications strategy.
Originally, internal comms was simply considered a content producing function.  But in recent years we've seen it transform into a behaviour-driven role focused on enabling teams and supporting employee behaviour and attitude outcomes. Company culture is now considered a key asset, and internal comms works toward its development. Therefore, internal communicators need to start thinking about content planning so that employees can easily consume all important company information, priority content doesn't get lost, and all conflicting messaging is removed. 
You can listen to their advice here. 
Perhaps most importantly, Frank Wolf introduced two helpful new tools for helping comms pros plan their IC activity, align their teams, and measure their impact throughout the year:
📝  Test your internal comms IQ with the Staffbase Maturity Model
📖 Unlock the full potential of your role with Staffbase's Internal Communication Masterclass
Exploring the Forefront of IC: A Founders Fireside Chat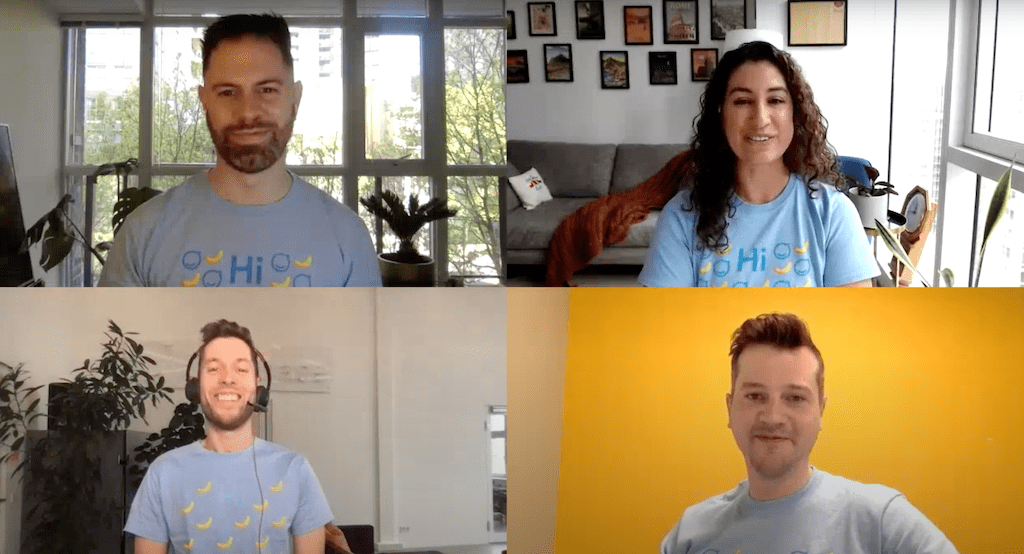 After the huge news earlier in the year with the merger of Staffbase and Bananatag, it was time to bring together the two CEOs, Martin Bohringer and Corey Wagner, to share what happened behind the scenes and discuss their plans for the future.
Hosted by Adam Brayford, Senior Communications Manager at Bananatag and Sarah Castillo, US Business Systems & Process Manager at Staffbase, they explored how Staffbase and Bananatag will complement each other and will work together to ensure that the focus of internal comms stays right where it belongs: on people. 
Find out here what Martin and Corey had to say.
The Inaugural IC Awards Ceremony
To end the day, we wanted to share some of the big accomplishments our clients have achieved. Melanie Lanick, Team Lead, Customer Experience at Staffbase, was joined by our CEO and Co-Founder Martin Böhringer to show off some of these achievements. 
🏆  Rush Memorial won Best Digital Workplace.
🏆  Servco Pacific won Best Story Telling.
🏆  Buzz Bingo won Best Crisis Comms.
🏆  BrewDog won Best Launch Strategy.
Find out more about our winners' achievements here.