Effective audience segmentation in internal communications can help you reach the right people with the right information. If you're an internal communicator, I'm sure you know how challenging this can be.
The feedback you get is either, "There's too much information," "It's not relevant enough," or "I didn't see it!"
I can hear your sighs of resignation — but not to worry!
We've created a Masterclass on "Understanding Your Internal Audience" to help you out.
Why is Understanding and Segmenting Your Internal Audience Important for Organizations?
Large organizations are made up of a wide variety of people. Not only do they differ in their roles, but also in their backgrounds, cultures, age-groups, tech-savviness etc. This poses a challenge for internal communicators, because such a diverse group of employees is equally diverse in their needs for information.
By splitting your internal audience into sub-audiences, you can meet this challenge. This is called audience segmentation.
However, in order to do this well it is essential that you really understand your internal audience.
As part of this Masterclass, we have created a model that shows the steps and benefits to understanding and then segmenting your internal audience.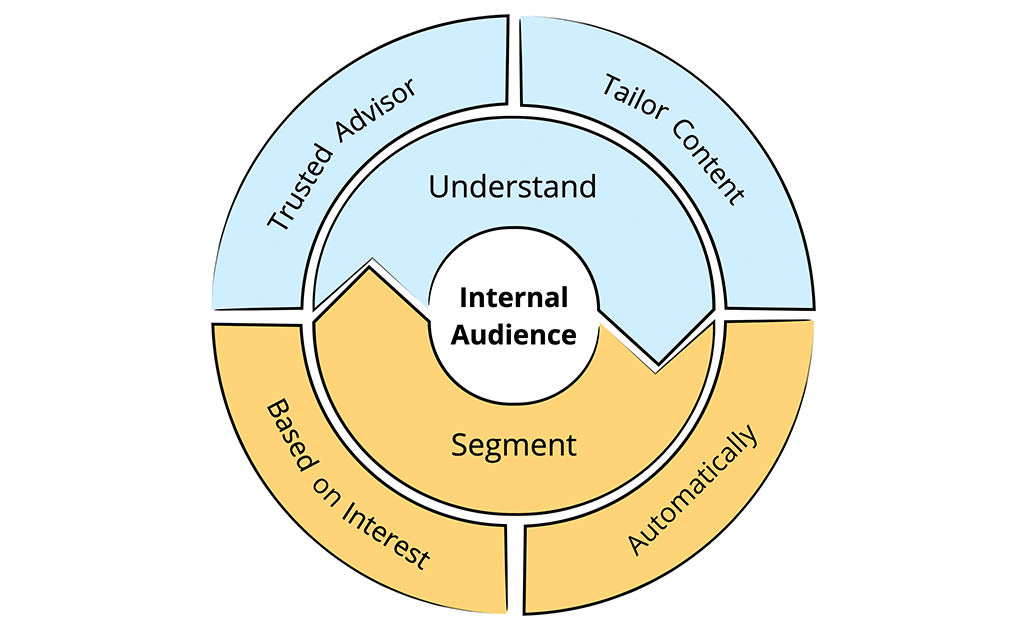 How to Better Understand Your Internal Audience
Better understanding your internal audience will bring internal communicators a number of benefits. First, it will help you to be seen as trusted advisor and audience expert in your company — especially by senior leaders.
Second, it will help you tailor content better to match their needs.
So, how can you learn to understand your workforce better? First of all, focus on information that is actionable and easy to find out. Here are some ideas:
🏢 Look at the organization overall. What are the departments, locations and how many people do they include?

📐 Look at their demographics. What are their genders, age-groups, languages, ethnicities, and lengths of service

📊 Get to know their work patterns. Do they work in shifts? Are they frontline, field, factory or desk workers?

📲 Know their channels. Which channels already exist? And how are they used?

🙌🏽 Understand their engagement. Can you see any patterns to their motivation and engagement?

With this information, you are ready for the next step - creating personas.
Creating Personas for Internal Communication
Based on the information you gathered, you can create personas (we recommend 3 - 8). These are fictional characters representing your most important user types. This includes their key attributes, such as pain points, challenges, and needs.
This means that, by creating these personas, you will have a clear idea of your most important user types and their communicative needs. The key take-away here is that the same message may not work for all personas in your company. So, it is advisable to create different content matching your personas - and that is key for tailoring your content.
Great - that is the input you need for the next step: segmenting your audience!
How To Improve Your Audience Segmentation in Your Internal Communications
Now that you have a better understanding of your internal audience, it's time to look at audience segmentation in internal communications.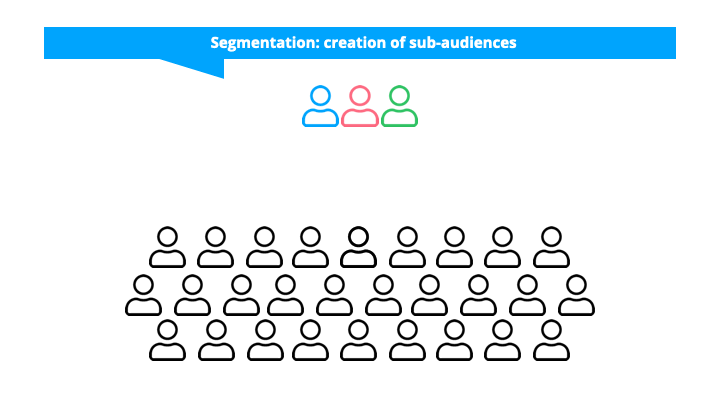 Audience segmentation is the splitting up of your audience into sub-audiences. These then form the basis for targeting the right people with the right content. Ideally, this segmentation is done automatically.

Organizatons often segment their internal audiences by:
Department 🏢
Location 🌍
Management Level 👔
Employee Type 👩‍🏭
Employee Lifecycle Events 🎊 , and
Projects 🏗
For example, if you are using an employee app or intranet, your employees can be invited into their respective groups when they are invited into the app. They will then only see the content relevant to them.
And alternative to this is letting employees decide based on their interest. This means that they actively subscribe to content they are interested in. One of the benefits of this is that you see which topics they find relevant and engaging.
But it should be said that today's employees generally enjoy and appreciate automatically getting what is relevant to them.
Resources and Examples to Help You Segment Your Internal Audience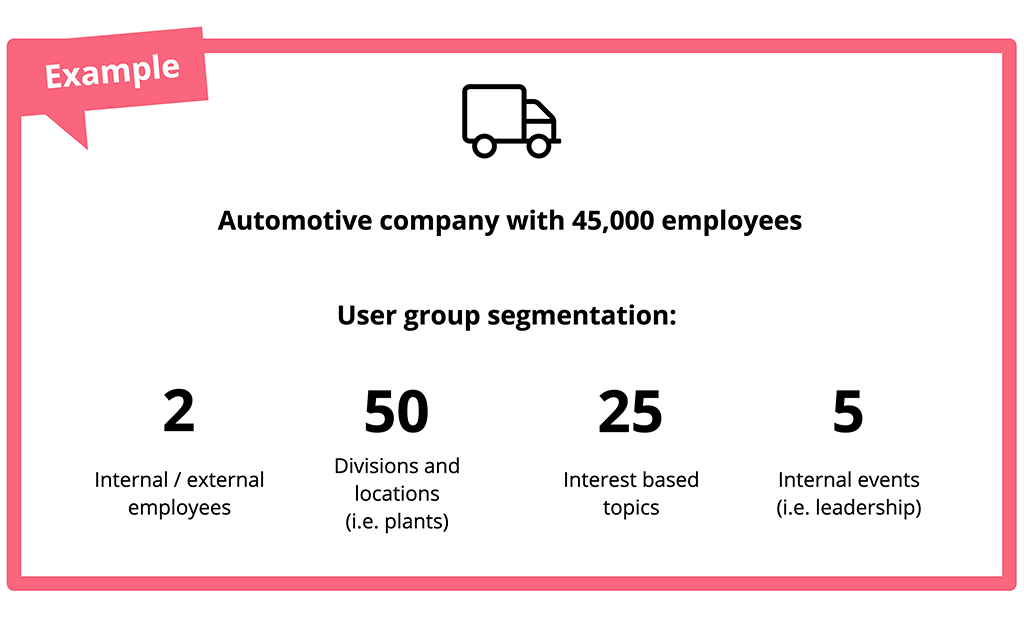 Here is an example of one of our customers. They split their 45000 employees up into 2 groups for internal and external employees, 50 groups for divisions and locations, 25 groups for interest based topics, and 5 groups for internal events. So, how will you segment your internal audience?
For more examples and a deeper dive into understanding and segmenting your audience, check out our full Masterclass here:
We've also created an Internal Comms Strategy Template Collection, with helpful templates and links to resources for your internal communication strategy. Click on the image below to download it!
What's next in our Masterclass Series? Check out our Masterclass on Creating Powerful Internal Communication Messages.